Are you a businessman looking for investment opportunities but don't know where to start? Apps like OfferUp make 2 Billion in less than a year! 
We all have witnessed a gradual shift in the world from stores to online shops. The dependability of smartphones and the internet has made on-demand app demand grow like wildfire.
Today we have an app for everything to make our lives more convenient than ever. In this blog post we will talk about a digital marketplace- OfferUp, that connects buyers and sellers facilitating trading, and how to build an app like OfferUp. 
Have you ever owned something which is of no use to you anymore but you don't have the heart to let go? The best thing that you can do with it is to sell it to someone else who might need it.
Buy, Sell, Letgo! The tagline of Offerup explains its works fully. With Offerup users can put up a used product to find buyers online. Isn't it convenient? Of course, it is, that is why this platform has a monthly user base of more than 20 million people. 
What is OfferUp?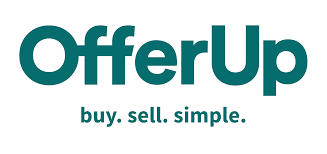 A fantastic option to free up space and earn money is to sell your extra items. The developers of the OfferUp app had exactly that in mind when they set out to build a mobile marketplace for local buyers and sellers.
A smartphone app called OfferUp lets you buy things and offer things for sale. It's a fresh take on a straightforward idea. OfferUp was founded by a couple of new fathers who were searching for a more efficient approach to purchasing the goods they wanted without going over budget.
The app establishes virtual marketplaces where users can safely purchase and trade goods online. The popularity of this app is mostly due to these communities because users spend an average of 25 minutes each day using it, which is comparable to how long they spend using Instagram and Snapchat.
OfferUp: Market Statistics 
Emarketer's analysis indicates a 16.8% rise in global online purchasing and selling, making eCommerce a rapidly expanding market. Additionally, 21% of all sales are anticipated to be conducted online in 2022, growing the global eCommerce sector to $5.55 trillion.
Since more people are choosing to order online, there is a significant need for e-commerce software that will only grow in the coming years. The size of the global e-commerce business surpassed $9 trillion in 2019 and is anticipated to reach $27.17 trillion in 2027.
Despite the fact that a sizable percentage of this sector undoubtedly falls under the B2B categories, consumer selling platforms like Offerup continue to drive the e-commerce market's overall expansion.
The market software sector seems to be a very profitable field for investment, driven by the rising number of smartphone users, the accessibility of broadband internet, and the shift to online buying caused by the COVID-19 epidemic.
How OfferUp Makes Money?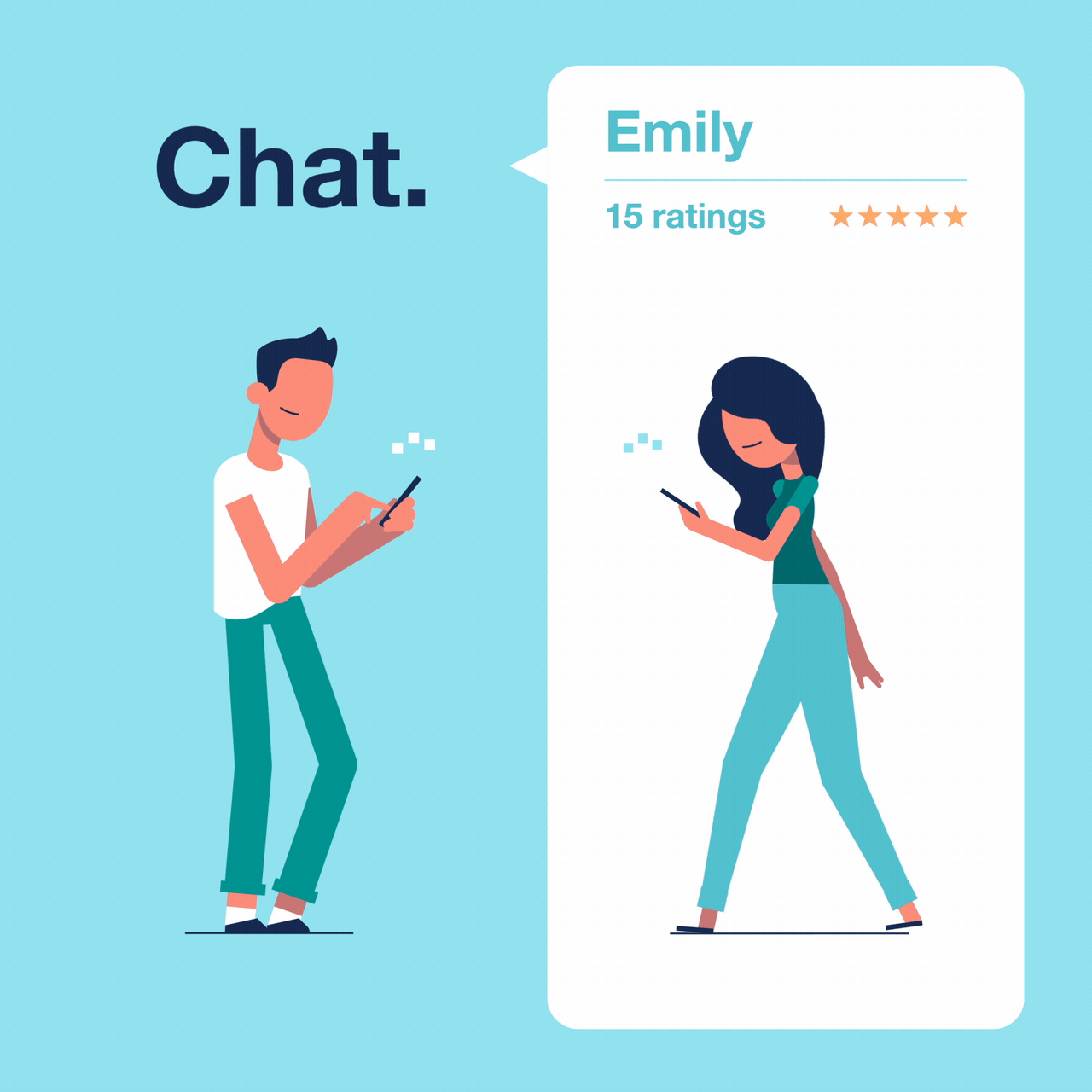 Apps that connect users directly have the same business strategy. These applications often provide free downloads and registration. However, they can charge a fee for a number of in-app functions or generate revenue from their user reach, such as by displaying users' advertisements.
If you want to build an app like OfferUp you should also know how you can make money from it. You can pick from the following list of app monetization techniques for your buy-and-sell app. 
1. Advertisements 
In applications like OfferUp, you can provide in-app adverts for sellers to market their items and close deals more quickly. It succeeds smoothly thanks to an internal recommendation system and the capability to design unique deals and discounts.
2. Subscription Charge 
On a paid basis, you can provide features that users can not avail of for free. Ads can be displayed during chats, for instance, or you can place them at the top of all search results. You can also build standard charge or subscription plans. 
3. Buyer Fee
Some apps for buying and selling require a listing fee from the seller. The charge typically ranges from 1 to 5 percent of the total cost. You can choose your own commission scale as per your standards. 
Please be aware that this business model will succeed if your app offers sellers a significant benefit and facilitates their deal-fixing with buyers. 
4. Transaction Free 
The most standard way for an app to make money is through transaction fees. Similar to OfferUp, you can provide a commission (a flat fee or a percentage) for a buyer in every transaction conducted using your service.
5. External Advertisement 
When your app's user base is large enough, you can offer the app completely free while still making money from third-party advertisements. You can tempt businesses to place banners on your app's UI. For external communication, use your own resources or contract with a marketing firm.
Working on OfferUp
The two-way markets offered by local buy-and-sell apps like Letgo and offerup are quite simple to use. Consider this marketplace like using Facebook only but for buying and selling purposes only. 
Before posting or making purchases, you must first register. How do you go about that? To make an account, open the app and press the registration button. To proceed, fill out the required fields with the necessary data.
The app's home screen will appear once you log in. You can use the search feature on the main screen to look for a certain item to buy and to filter your searches by category. When the results appear, you can easily navigate through the application's listings and select the one that seems appropriate for you. 
When you view a specific listing, you are then shown the item's pictures, a summary of the item's features, and the listing's price. You can make an offer to buy the goods or ask questions to learn more about them.
OfferUp and Letgo also offer online through standard web browsers, expanding the possibilities of such a gateway beyond only a smartphone app. Similar to putting anything on Facebook, publishing a list to sell a product entails attaching images of the item, a brief description, and an expected price.
How to Build an App like OfferUp?
Starting up a business is easier said than done. It's hard to pick the right path that leads toward success, but we're here to help you learn how to build an app like OfferUp. You should follow the following steps if you wish to build an app like OfferUp successfully. 
#1. Product Analysis 
The first step is to ensure that your developers are aware of the target market, the problem your app will answer, and the business strategy.
This step is essential since it assists in effectively planning your project objectives and phases, which will help you produce the perfect product.

#2. Study Market and User Base 
To ensure the success of your mobile app, keep the needs of your users in mind when developing the app.
It is great if you already have a clear understanding of your target market and who your consumers are. However, you learn vital information about how potential clients view your product when you go further and speak with them.
With the use of this approach, you may uncover hidden benefits and draw closer to product-market fit.
Before releasing your selling app, it is also crucial to monitor the performance of your competitors. Your app can then be optimized to provide a better user experience based on the results.
#3. Developing a Strategy 
Without precise planning and an implementation strategy, there can be no effective product development and launch.
Making a roadmap of your product's development from concept to MVP and the finished product is crucial. Utilize this chance to gather opinions and agreement on the direction the product should go, then periodically update customers on your progress.
By combining the input data from the stakeholders, you create high-level strategic goals that direct the main product themes. Your product team should reach an agreement, lay out the product's goals, and express crucial needs each quarter after generating the product roadmap.
Undoubtedly, this kind of plan works well with the Agile product development process.
#4. Work on a Brand Name 
If you want to build an app like OfferUp, your software needs to be stunning both in terms of design and name. The app's name is the first thing customers notice, so make it succinct and pertinent. You can utilize online brand name generators to select a suitable name. You should also pay attention to your app's title size, interpretation, and audience expectations.
#5. Add an online shopping cart
Include a virtual shopping cart in your app to make it easier for customers to shop and to add additional things. Develop Buy & Sell Locally app with a cart feature so users can either place the items they want to purchase in the shopping basket and then go to the checkout page, or they can choose from a variety of payment methods, including cash on delivery, online payment modes such as debit/credit cards, wallets, etc. 
6. Flawless UX/UI 
You must not ignore the crucial component of an engaging and dynamic Ui/UX when developing your buy-and-sell app.
You should add eye-catching visuals to provide a wonderful and seamless user experience. Make sure to concentrate on a basic UI/UX throughout the construction of your buy-and-sell app so that people can enjoy it without any problems. You can hire android app developers for creating an engaging app like OfferUp for Android Platforms. 
7. Frame a Marketing Strategy 
No matter how effective or amazing a product you develop, it is crucial to market it so that people are aware of what you have to offer. As a result, you need to have a marketing plan in place. For instance, Google Ads are available on several websites. Although it could be a costly alternative, it will also win you over as a potential client.
With the appropriate strategy and execution, the outcomes will turn out to be unbelievable. 
Build an App Like OfferUp Including these Features: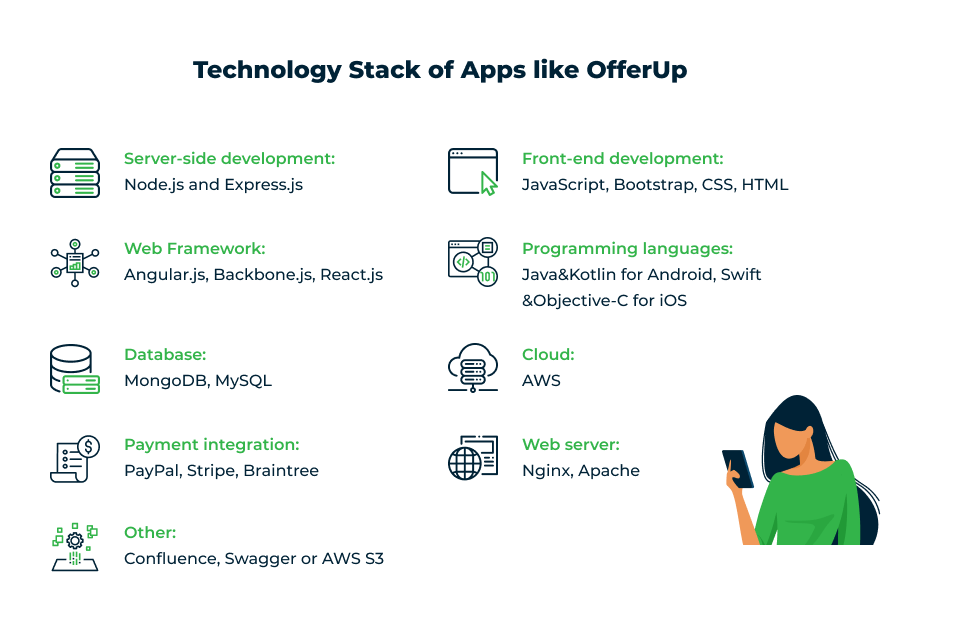 If you analyze the key traits of the selling apps, it becomes easier to understand how to build an app like Offerup.
You can create the functionality of your marketplace app using the overview provided below.
Social Media Signup: Signing up with Social media linking has already established itself as the gold standard. This feature is included in the majority of digital internet services. Users get credibility by signing up using their social media accounts.
Home: This feature enables users to view the stream of trending things.
Both parties should be able to create their profiles and give a quick introduction to themselves and their offerings in the user profile section.
Categories: Apps like Offerup and Letgo will often feature categories. For instance, a platform selling clothing will include sections for "women," "men," and "junior."
Search: Users should be able to hunt for desired things using an advanced search tool.
Camera: Users will be able to capture images of the products they wish to sell and submit them to their profiles thanks to a built-in camera. Hire on demand app developers to integrate such a feature. 
Cart: Customers should have the option to add things to their shopping carts and view them before making a purchase.
In-app Messaging: One of the main features of this sort of app is messaging: parties can exchange text messages or have audio chats.
Payment Gateway: A major aspect of marketplace software is a method for sending money. Hire on-demand app developers that can integrate various payment options. 
Ratings and reviews: Online shopping and selling both demands a certain level of trust. This function aids parties in establishing their legitimacy.
Notifications: customized notifications about new products, sales, and discounts.
Product Listing: Users should have access to information about a product, the seller, and their ID, as well as the terms of payment and shipment, in item listings.
Product Recommendations: Customers can browse product suggestions based on their past purchases and search through recommendations.
Favorites: This feature allows users to save things to their favorites list for later purchases.
Customer Service: Customers should be able to contact customer service if they need assistance.
Conclusion: 
Many businesses are turning to mobile app development services to create an app in order to reach a broad audience base now that practically all of us use tablets, and smartphones, and have constant internet access.
You must have a clear understanding of the procedure and its complexity after learning about the development of a marketplace app. Consequently, you require technical support from a reputable marketplace app development business. 
You can find app solutions for android and iPhone app development services that expand your buy and sell apps like LetGo or OfferUp from a top mobile app development company. Our qualified and experienced developers can help you build an app like OfferUp.