On demand app development has transformed the world. Thanks to modern lifestyle, the market demand of certain niches which were earlier unprofitable is now continuously increasing. This can be best proved by the growth of online pet supplies business. Pet items did not have a sizable market in India until a few years ago. This market is expanding as the number of pet owners rises.
Statista estimates that the pet food business alone is expanding at a rate of 13–15% yearly. This implies that opening an online pet business is profitable if the correct customers are targeted.
Therefore, if you've been thinking of starting an online store to sell pet products, the current time is better than ever. In this blog we will discuss the potential of online pet stores and how to develop pet online stores in 2022.
Before understanding how to develop pet online stores it is important that we first comprehend the potential of it. Below we will discuss some of the trends, statistics and more.
Why Develop Pet Online Stores? Market Growth and Statistics
The market for pet care increased from $245 billion in 2021 to $261 billion in 2022 on a global scale. By 2027, that amount will have increased by an estimated $6.1% compound annual growth rate (CAGR), reaching $350 billion.
Pet food constitutes the single-largest niche within the bigger area, with a global market value of $91.1 billion.
The market for food in the United States is projected to be worth $30.9 million in 2020. This sector also includes treats and supplements.
With sales of over $4.54 billion and positive sales growth of 2.7%, pet supplies are a significant industrial area in the US.
The "pet parenting" craze, in which pet owners began providing for their animals as if they were family members, also increased its income share. This share holds an estimate of 40.6% of the total industry revenue in 2019.
These facts and stats speak for themselves why you should develop pet online stores. The market for pet stores is booming more than ever, and this could be your new business idea to make heavy profits.
Develop Pet Online Stores: Pet Store Ideas
The pet products industry is diverse. There are many different goods you can sell, and innovation is always welcome.
You can either release an original product and generate demand, or you can sell commonly used items that are in high demand. Here are a few ecommerce app development company concepts for pet products to get you going.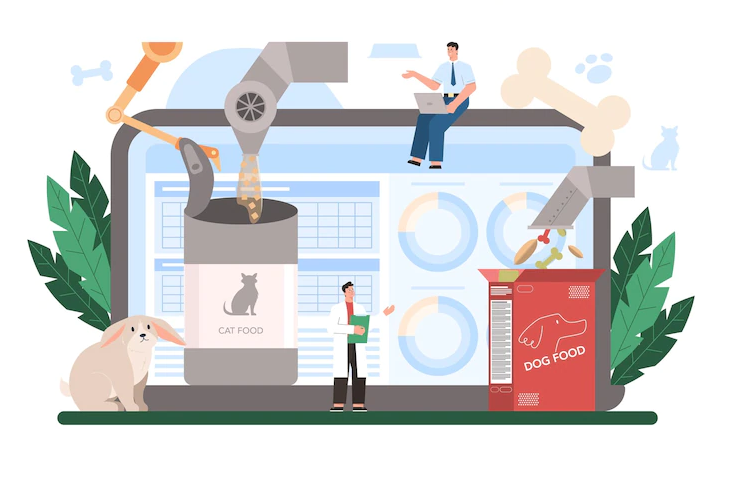 1. Sell Essential Pet Products
Selling necessities for pets is a smart place to start. Although the market is currently saturated with companies selling these needed pet supplies, there is a potential to stand out if you offer high-quality goods. Simple pet essentials include:
Leashes, bowls for food
Cages, mattresses, houses, and litter boxes
Collars, combs, bowls, and other accessories
Toys for animals
Birds' nests and feeders
Aquariums and fish bowls
Animal food (dry and frozen)
Hire on demand app developers to develop solutions for offering essential pet products.
2. Market homemade pet treats and food
The market for pet food is expanding. Pet owners like giving their animals the greatest food possible. Bringing new, healthy, and natural food products will draw their attention.
The appropriate kind of nourishment is provided for pet dogs by the online pet food company PetSearch. Customers can place free home delivery orders for meals and treats for their pets right from their kitchen. With custom android app development, you can provide a solution to offer homemade pet treats and food.
Give pet owners healthier options. Treats might be made specifically for them. The drawback is that you'll have to put in a lot of work to prepare the pet food, test it, and verify its quality.
3. Online pet clothing stores
A new trend is pet clothing. You won't have much competition in this market niche. There are several benefits to selling adorable handcrafted pet clothing.
Selling dog clothes is another area in which nitching is crucial. People can be highly picky about their clothing choices, and their pets exhibit the same obstinacy. There is a tonne of space for innovation and distinctive branding because there are so many dog-related fashion facets that have yet to be discovered.
One such example is Frenchie Shop. The company sells a variety of clothing items for French bulldogs, including caps, shoes, pajamas, hoodies, t-shirts, and sweaters. If you need clothing for your French bulldog, odds are you'll choose a store that specializes in Frenchies. Hire dedicated developers to create an app like frenchie shop.
4. Pet Grooming
Grooming services for cats and dogs are a wonderful addition to the number of services you can offer to pet owners. The grooming industry depends on building strong client relationships and trust, just like sitting and walking. There is plenty of business potential given that pet owners in US households spend more than $8 billion annually on services (including grooming).
The best thing to do is to customize. Could you offer mobile grooming services? Are you able to groom nervous or rescued dogs? Can you accommodate very huge pets? Each of them might provide niche services.
A product-based store can also offer pet grooming services, similar to doggie daycare. In addition to its food, pet specialty business Petsense provides a variety of grooming services. Hire mobile app developers to develop a pet grooming app.
There are the areas in which you can offer services when you develop pet online stores. Further we will discuss how you can actually develop pet online stores.
How to Develop Pet Online Stores in 2022?
Now if you have decided to develop pet online store, let's get straight to the process of it. Any entrepreneur who loves animals can embark on an exciting business venture by opening an online pet store. The market for pet supplies and services has been growing recently, and this trend is expected to continue beyond 2022. Now look at some key factors which are important to look at if you are thinking to develop pet online store.
#1. Analyze the market
Learn everything there is to know about the online pet stores market. If you adore animals and have an interest in knowing pets, you are already ahead of the game.
If you want to launch a pet food company, your research should cover in-depth technical and analytical knowledge of the pet market, several pet product categories in India, and the major players in the market. In this market, dog food makes up around 85% of the sales.
To find out which products are selling the best and how the competition sets up their websites and presents their products, it is always a good idea to explore other online pet businesses. Make a list of the items you would like to sell in your store and take note of the pricing at which online pet stores sell their goods and services.
#2. Pick a Business Name
One of the crucial first steps in starting your business is picking a name for your online pet supply store. If you do this well, customers are more likely to remember you, visit again, or recommend your website to others. This is the kind of word-of-mouth advertising that may significantly increase your business.
Because it will influence how frequently people search for you, your name will probably also have an impact on the search engine rankings of your website. Keep your idea for a pet-related business name concise and straightforward. Customers will find it memorable and simple to say as a result. You will lose out on free word-of-mouth advertising if your name is too challenging to recall.

#3. Market Your Brand
Creating your brand is the next stage in growing your pet business. In addition to aiding in connection building and helping your clients (and future consumers) remember you better, developing a brand is beneficial for all other aspects of your marketing approach.
Everything that you do is influenced by your brand, including your overall appearance and how you interact with others. You must make yourself distinctive in the pet industry in order to get the customers you want. This can be done by partnering with an on demand app development services provider. You should pay special attention to your images and how they are designed to help your target audience understand your brand.
#4. Find a Reliable Supplier
The next step is to discover a trustworthy supplier to meet your stock demands after deciding which products you wish to offer. An important supplier for a reputable pet supply store is one that supports both stock building and stock maintenance.
You will want a supplier or manufacturer who will provide the desired products to the customer if you want to implement the dropshipping model. In addition to making sure that genuine products are always available and that deliveries are made on time, you need to have a reliable supplier in place.
This is a safe and risk proof company strategy that does not require you to maintain any inventory.
#5. Build a Website
It's time to start having fun and build your online store. How consumers perceive and recall your brand depends on the website builder you choose. It's important to spend some time on this because it may affect conversion and sales as well. Partner with an on demand app development company to build a user-friendly website.
A successful website is the lifeblood of any e-commerce company. A website that is difficult to use will inevitably lose visitors. As the owner of an online pet store, you should constantly make sure that your website is clear, uncomplicated, and straightforward to use. This will guarantee that clients have a positive browsing and purchasing experience.
Read also: Complete Guide on How to Develop an App
#6. Build an Email List
Creating an email list is the last, but most important, strategy for marketing your pet business. With no need for social media, email is the place to engage one-on-one dialogues with your customers, whether you sell best-selling goods or receive awards for your services.
Email marketing is simpler to adopt than most other marketing tactics, and it helps you develop relationships with current consumers and recover abandoned carts.
Today, email is used by literally more than half of the world's population, and getting someone to give you their email is considerably simpler than getting them to buy something. You can turn a potential consumer into a fan with timely and concise email messaging.
Conclusion
Nothing is more rewarding than launching a successful business in a field you are passionate about. A pet supply or grooming business can be a rewarding home-based business venture for animal enthusiasts who wish to earn money. It can pay off financially for many years.
Don't let the idea of starting your own business intimidate you. With the right mobile app development company, starting a profitable pet business is both doable and exciting. People will value services that make their dogs safer and happier as long as they care about them.