Want to know the eLearning App Development Cost?
"Online education is like a rising tide, it is going to lift all the boats". This quote proves to be a fact in the ongoing battle of the world against Covid-19.
During these tough times when everything is chained between social distancing and lockdowns, e learning app development made it certain that education was not restrained within four walls of a school classroom.  
In the tech-driven world of today, everything is unstoppable, everything can be accessed. This power after integrating with the most powerful weapon- Education, has resulted in the rise of the tides of elearning app development. 
Education has been redefined with e learning app development and has become a great market to invest in. The success of these apps is determined by the time the generation of today spends per day on a smartphone. eLearning apps help students to spend their time more productively without having to have concerns about high tuition fees. 
Stats and Market Size of eLearning Apps 
Dating back to the year 2020, elearning app market swelled up to the size of $200 billion. As per data from Statista, the expectation is that elearning app market will reach up to $370 billion by the end of 2026. The current CAGR growth rate at which this market is growing is around 9% and retention rates of eLearning apps range between 30 to 60 per cent. Thats why the demand for on demand app development is very attractive around the world.
More Statistics- 
A lot of 64% of students find it necessary to learn from their mobile devices. 

43% of learners have proven to have more productivity levels when compared to traditional learners. 

46% of the learner population use eLearning apps right before they fall asleep.

70% of students feel more motivated when they begin to learn with elearning apps on their devices.

All these statistics prove exactly why you should invest in e-learning application development. The demand for these apps is increasing every day because of their popularity they have. If you too wish to develop an e-learning app, it is important that you understand everything about it with this blog. 
Types of Apps in eLearning App Development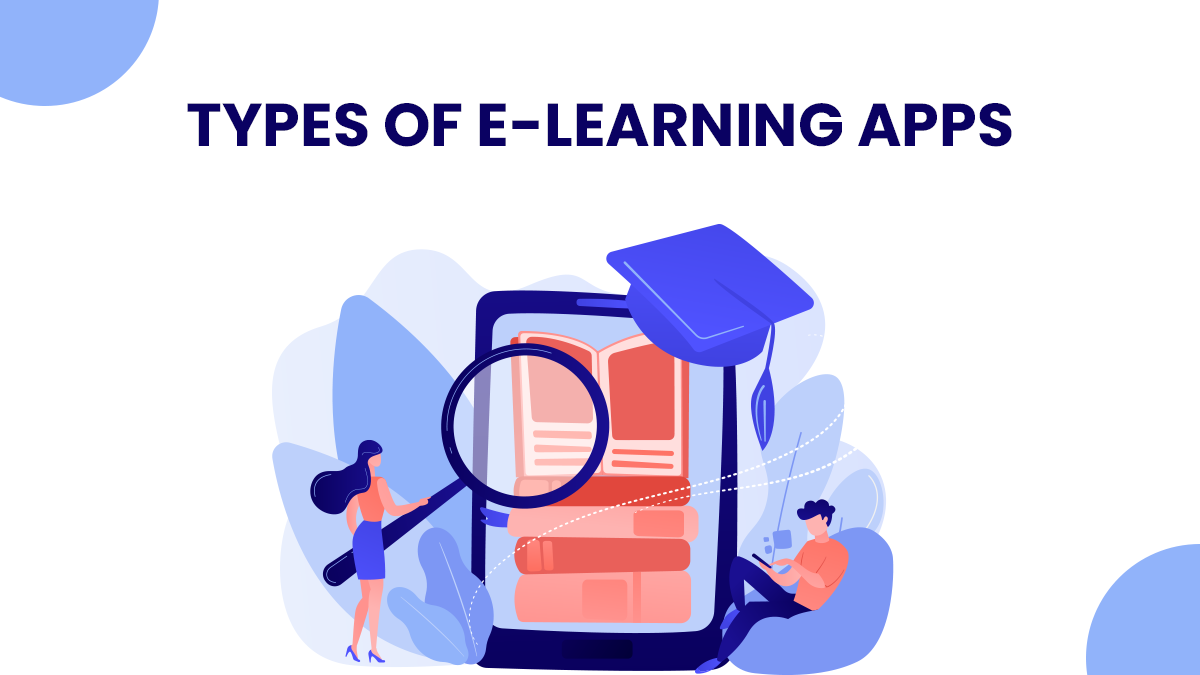 As someone who wants to get an e-learning app developed, you must first know about the types of e-learning apps. This will help you define your objectives and target audience. A few types of e-learning app which you can ask a top e-learning application development company to develop are- 
Course-based elearning app development


An app that is designed to provide students with a full course is known as a course-based app. The study material provided on such apps is in the form of audio and videos in typical cases.
Smart Connect


This is an innovative approach toward making learners understand better with interactive technological aids. The most common implementation of such apps can be seen in smart classrooms.
Examination based Application


This type of e-learning app is designed to facilitate tests and aptitudes to analyze students' knowledge on a given topic. These apps are based on various tests, the answers of which are registered by the student, and then the app finally publishes the result.
Specialization-based application


These applications are developed to help students to study thoroughly one clear-cut domain. 
How does an Education App generate Revenue? 
Your education app can generate revenue and profits in the following ways- 
Sell your app with a paid version 
If your app has it, it will flourish with the paid version. Convince your users to use the apps with 3-7 days of trial and make them permanent members with a paid version.

Subscriptions
You can charge a subscription fee to your users to avail them of advanced study material such as Mock tests, previous year papers, etc.

Advertisements
The most classic way of generating revenue even on the digital platform is by running advertisements. You can partner with sponsors who will pay you for running their advertisements. 
Why Build an e-learning App?
At times when hundreds of people from various geographic locations aspire to learn about one single thing, e-Learning apps have come out as a superhero. Elearning apps help to disseminate knowledge and education without bars of space, or location.
Furthermore, the features that are integrated into the app make the entire concept of teaching a lot more interactive and fun. Do you want to be an owner of your own elearning app then you need to hire dedicated developers to launch your app in the market?
The list of reasons to appeal to why you must build an e-Learning app is endless. However, there are plenty of benefits that are associated with the cause.
Building an education app not only benefits you in generating revenue but also helps to empower the education system which further benefits the whole human community. Here are the benefits considering which you should build an e-learning app- 

Flexible Learning



Gone are the days when students had to cross rivers to be able to sit in a classroom. With Elearning apps, students can learn from any nook or corner of the world. Elearning apps have made it possible for education to garner beyond geographical limitations.



Functionality


The popularity of any app is directly proportional to the feature it offers to its users. The same is the case with eLearning apps. If your app provides students with features like offline downloads, and mock tests after lessons, then chances are that your app will become really popular.



Budget-Friendly


With almost every course available with the sorcery of the internet, you must be surprised to hear the charging fee of Elearning apps and you will be shocked when you compare the fee with what you used to pay to tutors and coaching centres.



Features of eLearning Apps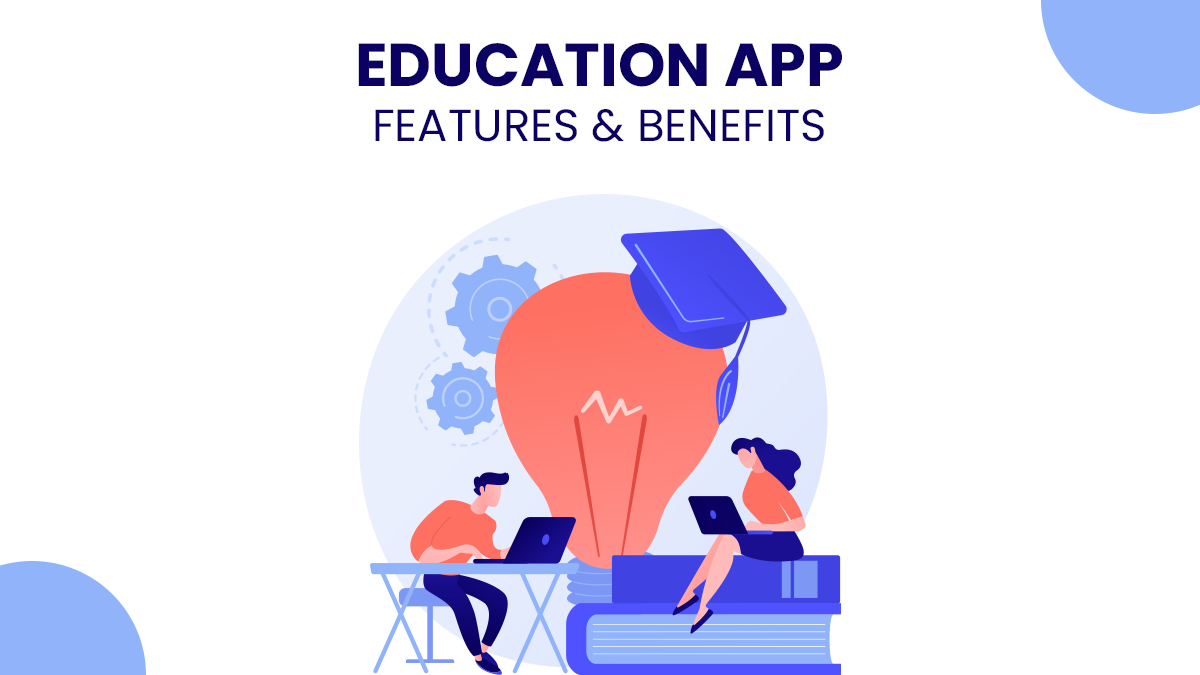 Student panel features 
Registration




Any feature is available for students only when they register themselves on the app. The registration process should be kept as simple as possible. Students should be able to log in/ sign-up with a simple phone number or email.




Courses




The list of courses available on the app should be sorted into categories so that the students can discover their desired courses in a matter of moments.




Notifications




Notification feature development in an eLearning app allows users to not miss out on any important lectures, courses, or tests.




Online Test




Tests are really important for learning in a student's life. Apps that offer online tests have a high chance of being used more.




Progress Analytics




Learners can self-assess their performance by this feature. Progress analysis helps students to determine their progress. 




Forum




eLearning apps should have the Forums feature which allows the users to connect with experts at the hours of doubts and questions.



Teacher's Panel 
Login




There should be a login portal for teachers as well. The subject experts should be able to log in to the app with a simple username and password.




Profile




The profile section of a Teacher should have details enlisted. Details should have information such as educational background, years of teaching, etc.




Create Study Material




Probably one of the most significant features of the e-learning app, these tools allow teachers to create study materials for students which can be quizzes, puzzles, tests, video lessons, etc. 
Admin Panel 
Registration




Admins can register on the app with a simple registration process. Later on, they can sign in with a username and password.




Content Management




This feature enables admins some tools with which s/he can manage all the content that has been posted on the app for students to learn.




Class Management




Admins can easily access and manage the list of teachers, students, and classes, and has the tools to remove users.




Payment Management




Admins are given the tools to be able to track payments made for subscriptions, special classes, etc. 
Advanced Features in elearning app development
Bulletin Board




Bulletin Boards are virtual notice boards that give instructions to students. Integrating such features will boost the orientation and motivation of students.




Test and Quizzes




There is no better way of learning than self-assessment. Tests and quizzes allow users to test their learning and be able to track their performances.




Paid Study Material




Users should be able to purchase lectures, important notes, and other study material with the premium version of the app.




CRM




Customer Relation Management tool integration in an app will allow the admins to track their user's behaviour to be able to find the best-customized solutions.



Technological Stack of eLearning App Development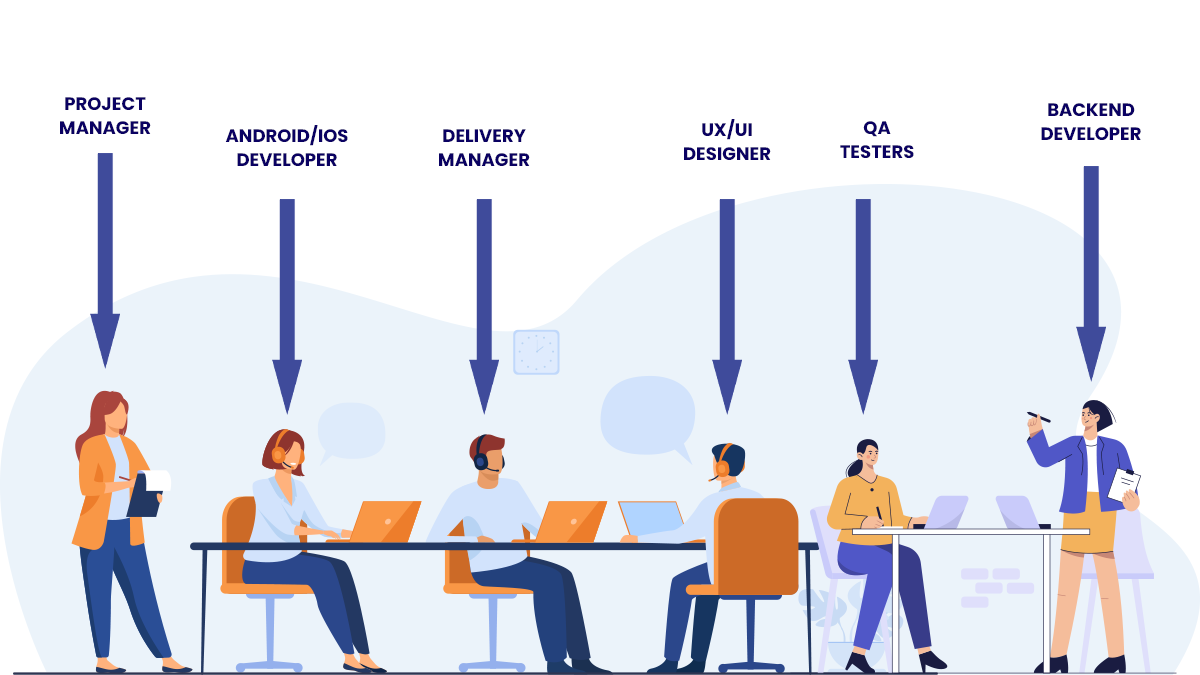 During the process of e-learning application development, developers must be really careful about the technology stack they use. When you are creating an app, there are various aspects to consider to be able to deliver a high-performing app to users. 
Python and Javascript platforms are the backend technology. 

To synchronize the database you will be required with

PostgreSQL and Cassandra.

To maintain online data storage you will need cloud storage systems. 

Caching solutions are taken care of with CDN and Amazon S3. 

Kafka Sofware assists in achieving real-time management of the project. 

Payment wallets like PayPal, Paytm, Gpay, etc are utilized. 
Team Requirement 
Like the saying goes 'Behind every successful man is a successful woman, in terms of elearning app development- there is always a team of experts behind every successful eLearning app. If you too are making a plan of elearning app development, it is important that you know and understand the team requirements. It will be because of the diligence of the team you will hire that your app will be highly functional and extremely robust. For e-learning application development, you will require a team that consists of- 
Developers for Android/iOS platform

Designers for UI/UX

Project Manager

Back End Developer 

QA Testers 

Delivery Manager 
elearning App Development Cost 
This snippet of data here will give you an outline of the elearning app development cost. You need to decide on a predefined spending plan prior to developing any application for your business. Particularly, with regards to eLearning app development, you must be extremely careful with the features that you wish to integrate along with elearning app development cost. 
There are various factors that determine the education application development cost. These factors include variables such as the number of features, technologies implemented, skills implied, etc. Furthermore, the location of the project and the team size also put influence the total e-learning application development cost. 
What are the Factors that Determine eLearning App Development Costs?
The various factors that determine the cost of eLearning app development are- 
Application Design
When we talk about e-learning application development, it is vital that the UI/UX is as simple as possible. This helps in the easy functioning of an app which allows users from all age groups to have a user-friendly experience on the app. However, the graphics of the image should look elegant and attractive. 
Features 
Features are very crucial when it comes to making your app stand out from the competition but they also largely impact the cost of development. The more features you include, the more the budget raises. Kids learning apps usually have fewer but manageable features. While on the other hand, applications that help learners crack competitive examinations have higher and more complex features.

Platform of development 
This determines whether you need to develop an app for Android or iOS or both. The platform of development of an app also impacts the cost of development of an e-Learning app.
Location 
The development cost also depends on the geographical location of the development company. Development rates of applications vary from country to country.  
The education application development cost may vary for different projects, especially in the case of elearning apps. However, to give you a rough idea, it generally costs (a total) between $87,500 and $91,000. 
Frequently Asked Questions