Clients generally hire mobile app developers by asking, "How much does it cost to make an app?" Over the last few years, Smartphone users have grown exponentially all over the world. Many people come to mobile app development companies with an idea of app development. When someone comes up with an idea of how to build an app, the first question that arises is the app development cost and the estimated budget of the project.
In this blog, we are going to discuss app development cost breakdown. We will discuss various factors that play a key role in estimating the costs, different reports, and statistics given by the world's leading business organizations. You will come to know "How much does it cost to make an app?" and how you can manage your app development cost, reduce app costs, and pay attention to the cost of app development drivers upfront.
App Development Cost for Different Application Types
To get your answer to "How much does it cost to make an app", we are here mentioning the data extracted from some reports of institutions like Clutch & GoodFirms on costs spent on developing different types of mobile applications. You can get a complete idea of the average cost of app development from here:
1. Basic App Development Cost
App Cost: About 15,000 USD
Timeline: Approx. 1 month
Examples: Camera, Calculator, Clock, Local audio/ video players, Local games, SMS apps
Basic applications are standard applications with 5-6 screens, no specific requirement for backend, or network connections. However, these applications are not being generally used these days, they require a clear objective to get developed. The average app development cost for basic apps is about 15,000 USD
2. Data-Driven App Development Cost
App Cost: About 15,000+ USD
Timeline: 1-1.5 months
Examples: Calendar, Maps, Weather, Stocks
Data-driven apps are recognized as applications that consume and execute only a particular type of information. Like Basic Apps, these are also a kind of apps not being generally used these days. Although the applications are either extension of a large-scale software product or feature advanced functionalities.
For example, a weather forecast application using a third-party API to provide users with the information. Noticeably, calendar and stock applications mentioned in this category can claim increased mobile app development costs since they may require some backend work to indulge in a set of data several times. The average iPhone app development cost for data-driven apps is between 15,000 USD to 50,000 USD
3. Authentication App Development Cost
App Cost: 50,000 USD & more
Timeline: 3-5 months
Examples: McDonald's Loyalty App, Google Drive
This type of application requires its users to log in to the applications to provide complete access to the complete app functionality. The mobile application development cost of this type of apps increases concerning subordinate features. Mobile app development cost breakdown for the authentication type of app development is more than 50,000 USD
Users are provided with a personal account to interact with the data synchronized among many devices. These accounts may need a corresponding admin panel for interactive content and user management.
4. E-Commerce App Development Cost
App Cost: ~$50,000 – $240,000+
Timeline: ~3-5 to up to 9+ months for ongoing project
Popular E-Commerce Apps: Amazon, eBay, Alibaba, ASOS, GoPuff
To understand the Android app development cost to develop an app for E-Commerce businesses, we can incorporate the most particular functionalities also discussed before such as an interactive user interface and scalable social features. These applications are outfitted with detailed product catalogs, individualized product pages, and a user check-out system followed by a complete payment transaction.
To accomplish flawless and smooth payments, developers can integrate third-party payment features like Braintree and Stripe for coordination with their application users. The E-Commerce business application system is considered extraordinarily complex since it requires a well-managed backend and administrator panel to oversee users, orders, list pages, payments, stock, and so forth.
5. Marketplace App Development Cost
App Cost: ~$240,000+
Timeline: ~9+ months
Popular Marketplace: TripAdvisor, Booking.com
To have an idea about how much does app development costs to create an app for the marketplace, you can incorporate features from both E-Commerce business and on-request benefits, as it is a broad version of these applications. The marketplace application idea has different sides of the economy – request and supply. The logic and communication to engage a rich user experience ought to be all around characterized. This procedure requires some serious energy, so the expense to build up an application of this sort is higher.
For example, Uber emphasizes exclusively available transportation services. More particularly, TripAdvisor offers lodgings, cafés, airline tickets, and more services with the help of a site and local iOS and Android applications.
6. IoT and Hardware App Development Cost
App Cost: Starting at ~$50,000+
Timeline: From ~3-5 months
Examples: Beacons, Amazon Dash Buttons, WeMo, BELI Printing Service
Internet of Things (IoT) applications interconnect specific physical objects or hardware using advanced algorithms of technology. When the IoT technology is applied, these things are termed generally as 'Smart.' These 'Smart' things can be implemented in healthcare devices, household industry things, etc.
These applications need to interface with a device either using Bluetooth or WiFi technology. This assists in sending requests and receiving information. The mobile app development cost estimate of IoT and hardware app development is more than 50,000 USD.
To create this type of application and to know "how much does it cost to start an app like this", it is important to have an instant device featured with a comprehensive documentation facility. The hardware should work appropriately following the protocols defined as per the documentation. It is then conceivable to estimate the expense to build up an application, at any rate in general.
Moreover, you can read our recently published blog on the development cost of matrimony application, where we discussed the average cost of mobile app development for matrimony app and a little about the factors that may impact the estimation of this cost from the best mobile development companies.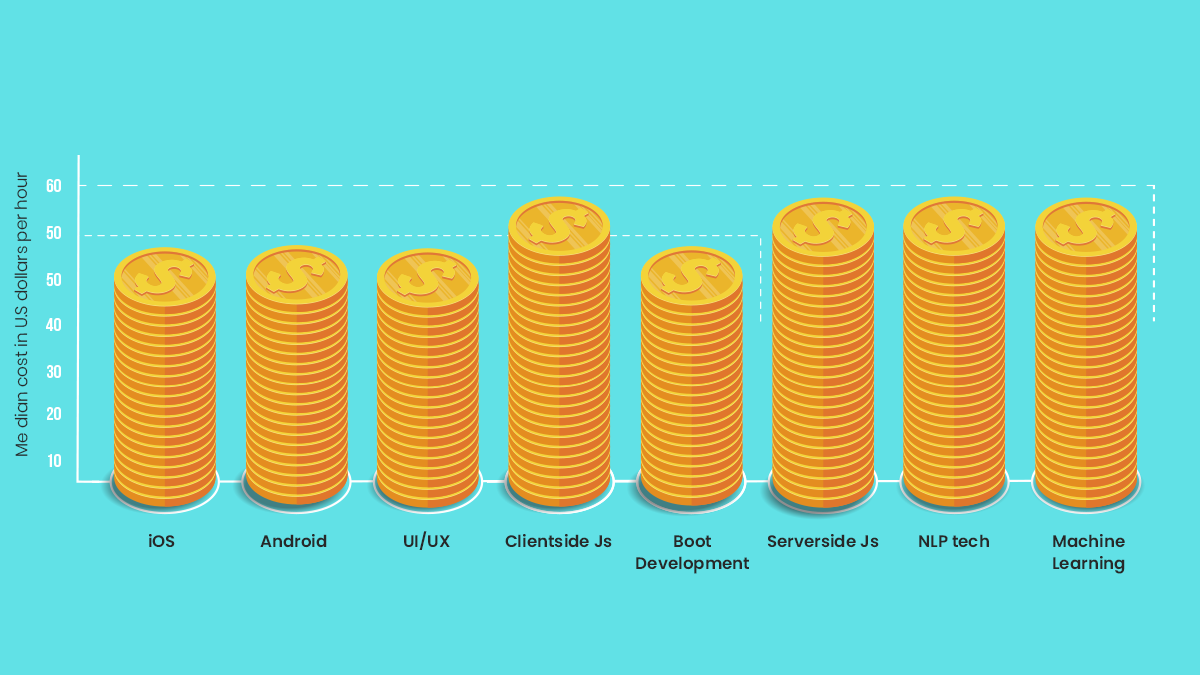 Feature-Wise Mobile Application Development cost
What is the cost of app development? As per a study called 'State of application development 2017,' about 80% of mobile applications can take more than 3 months to be developed, and 40% require a half year or more. In what capacity, one may be skeptical about this fact? They may ask, "What is the cost of developing an app based on different features they want to get it included with?"
Considering all significant factors of application development, it is recognized as a complex process, and the cost to develop an app for iOS or Android platforms is particularly directed by a lot of features in addition to the plan. We should inspect normal applications as far as the time and cost of making an app.
Before that, we ought to likewise take note that there's no single sticker price set as features are diverse for each application project, they have their logic behind, may have different plans, and so on. You'll discover progressively about that in the features described below:
1. User Login
It is an interface where application users can register and sign in to an application to use it. Most of the mobile apps are providing app users with a facility where registration can be done through email, phone number, or by directly integrating their social media accounts which is the most popular way of logging in these days.
Social sign-in makes it simpler to get into an application, just as consequently makes a user profile and gathers every adequate information about the user. This is standard practice for the best mobile app companies, and it takes around 20 hours. The development and integration cost to build an app usually cost between $500-1,000.
2. Push Notifications
It is a popular and effective user requirement for 99% of the mobile applications being developed these days. These are continuous updates that keep users educated about any exercises identified with an application or service. The main practices here are a few sorts of notices such as comprehensive contents, the one with pictures or one with activity catches.
Likewise, application logic matters – when and to whom (for instance, online chat applications) the notifications are conveyed. The timeline for developing this type of feature stands somewhere between 20 and 200 hours. The average cost of app development may run from $1,000 to $10,000.
3. Navigation
The entire user moves through an application that ought to be imagined and planned before the turn of events. Application navigation characterizes how users move between various screens, how they return to the principle menu, how they take activities, close the application, etc. Looking over, swiping, activity catches, bolts, symbols, and then some, implies that UI design is the reason for an application to be based on. The cost of building an app from the best mobile application development company ranges between $250-500
4. Different Types of Views
Portrait or landscape view, this idea is likewise a significant part of any application's development. This is essentially the way a review of things in an application is introduced to users, additionally demonstrated as the master or detail stream in the Android community groups and the portrait/landscape view for Apple's iOS. With a dependency upon the design types, app developers cost roughly between $500-1,000.
5. Media Content
Even though intuitive features are accepted to show up naturally, they are likewise a consequence of certain work. Some applications need pictures, recordings, some applications need audio file support. Moreover, most of the modern-age social networking and messaging applications need everything, in addition to altering abilities, impacts, channels, smileys, emojis, and so on.
From a developer's perspective, there is a certain important suggestion. For example, C++ is a more suitable language than Java to implement media content into apps. Also, native development kits (NDK) are of great assistance. Overall, the best Android app developers require at least 20 hours for this, so we can consider it starting from $1,000.
6. Geolocation
A feature that is crucial for taxi apps, dating apps, business apps, restaurant apps, travel apps, online booking apps, and many more. Such apps are significantly based on the mobile phone's GPS and real-time user permissions (required and optional). Regarding the cost of developing an app, it depends on geolocation service accuracy and is usually divided into the general area, medium-range proximity, and dense location. Such applications may take no less than 50 hours to develop, and iOS app development cost $1,250-2,500.
7. Google Maps Integration
Alongside geolocation, if the project's security and usage requirements allow incorporating Google Maps into your mobile application, developers will require 20 hours at least to do it. The opposite side is indeterminable as everything relies upon approaches to integrate Google Maps with application logic and tasks it should execute on prior, so development can be requiring more time to develop. Moreover, Google's legal services are within reach. The cost of integrating this feature may also begin at $1,000.
8. Personal Chat or Messaging
It's a basic component for some applications also, however various factors are at play to have the option to figure out the cost of developing this feature. How much does it cost to make an app including this feature? Does it spare messaging and history or auto-erase them after a specific time? Does it have an offline mode facility? Does it have emojis in it? Does it send notifications (send, seen, forwarded, and so on.)?
We consider the time of developing such features with every single specification, yet expect no lesser than 80 hours. The cost will range between $2,000 and $4,000.
9. Advertisements
Mobile publicizing seems to individuals utilizing an application, as a basic book, flag, or full-screen push notifications. Advertisements can be exceptionally grown, however, there are a lot of outer services and systems (Google AdMob, InMobi, Tapjoy, Flurry, and then some), SDKs, and APIs, helping designers enormously. Accordingly, this component should take around 20 to 50 hours, contingent upon the sort. The cost goes possibly $1,000-2,500.
10. In-application Purchases
Promotions inside applications suggest buying choices directly from the user's cell phone. It could be different substances or things in the mood for buying – items or services, memberships, new/premium features, and so forth. Building a mobile application with this feature ought not to be tough for a deployment agency or a developer, and the time to do it fundamentally relies upon the number of things and ought to be around 30 hours. The assessed cost is $750-1,500.
11. Payment Integration
Particularly, for users to have the option to buy something through a payment system integrated inside the application they use, is a special advantage of modern-age applications. There are a lot of system alternatives to browse – Android Pay, Google Wallet, Square, Braintree, Apple Pay, Stripe, PayPal, Intuit, and numerous others. Hiring app developers can coordinate a large portion of them into an application legitimately through payment gateway APIs.
If app developing companies adopt normal mobile payment integration strategies, the mobile app development takes about 50 hours, and the cost of integrating this feature would range between $2,500 and $5,000.
12. Multi-language Support
Multi-language support can affect a mobile app development company's answer to How much does it cost to build an app concerning different features? At the point when an application requires to be introduced in different dialects for various regions in general.
Two significant viewpoints that sway this assignment and its cost are the extents of information and UI adjustments. Similar adaptations of an application as the primary one would require around 15 hours of app developers' time. If interfaces need to be readjusted (for example for Arabic dialects, RTL/LTR bearing in CSS, and so forth.) there's more work. So this component is not unreasonably expensive and costs from $350 to 750.
13. Offline Mode
The excellence of numerous mobile applications is in offline capacities. In messaging applications, you can even now observe your chat history up to the most recent messages before losing the interaction. There are a couple of strategies for offline data storage and access to the information in mobile applications – local caching, cookies, shared preferences, local storage, SQL databases. The principle issue up to this point is deciding the collection of information and rules for them. Generally speaking, designers need at least 40 hours, which costs between $1,000 and $2,000 from apps development companies.
Trending Reports & Statistics on Mobile App Development Cost
Several prestigious institutions have provided reports to understand how much it cost to make an app, given their studies on different parameters in different regions.
You can have a look at these statistics extracted by these studies and then can further go for an in-depth analysis accomplished through this blog.
Clutch reports that the US and UK-based companies may charge $50,000 on an average cost for iOS app development using Swift. Although, the actual price of your app may be contingent on multiple parameters such as architecture, technology stack, scalability, and possible user requirements.
In Ukraine, the average hourly rate is generally far lesser than that in the United States of America, remarkably around $50 per hour. Hence you will find a relatively lower cost of iOS app development in Ukraine which is also the case for Android app development.
India is generally considered the most budget country when it comes to mobile app development. You can hire app developer companies at $10 for an hour which is the average cost to build an app in India.
One of the most particular statistics among all is the one published by Statista which indicates what amounts the mobile development companies in South America are charging to develop applications for different platforms, as of 2017. During that period, the median cost for developing an iOS application was $50 for an hour.
Median Mobile Application Development Cost in South America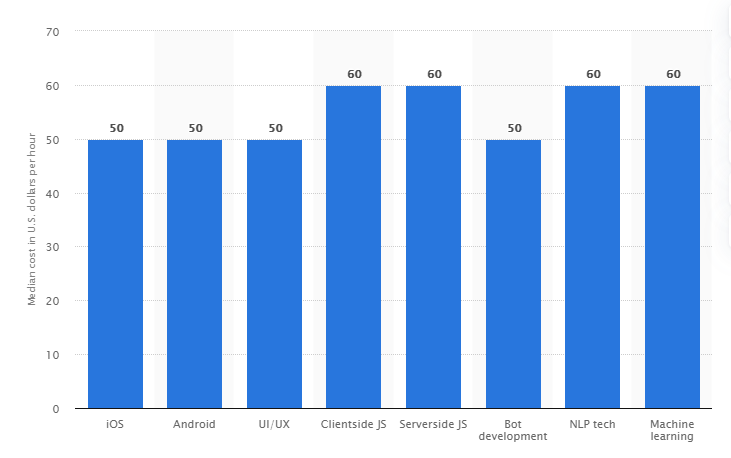 Source: Statista
Concluding Our Take on App Development Cost
We tried to find out the answer to a very typical question asked by the clients: How much does it cost to make an app if you are starting an app development company? Hiring top app developers depend upon the strategy to create value in the lives of targeted customers to use the application.
Organizations are investing increasingly in the field of mobile app development to gain more user engagement with their businesses. If any company partners to work with the best mobile app development company to develop a mobile application for them, the process can become overwhelming to discuss how the process is going to work and the cost to build an app it may require to invest in.