Are you Looking to Find NFT Marketplace Development Cost?
NFT marketplace is a great platform for artistic people like musicians and composers. The importance of non-fungible tokens in games and art cannot go unnoticed.
With the help of integrations of augmented reality or virtual reality, many services are now possible. Therefore, 
NFT marketplace Development is the latest in the digital economy. 
non-fungible token integration with AR and VR stimulates the emergence of distinctive technological solutions. You know that the momentum of NFT marketplace development was around $250 million in 2020 and is expected to grow immensely between years. 
This is a unique opportunity for individuals to show up and represent their collectables to encourage effective digital asset management.
If you are only at the beginning of your journey, no matter whether you plan to use a non-fungible token for buying, creating, selling, and auctioning non-fungible tokens or as your core business. 
It offers unique opportunities to display individual intellectuals and creative collectables and to exhibit those items to promote the effective handling of digital assets. 
What Makes NFTs so Popular
In a few years, NFTs gain popularity and adoption. But you know which factors contribute to the growing adoption of this. If not, stay tuned with us. Here, we will discuss what makes it so popular. 
Can you believe that people are unable to show their creativity because of the fear of society? But as people were locked in their homes their creativity exploded and they found NFTs as the platform to promote and earn from their skills. 
With this platform, the problem of cloned digital artwork or IP has been solved. 

NFTs are public, decentralized, and durable- just like their underlying technology blockchain. 

In contrast to regular virtual content, which is available with no limits on supply, NFTs create scarcity and drive their value.
These points play an essential role in making the NFTs more popular. Having this application, the artist can easily show their talent and can earn a good profit for their hard work, talent and dedication. 
Brief Information on How Does an NFT Marketplace Works
Usually, all NFT platforms need the users- creators or NFT collectors- to sign up and download their apps. Their application work as a digital wallet to store and access the non-fungible token that you own. 
Then the user can convert their digital assets into NFTs by uploading them onto the marketplace app through the creator section.
But while setting up it, they decide on the number of copies and cryptocurrency in which they would accept payment. The creators can always define a fee royalty for future trades in their NFTs. 
Once it has been done, the tokens are submitted for approval and listing. Now the creators can either opt for an auction with a reserve price or a fixed price for listing on the marketplace.
When an enthusiast places an order, a smart contract transaction is created, and the ownership right is always transferred. 
Know the Type of NFT Marketplace Platforms
NFT marketplace development has a great scope in the future, this is the main reason that many large companies are investing their hard-earned money in this sector. However, there are two types of NFT marketplace. 
Niche Peer-to-peer marketplaces: The primary goal of these marketplaces is to offer particular digital assets, i.e., assets belonging to a niche. 
The non-fungible token websites:  With the help of the NFT platform users can sell any crypto assets. It can be anything from digital art to a domain. Some of the top crypto NFT platforms are Mintable, OpenSea and Raible. 
Hopefully, now you are aware of these two types of NFT marketplaces where people can tread their NFTs.  However, you can also focus on the top NFT marketplace platform. So let's have a look at this platform. 
We all are aware that NFT marketplace development is gaining high popularity in the digital world. In the coming years, many new customers will be attracted to it.
Furthermore, the top NFT marketplace uses the likes of the marketplace and audience to update the platform frequently. Here we mentioned the top marketplace:
Raible: It is a type of marketplace that is well-established and allows digital artists and creators to publish and sell their artwork. 
Opens: This is one of the biggest marketplaces in the cryptocurrency development world. Its unique features allow it to be at the top. 
Super Rare: On this platform, users can buy and sell unique, exclusive digital artworks. Every artwork is created and authenticated by an artist in the network. 
Hoard Exchange:  This platform mainly focuses on revolutionizing the video game industry. Plus, hoard exchange serves downloadable content. 
These are some of the popular types of NFT marketplace development, you can take inspiration from these to develop an attractive and unique platform. 
Key Features the NFT Marketplace Development Must Have
We all are aware that the digital world is rapidly transforming and we can predict many changes and these changes will never go away.
The NFT marketplace will thrive. However, NFT marketplace development could include various collectibles, different forms of creative resources, art, and many other things that add value to digital work.
Other important features to include in an NFT marketplace development service cover:
It is the most required function. This feature should hold information like bids, previews, owners, and price history, among other things.
To add this feature to the non-fungible token market, you should hire the best NFT marketplace development company.
There is no doubt that consumers must get ultimate information about the item they need ASAP and with minimal effort. All things should be stored with different options.  By adding an advanced token search feature in the NFT marketplace you can make the search process smooth and hassle-free which can improve customer satisfaction. 
It is similar to the prior one in that it allows finding the proper item instantly and easily. Divide all offers into numerous categories that influence the buyer's choice in the majority of cases.
As a result, customers will be able to choose the required stuff quickly, which may increase the chances of purchasing the assets. So when deciding to choose NFT marketplace development, don't forget to add this feature.
You should always add a creating listings feature in NFT marketplace development that allows your customers to send and create collectables if required.
Always help them do so rapidly and without facing any difficulties. So, find a reliable NFT marketplace development company to make a page where clients may provide a file and fill in the necessary information like description, tags, and many more. 
This is another important feature that the NFT marketplace should have. This will assist those who deliver items and should pass the verification procedure.
It allows them to keep track of the status of the confirmation. Generally, this option comes in handy when there is a need to implement collectable verification. 
So, when developing an NFT marketplace, don't forget to add this feature. To make the  White label marketplace development successful, you need to hire a well-known and trusted NFT marketplace development company. 
Of course, each e-commerce project must give customers the right to buy stuff and bid on it. It draws in more consumers since some people are into the affordable price and don't want to purchase a set within their budget.
Bidding is always an enjoyable experience. However, you need to set bid closing data when developing the NFT marketplace. 
Doing this job on your own may be quite challenging. So, you need to hire an NFT marketplace development company for cross-chain marketplace development.
Read also: IoT in Healthcare Industry: Bringing Revolution to the Industry
Another vital feature is a wallet. There is no doubt that customers have a safe cyber place to receive and store NFTS. So, it must have an initial setup so that users can store and submit their tokens.
So, think about something like integrating your services with coinbase, formatic, or other crypto platforms. 
Before making a final decision, you can also make a list of eWallets and add them to your NFT marketplace. To do this job, you can also seek the help of an NFT marketplace development company.
A reliable company has years of expertise. So, they know the desire of their customers. 
Moreover, they are aware of upcoming challenges you may face in the future and also provide their solution. It is a great advantage of joining hands with a reliable NFT marketplace development company.
Apart from this, they also provide instant support whenever you want, so make sure that the selected agency is trusted and experienced in NFT marketplace development. 
What Would  NFT Marketplace Development Cost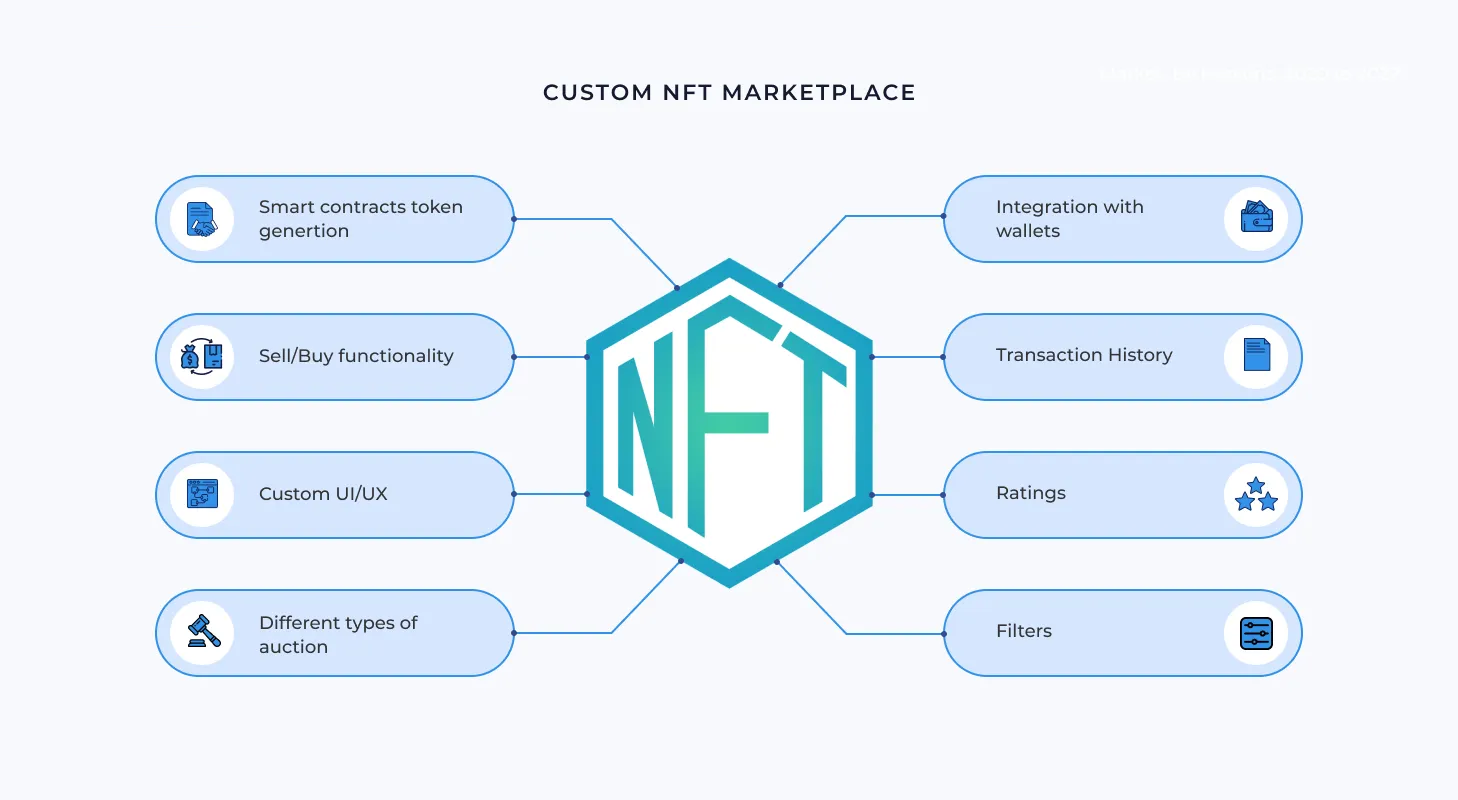 How much does NFT marketplace development cost? It is the most important question for those who have a limited budget.
But the cost of the project depends on the features and requirements. Another factor that impacts the price is the platform you choose for NFT marketplace development. Many other factors decide the cross-chain marketplace development cost. Some of these are: 
Support for digital wallets

Monetization model

Security features

Uses of the blockchain 

Ready-made vs. custom NFT marketplace development
These are a few factors that decide the cost of NFT marketplace Development. In another word, the overall price of the White label marketplace development depends on your desire. 
Sum Up
If you want to develop an NFT marketplace, you need to add the required features that will give you a good user experience. To make a successful non-fungible tokens marketplace, it is also required to choose an NFT marketplace development company.
Having a reputable agency on your side, you don't need to worry about anything such as characteristics and cost. Therefore, find an agency that has years of expertise in NFT marketplace development.
It makes sure that you get instant support and amazing features within your budget that you always want from an NFT marketplace development company.