What is online dating app development? The dating apps have taken over the entire app market and are not planning to set back anytime soon. With the increasing population in the world, there is also a significant rise in the population of the section who use dating apps. The day isn't far when dating apps will be considered as one of the social media apps. You can already see everyone around you using these apps, yet the numbers are still increasing. 
With the continuous increase in the number of people that use dating apps, there is also an increase in the demand for online dating app development. This explains why online dating app development has become a place full of opportunities for entrepreneurs. Here we will learn almost everything about dating app development. 
Market & Growth Stats
The world has witnessed how over 40M people found their partners and are glad to be using online dating apps. The welcome door of online dating app development for entrepreneurs to invest in is justified by the fact that online dating apps make more than 20 M matches in a day. These numbers speak volumes about the demand for online dating apps in the current market. 
As per a paper "Research and Markets," it was reported that the market of global dating apps harvested a CAGR of 6% and is expected to reach $8.4B by the end of 2024. If we talk about the top market players in online dating apps, names like OkCupid, Match Group Inc., Tinder, Badoo, PlentyOfFish, Bumble make it to the list. 
As per data given by the business of apps, Tinder being the coach of the team has secured a market share of 7.8M. Second, on the podium stands Bumble with a prized market size of 5M.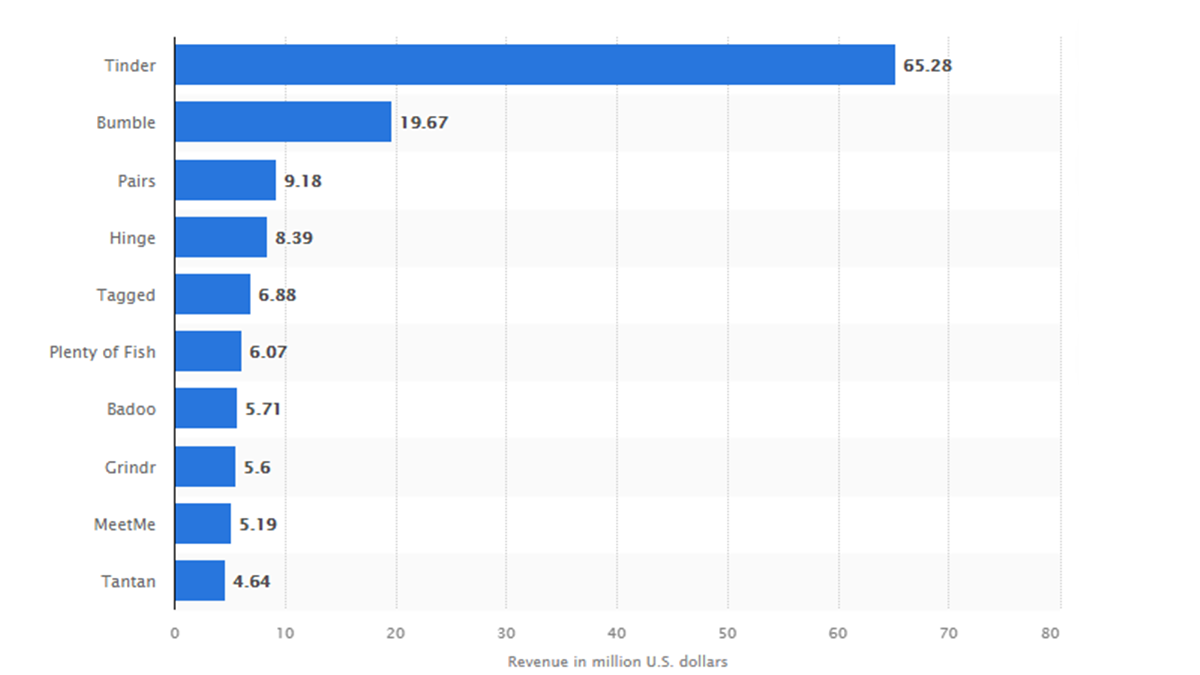 The market size analytics provider Statista presents that the online dating app market is pricing USD 3,601 M in 2021 and is expected to hit USD 4,744 M by the end of 2025. 
Business Models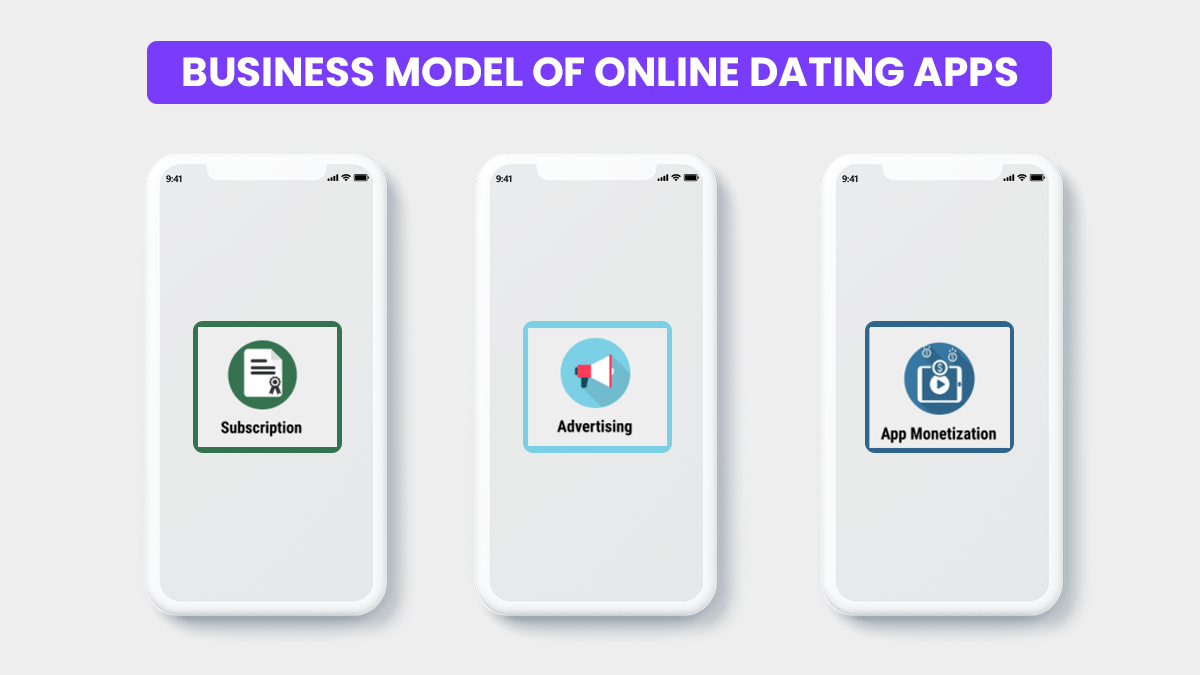 Every business needs to process a monetization model with which it can generate revenue for a successful business operation. 
Subscription: This type of online dating app only has features that are paid for. 
In-App Purchases: One of the most popular dating app models, this type is ideal for generating profit. This app also has a freemium which allows users to enjoy some features for free. If the users feel like it, they can subscribe to additional features.

Advertising: This is one of the most effective ways for earning through an app. Businesses that have relevance with online dating app development pay app owners for running their advertisements on the app. This model of monetization is practiced by many successful apps such as Tinder, Bumble Bizz, Super like Gold, etc.
App Monetization: With this, app developers are given a list to pick any platforms from various models. This allows the minimal charge spent. 
Market Leaders
There are different unmistakable forerunners in the market of online dating app development. There is now enormous interest on the lookout, disturbing the eyes of numerous new proprietors and partners to trigger into the market. However to coordinate with the clients' requirements your application would be made out of numerous robust features that should offer services of platform ratings, customer service feedback, privacy and security, other rating terms, and business needs of users.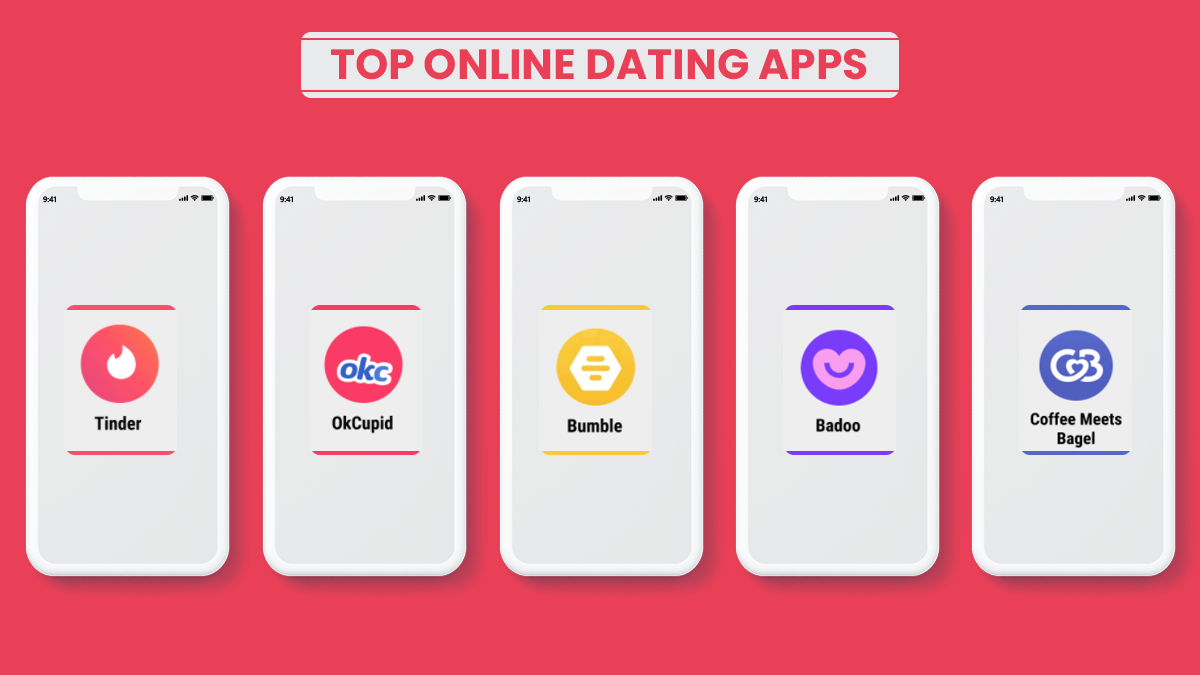 To understand how to compete in the online dating app development market, let's talk about the top online dating apps currently winning over the market. 
Tinder:
Anyone who uses a smartphone and has social media apps installed on their phone are well aware of the name Tinder. It is one of the most popular apps amongst the plethora of dating apps available in the market. An app with user-friendly features, Tinder allows users to connect with each other easily. The efficient swiping feature helps users find a partner within a matter of moments. Tinder has a huge user base of 6.6M subscribers worldwide. It comes with both a paid and an unpaid version. Tinder's advanced features are based on location-wise searches, an interactive user interface, and push notifications. 
OkCupid:
OkCupid is yet another famous dating app with a 23.4% increase and a user base of around 1.7 M. Times Group has declared it as one of the top 10 dating apps. With significant features such as its unique dashboard you get a list of match percentages, various gender options, and filters, this app has created a lovable place in the heart of the users who wish to find love online. 
Bumble:
Bumble broke the market with its distinctive feature to allow women to make the first move. It is one of the leading online dating apps with about 42 M active users. It also stands out in the market with its musical integration of Spotify. Its popular features include SuperSwipe, Verified Profiles only, etc.
Badoo:
Badoo is another famous dating app with a userbase of around 500 M users spread out in 197 countries which evidently makes it the mightiest warrior in the online dating app development world. It provides features such as video calling, swipes in and out are vastly used by people.
Coffee Meets Bagel:
It was in 2012, the city of New York that this app was developed. During the course of just a few years, Coffee Meets Bagel left its imprint with its advanced features and services. It has now crossed a user base of 10 M users and offers features such as video dating, match search, and a heart button on user profiles to show interest. 
If you too wish to try your lucky coin the online dating app develops, it is important that you study and analyze the working strategy of apps that have already established their milestone in the same department. 
Benefits of Developing an Online Dating App
There are various benefits that online dating app development offers to both users and owners. Here are some of them- 
Connectivity: With online dating apps you redefine the concept of connectivity. There is a huge section of the human population out there in the horde of finding their perfect someone. These apps allow users to find partners of their preferences with just a tap. 
Wide-Scale Demand: Due to the continuous digitalization of this world, online dating apps have become a huge demand. 
Versatile Audience: Users don't have to go through the dependence of geographical locations. With online dating apps, you can connect with anyone from anywhere.  
Multiway Earnings: With these apps, admins can make money with various monetization strategies. 
Basic Framework of Dating Mobile App
User Panel:
Sign-up/Log-in: This is where the users land on. To use an online dating app users first have to sign up which can be done by using a phone number or email. 
Notification: With notifications, users do not miss out on any important information. Users are prompted with notifications when they get a match or a message. 
Tracking & Navigation: Tracking and navigation allow users to find partners that live in close proximity to them. 
Send Requests: After finding a partner that matches the user's concern users are given features to be able to initiate a conversation with them.
Also Read: How to develop a multi-purpose messaging app like WeChat

Profile Builder: A profile builder helps users in creating a personality with which they can describe their personality at best. Users can also attach their pictures, quotes, etc. 
Check Profile Views: This feature enables users to view the list of other users that have viewed their profile. This helps users to determine who is interested in them and then later connect with them. 
Private Album: Online dating app development also ensures to give users privacy. To do so, the app development encrypts the albums of users to assure that the albums and data are not accessed by a third party. 
Winks & Emoticons: Everything is a little better when you add elements to it. With these features, users can communicate their feelings with greetings, emoticons.

Accept/Reject Requests: A top mobile app development company will provide users with the option to accept/ reject connection requests as per their interest, sent by other users. 
Admin Panel:
Membership level management: This is the panel section provided by online dating app development with which admins manage everything about app users. With membership level management admin also analyses and sorts security-related issues to eliminate spam. 
Track Revenue: This allows admins to keep a check on the revenue generated through subscriptions, advertisement, and other monetization strategies implemented in the online dating app development. 
Multi-language Support: To keep an application versatile it is important that it meets the needs of users. With multi-language support, admins can add/delete languages according to a user's physical location. 
Feature management: Admins are given tools to overlook all the features which are integrated during the time of online dating app development. Feature management is often facilitated to users with pictorials usability graphs, loading time, and other significant details.
CMS: With the assistance of CMS, admins Under this section, Admin looks after all the techniques to be implemented for improvising the static content pages like About Us, App Privacy, Contact Us, FAQs, and a lot more.
Advanced Features
In-app purchases
It is the purchases made in an app that determine the fate of dating apps. Users can avail more enticing features by buying features from the app. These features include services such as ads removal. 
Matching Algorithms
Online dating app development works with the motive to connect users with other users that match their preferences. It is very crucial for online dating app development that the matching algorithm is flawless and users can find their desired partners without investing much time. 
Virtual Gifts
This unique feature allows users of the app to impress their partners by sending them virtual gifts. With this feature, users can send virtual images of the items to make the conversation more interesting.
Gamification
This feature is significant for the functioning of an online app. To attract users developers use compelling appealing images, statistics, graphical elements, etc. This further establishes the enabling of users to be able to find their special someone within a matter of few taps. 
User Anonymity
The feature of user anonymity is handy when you have to develop an online dating app. With this users are given the authority to control the information that should be shared publicly. This implies that the user data is kept safe and away from the pryer's eyes. 
Customize Templates
Colors tune boring into everything extravagant. With help of template customizations, users can transform their profile into something more appealing. 
Promotions/Advertisements
Promotions and advertisements contribute greatly when it comes to generating revenue. You can present ads that are relevant to mobile apps and display them to users so that they are updated with everything.
Team Structure Requirements for online dating app development 
Project Manager: For a successful app development you should hire a project manager who is power-packed with amazing management skills and is technically equipped to determine and reap the potential of online dating app development. 
Developers: iOS Developers, Android app developers  Back-end Developers for dating app developers.
Designers: UX/UI designers, Graphic Designer
Testers: Well learned and experienced QA analysts who can ensure a positive user experience. 
Cost of Development
It is no element of surprise that the development cost depends greatly on the features that you integrate into your dating app. The cost of development depends on other factors such as the number of platforms on which you want to build your dating app. Other elements on which the development cost varies are design, prototypes, backend specifications, and testing cannot be skipped.