Content is the king of marketing. Without content, it is not possible to inform people about services and products. But writing good content is not a cakewalk. And agencies want to save their money so they avoid hiring content writers and taking the help of AI content generators.
AI content generators create content on various topics as well as provide the answer of human beings. With the help of AI tools, it is easier to write content on various topics and promote a brand with ease. Therefore, many agencies decide to build an AI content tool that easily generates text as per human beings' requirements. If you want to promote your business it is good to choose the best tool.
In this post, we will discuss the best AI content generator that helps to generate content as per your requirements. To get all the information about the AI tool, you need to read the complete blog without turning your head.
What Is An AI Content Generator?
An AI generator is usually a tool that automatically generates content based on user inputs. It also helps users instantly write different types of content such as email, blog and social media posts. Moreover, AI generator tools are useful for researching keywords, content ideation and plagiarism checks. Moreover, they have great features to fulfil the different requirements of the user.
List of Top AI Content Generators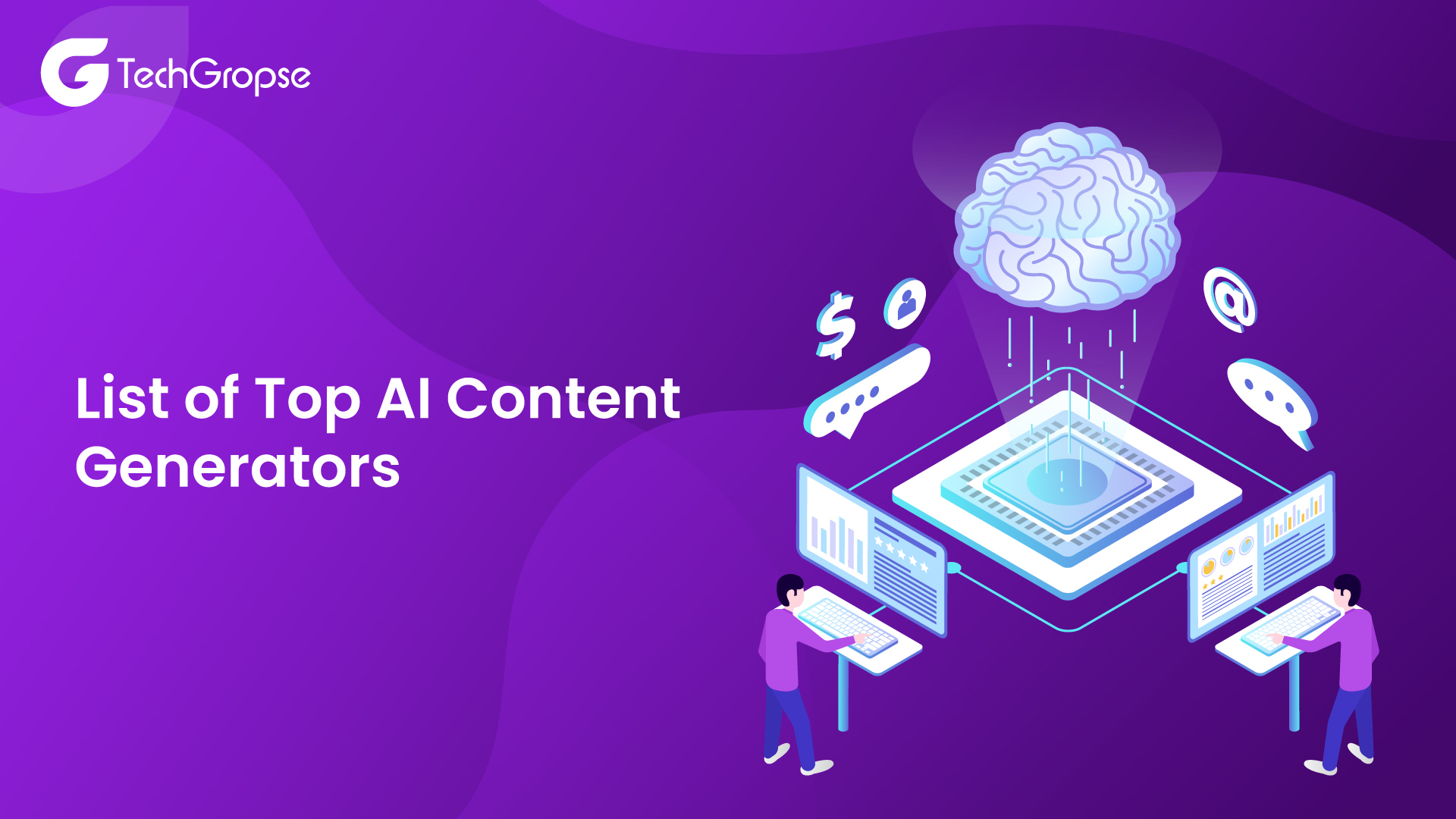 Well, AI content Generators change life completely as it makes the task more easier and convenient. As a result, the demand for AI tools is high among different businesses. If you also want to take your business to the next level and search for popular AI tools to generate content for your products and services, you have to look out for the following tools:
1. GrowthBar
This is the best AI to write SEO blogs. This tool enables you to research keywords and write 1,500+ word blog posts in a couple of clicks. The best part of this tool is that it works for any topic, in any language. Moreover, while you write a blog, GrowthBar surfaces SEO suggestions so that your blog will rank on the Google Search Engine Result Page.
GrowthBar gets 4.9 stars on G2 for its SEO content and AI-generating capabilities. In order to know how does it work, look out the following points:
Write the Complete Blog Post 
GrowthBar takes your input keyword/topic, scans the web using a powerful search engine optimization decision engine and makes suggestions in a content editor using GPT-3. This is the largest powerful language model on earth.
GrowthBar is completely drag-and-drop. It means you are able to write a perfect blog post including perfect headlines, keywords, images and AI-generated text. After that export to Google Docs or World. On the other hand, this tool's content optimizer will tell you how SEO optimized your final post.
GrowthBar enables you to enter any URL and "fetches" the content as well as audits it for word count, internal links, readability, SEO best practices and many more.
Keyword and Competitor Research 
GrowthBar is known for surfacing billions of data points which is why you can make sophisticated decisions about the content strategy. Moreover, it includes over 2 billion keywords and searches data in the keyword research tab. On the other hand, competitive data is on every site on the web.
No doubt that GrowthBar always has a Chrome extension that helps users to utilize GrowthBar's AI writer directly in WordPress
2. ChatGPT
This is the free AI content generator tool. This tool enables you to write content on different topics with ease whether you want to write an email to your boss, add more polish to a school essay, add more polish to a school essay or even answer simple queries. With the help of the application, you can also write social media posts. As a result, an AI development company took an idea from this tool to build a robust AI app.
What ChatGPT Do 
Generally, ChatGPT is the most powerful AI tool that has access to billions of documents and a huge corpus of information. It means you can generate any type of content with ease. With the help of this tool from writing code to creating emails, creating a YouTube script can be easier.
3. Copy.AI
If someone is searching for the best AI too then they can rely on Copy. AI. This tool generates marketing copy in a couple of clicks. Unlike GrowthBar, Copy AI spans over 90 use cases.
With the help of this tool, users can generate ad copy, website copy, social media content, blog content and any other form of digital copy. Here, you will find styles of copywriting of any tool. On the other hand, it helps to create email content, Google ad content, Facebook ad content, sales-outreach copy and many more.
What Copy.AI Do
Copy.AI easily generates all kinds of digital copies. In order to use it you have to select the type of copy you want such as description, blog intro, and ad copy by entering some basic information about the content and Copy.AI generate content.
4. Adobe Firefly
This is the best AI content generator that creates visuals, and 3D models from text, movies and vectors. This tool is based on generative artificial intelligence built with creators' needs, and procedures in mind are included. Processes may instantly and easily alter a video's ambience, weather and lighting.
This tool also gives permission to customers to generate custom marketing and social media content with as little as one line of content including banners, posters and social media posts.
What Adobe Firefly Do
With the help of this program simple compositions may be transformed into lifelike photographs as well as new 3D styles and variants can be created in a flash. The main aim of this tool is to offer artists with every possible edge, both artistically and practically. This tool is known to build creative, generative AI which Adobe is responsible for building.
5. Dumme
With the help of Dumme, it is easier to create short, ready-to-upload videos from long-form materials. This tool generally works with videos and podcasts of any length or format and it can create 8-2 segments from a 20 minutes video or more if the video is long.
Through the help of this AI tool, it is easier to generate captions, titles and descriptions automatically from maximum efficiency across all supported platforms. If you decide to build an app like Dumme, you have to search for a mobile app development company that has good years of experience and reputation in this sector.
What Dumme Do 
Being an AI-powered short video generator it can take any video or podcast of any length and content type as well as automatically find clip-worthy moments while preserving context and structure. On the other hand, it supports most languages and is suitable for content creators with existing long-form content.
6. Copysmith
This amazing AI tool is specialized in creating copy for social media, product descriptions, ads, meta tags and other short snippets of content. This is an amazing choice for entrepreneurs and digital marketers who need an instant copy. This AI content generator is generally used in eCommerce.
Plus, it helps to create Facebook ads, descriptions, Linkedin ads, Google ads and many more.
What Copysmith Do
Copysmith is known for different templates depending on the type of copy you want to create. Usually, each template format is similar, you add keywords and other relevant information then their AI does the rest. Moreover, you end up with a list of short snippets of a copy. Each piece of generated content is plagiarism free so you can copy and paste the content to the selected site.
7. Jasper 
Jasper is one of the best AI content generators in the market. With the help of this tool, it is easier to generate high-quality content. This tool also enables users to generate long-form content. It means users are eligible to write blogs and social media posts with ease. If you want to build an app like Jasper, it is necessary to hire dedicated developers who are well-experienced and knowledgeable in the app development field.
What Jasper Do
Jasper helps users to generate a number of different types and even choose the top of the content they want to generate. The best thing about this AI tool is that it has 11 language options and perfect grammar
8. Rytr
This is the best AI tool, unlike Copy AI. With the help of this software, users are able to generate unique copy for a number of use cases including brand names, business pitch ideas, calls to action, Facebook, email, Twitter and Linkedin ads, meta descriptions, product descriptions and many more. Using this amazing tool it is easier to generate a unique copy.
What Rytr Do
Rytr is a multi-faceted content generator that has over 30 writing functions. In order to use this software, you need to choose a use case, add some input text and get written output courtesy of Rytr's AI.
9. Writer 
Writer.com is a popular AI tool for enterprise businesses. If you want to generate quality content to build a brand, it is good to choose writer.com. It will assist you in generating quality content copy for different purposes. Moreover, the tool is easy to use. If you also want to build such software, it is good to contact a software development company that will help you in every possible way.

What Writer Do
Writer.com is trained to generate copy for your business. With the help of this tool, it is easier to write content for different topics. Using it, users can generate business blog posts, style guidelines, investor reports and more.
10. Writesonic 
Writesonic is a comprehensive AI content generator that helps writers, marketing teams, bloggers and entrepreneurs. The app is similar to Copy AI. Using this application, it is easier to generate Quora answers to social media posts, blog posts, emails, page copy and many more. You know that it is a unique tool that helps enterprises to create content.
What Writesonic Do
Writesonic helps users to write copy across a huge number of use cases. Moreover, it has copywriting tools that enable users to generate a copy with ease.
11. Blogcast 
This tool helps to generate Audio content. If you are searching for a way to automatically repurpose your content into audio format, it is good to use Blogcast. This amazing tool creates realistic voices for videos, written content, podcasts and many more. This AI tool uses AI-text-to-speech technology, which means you don't have to use your voice.
What Blogcast Do
Blogcast is known for using text-to-speech technology to read text and create audio. If you have an audio file you can attach your blog post and use it as a podcast or in any other way you want.
12. Pencil 
This AI Content generator creates a bunch of different ad copy variations and layouts in a couple of clicks. Then you have the opportunity to split-test those ads, take a data-driven approach to what's working and improve your return on investment.
What Pencil Do
This app provides a brief consisting of key details, video clips, images and other media you want in your ad copy. The best part of the app is that it can generate lots of unique ads for you.
13. Jenni
Jenni helps to generate, regenerate, paraphrase, and simplify the writing task. With the help of this tool, it is easier to autocomplete text as you write within the slick text editor. In simple terms, this is the best choice for students.
What Janni Do
This tool enables the writing of essays, stories, speeches, personal statements, emails and many more things a student reassures. Usually, this is a mixture of in-house AI systems, AI21, OpenAI and custom data from users.
14. Plot Generator
Plot generator AI content generator makes it easier to write stories. It helps to generate plots for you according to the basic information about your story. It is obvious that it does not generate a masterpiece in minutes but creates a plot outline to set you on your way to writing your own story.
What Plot Generator Do 
The plot generator will take some keywords for your masterpiece such as the name of the characters, how they feel about each other, where the story is set and many more. Based on this, you are eligible to opt to either publish or discard your plot. Moreover, you can simply use it as inspiration to write a masterpiece for you.
15. Testimonial Generator 
Testimonial generators are known to create, well, testimonials. If you want to generate short and sweet testimonials, this tool can be a great choice for you. To get a testimonial you have to write a word about the product and you will get a testimonial for it.
What Testimonial Generator Do
Generate short testimonials for a product or service.
16. Rocketium
This is the best choice for those who want to create videos on various topics by uploading content or using templates offered by this tool. If you want an instant and inexpensive way to produce video content, it is a good choice for you.
What Rocketium Do 
As we all are aware that Rocketium is a powerful video generator. In order to generate video, you need to upload images or short clips and this tool will join them together and offer you the ability to include text, customized features and audio.
After doing it you will get a professional-looking video that can be shared on social media, posted on your website and used anywhere you want.
Conclusion 
AI is the king of marketing as it is necessary to write unique copy to build a brand and rank on top of Google. However, many agencies want to save costs which is why they use AI tools instead of hiring content writers.
But when it comes to choosing an AI tool, it is difficult to determine which one is suitable to create content. If you have the same query, the above-mentioned list of top tools help you in choosing the right one for you as per your interest.
FAQs
1. What Are AI Content Generators?
AI content generators use AI algorithms to generate content automatically. With the help of this tool, users can generate images, text, videos and audio content according to the specific program and its capabilities.
2. How Do AI Content Generators Work?
AI content generators work using natural language processing algorithms and machine learning techniques in order to analyze and understand large datasets of existing text. The best thing about the algorithm is that it is trained on massive amounts of data to learn how to recognize patterns, vocabulary and structure.
If AI is trained on this data, it will generate new text using the patterns and structure it learned to produce unique and original text.
3. How to Use AI Writing Tools to Generate Content
In order to use the AI writing tool, you have to follow the listed steps:
Choose an AI writing tool:
Define your topic
Provide some input
Set parameters:
Review and edit:
Publish
4. What are the Key Benefits of Using AI Content Generator Tools?
Here are some of the key benefits of using AI content generator tools:
Time-saving
Consistency
Cost-effective
Improved SEO
Increased creativity