Undoubtedly, we depend on mobile applications in today's time to buy clothes, groceries, medicine and many more things. Henceforth, many people visit the Google play store to download an app. But sometimes, people are looking for something different. If you are searching for an app, there are some best alternative android app stores where you can find your preferred application.
In this blog, we will discuss the top alternative android app stores. To find the best alternative read the complete post without turning your head.
How Does Alternative Android App Stores Work?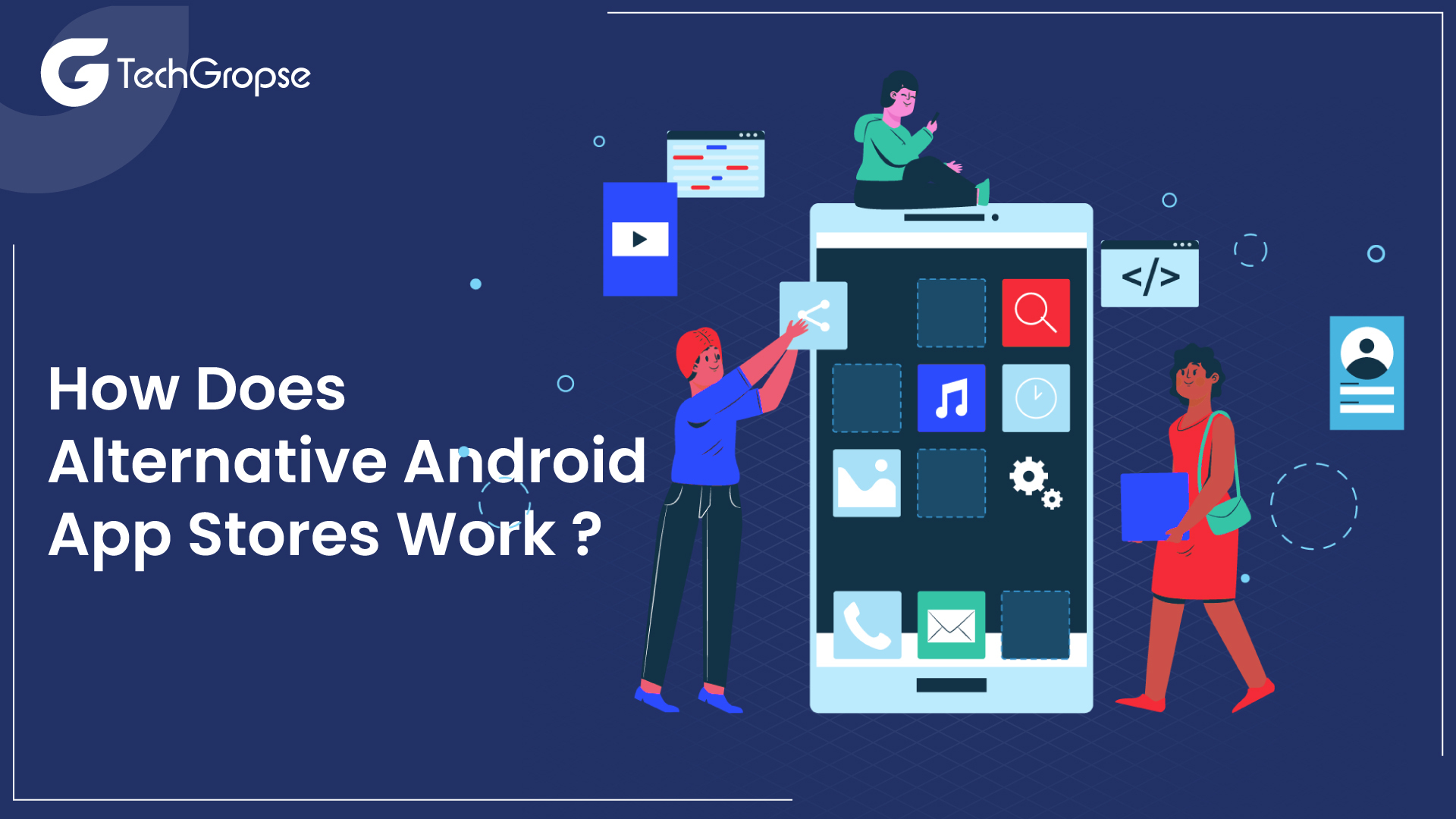 Alternative android app stores are platforms other than the Google Play Store where users can discover, download and install android apps. While the Google play store is the default app store for many Android stores. There are many alternative app stores available that offer a range of advantages and unique features. Here's how alternative android app stores typically work:
App developers submit their applications to alternative app stores, where they are reviewed for security and quality.
Users can browse the application store's collection of apps and download the ones they want to install on their devices.
The alternative app store manages the users' download and installation process, ensuring that the app is installed correctly and safely.
The alternative app stores may provide features such as application recommendations, personalized app collections and app ratings, and reviews to help users discover new and useful applications.
Many alternative app stores may provide features such as app updates, app backups, and app sharing to make it easier for users to manage their applications.
Why Use an Alternative App Store?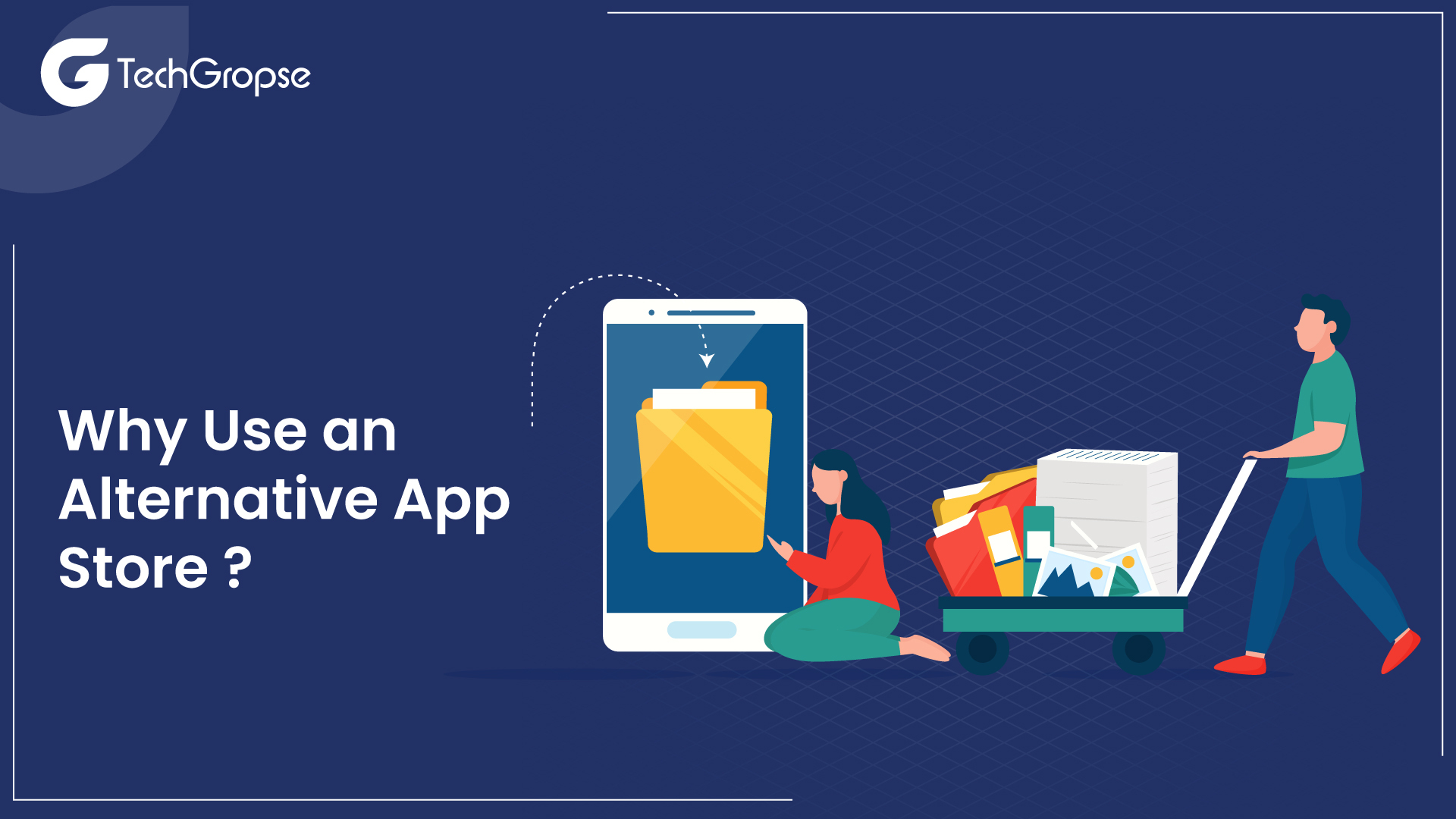 Well, the Google play store is famous for android applications, but people are still unable to find some applications for this store. In such a case, they are looking for alternative android app stores. But many people have a question: is using a third-party store really worth it? Well, there are lots of answers to this question.
Usually,  many alternatives provide a discounted premium version of the application and save money. On the other hand, there is no uploading fee, and they are eligible to promote your application by featuring it as an "app of the day" or providing advertising discounts to app owners.
Furthermore, developers have many chances to rank their applications higher on alternative android app stores. In this section, we mentioned some advantages of alternative stores. Let's take a closer look.
Alternative android app stores often provide a wider range of applications than the official app store. This can be especially useful for niche or specialized applications that may not be available on the official store.
Access to Region-Restricted Apps
No doubt that some applications may only be available in certain regions or countries, and alternative app stores may offer access to these apps regardless of location. An Android app development company can launch their app in alternative app stores.
Official app stores may have strict guidelines for what applications are allowed on their platforms, which can limit the type of apps available to users. Generally, alternative android app stores may have more relaxed guidelines and allow for a greater variety of apps.
In many countries, the official app store may be subject to government censorship or restrictions. Alternative android app stores may offer a way to access otherwise restricted applications.
Alternative android app stores may have stricter privacy and security measures than the official app store. They may always offer more information about their applications, including data collection and privacy policies.
Features of Alternative Android App Stores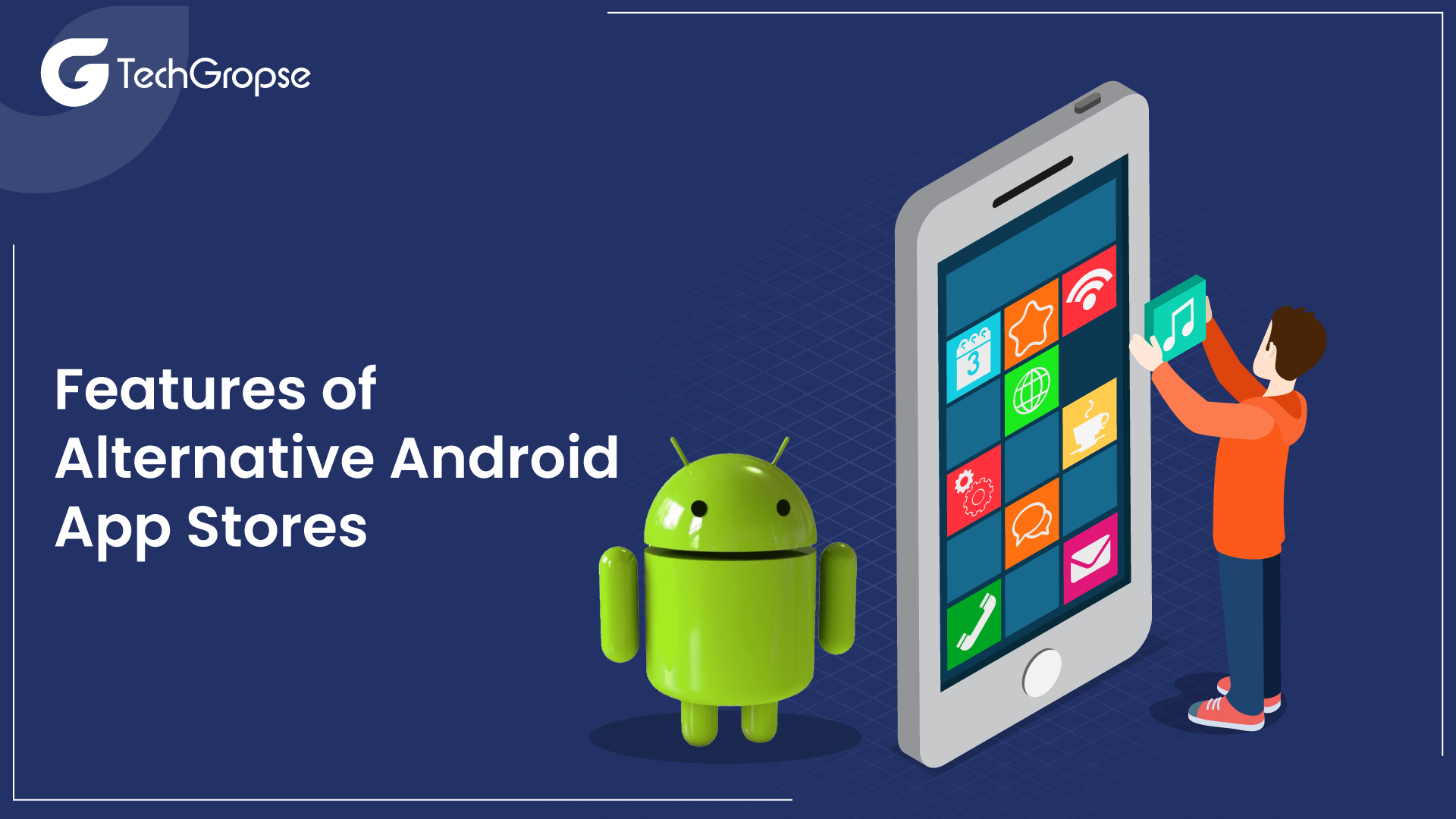 Alternative Android app stores provide features and functionalities different from the official Google Play stores. Here are some of the common features of alternative android app stores:
Alternative app stores often provide different applications than the Google play store. Some may have more niche or specialised applications, while others may have apps not available on the Google play store.
Alternative android app stores may have different curation policies than the Google play store, which can result in different types of applications being available. There are many stores that have lenient policies, while others may have stricter policies.
Different Payment Options 
Another feature of alternative app stores is different payment options that provide alternative payment options such as direct carrier, billing or cryptocurrency payment.
This is another amazing feature that allows the users to rate the application. It will help others to understand if the application is useful or not.
Alternative app stores may have a more global reach, providing apps that are not available in certain regions.
Alternative android app stores also have community features that allow users to share tips, ask for help, or give feedback on applications.
Overall, alternative android app stores offer users a wider range of app selections, payment options and policies than the Google play store. However, users should be careful when using alternative app stores, as some may not be as secure or reliable as the official Google play store.
A List of Top Alternative Android App Stores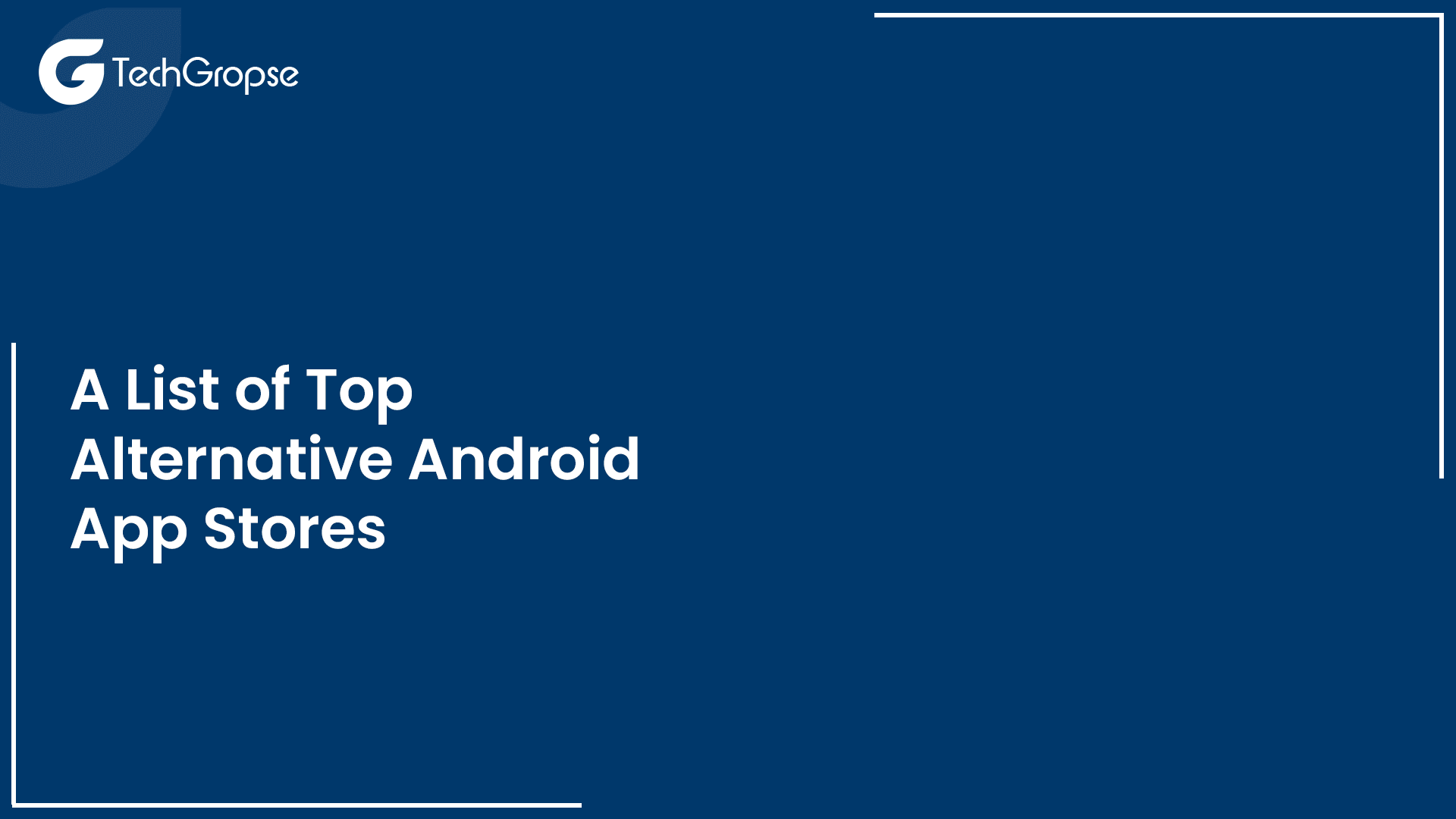 As the popularity of the alternative android app store increases day to day. Therefore, people are searching for popular alternative stores to download their favourite applications to their mobile phones. If you are also looking for the best alternative android app stores, look out the following list:
1. 1Mobile Market 
This is the best alternative store for free android apps. In order to upload an app to this platform, developers don't have to pay a fee. In this app store, the primary focus is on games and entertainment. In simple terms, developers can use this store to test betas and free paid app versions. Unlike other stores, the 1Mobile market provides a standard 70/30 split.
2. 9Apps 
This free app marketplace features all kinds of apps, from social media apps to games, fitness solutions and music streaming. The amazing thing about this platform is that users can search for all popular android applications without paying downloading fees.
3. A1 Apps Store Market 
It provides millions of applications with detailed descriptions and lets you set notifications for upcoming android applications based on your internist. On the other hand, you can block specific categories, such as games, to show up in your search results.
4. Accrescent 
This is the best alternative android app store where developers can upload new applications. The main goal of this platform is to become an innovative developer-friendly platform focusing on modern security and privacy practices.
5. ACMarket 
This platform was designed specifically for hacked, cracked or modified applications. In simple terms, this is one of the biggest android app stores where you will find more than 15k apps. As this application store is constantly under development and introducing improvement, it provides new updates instantly.
6. Amazon Appstore 
This is one of the best alternatives to the Google play store. This store has a cross-platform analytics service, which is quite easy for developers to navigate. Moreover, it pays its developers nearly 70% of an application's listed price and in-app purchases. This platform offers an app compatibility test that automatically detects issues for developers.
They always have Appstore Developer Select, a reward program for developers that offers free ad impressions and boost customer acquisition via Amazon coins. On the other hand, you get a free app or game every day.

7. APKMirror 
There is no dedicated native application. Usually, this app store helps to download and store applications as APKs, meaning you need to visit the website to download those files. This platform also provides a daily updated list of apps that align with your interests.
8. APKPure 
This platform provides paid games at less price. This application store has an easy-to-use developer console that provides access to geo-restricted applications.
9. APK Time 
There you will find APK files in categories such as games, entertainment, sports, and many more. Like similar libraries, APKTime enables users to surpass geo restrictions and download APKs for free with no sign-up or Google account.
10. APKUpdater 
This alternative android app store allows users to set a list of applications they don't want to update. Moreover, there you will get lots of tools that make it easier to find your installed application's update, and this platform also lets you find and install updates before they are even released on Google play.
11. AppBrain App Market 
This android app store provides an opportunity to get a premium app for free or top-paid android applications with significant price drops. There you will also find a number of app promotion tools in this browser-based mobile app store. You know that many brands use this platform to make their applications more visible in various mobile app stores.
12. AppSales 
This platform gives access to several unreleased applications and free apps to download. This alternative also lets you monitor the price history of apps and allows you to access geo-restricted content.
13. AppsApk 
This platform is an amazing choice for those searching for android apps. This platform provides a large collection of apps, games and wallpapers. Users can read the latest releases on this platform and look under the hood of popular apps with comprehensive tutorials.
14. Appvn 
This platform provides free APKs for both paid and free applications. This third-party store provides a registration-free way to download Android applications, so users are able to download the application easily. Moreover, they can also build their own stores within the platform, while professionals can optimize the source code of applications.
15. Aptoide 
This is another amazing platform where you will instantly get new updates on Google play, and there is access to geo-restricted Android applications on Google Play for in-store purchases. Moreover, this platform provides a customized recommendation platform, including creating an app store on your website's storefront. You will find over 1 million apps and over 7 billion downloads on this platform.
Conclusion 
Over the years, the demand for alternative android app stores is increasing to find perfect android apps. If you are searching for the best alternative apps, you are at the right place. Above, we mention a list of top alternative android app stores so it is easier for you to find the perfect platform to download an android application.