In today's technology-driven world, everybody is addicted to technology, things from washing hands from sensor taps to ordering food from their beds. Technology gives a great level of ease to everyone. And the most usable device of technology is smartphones these days, and that is Android, one of the most important and running mobile operating systems of this era which is developed by Google. It came up with the next major version of its mobile operating system Android Pie and version 9.0, it introduces some cool features that will change the way you use Android. 
Whether you've downloaded this new version or are looking forward to it, here are the best Android pie new features you must know about. 
Android Pie New Features
New gesture navigation

 

New Google Material Theme

 

Controls to curb phone addiction.

 

Improved notifications

 

Adaptive settings for battery life, screen brightness, and application suggestions

 
New Gestures Navigation 
Android Pie Enables a user to swipes up to view recent apps along with the application suggestions. Instead of using a trio of buttons along the bottom of the screen. A new single button will quickly switch between apps.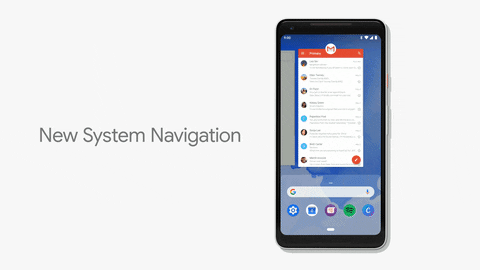 New Material Theme 
The next feature which is included in Android Pie is a material theme. This approach is not new to Android or Google, the new theme adds white space and rounded corners. 
New Dashboard to curb phone addiction 
A dashboard is a new feature that helps track the amount of time you spend on your device. With Dashboard Feature, the User will be able to see since how long he is using a phone to send messages, stream content, surf the internet, or even make calls. 
With certain apps like YouTube, you can even receive recommendations to take a screen break. You'll also be able to set up screen time limits for specific apps. 
It also provides you shush or wind down mode a new Do not disturb tool which automatically activates when you place your Mobile phone screen down on a table or surface. 
Improved Notifications 
Newly improved notifications will affect most users. Now, from notifications, Google will suggest smart replies, allow you to attach photos and stickers, and type your own replies. 
Adaptive Battery and Adaptive Brightness 
New adaptive settings for battery and display brightness uses Artificial Intelligence it learns your habits over time and allocates dedicated resources and battery power to the apps you typically open at a given time of day or location. Once it understands your preferences, it can then make the necessary adjustments depending on your lighting conditions. 
For example, App Actions will suggest a playlist when you connect Bluetooth headphones. 
Additionally, with users, Google also provided some features to developers like the ML Kit to help take advantage of the company's machine learning technology on a device. Developer tools for App Actions and a Slices API make it easier for android app developers to integrate deeper into the Android operating system. 
Why Android Apps Are Blowing Everyone's Mind
The android operating system has become the most popular among the users and it is earning a platform for the business by which they can easily expand it to the largest audience. Recently, WARC estimates that about 2 billion people currently access the internet via only their smartphones. 
And smartphones in which the internet is used are the android devices that give the utmost level of satisfaction to the customers. Currently, android just reached a breakthrough in its worldwide rule over iOS, near about 87.5 percent of smartphones in the world are now running Android and its most loving android apps are famous among the users.  
Why Popular among Users? 
Just because of its mind-boggling features. Apps these days has become an important part of our lives as it gives us everything, we want in just a few minutes of nap. Let's have a look at those amazing features. 
Simple and user-friendly: 
The first main key feature that you need to implement in the Android app development is its simplicity and the functionality of the android app must be ensured that it is user-friendly which means that anyone can operate it. 
Short registration field: 
In the android apps, the registration process requires a short lane, only the most important pieces of information would be shown to the users.  
Quick response: 
The android app development must consider the speed of loading and responsiveness. As the android app does not take more than 10 seconds to load the page.  
Coverless space: 
The users are very choosy on the kind of apps they download, so this feature of the android app makes it popular among the customers as they don't take much of your internal space. So it will increase the chances of users downloading. 
Two click feedback is great: 
Users want a quick response from the apps, as they don't want to waste their time in giving long feedbacks, so apps should be fast in giving the response to their customers.  
As these, all are the features that blow the mind of the android app users and gives them a great level of satisfaction. And this makes the android app development companies successful in the field of cut-throat competition, just because of their customer support they can stand on a high peak and giving tough competition to other companies. 
Android Pie Features will Shape Mobility Solution
As Android is a word comes with 800 million users, Android is nothing less than kicky, bringing about a transformation in the app development industry. Launched back on September 23, 2008, and now more than 80 percent of users are using the android platform. This made android app development companies aiming for new techniques to help their clients to use an app in an easier way and makes life easier. 
In the generation of "Mobile comes first" here are the best trends by which applications make customer life easier and simple: 
Payments Applications 
In this Digital world, which is surrounded by technologies. There is no need to carry money everywhere. Paying with a phone is easier than an earlier day. Mobile payment apps are providing consumers with new ways to exchange money with E-cash, use alternative earn rewards, and more. There are many Payment applications that promote cashless business and also helps to maintain the list of every transaction. An application like Paytm, google pay and other application which rapidly use worldwide. In the coming generation, no paper money will work, and only online transaction is to be done, this will also help to maintain proper statics of a particular. 
Food Delivery Apps  
Food delivery apps are some of the most convenient apps to have on your smartphone. There is no single food delivery app to suggest, as they vary according to the area. However, some of the heavyweights on the market are foodpanda, Swiggy, Zomato and others which are famous worldwide. Installing one or two food delivery apps can help give more variety and value-for-money. 
Ridesharing 
The ride-sharing application that provides taxi rides like Uber, Ola, and others. This app is beneficial for users who live in areas where public transport like buses or auto not frequently available. It identifies all the routes of public transport and stations around you, along with, times, schedule and live service alerts. It saves your day route for future purposes and helps you to find the best route with less journey distance cover.  
Remote Mouse  
Remote Mouse is a simple yet awesomely convenient application which is used by the user as you can access your computer by your smartphone. Users smartphone acts as a keyboard and mouse while connecting them via the same WiFi connection. While giving a presentation there is a benefit of using Remote Mouse as you can access your smart Tv or computer by this application.    
Truecaller 
It is a useful application used by most of the users who are using smartphones. It is useful to identify spam users. Yes, there must be a doubt of privacy because it has the right to go through your contacts. But this is the only way to identify your identity and like other caller ID apps, it does come at the cost of privacy. 
Blue Light Filter  
This app is for late-night readers and professionals who work at midnight and have stress for their eyes. so, don't worry here is a filter known as blue light which is less harmful to the retina but access use of any cure may harm your health. There must be a proper use of any filter which protects your eyes from damage in a limit.  
Quality Time  
This application is especially for those who use their phones for hours. This application provides the ability to control your habits by using your smartphones, actionable features allowing you to set your own time restrictions or scheduled breaks like alerts. It contains the weekly data of a user and can manage one to two months of data to show the progress result of the user.