The technological advancements have made it possible to pacify one's soul with the holy words of Quran anytime anywhere. App like Quran Pro in this world are no less than a blessing. Here in this blog we will talk about what is an app like quran pro, how to develop an app like quran pro, its salient features, cost and much more.
This step-by-step guide on Quran app development will walk you through with everything you need to know. This road map will assist you in developing an app like the Quran Pro which will flourish the teachings of Islam worldwide . So without any further ado let's get started.
What is an App Like Quran Pro?
A person used to spend a considerable amount of their day praying and practicing their religion. It used to be simpler since work schedules were less demanding. As a consequence, there were less distractions in life after the office hours.
Sadly, the picture has been altered now. People work 10-hour days, have side jobs, go to after-work cafés and movie theaters, and so on. Fitting all of it, as well as religious practices, into a 24-hour day is not a cakewalk anymore.
Speaking for the Muslim community, praying in this face paced world is becoming tougher. To name a few actions, practising Islam entails rising up before dawn to do fajr, performing namaz five times a day, reading the Quran, and reciting duas throughout the day.
Furthermore, many of these responsibilities must be accomplished at specified times, on the top of it keeping up with the professional work has become a nerve racking task.
But, thankfully, the tech of today is here to save us from this issue as well. The development of apps like Quran Pro has made praying simpler. The Muslim community is expanding, and so are the solutions on internet. This situation has also laid down a smooth path for people to come up with ideas and get their own apps developed.
If you too have an idea to develop an app like Quran pro, partner with a leading mobile app development company.
Understanding App Development
App development is the process of creating application software to execute specified tasks. Developers use this strategy to create apps for PCs, cellphones, tablets, and other devices.
Personal assistants, workplace assistants, and mobile functionality all require app development. Apps are digital solutions for mobile and smartphones, while others are web-based. Mobile app development companies offer services for various platforms such as iOS, Android, Windows, and others.
Now we will walk back to the question How to Develop an app like Quran Pro and by the end of this article you will have a clear idea about this process.
How App Development Blends to Development of App like Quran
So, what exactly is Quran app Development? Quran app development is the process of designing solutions tailored to the demands of the Islamic community. iOS, Android, Windows, and Web Apps are among them. Quran App developers create Quran App lications using various programming languages and technology. The programmes are then published in Application Stores for people to download. They, on the other hand, build and provide directly to the consumer for the developer developing the App.
Reasons to Develop an App like Quran
The Muslim community is quickly expanding over the world. Every town wishes to stay connected to its people thanks to the power of the Internet and connectivity. And they do share their belongings. As a result, the development of custom Quran Apps is rapidly expanding.
According to reports, Quran App Development Services climbed the success ladder by 32% by 2021. The surge of Quran app development for Muslims is incredible. Quran App s are one of the primary technologies responsible for enhancing the lives of Muslim people. The numbers themselves prove why investing in development of an app like Quran Pro could be a great idea.
Market Leaders of App like Quran Pro
It's never been easier to read the Quran on your phone. With so many apps accessible, we decided to filter the list down to the best 5 apps we discovered on the Android and iOS app stores based on their feature set, reviews, and their unique frameworks. Here are the greatest apps like Quran Pro.
#1. Muslim Pro
The most widely used Muslim app. Muslim Pro, hailed by over 70 million Muslims worldwide as the most accurate prayer time and azan application, also includes the full Quran with Arabic scripts, phonetics, translations, and audio recitations, as well as a Qibla locator, an Islamic Hijri calendar. This app also comes with a map of halal restaurants and Mosques, and other features.
#2. Quran Majeed
Since 2010, the most genuine Quran app has been available. Recognized by over 7 million Muslim users worldwide. Quran Majeed is a fantastic Quran software that enriches your life and soul by allowing you to read and listen to the Quran on the go. The most recent update of the genuine Quran Majeed app for iPhone and iPad includes the whole Quran in the gorgeous Uthmanic script, audio recitation, translations, and English Tafsir Uthmani.
#3. Quran by Quran.com
Quran for Android and iOS is from the creators of the open-source project Quran.com. It's an ad-free mushaf app with Madani picture compatibility and a gorgeous and seamless page transition effect. The programme allows you to bookmark and tag an endless number of websites. We discovered that the Quran by Quran.com app has by far the most translation and tafseer resources.
#4. Athan Pro
Our software is known as the greatest mobile app for Athan and prayer times, and it is used by millions of Muslims worldwide. Athan provides the most precise prayer timings as well as other other features such as the Quran, Tasbeeh, Islamic Calendar, Compass to locate the Qibla, and Ramadan 2020. The Qibla may now be visualized via Augmented Reality. Hamdoulilah, as a leading mobile app development company we have the required skill set to develop an app like Athan Pro.
#5. Quran-Al-Kareem
The Very Best Quran App! Quran Kareem is the whole Quran in Uthmani Book format, replete with verse-by-verse translation, transliteration, notes, bookmarks, and recitation! This app provides teachings of world-renowned reciters such as Abdul Rahman Al-Sudais, Sheikh Mishary Rashid Alafasy, Cheikh Saad al Ghamedi, and others through Riwayat Hafs, Riwayat Qaloon, Riwayat Warch, Tajweed, and Muaalim all with English, Urdu, Persian, and French audio translations
Important Features in an App like Quran Pro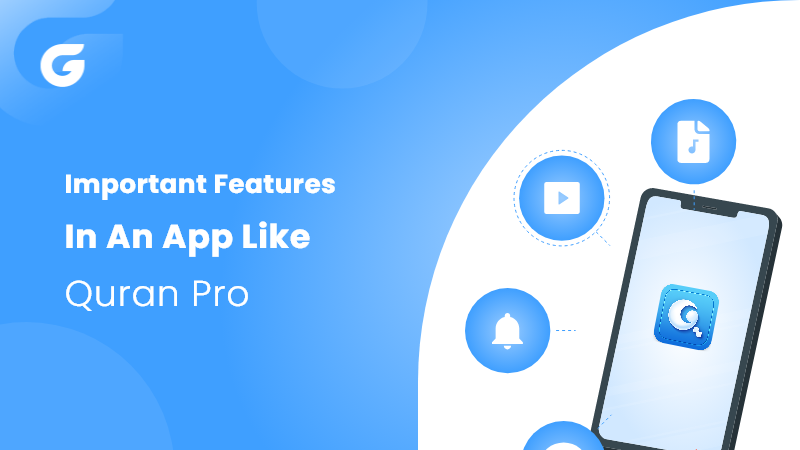 Though there is a great need for Quran App development, each app like Quran Pro should contain robust features in order to be ideal. The parts that follow will go over a few prominent characteristics and how they contribute to effective Quran App development features.
The Library of Quran App is extremely beneficial to Muslims since it provides them with a wealth of information about their faith. Find your favorite Islamic books written by renowned Islamic scholars. Authors' names, categories, and book titles are all available with this feature.
Islamic Videos on app Quran like quran pro allow users to connect with their religion on a different level. This feature benefit Muslims by inspiring them to accept and propagate Islam. With vedios feature on an app like quran pro you can watch videos on a range of Islamic topics from your favorite sheik.
People experience a variety of complexities in their daily lives. To overcome those challenges in the path of Islam, Muslims require Fatwas from Islamic Scholars. Fatwas can be found by searching or browsing, and they can also be accessed by category.
This is the most common thing in a programme. Navigating and browsing the desired topic speeds up the procedure. A list of all pages with icons was added in the side menu.
It includes a summary of all pages and their contents. Live radio and video programming from the following categories: lessons, Quran, Audio-Video, lectures, and sermons.
Podcasts and conversations on the audio page are the newest and most popular feature. It also includes complete audio clips, classes, lectures, the Quran, and sermons.
People want immediate consultants from Someone in order to address their concerns. And they must strengthen their Iman by discussing religious benefits and drawbacks. As a result, there is a list of sheiks from which to choose postings from the supplied areas for each sheik and consulting timetable.
You may utilize your Quran App 's push notifications to send alerts and information to your congregation. For example, you may use the push notification Service to deliver reminders, news, updates, and announcements for lectures and special services.
You may arrange your religious occasions using a specialized app calendar. Plan activities and dates to bring your communities together. Increase the number of your group and provide special events for your members.
Contact allows your community to communicate with the Mawlana from anywhere, at any time. By forming a community and sharing your contacts, everyone will be able to interact and contribute.
Using the social sharing option, you and your community members may interact with and share the prophet's message across different social media platforms. Members can use this facility to post their lectures and messages online.
Polls, Surveys, and Feedbacks
You may collect feedback from users via polls, surveys, and RSVPs on your App, which can help you improve the work of your Religion. Scholars may make crucial judgments regarding Religion within the society through voting polls.
App Analytics is an excellent tool for tracking user behavior and easily improving user experience. Analytics also helps you to track the success and global reach of your App. It empowers you to know your audience more clearly and efficiently.
Platforms on which you can Launch an App like Quran Pro
Development of apps like Quran Pro is simple in today's application development environment. However, there are other technological stacks that you must make sure you team up with to create an app. As a result, you must choose the best Stack for your targeted Consumers.
1. iOS Development
iOS application development is the process of creating applications for Apple devices. The iPhone, iPad, iPod Touch, Apple Watch, and Apple TV are among them. Developers use the Swift or Objective-C programming languages to design an app like Quran Pro on iOS devices.
2. Android Development
Android software development is the process of developing apps for devices that run the Android operating system. Android apps may be written in Kotlin, Java, and C++ using the Android software development kit; additional languages are also supported.
3. Windows Development
Microsoft Windows SDK, like its forerunners Platform SDK and.NET Framework SDK, is a Microsoft software development kit that comprises documentation, header files, libraries, examples, and tools for developing applications for Microsoft Windows and the.NET Framework. Furthermore, Windows Application Development provides a comprehensive review of C++ and numerous frameworks.
Web App Development
In contrast to software applications that run locally and natively on the device's operating system, a Web App is application software that runs in a web browser. With Web applications you can make your services reach anywhere in the world with an active network connection. The majority of Progressive Web Apps are built with PHP, Python, Javascript, and their frameworks.
Tech Stack you will Need for Development of an App like Quran Pro
In this Muslim App Development Tutorial, you will learn how to create an app like Quran pro by combining tools, frameworks, platforms, and programming languages. With the help of an integrated and efficient technical stack, you will be able to create high-quality mobile or online applications.
To construct a fully functional system for your Quran App, you will need two categories of Technology
Front-End Technologies
Front-end technologies are frequently a collection of client-side web app development tools. Many front-end technologies are used in the development of a Quran App. Here's a list of the most commonly used front-end technologies.
HTML (HyperText Markup Language)
CSS (Cascading Style Sheets)
JavaScript\sVue.js
js
Angular\sReact.js
Back-End Technologies
A server protects your programme. A variety of technical tools and frameworks are power-packed together to design the server-side component. They are known as back-end technology stacks. Having a basic grasp of all of them will help you create your Quran App Development.
C# as your programming language
[Ruby on Rails Framework]
[Framework-Spring] Java
[Framework- Django, Pylons, Flask]
Scala [Play-Framework]
PHP [Laravel Framework]
Cloud Storage for Database
The Development Cost of an App Like Quran Pro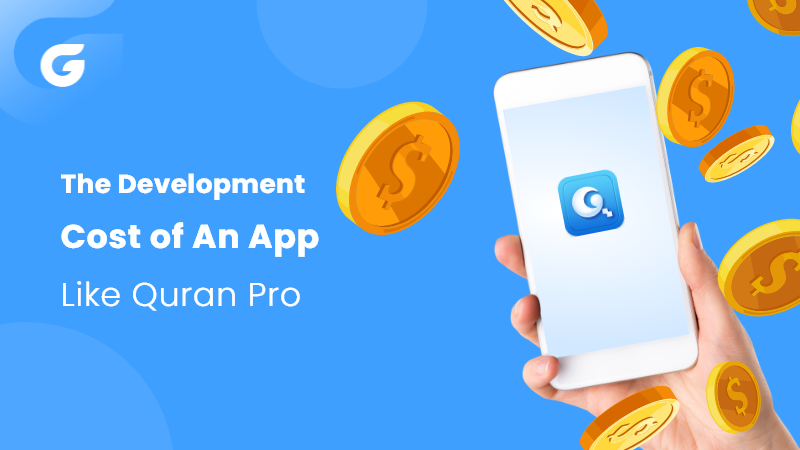 It is normal that by now you are wondering how much it will cost to create an app like Quran. Furthermore, many individuals are perplexed as to why one app costs more than another. We will untie the knots for you.
What does it cost to create an app like Quran Pro? The complexity and utility of a Quran App dictate its usual cost.
A typical location-based social app takes years to develop and costs around $250,000 – $300,00 to develop. You'll need this much money for back-end infrastructure and skilled engineers, much like Facebook.
Development and launching of a Quran App , on the other hand, will be more expensive than developing an utilitarian software. As a result, when hiring an app development team, people typically pick developers from the United States, the United Kingdom, India. Hire mobile app developers to develop an app like Quran Pro to deliver the message of Islam.