Nowadays, everyone loves to make videos, but what happens if the background sound needs to improve? It is obvious that choosing the right audio editing software is essential if you want to produce high-quality audio recordings. Whether you want simple sound effects or complex audio editing, the best audio editing software can assist you in meeting your goal.
We all know that with the advancement of technology, you realise that you get mobile applications for almost everything. So you can also use mobile applications to improve the background voice. Generally, such applications are used by sound engineers, directors, and music producers.
The audio editing apps support exporting edited audio files in formats like MPEG, MP3, Wave, Windows media, and many more. It means the best audio editing software will allow people to clip unwanted portions of an audio file, improve its quality and export it into other formats.
If you want to improve the background voice in your video, it is good to search for free audio editing apps that include rich features and modern technology.
With the help of such an application, you will easily improve the sound of the video. In this post, we will discuss top audio editing apps.
What is an Audio Editing App?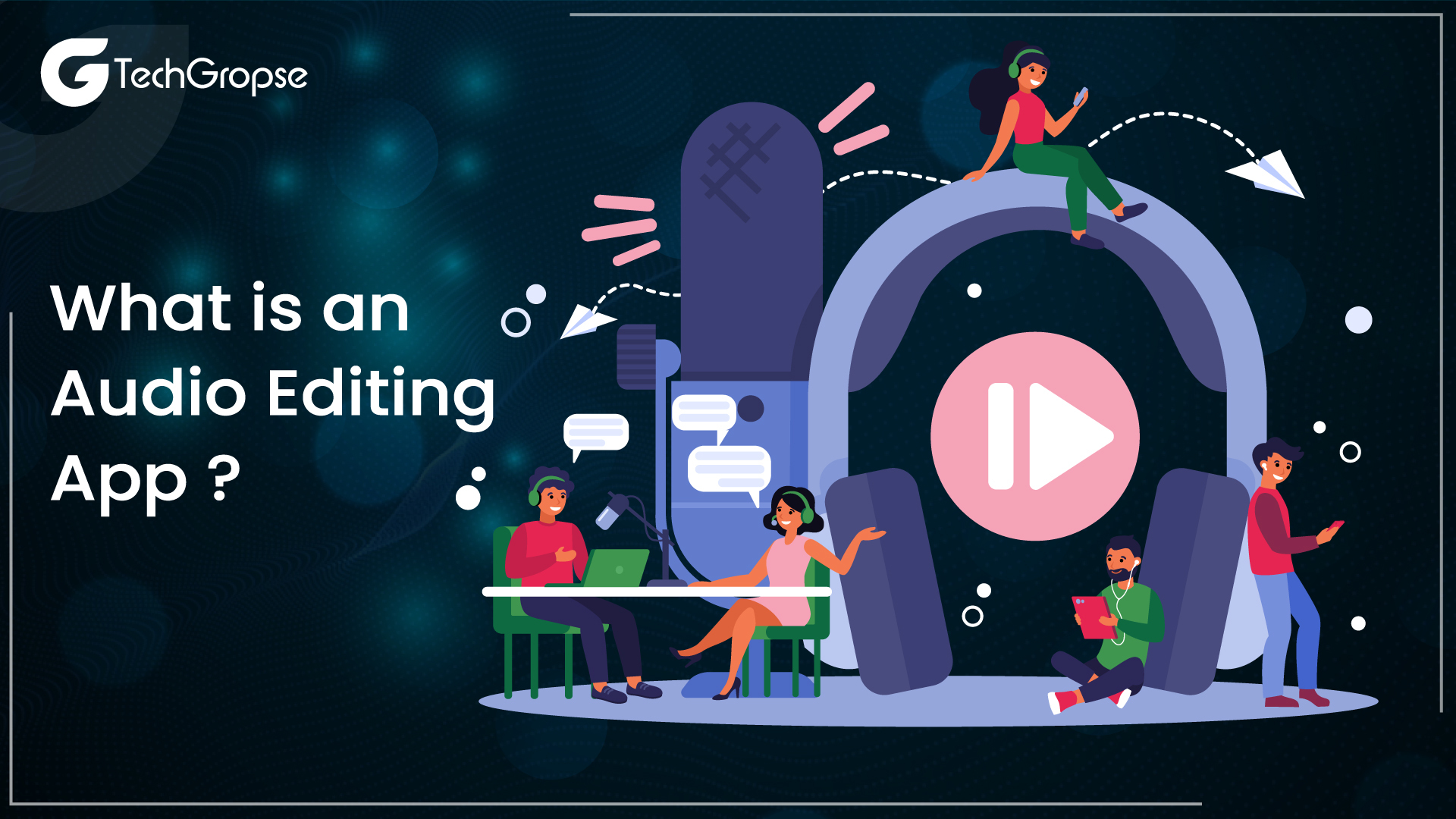 We all know that an audio editor app helps people modify and tweak an existing audio file. With the help of such applications, you can easily increase or decrease tempo,  remove or add voice over and tunes, and club different audio files to play them as single audio, and much more.
Moreover, you have the option to record live audio and then edit or load the existing audio file onto the timeline of your audio editing software. In simple terms, these apps are used by musicians and EDM artists to add pre-recorded instrument sound and royalty-free background music to their compositions.
This is why the demand for audio editing apps is becoming high today. But when choosing an app, you need to be careful and determine which one is right for you and your work.
Perks of Audio Editing Apps for Professionals and Beginners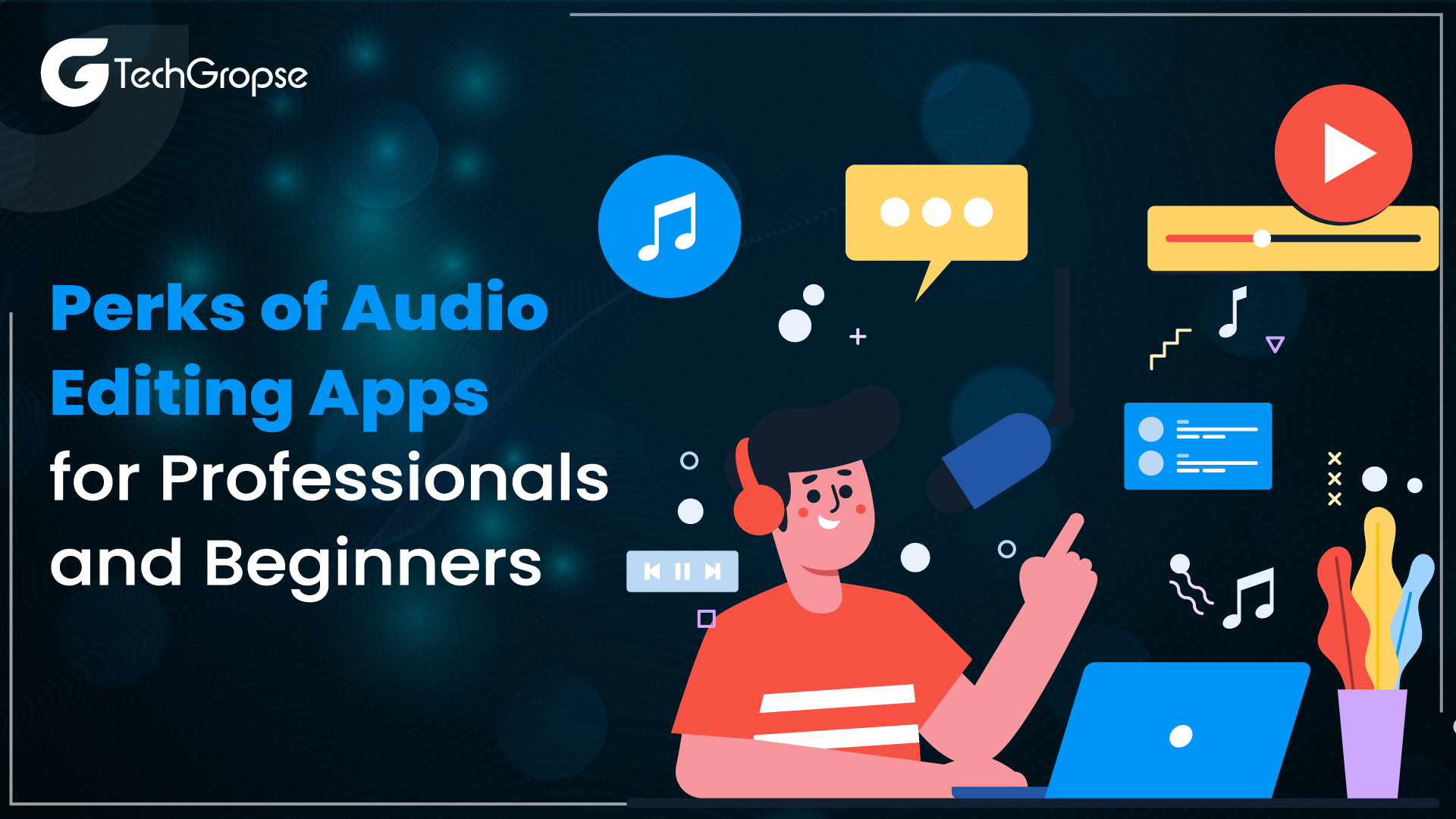 In order to improve the audio quality of your video, there is much software available in the market. But both free and paid audio editors offer several advantages to sound editors just starting their career and even those who have a healthy experience in this field. Some of the advantages are listed below:
Accessing the Audio in Random Order
With the help of audio editing apps for iOS, beginners and professionals can access and edit audio from any point in its run time, irrespective of the sequence in which it was originally recorded.
Henceforth, it is a good idea to use audio editing apps that improve the audio and enhance the quality of the video. So, choose the best application that suits your requirements.
Digital Signal Processing 
With the help of audio editing apps, people can perform digital signal processing on a particular part of the entire audio file in real-time. This is the reason that the demand for audio editing apps has become more prevalent in today's time.
Import and export of multi-format audio files
Another advantage of audio editing apps is that they are compatible with audio files in different formats, such as MPEG, MP3, etc. It will enhance the quality of your video. This is the reason that it is an ideal choice for you.
Editing of Large Sized Audio Files 
Audio plays an important role in background tracks and music used in films and TV serials, which is why it is necessary to have good-quality audio. With the help of audio editing apps, professionals can easily edit large audio files.
Henceforth, audio editing apps gain more popularity in a few years as they have amazing features. With excellent audio editing features, many people use such applications instead of others.
This is a part of adobe creative cloud that is suitable for broadcasters who want to edit, restore and mix audio. You can use this application for both single and multi-track editing. This will let you import files in the timeline through a simple drag-and-drop feature that is a great perk for beginners.
The visual interface is modern and straightforward, which will assist you in focusing on optimising your audio tracks. On the other hand, it enables you to perform noise reduction easily. However, you need to build a 'noise print' at a particular point in the audio, and this will replicate the background in the entire clip.
You can always get rid of an unwanted echo with just a click of a button, making it a popular video editing app, including the recordings of multiple resources in a single track.
Top Audio Editing Apps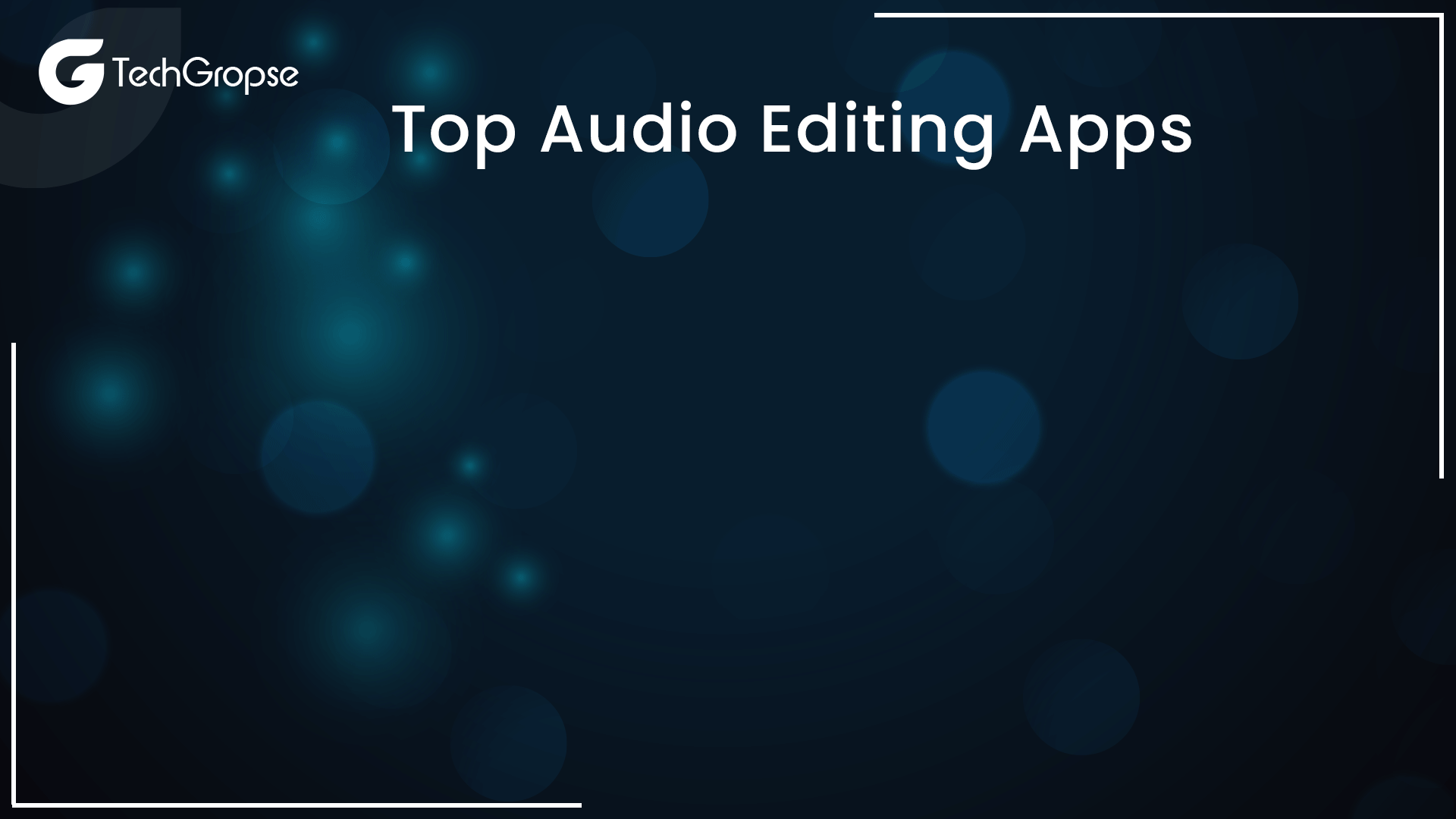 If you want to improve the background audio, it is a good choice to search for a leading audio editing app. But the difficulty is determining which is the best for this job. If you have the same concern, we mentioned a list of top apps so you can choose an option per your requirement.
1. Pro Tools 
Pro Tools is the best audio editing application for those looking to integrate their hardware with powerful software. Plus, it provides a powerful workflow, letting you record for up to 4 mics simultaneously. And the audio engine of this app offers a 64-bit architecture capable of dynamically allocating host processing resources and a low-latency input buffer.
Moreover, it allows searching through tracks, instruments and more via a type-ahead search. On the other hand, you can choose multiple items on the menu at a time. The best thing about the app is that it is compatible to record sound retroactively. You can skip pressing the record button whenever you start jamming in the studio.
2. VideoPad 
It is a free and fully-featured video editing app designed by NCH software for iOS, Android, Mac, Windows, and Android users. Moreover, it has impressive audio and video optimization tools that make it attractive. Another great part of this application is that 360-degree videos can be daunting, especially if you are a beginner.
In addition, the app is equipped with 50+ visuals and transitional effects. Moreover, it also has great features such as multicam editing, high-end special effects, and motion tracking that allow you to integrate several add-ons in order to expand its functionality.
3. Moovly 
It is also included in the top audio editing apps to create professional, business and educational videos. This app will provide you with the tools to build quality videos that can be published and shared on popular video streaming platforms such as Vimeo, YouTube and Facebook.
This application does not require any expertise as it provides a wide selection of templates where users can drag and drop other elements like videos, audio, images, and animated clips. If you are looking for audio editing apps for Android, you can count on them.

4. Wave. video 
Wave. Video is included in the top audio editing apps for small businesses that want to build creative videos. This app allows you to build and embed video ads and short promotional videos. Moreover, it has a library of stock video footage and music that can help you to build professional-looking videos for promoting products and services.
Here you will select a variety of animations and layouts in order to make your videos more effective and engaging. If you are searching for free audio editing apps, it is an ideal choice for you.
5. Lumen5
This is the best app in the list of top audio editing apps to help businesses drive traffic and engagement via creative videos. The main perk of this app is its AI-powered video editing capabilities which can instantly turn blog posts and articles into videos.
On this platform, you can build videos from scratch. Moreover, you can customise your videos to fit your branding by choosing from different font choices and colour schemes and uploading their own logos and watermarks. Henceforth, the demand for audio editing app development services is becoming more popular.
6. Adobe Premiere Clip
This is a great video editing app on the list of top audio editing apps designed for iOS and Android devices. It enables you to build and edit a video on your device. Moreover, technical skills are optional to use this application. Moreover, it has a freeform mode that allows you to leverage your video editing skills to customise the videos using great features for trimming, adjusting lighting, and adding slo-mo effects in order to achieve the perfect look.
7. Avidemux 
Are you looking for a free audio editing app? Avidemux is ideal as it is compatible with Mac Os, Windows, and Linux users. This app has a clean and uncluttered UI, which epitomises its simplicity and presents all the tools you want to finetune your videos.
Using this app, you can easily cut, copy, or delete sections of your videos. This app has a video filter manager that makes it easy to adjust your video's brightness, colour, saturation, and hue. Even it supports multiple video file formats such as AVI, MP4, MPEG, DVD and ASF. If you are searching for audio editing apps, it can be an ideal choice.
8. Filmora 
It is the best video editing app designed by Wondershare for novices, casual users, and beginners. In simple terms, it is a trustworthy solution with an elegant UI and powerful editing tools to streamline video editing. This fantastic application is built for Mac and Windows devices.
On the other hand, the green screen effects and support for full 4k videos help you craft stunning videos with frames that are as crisp as reality. So, it is an ideal choice for top audio editing apps.
9. Blender 
This open-source application is built for Mac, Windows and Linux. Its video editor enables you to accomplish basic actions such as video cuts and splicing but can be used for more sophisticated functions such as video masking. Using this app, you are able to sync & scrub videos, add waveform visualisation, and mix audio with ease.
The great thing about the app is that there are adjustment layers, speed controls, multiple filters, and transitions designed to assist you in editing videos with ease. It can be counted on top audio editing apps to create professional-looking videos.
10. Fastreel 
In the list of top audio editing apps, Fastreel is also included, which is a web-based video editing software built by Movavi. This provides an easy-to-use interface and a comprehensive set of editing tools. This app includes resizing, reversing, or loop videos, building split screens, and stopping motion videos.
On the other hand, the platform has more advanced tools that make it amazing among people. Moreover, its drag-and-drop interface is designed for ease of use, so you don't have to worry about not having enough disk space.
11. Media Composer 
Do you want free audio editing apps? Media Composer is a free to use application that Avid designs for aspiring content creators, video marketers, and movie makers. The app is intended to assist beginners in gaining valuable skills and learning to edit videos utilising the same tools used by the pros.
This application comes with multiple effects, presets, and transitions that assist you in adding visual impact and punch-up scenes to your video. Another great thing about the media composer app is that it provides a virtual recording studio that makes it a breeze to add text, voiceovers, sound effects, ground-shaking intensity, and emotions.
Conclusion 
In order to make a professional-looking video, it is essential to care for sound quality. If the sound is not good, there is a high chance that no one will watch your video. So it is required to make sure the quality of sound. However, it is quite challenging to improve the audio manually.
This is why the demand for audio editing apps has become higher. But the question is which app is the ideal choice for you. If you have the same query, read out the complete blog. Here we mentioned the top audio editing apps for 2023, so it is easier to choose one as per your requirements.