Reels, vlogging and short videos are the best way to earn money in this digital era. In today's time, each one is active on social media platforms and making money through making videos. You also have a social media account where you make videos, but what about background noise? It is obvious uninterrupted noise can spoil your hard work. In such a case, audio editing software is a book for video creators.
Through the help of audio editing software, it is easier to remove disturbing sounds and noise in the background. You know that such softwares usually provides great tools to produce, record and edit your audio. You know that from video editors to podcast and live music creators, free audio editing software is used to create the highest quality audio possible.
In simple terms, video editing software free makes the editing procedure quick and simple. But it is really challenging to find software among several options. As a result, video editors spend months researching and using audio editing software to bring the best software available for all editing requirements. If you want to make the editing task more convenient and easy, but it is required to choose the right software, you are at the right place. Here, we will discuss the best software available in the market for audio editing.
An Overview of Audio Editing Software
Audio editing software is specifically designed for podcasts. With the help of this type of software, it is easy to record and edit audio. Even users can add effects and transitions and export their finished podcasts to popular file formats. You know that some audio editing software is built to be used by professionals, while others are perfect for novices. It means users have to search for software that is right for their skill level and requirements.
This software helps vloggers as well as video editors to make the editing task more easier. As a result, the demand for audio editing software has become high for editing.
List of Top Audio Editing Software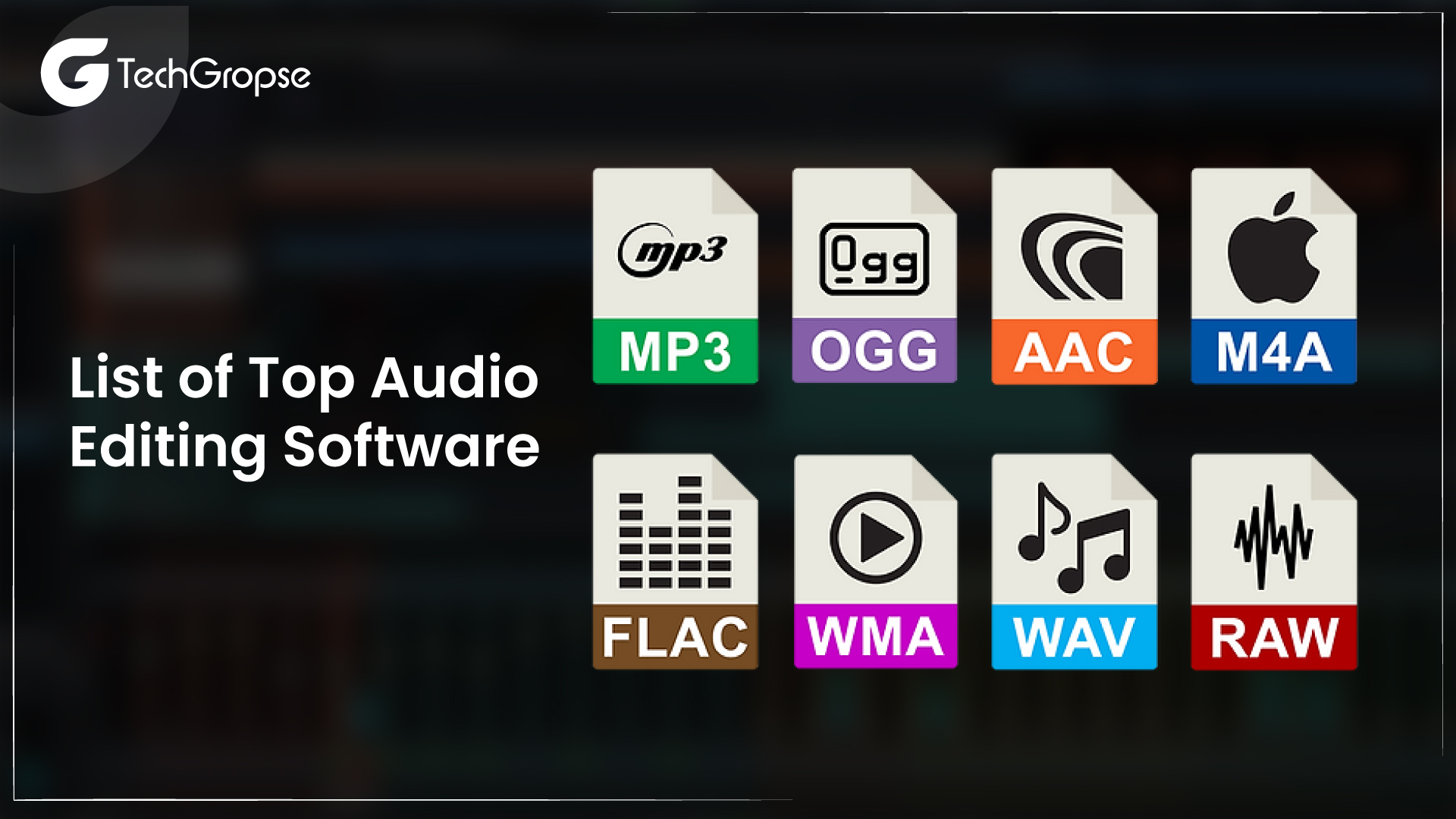 As we mentioned above, audio editing software is becoming popular to remove background news and edit audio as per users requirements. Therefore, the software is most popular among video creators and editors. But finding the best software is a challenging task. To assist you in finding the best solution, we list out the top 10 free audio editing software, so you can choose the best according to your need:
1. Audacity
Are you searching for the best free audio editing software? Audacity is free-of-cost open-source software and recorder for Linux, Mac and Windows. However, it supports 16-bit, 24-bit and 32-bit audience processing and a wide range of plug-in effects. You can choose this if you have  16, 24 and 32-bit audio files.
This best audio editing software has great features, such as automatic ducking and crash recovery, that make it a robust and reliable solution for video editing. It can run on any computer that meets the system needs for operating PCs in use.
If you are looking for the top 10 free audio editing software, you can count on this software in your list to edit the videos. Through the help of this software, it is possible to improve the quality of audio.
Key Features of Audacity
Automatic ducking and crash recovery
Free and open-source
Support a wide range of audio formats
Available for Mac, Windows and Linux
2. Adobe Audition
Adobe Audition is included in the list of top 5 audio editing software you can use. This software has great features that make it more popular. The features included multi-track editing and mixing, which definitely make a great editing experience. The best part of the software is that it can be used for single- and multi-track editing.
Through a simple drag-and-drop feature, it is easy to import files. It also has a visual interface that is modern and straightforward, which helps the users to focus on optimizing their audio tracks. On the other hand, this software enables users to perform noise reduction easily. You have to create a 'noise print' at a particular point in the audio. Therefore, this is a top audio editing software free of cost  for editing software.
Key Features of Adobe Audition
Important sound panel
Free sound effect
Adobe sensei
3. Audio Director
Audio Director is the top free audio editing software which works with the Windows operating system. However, you must pay some amount for a premium subscription. Moreover, you get amazing features such as batch processing, effect combos, professional audio mixing and audio ducking once you get a premium subscription.
Moreover, its intuitive interface makes it easy to use. The audio director can also integrate with other NCH software products such as Switch and Wavepad. If you are searching for audio editing software, Audio Director is a great option. You can also build your own software.
However, you must search for professionals with good years of experience in audio editing software development. With years of expertise, they will provide ultimate solutions as per your desire.
Key Features of Audio Director
Batch processing
Intuitive interface
Audio restoration tools
Free and premium versions are available
4. Reaper
In the top audio editing software list, you can count on Reaper, which has great features. It is compatible with Linux and Mac. However, it is not free of cost, but you can take its 60 days free trial, which features internal 64-bit audio processing, real-time effects applied, support for third-party plug-ins and extensions and multichannel support. On the other hand, you can use this amazing software to edit, record and mix audio files.
The users can also use this software to create their own custom tracks or import existing audio files. This software is known for supporting video playback and editing. Here, users also get a wide range of built-in effects that they can use to enhance their recording. Therefore, this software can be counted in the top audio editing software list.
If you want to build your own software, it is suggested to search for a reputed mobile app development company that has years of experience and a good portfolio of their past work. It will give peace by knowing that your project is in the right hands.
Features of Reaper
Wide range of built-in effects
Support for third-party plug-ins and extensions
Custom effect creation
Video playback and editing

5. Avid Pro Tools
Do you want to edit the audio but are unable to do it manually? Well, Avid pro tools is an ideal solution for you. This software offers a powerful workflow allowing you to record up to 4 mics simultaneously. Moreover, it gives permission to users to search via tracks, instruments and more through a type-ahead search.
Additionally, they are able to choose multiple items on the menu at a time. You know that it has rich features, including the capability to record the sound retroactively. It means there is no need to remember to press the record button whenever you start jamming in the studio. Therefore, this is a top audio editing software to improve the quality of a video.
Key Features of Avid Pro Tools
Infinite routing flexibility
Able to find and collaborate with other professionals worldwide
Up to 768 voice/audio tracks to create bigger mixes
6. GoldWave
If you are looking for free audio editing software for Windows, it is suggested to switch on Goldwave. This amazing software also provides a wide range of features for beginners as well as experienced users. Apart from this, the primary feature of the program is cut, copy-paste and trim. You know that Goldwave included a batch processing tool in order to apply effects to multiple files at the same time.
Another great feature of GoldWave is a voice changer that can be utilised to alter your voice's timbre, pitch and other aspects. Plus, it supports VST plug-ins for even more flexibility.
Features of GoldWave
Support VST plug-ins
Supports a wide range of audio formats
Includes a voice changer
Includes basic and advanced editing features
7. Sound Forge
If you are searching for a software suite that's main focus on all aspects of audio editing, then Sound Forge is the best suited for you. The great thing about the software is that it is included with a handful of audio editing modes, from nondestructive region market-based editing in event mode to sample-level timeline editing.
You will get full compatibility with all plugins and the option to extend the suit with this software's audio restoration tools. In simple terms, improving the quality of damaged audio is useful. Henceforth, it is a good choice for video editing. To get more profit, you can also build your own software. But you have to search for dedicated developers as they are well-versed in building software and apps for various industries.
Key Features of Sound Forge
Offer an enhanced loading speed of VST plugins
Record audio from various sources along with microphones
Users can work with multichannel audio files
User-friendly interface
8. Hindenburg Pro
Hindenburg Pro is a leading choice for editing videos. This software is compatible with Mac and Windows. In order to use this software, it is necessary to pay some amount. If you want to check the performance of the software before paying money, you can use its 30 days free trial. Its features make it ideal for broadcasting, along with one-click uploading to popular podcast platforms and support many types of audio files.
As a result, it is an excellent choice for podcast editing. You can also take an idea from this software and can build your own. To make the development task more convenient, you can seek the help of mobile app developers who have good skill sets and experience.
Key Features of Hindenburg Pro
Noise reduction capabilities
30 days free trial
Once click uploading to the popular podcast platform
Cross-compatible with other DAWs
9. Audio Cutter
You can choose Audio Cutter if you are looking for top audio editing software. It is the best software that permits cutting and editing of the audio in the Windows browser. The best part of the software is that you don't have to pay any amount to use it. You know that it supports 300 file formats. Moreover, it comes with ringtone quality presets and fades in and out.
Features of Audio Cutter
No need to Install
Extract an audio track from a video
Completely secure process
Create a ringtone in just one click
10. Podcastle
This is a free web-based top audio editing software with various features to help you improve audio quality. You know that the interface of Podcastle audio editing software  is intuitive and easy to use. Plus, its built-in audio restoration tools assist in cleaning up the  recordings.
Furthermore, it has a royalty-free music and sound effects library that provides you access to a wide range of audio clips to enhance the quality of your audio. It means you can choose this software for editing audio. In order to build software like Podcastle, you can contact iPhone app developers who are trained to handle complex to complex projects.
Key features of podcastle
Built-in audio restoration tools
Web-based audio editor
Intuitive interface
Royalty-free music and sound effects library
Summing Up
When it comes to building a video, it is necessary to take care of the audio. Interrupted voice and background noise can spoil the quality of your video. Therefore, choosing the right audio editing software is required.
However, it depends on your specific requirements and expertise. Whether you are a professional in the music industry, content creator or just starting audio editing, this software solutions are ideal for you. But finding the right software can be challenging because of the several options available on the market. If you are looking for the best solutions, you can easily check the listed software and choose the top audio editing software for you.
FAQs
1. What are popular free audio editing software?
Some popular free audio editing software includes Audacity, Ocenaudio, and WavePad. These tools offer a wide range of basic to advanced audio editing features.
2. Is Audacity Really Free?
Yes, Audacity is open-source software, which means you can download and use it for free. It is a powerful audio editor with a large user base.
3. What are the benefits of using paid audio editing software?
Paid software, such as Adobe Audition and Pro Tools, typically offers more premium features, professional support, frequent updates, and higher-quality effects. These tools are ideal for professional audio editing.
4. Can you recommend a top-paid audio editing software?
Adobe Audition is highly regarded in the industry, providing a comprehensive feature set for professionals. Pro Tools is another top choice, especially for music production.