There is no doubt that an image can be worth a thousand words. However, crafting an image is not possible for everyone. As a result, the demand for AI image generators is high. Thanks to the latest technology that makes it easier to paint a picture without picking up a brush. With the help of AI image generators, it is possible to craft a professional-looking image within a click.
In simple terms, AI image generators are a boon for graphic designers, especially beginners who recently joined the board. It helps them to find ideas and inspires them for their projects. Moreover, an AI generator eliminates the risk of copyright. It means anyone can craft personalized images without prior art experience.
But there are several AI generators so sometimes it is really difficult to find out which AI image generator can provide all the necessary features and tools that are the perfect match for you. Today, in this post we will give a brief about the best AI art generators.  So, without wasting your time, let's get into the details.
What is an AI Image Generator?
An Ai image is a great tool that can be utilized to generate professional-looking images from text. Such tools are based on deep learning algorithms that have been trained on a large dataset of pictures and their corresponding descriptions.
On the other hand, AI image generators can be used for various purposes such as generating inspiration for creative projects, exploring different scenarios or concepts, visualizing your ideas or simply for fun with AI image generators.  With the help of this amazing tool, you can instantly build images of animals, objects, landscapes, characters, 3D models or anything else you want.
Moreover, you can modify them with various customization options and details. As a result, many agencies decide to build an AI image generator tool that helps beginners to build a picture.
How Does an AI Image Generator Work?
AI image generators will take a text prompt and then turn it into an image. Using this tool, you can create realistic, original images from text input in a natural language. AI image generators tools are eligible to combine concepts, styles and attributes to craft extraordinarily artistic and relevant images that are based on the written prompt.
Analysing the internet's worth of images and their written descriptions, AI image generations learn what objects are and how they relate to each other.  The best part of the tool is that it uses two networks in which the first is neural which creates an image while the second judges how close to the real thing the image is based on real-life examples from the internet.
Once scoring the picture for accuracy is complete the data is sent back to the original AI system. No doubt that it sounds confusing. To understand how AI image generators work we take an example.
An agency released the cover for its latest issue that has no trace of human intervention both front or behind the camera. In such a situation using the AI art generator the firm created an image they were after.
List of Best AI Image Generators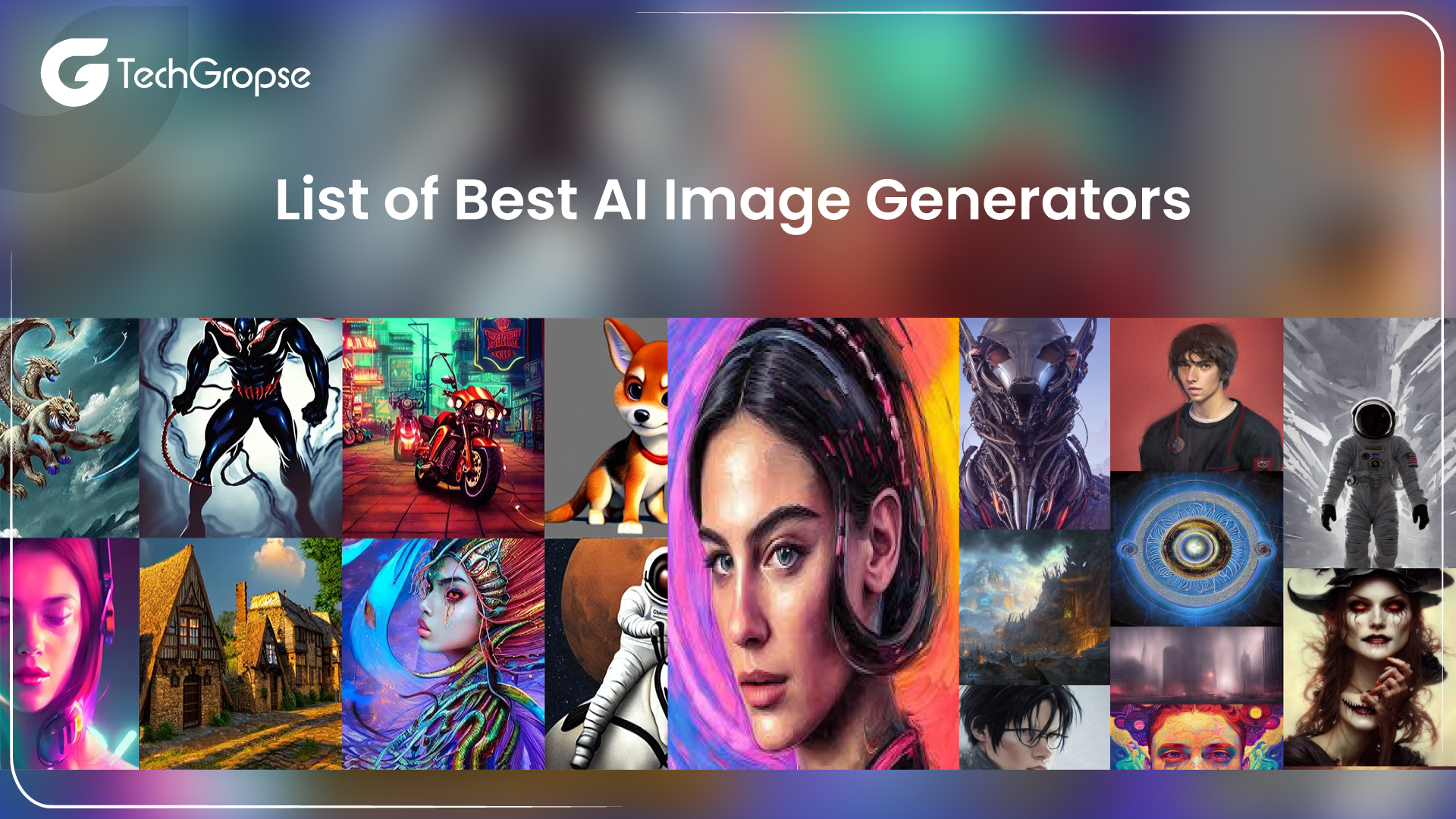 Finding the best AI  image generator is not a cakewalk as there are numerous options in the market. In such a case, it is really tough to find an ideal choice that meets your requirements. In this section, we mentioned a list of the best tools so you can choose one that suits you.
1. Jasper Art
Using Jasper art, there is no need to spend hours searching for the perfect images for your blog posts. You can use its simple text phrases, simple interface and easy interface to build pixel-perfect digital art.
You know that this tool crafts original images with various styles, moods, inspired by artists and art styles that you choose. With the help of this amazing tool, you are able to share, rate, download and use your images in moments.
On the other hand, Jasper creates copyright-free images, so you are no longer required to invest in expensive royalty-free image libraries. Furthermore, it has great features.
Choose Medium, mood and artist for art pieces
No watermark added
Work in 29 languages
High-resolution 2k px images.
2. PhotoSonic
This is another AI image generator tool that is a member of a large ecosystem of AI products. Like other tools, this tool uses highly sophisticated text-to-image AI models to turn plain language descriptions into realistic and artistic images. The best part of the app is that its AI model is based on a type of diffusion.
PhotoSonic will adjust a noise image to match the provided content.  With the help of this AI image generator from text, you can control the quality and style of your generated images to get the picture you want for your task. By optimizing the description and restarting the tool you are eligible to build a perfect image for your product shoot, blog post and many more.
Key Features of PhotoSonic
Remove the background from the images
Design and image styles
Auto face restoration
Choose the aspect ratio size of your creations
3. Shutterstock
Shutterstock is the best AI generator that helps you to craft pictures for commercial and personal use. You know that it comes with a set number of image styles. This amazing tool comes with a set number of image styles. Once you click on them, you will get more options to create images.
This amazing tool has been used to craft digital art, photos and 3D art. It is also claimed to be an ethically designed AI tool that is the best choice for those who are looking for top AI image generators in 2023.
Key Features of Shutterstock
Five main image generation styles
Generate unlimited variations
Input text prompts in 20+ languages
Save images to public or private Shutterstock collections.
4. NightCafe
NightCafe is a powerful AI image generator that gives permission to you to craft beautiful digital art pieces in seconds. Unlike other AI generators, this tool allows to generate up to 4 images from one prompt. Then you can refine your prompt and regenerate your art piece until you get the image you have imagined.
You know that NightCafe is where you will find lots of images. The best thing about this AI generator  is that it posts daily challenges to encourage you to use this app to create images for a prize. You know that the platform is available in a mobile application so you can use it anywhere and anytime.
If someone wants to create an app like this, they can search for a mobile app development company that will help them to provide the best AI generator like NightCafe. NightCafe also comes with the following features.
Upload images from your hard drive as starting image
Choice of 5 texts to image algorithm
40+ preset styles to select from
Select images from Pexels as starting image
5. CF Spark Art
CF Spark Art is an ideal AI Google that easily generates images from gest. It has several presets that can be utilized with your text to make creating digital images easier.  You know that the interface is friendly and easy to use especially for those who want to venture into digital art creation but may be dissuaded by a more complex platform.
On the other hand, this AI generator crafts four image variations of your art which you can publish to the CF community, download or remix with the CF imageMix tool. In order to build such an AI generator, you have to hire dedicated developers who help you in building a functional app.
Key Features of CF Spark Art
Advanced Prompt Builder and prompt library
Expert-level, visual prompt builder
Eight art presets
Generate art in 6 aspect ratios.
6. MidJourney
MidJourney allows you to use simple prompts to generate digital pictures with AI. This tool has a vibrant community of creatives on its discord server where users help each other with feedback, share ideas and many more.
In order to access the free trial credit you need a free discord. Once you have generated your initial image, you can upscale it, download your work or create variations. In order to build an AI tool, you have to contact an AI development company that is committed to providing you with the ultimate solutions as per your requirements.
 Key Features of MidJourney
A strong community of digital artists
Based on discord, is a discord bot
Has a strong community of digital artists
Remix mode to change parameters used in variations.
7. DALL-E 2
This is an image-generation tool from the ChatGPT family.  Apart from this, it powers several tools found on our list and other AI image-generation tools available in the market. DALL-E 2 allows you to build realistic images and digital art from text and description. This tool is able to intermingle concepts, art styles and many more.
Key Features of DALL-E 2:
Generated can in the history tab
Simple interface
Random prompt generator
Generates high-resolution art
8. Bing Image Creator
This is a free AI image generator powered by DALL-E. With the help of text commands and prompts, users can create images free of cost. However, you need a Microsoft account to access it. At this time, this tool only supports English language prompts and text.
It means users can easily create an image that is unique. In order to build such a tool, you have to seek the help of professionals who help you in creating functional AI image generators.
Features of Bing Image Creator
Save the history of generated images
Share generated image through a link
Download generated images without a watermark
Integrated with your Bing and Microsoft account
9. Dream by WOMBO
This is an online platform and mobile application to generate AI images. This is an easy-to-use AI tool that easily generates images. The platform is able to understand the common language prompts and generates decent-quality images. The best thing about the tool is that you can always upload your own image and use text prompts and presets to build new art for personal use.
Key Features of Dream by WOMBO
View and download the video of Dream image generation in action
40+ image styles and presets
Generate four image variations at once
Use text commands to make edits to upload images
10. Fotor AI Art Generator
In the list of best AI image Generators, it is one that is known for the best outcome. In order to create an artwork you have to upload an image or use simple text.  The size of the outputted images and the number of images generated by the platform can always be adjusted to your requirements.
Additionally, you have a library where your generated images are saved. Your library lets you download past image generations and see what presets, prompts and aspect ratios are used to craft digital art.
Key Features of Fotor AI Art Generator
Three aspect ratios
9+ style presets
Generate up to 5 images per prompt
Adjust art style, light effects, composition and more.
11. Dream Studio
This is the most popular text-to-image generator. Generally, it is an open-source model that easily converts text prompts into images in a couple of clicks. On the other hand, it can produce photorealistic artwork by combining uploaded images and a written description.
This amazing AI image generator can be used to craft illustrations, photographic images, logos, 3D models, logos and images you can imagine.
Key Features of Dream Studio
The results come with high quality
Fast AI image generation
The result comes with high quality
API Access
12. Craiyon
Craiyon was called DALL-E mini. This tool was built by researchers at Hugging Face and Google. You have to type a text description and it will generate 9 different pictures made from your input text. In order to generate an image you have to type keywords you like and you will get an image in a couple of clicks.
Key Features of Craiyon
Generate 9 images per time in a funny and creative way
No signup or registration required
Easy to use
Unlimited AI image generation for free
13. Deep Dream Generator
Deep dream generator is a popular online AI image generator. The best part of the tool is that it is easy to use and comes with a set of AI tools for creating visual content.
Additionally, it can generate photorealistic pictures from text prompts, generate a new image based on the original image, merge a base image with a famous painting style using a deep neural network that has been trained on millions of pictures.
Key Features
3AI models to choose from
Easy to use
Create realistic and abstract pictures
14. Starry AI
StarryAI is an automatic AI image generator that converts images into NFT.  It can process pictures with machine learning algorithms and does not need any input from the user. The best part of StarryAI is that it offers full ownership of the created photo, which can be used for personal or commercial purposes.
Key Features of Starry AI
Create realistic images, product render, abstract images
Fast and easy to use
Convert images to NFT
Able to run on both Android and iOS devices
15. Artbreeder
Artbreeder generates creative and unique images by remixing images. With the help of this tool, you can craft animated characters, landscapes, portraits and various other images. However, the quality of the image is low compared to other AI tools.
The great advantage of Artbreeder is that it provides thousands of illustrations and allows users to manage them in a folder and download them in PNG or JPG format.
Key Features of Artbreeder
Generate landscapes, portraits, anime characters and many more
Create different image variants
Manage illustrations in folders, downloadable in PNG and JPG formats
Conclusion
An image can tell a story without words. Thanks to technology that makes it easier to generate an image with the help of AI image generators. However, choosing an AI tool is not an easier task as there are several options in the market.
But as we mentioned there are several options in the market so it is really hard to choose one that meets your requirements. If you want to create unique and professional-looking images, you have to check the above-listed tools that have amazing features. With the help of this list, it is easier to choose one that meets your needs. In order to build your own app, you can seek the help of an AI image generator development company.
FAQs
1. What is the best AI art generator?
Jas[er is an excellent AI image generator that allows you to turn text into images. The best thing about the app is that you can adjust the output by modifying the medium, mood and artist. It also supports 29 languages.
2. Is there a free AI image generator?
PhotoSonic provides a free plan to generate up to 20 free pictures. On the other hand, MidJourney allows you to generate a limited amount of free pictures using their discord integration.
3. How do AI image generators work?
AI image generators collect data, which is used to train the AI using a deep learning model. The model recognizes patterns such as the style of a certain type of image. Then the AI applies these patterns to generate a unique image that is based on a user's prompt.
4. Which AI generates the most photo-realistic pictures?
Most recent updates to MidJourney have made it very good at building photo-realistic pictures. In the past, images created by MidJourney had a painterly feel to it. With the correct prompt, it can generate pictures that look like real images.