Compatible Wear OS apps are used in Android wearables. Android wearables feature wide-range functionality that can effectively be transformed into a package of wearable technology. Google's wearable OS was initially launched as 'Android Wear' which was later rebranded with 'Wear OS.'
With Wear OS, wearable users can leverage many advanced features that would help users perform most of their tasks efficiently without taking the help of a parent or larger version of the application. Wear OS enables many interactive functionalities; therefore, many users consider it the best wearable platform. With the recent update to its Android Wear Version 2.0, the platform came up with many new features, such as standalone applications.
The following are the figures that convey the growing demand and growth of the wearable industry:
The wearables segment's revenue is expected to reach US$18,984m in 2020.
The expected annual growth rate in revenue stands to be (CAGR 2020-2024) of -2%, resulting in an expected market volume of US$17,854m by 2024.
User penetration in 2020 will be 5.9% and may hit up 4.8% by 2024.
The average revenue per user (ARPU) is expected to amount to US$43.00.
In global comparison, China will generate maximum revenue (US$6,053m in 2020).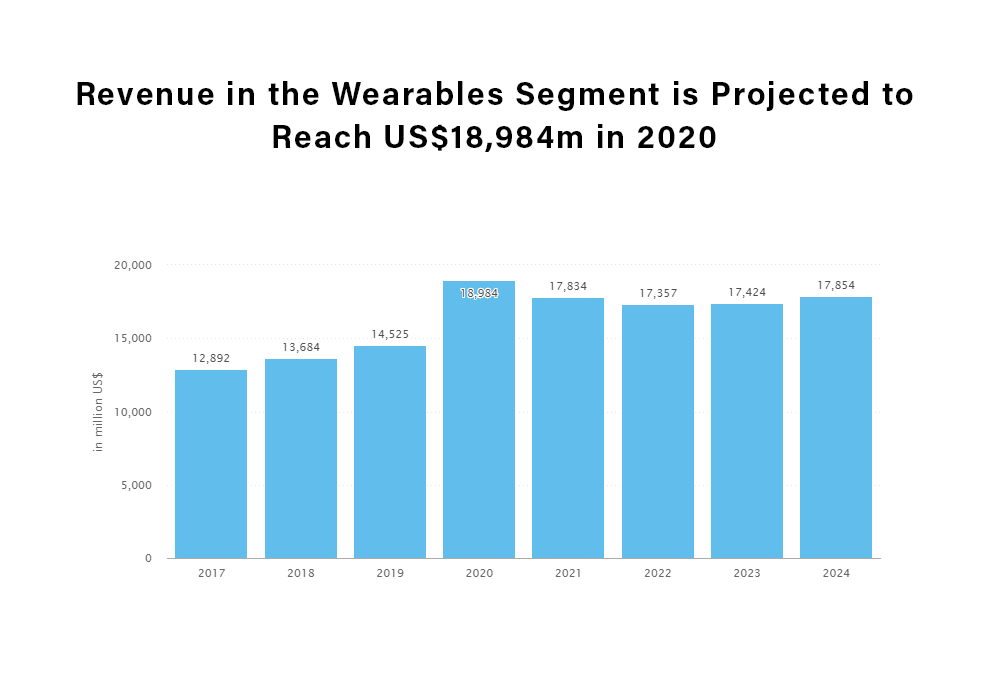 Best Android Wearable Apps for Smartwatches 2021
Many popular applications are used on Android Wearables with high compatibility. So, let us go through a massive Android wear apps list:
1. AccuWeather: One of the Best Android Wearable Apps
Being among the best Android wearable apps, AccuWeather is widely recognized as an Android Wear application with 2.0 support. The application can perform all of the basic operations, such as displaying current temperature, weather forecast, radar, other meteorological notifications. The applications also provide information related to smaller statistics, including humidity, wind speed, etc. It is one of the best Android wear weather apps.
It works effectively on both Android Wear and a connected mobile device. Almost all the application issues are temporary, as users may find advertisements in the free version of this application that they can avoid by taking a premium and getting their app upgraded to the pro version. However, there will be no significant changes, even after upgrading to the pro version.

Key Features of this Android Wear Watch App:
Local forecasts according to your location.
Hazard alerts for safety.
Minute by minute forecasts for keeping you updated.
Forecast filters according to your preferences.
Download on Google Play: 4.4
2. Audiobooks: Most Unique Out of the Best Android Wearable Apps
Audiobooks.com is among the best applications to record audiobooks. It includes a database of more than 100,000 audiobooks, and there are likewise more than 7,000 free choices. Different highlights incorporate variable read speeds, Android Auto Support, and definite Android Wear support.
The service costs $14.95 for a month. Users can get one free audiobook with an alternative to buy more at a limited rate of discount. Many users call this application their favorite when it comes to using it on Android Wear 2.0.
Key Features of this Android Wear Watch App:
Browsing option for finding the book easily.
Download option for listening offline.
Wide-variety of podcasts.
Get 3 Audiobooks for free on the first sign up.
Download on Google Play: 4.4
3. Bring!: Best Android Wearable App
Bring is an application used to list your grocery items using your wearable devices. The application accompanies a decent structure, a lot of choices, and an interactive Android Wear support. You can make separate records for different exercises. Additionally, the app utilizes a card and tile design on its interface. It seems unique and newer than most of such grocery shopping list applications.
There are a lot of note-taking applications on Android Wear, yet this one is enchanting. It is additionally allowed to download with no in-application purchases, subscriptions, or advertisements. Google Keep is another incredible application for this sort of stuff and in the case where you need a progressively broad note-taking application. Google Keep is also listed in the upcoming sections of this blog.

Key Features of this Android Wear Watch App:
Item predictor for recipes.
Like and share the recipes.
Add photos to the list.
Wide-range of articles available.
Download | Google Play: 4.5
4. Calculator: One of the Best Wearable Apps for Daily Usage
Calculator by Xlythe is somewhat of an extended form of the stock Android calculation application. It does calculations like basic arithmetic and algebra. The application likewise incorporates some realistic calculator usability, activity history, and, obviously, an interactive Wear OS support. It, too, looks a great deal like the stock application. The app is somewhat confined; however, it works splendidly fine.
Furthermore, this application is open source, particularly when you ever need to perceive what is most important to it. It's entirely acceptable about such calculator applications. Although, it's the best calculation application for the Android wearables. The pro version of this app may cost users $2.99.

Key Features of this Android Wear Watch App:
Dark mode.
Floating calculator for background applications.
Included a scientific calculator for complex calculations.
Lockscreen widget for ease of access.
Download | Google Play: 4.3
5. Google Play Music: One of the Best Android Wearable Apps
Google Play Music was among the primary Android Wear apps and is still among the best wearable apps for Android wearables. The Android Wearables allows you to control music, tune in to stuff, and draw in with various services. However, the interface for the smartphone application isn't that extraordinary. It looks striking in wearable, and there are no vast amounts of taps and swipes to get where you wish to go.
The Android Wear version of this app feels vastly improved when compared to other such apps. Portions of the application are allowed to utilize (counting its feature of uploading songs). You can get the remainder of the highlights for $9.99 every month.

Key Features of this Android Wear Watch App:
Wide-range of podcasts.
Smart recommendations.
YouTube music membership (premium feature).
Ad-free music (premium feature).
Download | Google Play: 4.1
6. Google Maps: One of the Top Apps for Android Wear
Google Maps is another simple pick for the best Android Wear applications. It's likely the best navigation application on the stage and, indeed, the best navigation application used in Android wearables. The app features more unique features than its smartphone version. That incorporates directions, business data of companies in the neighborhood areas, and significantly a lot more.
It's a little troublesome after heading on your wrist while driving. We urge our users to practice the most extreme alert while utilizing this application out and about.

Key Features of this Android Wear Watch App:
Real-time updates.
Automatic rerouting feature.
Offline maps.
Images of restaurants and places for better insight.
Download | Google Play: 4.3
7. Podcast Republic: One of the top Apps for Android Watch Applications
The Podcast Republic is one of only a handful of webcast applications on Android Wear. It includes a huge library of both video and sound web recordings. It likewise incorporates mechanized downloads, various playlists, matching up help, different language backing, and SD card support.
The Android Wear variant of the application isn't exactly as strong, yet that is alright. The free form contains promoting, and the paid version doesn't. That is about the main distinction between the two. It is one of the best apps for Android watches for podcasts.

Key Features of this Android Wear Watch App:
Minimal permission for privacy protection.
Wide-range of free podcasts.
Multiple playlist features for better playback management.
Sleep timer feature.
Download | Google Play: 4.7
8. Pulse SMS: One of the Top Android Android Apps
Pulse SMS is among the best messaging applications accessible. Android Wear has superficial SMS support. In any case, Pulse SMS takes into consideration support between your telephone, your PC, and your watch. It is the main SMS application as far as anyone is concerned with help for every three stages.
It likewise includes a better than average structure, rest notices, GIF support, documenting, blacklisting, plan messages, double SIM backing, and the sky's the limit from there. You can utilize the telephone application for nothing. Getting support for different stages includes either a membership administration or a one-time installment.

Key Features of this Android Wear Watch App:
End-to-end encryption.
Automated replies.
Minimal design.
Message backup.
 Download | Google Play: 4.4
9. Runkeeper: One of the Best Android Watch Applications
Runkeeper is among the most well-known wellness applications. It likewise has one of the better Android Wear applications. The application monitors your running and exercise. You can set objectives for weight reduction, running pace, and other stuff. It additionally bolsters biking and practically some other movement besides running. The Android Wear application is a decent augmentation of fundamental assistance. Like most, it doesn't have each element. In any case, it has enough.
The full experience requires a membership, however, and one that we believe is somewhat costly. Strava and Lifesum are likewise great Android Wear applications right now. If you need it for nothing, Google Fit is the best free wellness application for Android wearables.

Key Features of this Android Wear Watch App:
Check daily progress.
Stay motivated by joining nearby challenges.
Set a training plan.
Workout suggestion.
Download | Google Play: 4.4
10. Wear OS by Google Smartwatch: One of the Top Android Wear Apps
Wear OS is the authority application from Google. It's required to combine your smartwatch with your cell phone. The application also contains stuff like settings for Google Assistant, Google Fit, and some other stuff. In any case, its most significant component is its applications and watch faces information. The application is an incredible catalog for such things. Google Play works admirably, however, this application certainly gets you there quicker, and that's why it is one of the best Google smartwatch applications.
Google Assistant accompanies Wear OS, and w enthusiastically suggest utilizing it also. It can do the entirety of the enjoyment stuff it can on your telephone aside from your wrist. Moreover, it can do things like taking notes, turn your brilliant lights on or off, and more stuff that way. Wear OS is fundamentally Google Assistant on your wrist with the time and date.

Key Features of this Android Wear Watch App:
Google Assistant feature.
Control music while working out.
Track your progress for better results.
Make a to-do list.
Download | Google Play: 4.0
11. Wear Gesture Launcher: One of the Best Android Watch Apps
In the case that you like to utilize a lot of smart watch apps, at that point, you'll become tired of pressing the crown and tapping in through the menu. Most Wear OS smartwatches have some alternate route choices; however, just several catches, so this application can demonstrate extremely valuable for sure.
It permits you to tap on the correct side of the screen and afterward attract a signal to dispatch an application. You can include heaps of various motions and get to the applications you need considerably more rapidly. You may conclude that drawing an M on the screen should dispatch Google Maps, for instance.

Key Features of this Android Wear Watch App:
Gesture support.
Ease of access.
Vibration alert.
iOS compatible.
Download | Google Play: 4.4
12. Google Pay: One of the Best Android Smartwatch Apps
Google Pay is among the most useful smart watch Android apps to have in Android wearables. Users can simply put their smartwatch close to the terminal and pay for their tickets, food, beverages, or whatever they are purchasing without having to turn a wallet, purse, or phone out of your pocket. When your wearable device has NFC, it's relatively more straightforward and faster to launch and use Google Pay.
The quick, easy way to pay online, in stores, in apps and more is Google Pay. All without your wallet, book a flight, grab lunch, see a show, and enjoy new experiences. It's quick to get started on the web or with an app. Simply add a card, and you're ready to go.

Key Features of this Android Wear Watch App:
Encryption support.
Check recent transactions.
In-built home tab dashboard.
Add cards easily.
Download  | Google Play: 4.6
13. Infinity Loop: Best Android Wear Watch Applications
Many games for Android wearable devices are considered an exercise of frustration as the limited screen does not engage a good user experience. Still, with Infinity Loop, users can easily play games on wearables. For example, users can play an easy and relaxing puzzle game where they can spend a few minutes waiting at the railway station or in line at the grocery store.
Infinity Loop is a fun way to boost your logic. A puzzle game is considered to create intricate looping patterns or apply a basic concept: connecting many objects and making fun of them. Infinity Loop is a good puzzle with great zen styling. The aim is to clear your mind and reduce stress without any strain or conflict in your everyday life to resolve expectations.

Key Features of this Android Wear Watch App:
Dark mode.
Infinite levels of the game.
Less-challenging game.
Easy to play.
Download | Google Play: 4.7
14. Glide: One of the Best Smartwatch Apps
For users dreaming of making video calls using wearables, Glide is an application they can download. Users are required to install the application on their smartphones as well. After this, users can receive and watch video messages on the screen of their Android wearables. They can also send back audio or even record videos, making it one of the best Android wear watch applications.
The best live video messenger app on the planet is Glide. It blends the ease of texting with video chat's expressiveness. You and your friends/family can now share real moments as they arise and enjoy quality facetime.

Key Features of this Android Wear Watch App:
Lightning-fast messages.
Video review before sending.
Real-time photo.
Get glides directly to the smartwatch.
Download | Google Play: 4.3
15. Google Keep: One of the Best Android Watch Applications
Google Keep is popularly identified as the best note-taking apps in the field of wearable apps. It is developed for sending quick reminders and storing shopping lists. It is a note service by Google that indulges in the lists and information right on wearables. It is undoubtedly one of the best Google Android wearable apps.
The app can be synced with multiple devices wherever the users are signed into their Google accounts. It is an interactive way to monitor the supermarket's progress with no need for checking a smartphone regularly or in a handwritten format, making it one of the best Android watch applications.

Key Features of this Android Wear Watch App:
Quick capture for real-time.
Label your notes with colors.
To-do list.
Collaborate with your friends in real-time.
Download | Google Play: 4.4
Ease Your Life With Android Wearable Apps
With versatile options of functionalities on Android wearable, Google features easy access to the best Android wear apps. Google Play store provides numerous quality Android wearable applications where users can utilize thousands of features on a small screen. Most of the wearable devices supporting Google's Wear OS or Android Wear indulge in many handy capabilities.
Android wearable apps are no longer only a way to display short notifications but also feature interfaces to entertain users and systematically track their health-related information. However, there is still a high possibility for these applications depending upon a partner application installed in a smartphone or alike parent device with a few standalone features on the wearable device. If you are searching for Android wearable apps development services, you can contact a wearable app development company that exquisitely suits your brand.