Did you check these Best eCommerce Platforms?
eCommerce is a boon for customers as well as businesses. In a lockdown, the demand for e-commerce platforms is becoming high. Even the sale of the online retail store in the COVID-19 is up to $18 billion. There are lots of eCommerce platforms worldwide that deliver products and services to their valuable customers.
As people feel lazy to visit stores to purchase groceries, clothes and other essential things, they search for an e-commerce platform that delivers all the products, whether groceries or anything else. This is an excellent opportunity for retail stores to earn good revenue and high ROI.
However, the competition is high in the market, so it is really difficult for businesses to decide which eCommerce platforms are suitable for development. Undoubtedly, there are numerous platforms, so you can choose one of them that makes it simple to create and manage your eCommerce website without technical knowledge.
But as we mentioned, deciding the best ecommerce platforms for startups is challenging. So, let's look at some of the best platforms you can use to set up your online business without difficulties.
What is an eCommerce Website?
eCommerce stands for electronic commerce, where customers buy products online. Generally, an eCommerce website is known as a location where different products are available for online purchase. It enables the customers to make a purchase of goods and services by transferring information over the internet.
Hence, no one needs to go to several websites because you can do it through a single website within a few couples of clicks. Therefore, the demand for electronic commerce is becoming high in retail. But, making an online store is not a cakewalk, which is why you need to get in touch with an ecommerce app development company.
With in-depth knowledge of platforms, coding and other aspects, it is not a challenging task for professionals to quickly develop an eCommerce website.
The Best eCommerce Platforms for Developing eCommerce Website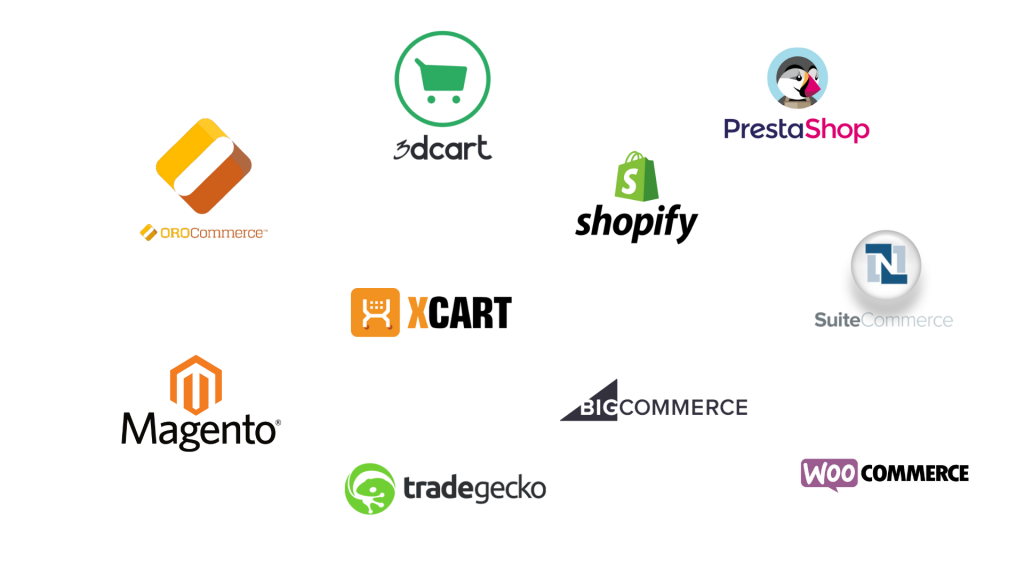 The demand for eCommerce stores is high in the market because of convenience. As ordering the products online is easy. Plus, you don't need to go anywhere because the delivery person will ship the item to your doorstep.
You know that the online store's revenue will be $7 trillion in 2025. Thus, businesses are showing interest in developing eCommerce websites for their retail store. But as we mentioned above, there are several platforms for website development, and startups don't have any idea about the best ecommerce platform for startups.
Do you have any questions about what is  the best ecommerce platform for small businesses? So, let's discuss about this briefly:
1. Shopify
Shopify is considered the most popular and the best ecommerce platform in 2022. With the help of this amazing platform, you can take your business online. It is easy to use, and this platform allows companies from all backgrounds to craft the eCommerce platform.
To start the website development process, it is required to have access to the host of themes and templates and then adjust elements of your site with the help of drag and drop builder. On this platform, startup companies can avail endless unique features. Hence, this is called the best ecommerce platform for digital products.
Using Shopify, you are eligible to sell physical as well as digital products, subscriptions, memberships and even dropshipping items. Furthermore, you will get numerous payment options, so businesses can collect the payment from their customers with the help of this best ecommerce platform for small business in the UK.
However, you should contact a reliable ecommerce app development company to make an eCommerce website with the Shopify platform. Of course, app development agencies have good knowledge about coding and other aspects, so they easily develop a website with ease.
2. Wix Ecommerce
Wix helps startup companies to boost their business. This is the reason that Wix is counted in the list of best ecommerce platforms. The great thing about this platform is that it is easy to use and has a wide range of intuitive features, including access to an AI system to assist you in building an intelligent eCommerce website.
This  platform always comes with exceptional features to explore and a customizable template that suits a range of industries. Hence, you can easily set up unique product galleries and provide a range of payment solutions with secure methods. So, it can be counted as the best option in a list of the best ecommerce platforms.
If you are searching for one of the best ecommerce platforms in 2022, Wix is an ideal choice with some slight limitations regarding the kind of products you can sell and how intuitive the checkout process is.
But the agency is consistently improving its feature sets and capabilities. To make the development process more efficient and error-free  you can hire web developers who meet your demand and expectations.
3. BigCommerce
Startup companies are always searching for alternative solutions that help establish a business efficiently. BigCommerce is the best ecommerce platform for small businesses that enables the business to grow high in the market of web development.
Plus, everything comes built into the technology too that you want on your online website. It means you don't need to worry about plugins. Generally, it is known for its simple functionality and freedom. By taking the help of this platform, you can quickly sell all kinds of products and services through the system.
You can reach customers across a range of channels such as eBay, Amazon and even FB and instagram. With advanced plans, tools such as stored credit cards and abandoned cart server modes always allow to improve the chances of conversions with any consumer.
This platform always has tools to assist you with marketing products and driving more sales over time. Hence, you can use this platform to develop a website. But making an online store is not a simple task, so seek the help of a custom web development company.
4. Squarespace
This is another platform for eCommerce development that helps companies to create super attractive websites. In order to make a compelling visual impact, you can use professional templates and customisation options that help you stand out from the crowd.
This platform also has impressive features such as powerful image editing options and the ability to publish full-width visuals. Furthermore, it always has a few user-friendly tools that provide full access to CSS to startup businesses, so it is easy for you to make specific changes to your site's layout. Hence, you can count it in the list of the best eCommerce platforms.
5. Square
Square is another great platform for eCommerce website development. Another fantastic thing about building an eCommerce website with this platform is retailers are able to sync their inventory between their online and offline environments.
And it always comes with everything you require to make the online business successful, including blog creation, customization for your storefront and excellent customer support. You can also connect to social media, so it is possible for you to sell across a range of channels.
In order to make the development process easy, you can seek the help of a  hybrid app development company. They help you in every possible way.
6. Branchbob
This is the best ecommerce platform for startups that ensures your business's success. Generally, this platform was founded in Germany, but in over 100 countries, it is used by millions of people. It is easy to use, and there are no monthly fees or other charges.
Hence, you can easily use this incredible platform in order to build your eCommerce website without any difficulties. For making a website with this platform, you need to choose a free theme, update your brand's logo and content and publish. It comes with all the basic functions you need to sell your products online.
To complete the development process, you should also contact an on-demand app development company with years of web development experience.
7. Sellfy
This is another best ecommerce platform for startups that want to sell a range of products. It always supports the dropshipping business model. This amazing platform comes with eCommerce features you would not get elsewhere, including a POD marketplace, a range of customization options, and unlimited sales per year.
So companies can access a range of marketing tools, integrate email marketing and sell lots of products from different backgrounds to increase profit.
8. Ecwid
This platform comes with great tools to sell online. Hence companies can use this platform for eCommerce development. Once you download the plugin, it is easy to unlock everything from inventory management to social selling in an environment you are already comfortable and familiar with.
Plus, it comes with several payment options and a range of adjustable features. There is always an option to take various payment options and commerce solutions.
9. WooCommerce
This platform offers unlimited freedom to adapt and adjust their website based on business owners' specific requirements. The solutions are flexible to suit any kind of company. Along with this, you will always have access to the same comprehensive plugin and theme directory, which means it is easy to access thousands of great extras for your store.
Along with this, it makes it easy to develop a website, from launching omnichannel sales strategies to managing unlimited products and orders. Thus, it is counted in the list of the best eCommerce platforms to develop your eCommerce website.

10. Nexternal
This is also the best eCommerce platform for small businesses that want to manage all their orders in one place. Hence, it is easy to handle all of your B2B and B2C orders through Nexternal.
With the help of the Nexternal platform, it is easy to develop a website that looks professional. So, you can add it to your list to complete the development process. But newbies are unable to do it on their own because of a lack of technical knowledge, so it is good to consult with an ecommerce web development company.
11. Selz
Selz is easy to use, making it one of the best ecommerce platforms you can easily use to sell your products on multiple platforms. Additionally, there you will find promotion tools that can assist you in creating effective advertising campaigns for Google and FB.
Thus, you can count this platform on the list of the best eCommerce platforms to develop an eCommerce website for your business. This is why a custom web development company uses it to make a website.
To Sum Up
eCommerce websites are the primary concern for a business to sell its products and services online. Nowadays, customers are looking for online stores to save valuable time. Hence, businesses require to have an eCommerce website that allows them to manage their inventory, process payment and track orders all in one place.
If you are interested in boosting your business, it is a good idea to craft a visual identity that helps you in taking your business to the next level. However, you should also take care of the platform you use to develop your website. So, read out the list of the best eCommerce platforms to develop fully functional eCommerce websites.