Nowadays, everyone is busy and because of this, humans don't follow a proper diet and  take in lots of calories and prefer packed food that is unhealthy. And it  may also cause several diseases such as high blood pressure, heart disease & stroke, high cholesterol, type-2 diabetes and so on. In order to stay fit, you can rely on the best fitness apps.
Would you want to stay fit but don't like to go to the gym? Choosing a  workout app is a great idea that helps you stay healthier and eat better.Using the best free workout apps, it is easy for a user to calculate the calories, carbohydrates, proteins and fat they take through a meal. It means you can avoid food that has high fat and carbohydrates.
Generally, the best workout apps help users reach their goals. But as per our research, the best app right now is sweat, which is at the top of the list of the best fitness apps for women. It has many different workout programs that suit every goal, from returning to exercise to lifting heavy weights.
Therefore, you can count it on the list of the best fitness apps. Moreover, you can always find recipe ideas to keep you on track. If you have an iPhone and are looking for the best free fitness apps for the iPhone, Apple fitness plus is an ideal choice for you.
On the other hand, its platform is updated weekly, so you will get new workouts and you have a wide variety to choose from meditation, yoga and many more. On the other hand, if you are on a budget and looking for the best free workout apps in  2022, the Nike Club is one of the best options. There are dynamic workouts, warm-ups and cross-training sessions.
However, with so many best fitness apps to choose from, choosing one can be a challenge in itself. Whether you are looking for a yoga, running app and other type of workout application, we will assist you in finding the  best free workout apps in 2022.
A List of Top Fitness Apps You Should Download in 2022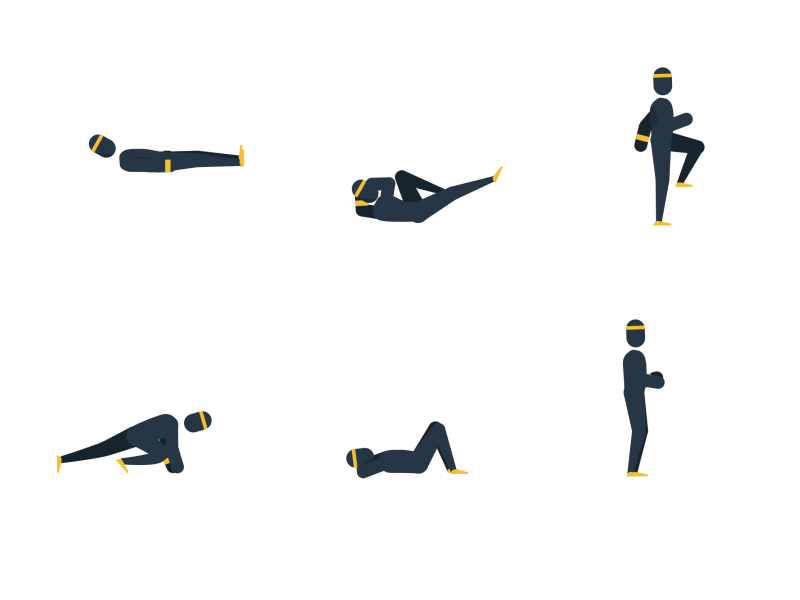 As we mentioned, healthcare applications help users to track their meals and always help to stay fit. Hence, you can rely on the best fitness apps to stay healthy. However, it is quite challenging to determine which application you should download in 2022.
Well, we will assist you in choosing the best one as per your requirement and lifestyle. Here, we mention a list of the most popular apps, so it is easy for you to choose one from them.
1. Aaptiv
This is the best fitness app specialising in an audio-based workout led by trainers. It means you don't have to keep your eyes on your fingers on a screen to exercise. A trainer tells you what to do with music in the background. Therefore, you can count it on the list of best fitness apps of 2021-2022.
It also suggests workouts that will suit you based on the information you provide, such as the type of exercise you like and the type of music you want to listen to. Hence, you can count it in the list of the best workout apps for beginners. However, you should pay an amount for this that may be $14.99 per month or $99.99 per year.
To make sure that it suits your lifestyle and daily routine, you can take its seven-day free trial with the help of the web application, though it requires a credit card to access it.
2. StrongLifts 5×5
This is another excellent fitness app that helps users stay fit. It offers many valuable routines for beginners and experts to keep track of your daily progress. To get the right diet and exercise, you can go to Google Play and App store to download the app for iOS and Android devices.
This application has several features, such as a tracker, planner, and many more. Thus, it is the best application in the list of the best fitness apps of 2021-2022.

3. Sweat
This is the most popular app that famous Australian personal trainer Kayla Itsines founded. It was created with women in mind; thus, it is known as the best application in the list of the best fitness apps for women. With the help of this app, you can easily access various workout programs that can be done at home or in the gym, such as strength, yoga and pilates.
This application always offers meal plan options that help you in choosing the right diet plan. However, its cost is $20 a month, so it's up to you whether you want to download it or not to your mobile phone.
4. FitOn
Do you want to be strong as a wrestler? It is at the top of a list of men's best free workout apps. Using it, you can access workouts across multiple disciplines such as yoga, dance, and HIIT; you can search by the body part you would like to focus on and even create custom programs to assist you in reaching your goals.
You can also experiment with different types of workouts for free, so you can easily find out the exercises that help you get the perfect figure. Thus, fitness centres are looking for fitness tracker app development services.
5. Sworkit
Whether you are busy and don't have time to go to the gym, Sworkit is a leading option in your pocket. There, you will find a number of free workouts to get you started. In order to achieve your goal, you need to set a goal, get your training plan and start the workout anywhere.
If you realise that you need an additional boost, you can contact certified trainers directly in order to keep you moving in the right direction.
6. Keelo
Do you want to develop muscles? Keelo is the highest demanding and the best fitness tracker app that mainly focuses on building muscle. There you will find an option to connect a heart rate monitor during your session to track your progress.
While you browse the app's catalogue of workouts, you will see a preview of each session before you start, including not only all the workouts and equipment but always a summary showing which exercise is good for which body part.
Hence, it is the best one in the list of best free fitness apps for iphone. It has multiple features that make it a fantastic application for those who love to build muscles or stay fit and healthier.
If you have a fitness centre, you can get in touch with a mobile app development company to build a fully-functional app that works on different devices such as iOS, Android and Web. They always ensure customer satisfaction.
7. Map My Fitness
This application allows users to count every movement as part of their daily activity. This is the best fitness tracker app that lets you record nearly anything you do, from walking to running. In order to use this app, install it on your smartphone, choose the activity and start recording how much time you spend on it and the calories burned.
In simple words, you can track your everyday outdoor activities with the help of GPS, such as running, walking, hiking and many more. This is free of cost, and an upgrade to an MVP membership adds advanced data like cadence and heart rate when applicable.
Moreover, it is compatible with many fitness trackers, Android wear, Apple Watch and others. So, you can tell an on-demand app development company to build an application such as Map My Fitness.
8. MyFitnessPal
Through MyFitnessPal, it is easy to track diet and exercise with your smartphone. In order to motivate the users, this application uses gamification, as we all are aware that food plays an essential role in dieting. And you know that this fantastic fitness app allows users to scan food items to track nutrients.
Furthermore, you can connect a MyFitnessPal account to Fitbit and other fitness apps. Thus, you can count on the list of the best fitness apps of 2022. If you are a fitness enthusiast, this is the best option that suits your lifestyle and goals.
9. Seven -7 Minute Workout
Seven-7 Minute workout is an excellent option in the list of the best fitness apps for those looking to do bodyweight exercises, HIIT and other workouts. As its name, all activities are only 7 minutes long, which is the amazing thing about this app.
Along with this, the application is easy to use and has a goal-oriented approach, and exercise with this application should not require special equipment. It has fantastic features that help you in motivating and entertaining yourself by competing with friends.
10. Home Workout
This is a fantastic app on the list of the best fitness apps that help you work out at home. You will find lots of exercises focusing on all the significant muscles there. A fitness app you can use at home allows you to maintain your fitness and health without going to the gym.
This application will also find warm-up routines, videos and guidelines that professionals create. Additionally, it works with iOS and Android.  The great thing about this app is that it does not require any equipment.
11. JEFIT
JEFIT is the best fitness tracker with great features for tracking your various workouts and workout routine. Some of the fantastic features include video demonstrations of over 1,300 exercises, a workout planner and a rest timer. This application always supports some advanced stuff like supersets.
Apart from this, a slightly more organised UI might be helpful for new people. Thus, it is on top of the best workout apps for beginners looking for an application that helps them achieve their goals. As a fitness trainer, you can also build an app with unique features.
12. Alo Moves
This is another fantastic fitness app that brings the practice of yoga to you, wherever you are physically or in terms of your skill level. There you will find unique features that make it more popular among those who want to reach their fitness goals.
However, you should hire dedicated developers to make an app such as Alo Moves. With years of experience, knowledge and practice, they will build an app that has the required features and functionality.
Therefore, get in touch with a custom android app development company that will provide you with the ultimate solutions per your requirements and ensure customer satisfaction.
The Final Notes
Now you have the complete information that is the best fitness apps in 2022. We all know that taking care of our health is challenging. In such a situation, relying on the fitness application is excellent. They help us to know what we take and if it is healthy for our health or not.
Plus, the best fitness apps offer users the freedom to work out anywhere at their convenience. Along with this, workout applications always provide you with personalised diet charts since eating the right food plays a significant role in achieving your fitness goals and maintaining your fitness.
The list, as mentioned earlier, of the best fitness apps helps you determine which is perfect for you as per your lifestyle and daily routine. With this, you will easily choose an option that matches your requirements.