In this fast-paced digital world, the dating landscape has significantly transformed. With the rise of technology and smartphones, innovative applications and platforms have reshaped the traditional way of finding a partner. Among this, the demand for the best hookup apps is high for individuals seeking casual relationships.
Gone are the days when one had to rely solely on chance meetings or fixed setups in order to find a partner. Now, with just a few taps on smartphones, people are able to access a wide array of hookup applications tailored to their specific needs and desires. The Best hookup app has revolutionized how users approach casual dating, allowing them to explore their fantasies with greater ease and discretion.
Through the help of the best hookup apps, users can connect with potential partners from the comfort of their homes, initiate conversations without the awkwardness of face-to-face interactions, and filter through profiles to find the perfect match based on their preferences. But when it comes to finding the best app for hookups, users may face difficulties finding the right one. In this post, we will discuss the list of the best options available today. Take a look at this post.
What are Hookup Applications?
Hookup apps are usually designed to facilitate short-term sexual relationship applications and casual encounters. These best applications offer a discreet and convenient platform for those who are searching for a no-strings experience without the emotional and commitment-laden aspects of traditional dating.
The best apps for hookups use algorithms and location-based technologies in order to connect users with similar interests and who live nearby. By using this app, users are able to create profiles, upload images, and specify preferences. The hookups app will also suggest matches based on proximity and compatibility.
You know that the best hookup apps have various features to enhance user experience. The features include photo sharing, chat, and video calling. The dating app also allows users to browse profiles, schedule meetups, and chat with other users. These applications get popular because they are easy to use and informal.
As a result, billions of people are using such applications for casual relationships. Even you can also invest in hookup app development and get more revenue and profit in less time.
List of the Best Hookup Apps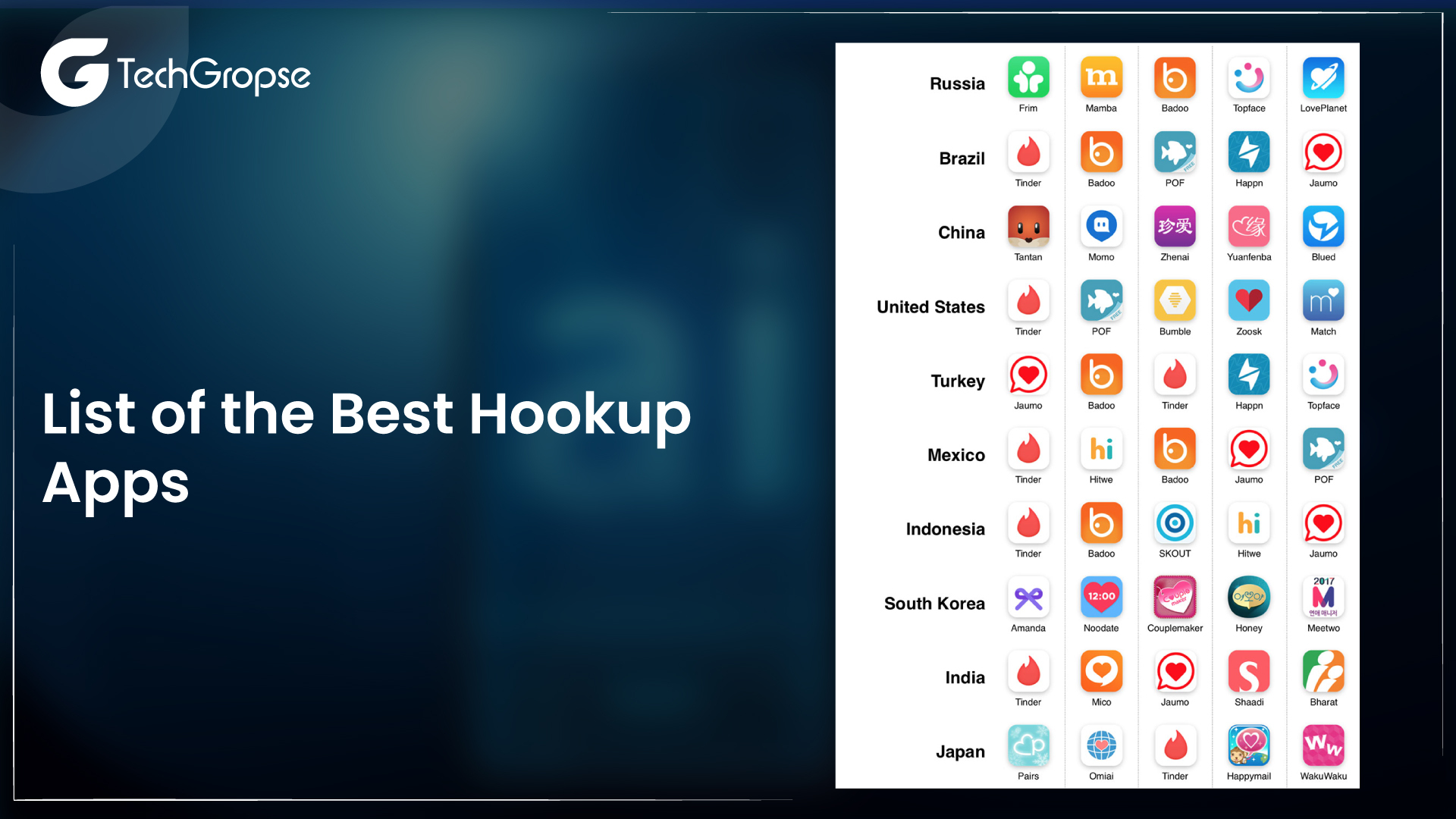 In today's time, it is easy to find a casual match in a couple of clicks with the help of the best hookup apps. However, the options are numerous, so it is difficult to determine which is suitable for a single person to find a partner. If you are single and looking for a casual partner, the below-mentioned list may be helpful for you in finding the best hookup app:
1. Tinder
Want sparks in your dating life? Well, Tinder is the best hookup app to find a casual partner. You need to swipe left, right and let the app as you navigate a world of endless possibilities. This amazing app claims to cater to all types of dating. As a result, it is known it's best for one-night stands.
The best thing about the Tinder app is that it is simple to use and works instantly. Whether you are looking for a fling or a steamy rendezvous, Tinder is the best hookup application, ready to spice up your love game. On the other hand, you can use its core features without any cost. Even though three types of upgrades are available, you don't need them.
Let's be ready to unlock the sizzling potential of casual encounters with just a click of your finger. You can also build your own app by seeking the help of a team of professionals who have good years of experience in dating app development.
Key Features of Tinder
Mutual matches can message each other
Passport feature to match with people worldwide
Swipe right to like profiles, and swipe left to pass
Super like feature to show extra interest
2. Bumble
Unlike Tinder, Bumble is the best hookup app for finding long-lasting, committed relationships. The best thing about this app is that women have to make the first move, as men are not allowed to contact them at first. In simple terms, this app ensures the safety of women. Therefore, it is a popular hookup app among girls.
With a swipe of finders, you can easily unlock a world of limitless possibilities. The Bumble app's design is perfect, easy to use and straightforward, where each user is clear about their requirements. Those who are looking for a serious relationship, they can connect with their type, and those who are looking for hookups can look for that type.
Features of Bumble
Women make the first request
"Backtrack" feature to undo accidental left swipes
Bumble BFF for making friends
Bumble Bizz for professional networking
3. OkCupid
If you are looking for the best hookup apps, you can count on OkCupid. This app provides a lot of different things and opportunities and is used by LGBTQ users. The best part of the application is that it has more than 50 million users, where 56% are men and 44% are women.
The application always provides a premium version as well as users can use the basic version for sending messages, using the search functionality and browsing member profiles.
You can also build your own app by taking an idea from this app. But once you decide to invest in on-demand app development, you must contact professionals with good years of experience and knowledge of creating applications.
Features of OkCupid
In-depth profile questions for a better understanding of potential matches
Messaging system for easy communication between users
Advanced matching algorithm for personalized compatibility
Option to browse and discover profiles based on specific criteria and interests
4. Hingle
If you are searching for long-term and committed relationships, it is suggested to use Hingle. This is included in the list of the best hookup apps. With the help of this app, users can go through the profiles, and if someone appears to your taste, they can like their profile or comment on specific parts.
In simple terms, Hingle allows its users to create attractive profiles, interact with potential partners in fun and flirtatious ways and participate in video chats. On the other hand, the "The dating app designed to be deleted" tagline makes it unique. Once the users' proposal is accepted, they will be able to exchange phone numbers and start a conversion.
Additionally, the application asks about their date and offers more suitable recommendations in the future. Moreover, users can go for the pro version of this hookup app to unlock many features, such as advanced controls over their profile.
Features of Hingle
The app uses algorithms to suggest potential matches based on user preferences, interests, and location.
Users can apply various filters to narrow down their search and find potential matches based on specific criteria like age, distance, interests, etc.
Users can swipe right to like a profile or swipe left to pass on it.
Verification features to enhance authenticity and trust among users.

5. Grindr
Would you want to mingle? The Grinder is an ideal choice in the list of the best hookup apps. Generally, this application is popular among the young group, and most of its members are from the LGBTQ community.
This fantastic application very well serves gays, queer, lesbians, trans, bisexuals and straight people. Moreover, Grinder takes just a few seconds to register for the application, and it provides the utmost anonymity. It also offers nearby suggestions to its users, showing them the profile closest to their current location at that time.
You can also make your own application. But you have to hire dedicated developers with good years of experience building a functioning application.
Key Features of  Grindr
Filter option for preferences
Geo-targeted matches
Instant messaging
Photo sharing
6. Her
This is the best FLINTA dating and community application that is made for queers and by queers. The best part of the app is that it is one of the safest platforms for the queer, offering the proper space and support without any fear. You know Her's a rainbow-coloured interface and inclusive vibe; this application brings together like-minded souls, igniting sparks that light up the night.
Moreover, the users will get a premium subscription where they can enjoy the platform without advertisement, filter by sexuality, see who is online in real time, and use the app in incognito mode without exposing the user's identity.
Key Features of Her
Gender and Sexuality Option
Private Messaging
Profile customization and visibility settings
LGBTQ+ inclusive platform
7. Feeld
This hookup application allows users to connect with each other and explore their sexuality with a wide range of gender and identity options. It has a playful interface and a community that embraces all forms of exploration. The best thing about the app is that it provides fast and easy registration.
But this app needs Facebook account syncing, which might make some people opposed to the application as per their mindset because of security purposes. It means this application can be counted in the list of the best hookup apps.
Features of Feeld
Provide "Explore" mode for connecting with like-minded
Polyamorous friendly dating platform
Offer a safe space for LGBT+ individuals and those with diverse sexual orientations.
Permit users to explore non-traditional relationships.
8. Pure
Pure is on top of the list of best hookup apps, setting the stage for unforgettable encounters. Users can find a perfect partner for long- and short-term relationships with a few clicks. You know that the application 'forces' its users to pretend as if they don't know each other even when they have a past encounter.
The best part of the app is that all images, conversions and personal information are deleted within 60 minutes. It means you don't have to worry about your privacy and anything else, as it considers the security of your data. If you also want to build your own app, searching for professionals with good experience in mobile app development is suggested.
Features of Pure
Time-limited chats to encourage prompt meetups
Emphasis on privacy and discreet encounters
No profile, just a simple, photo-centric interface
Focus on privacy and discreet encounters.
9. Blendr
Blendr allows users to create profiles and share information about themselves, including photos and personal interests. The app uses location-based technology to help users discover and connect with others nearby who have similar interests or are looking for chance encounters. Users can then chat and set up meetings if they are interested in each other.
Blendr, on the other hand, caters to a broader audience and targets regular and LGBTQ+ people. The app uses geolocation technology to show users the profiles of other users nearby.
Features of Blendr
In-app messaging and chat features for seamless communication
Easy-to-use interface for connecting with nearby users
Integration with popular social media platforms
Advanced privacy settings to control visibility and interactions
10. Happn
Happn is a dating app that works on the concept of real-time location-based connection. It is designed to connect users with people they have met in real life. The app uses geolocation data from your smartphone to identify other Happn users who have been near you at any given time of day.
When two Happn users meet and install the app on their phones, their profiles will appear in each other's timelines. From there, they can like each other's profiles, and if there is a common interest (both users like each other), they can start a chat and can set up a meetup or "meeting".
This app is intended to foster connections between people who may have missed out on a real-life encounter and provides a more casual way to find a potential match than traditional dating apps.
Features of Happn
Detailed user profile and preferences
Real-time location tracking for serendipitous encounters
Advanced privacy settings for a secure and discreet experience
Cross-path notification system
11. CasualX
CasualX is a dating app for people who are looking for casual relationships or relationships. It is designed to connect people interested in casual relationships, connections or friends with interests rather than traditional long-term commitments. CasualX users are often looking for like-minded people who are open to more relaxed, non-binding relationships.
CasualX users often look for casual, short-term relationships rather than long-term commitments. This app allows individuals to find like-minded partners interested in similar casual dating deals.
Features of CasualX
Location-based search to find nearby hookups
Swipe-based matching for effortless connections
A diverse and open-minded community for exploring your desire
Chat and video chat features for getting to know your matches.
The Final Note
The world of connectivity apps has grown exponentially, providing countless options for those looking for casual connections. From the hugely popular Tinder to niche apps like Feeld and Grindr, there's a connection app to suit almost every taste and interest. However, it is essential to remember that safety and consent should always be a top priority in any informal meeting. With the right mindset and understanding of your desires, these connectivity apps can be the gateway to exciting connections and new experiences.
FAQs
1. What is a login application?
Dating apps are mobile apps designed to facilitate casual sexual encounters, hookups or short-term relationships. Users often sign up for these apps to find like-minded people interested in non-binding interactions.
2. How does the login application work?
Most connectivity apps use geolocation to match users based on how close they are. Users create profiles with pictures and brief descriptions and can browse potential matches. If both parties show interest in each other by swiping right on each other's profiles, they can start a chat and arrange a meeting.
3. Are hookup apps safe?
Security is important when using dating apps or any online dating platform. While many apps have built-in security measures, such as profile verification and reporting systems, users should exercise caution and follow best practices for online dating. Always go to public places, tell someone where you are going, and trust your instincts.
4. What are popular hookup apps?
Some popular connected apps include Tinder, Bumble, OkCupid, Grindr, Pure, and Feeld. However, app popularity can change rapidly due to market trends and user preferences.