What exactly are the games? For a few people out there, games are the perfect way to pass the time. But for many people out there, games are much more than just a form of entertainment. For them, games are a pure form of emotion entitled with the abundance of happiness and their daily dose of serotonin. Gamers started competing with each other as this trend of gaming increased.
The best method to compete with each other slowly shifted to online and enraged gamers started to dominate this latest trend. Online multiplayer games became a key obsession for a technology-loving generation inclined to welcome technology even on smartphones. Thus, the development of technology for smartphones and mobile games evolved exponentially in the last decade.
Best Mobile Multiplayer Android & iOS Games to Overwhelm You
Recent advancements in the mobile gaming industry brought sophistication into play. The new race of mobile game developers has recently also increased to offer gamers a great many more features and exciting features. The sphere began to develop even more quickly in the various operating systems due to these evolving technologies and with the introduction of various gaming engines for smartphones.
Let us dive into this ocean of serotonin by exploring the best multiplayer Android games available on the Play Store and the best multiplayer iOS games available on the Apple Store. This article will provide you with the list of some of the finest mobile games that can easily overwhelm you as you connect with nearby players or even with the players worldwide. These mobile phone games are great for playing with friends or deserve a place on your mobile, regardless of their use.
10. Ludo King
Who doesn't like a peaceful dice game of Ludo with their family or friends? If you are one of those who want to recall their childhood by playing the dice game, then Ludo King will surely help you ignite your childhood memories. This classic board game will easily adjust to your phone without utilizing high memory. It is considered as one of the best multiplayer Android games.
Ludo King is a cross-platform multiplayer mobile game that supports various operating systems. You can play with multiple players worldwide or create an individual room to play with your friends or family members. The interface of the game is straightforward. In case if you don't have any friends to play with, then you can play with the computer without the internet. It is one of the best offline multiplayer games for Android.
Key Features of this local multiplayer Android game:
Wide range of themes.
Save any game for resuming it later.
Voice chat feature available.
Works flawlessly, even on low-end smartphones.
Download multiplayer games for Android & iOS
9. Hearthstone: Heroes of Warcraft
Hearthstone is a beautiful, absorbing online card dueling game developed by Blizzard Entertainment. In Hearthstone, players can take part in fighting other players and chronologically by creating a monster deck. Each card used on the deck has extraordinary skills and abilities, which brings out a unique outcome every time they are played.
You can either create a deck, compete with your friends, or compete with players worldwide by randomly matching them. Blizzard Entertainment revealed that the game had gained over 50 million players in 2016. Hearthstone was thus one of the most popular and most popular multiplayer games ever.
Key Features of the best multiplayer mobile games:
Practice against the computer to improve your skills.
Save the progress on the cloud.
High-end graphics.
8-players experience for enhancing your gameplay.
8. Asphalt 9: Legends
If you're an avid racing gamer then, there are very few chances that you might have skipped this beautiful game with high-end graphics. Asphalt 9 provides a list of true hypercars driven by renowned automakers such as Ferrari, Porsche, Lamborghini, and W Motors. Unlike any other game, you can choose your dream car and race worldwide against your rivals.
It is one of the newest entries on mobile racing for long-term purposes. Asphalt 9 is the game you like if you like games like Burnout and Need For Speed. It provides a multiplayer feature where you can compete on the leading board or compete against seven additional online multiplayer players in a club or your friends. It is one of the best offline multiplayer games.
Key Features of the best offline multiplayer game:
Spectacular locations.
Wide variety of cars available.
Various types of controls (touchpad, joystick, and motion sensors).
Grooving background songs.
7. Minecraft: Pocket Edition
A cool, engaging sandbox video game designed by Mojang, is extremely popular among children. The pocket edition for the mobile was released in 2011. Players may use textured cubes to create various constructions in a 3D setting. After releasing in 2011, Minecraft became one of the most extensively used mobile games.
Minecraft is now available for purchase from Minecraft Realms. Realms is a monthly subscription service that enables you to create your own Minecraft world at two price points. These two price points can either include three players or ten players, depending on the need. It comes with a 30-day trial for giving you a better insight into the game.
Key Features of this local multiplayer phone games:
Marketplace for exploring the community.
Cool customization options for characters and locations.
Supports multiplayer.
Supports Xbox live accounts for playing with Xbox players.
6. PES 2020
PES is developed and distributed by one of the leading game developers Konami. It is an entirely new way to think, where the player receives and passes the ball. The personality of the player depends upon the performance given by the player. This game is the answer to every 'failed system connection request' you face while logging in the EA Sports' FIFA 2020.
PES isn't like a game that you know and loves playing on consoles, but mobile PES still provides many options on smartphones. The realistic player movement, better responsiveness, and direct gameplays will make you hooked to Konami's maestro. It also contains the ultimate team option, using which you can play PvP against real-world players in real-time. It is one of the most addictive two-player android games.
Key Features of the best multiplayer phone game:
Highly responsive servers.
Multiple tactics options (defensive, balanced, attacking).
Easy management for players and team lineup.
An immense detailing of players.
5. Vainglory
Do you miss playing DOTA on your smartphone? Vainglory provides you with the near-perfect experience of DOTA, and that too, on your smartphone. The Super Evil MegaCorp designs it. Super Evil MegaCorp made sure that Vainglory provides mobile users with the best multiplayer gaming experience ever.
Vainglory is an award-winning MOBA that takes you to the strategic abyss with super-rich graphics. It is a strategy game where players take part in a 3 v. 3 match in which magic and technology are more realistic. By making gameplay and touch controls easy, Vainglory glorifies the multiplayer battle category, making it one of the most popular Esports catalog.
Key Features of the online multiplayer game app:
Powerful gaming engine.
Extensive community.
Different heroes with a variety of play styles.
Different game modes.
4. Real Racing 3
Real Racing 3 is designed and distributed by EA Sports, one of the biggest gaming industry names. Real Racing 3 can not be missed when we talk about the best mobile games in 2020, as this app is considered one of the best multiplayer games and is the perfect example of adaptable games. It is surely one of the best multiplayer racing games for Android & iOS.
The illustrations in the game are highly skilled, and cross-edged playoffs are also available. Real Racing 3 provides a variety of gameplay modes. You collect and transform your favorite cars into absolute powerhouses of racing in various modes, including real-time. In short: this game took the Formula 1 concept and crafted it perfectly in the smartphones.
Key Features of the top rated multiplayer game:
Real cars, tracks, and people.
Over 4,000 events to compete.
Supports multiplayer.
Enticing graphics.
3. Modern Combat 5
Modern Combat 5 was developed by Gameloft and is known as the mobile version of Call of Duty game among game enthusiasts. The game is enriched by a huge amount of exciting content and spectacular visuals. The players continue to run and shoot at the frontline or are ready to ambush and spot the enemies from afar. It is loaded with realistic action scenes, making it one of the best multiplayer phone games.
You should look nowhere else for the best online multiplayer game, as this is Gameloft's best production. The online multiplayer experience with remarkable graphics and robust guns is incredible. If you love playing FPS games on your high-end gaming consoles, then Modern Combat 5 will fill that FPS void on your smartphone. Gameloft made sure to develop one of the best multiplayer games for Android & iOS by Modern Combat 5.
Key Features of the online multiplayer game app:
Highly customizable controls.
Wide variety of realistic guns and ammunition.
Brilliant background music.
Realistic missions.
2. Call of Duty: Mobile
If you are an enthusiastic gamer, you probably grew up playing with Call of Duty. Call of duty has been one of the most anticipated mobile phone games since its first announcement. Developed, designed, and distributed by Activision Publishing, Inc., it is one of the best games that serve the true purpose of serving appropriate serotonin to its users. It is undoubtedly one of the best online multiplayer games for Android & iOS.
Call of mobile provides your Android or iOS smartphone with what the franchise has to offer. The app offers iconic maps from the Call of Duty: Black Ops and Duty Call. The app features several online game modes, including a free-for-all 100-player battle royal. Activision also updates the map every month, making it one of the best free multiplayer games for Android and iOS.
Key Features of popular multiplayer games
Realistic graphics.
Multiple game modes.
Constant updates for keeping up the adrenaline.
Customized loadout with a variety of weapons.
Quick Statistic Before Listing the Top Gaming Application
Let us hold this list of best mobile games and go through an interesting statistic revealed by the market study of the online multiplayer game apps and the gaming industry trends:
In the forecast period 2020 to 2025, the mobile gaming market should register a 14% CAGR. In the evolution of the mobile gaming industry, the growing penetration of smartphones and technology advancement with the increasing use of trending technologies is rapidly growing.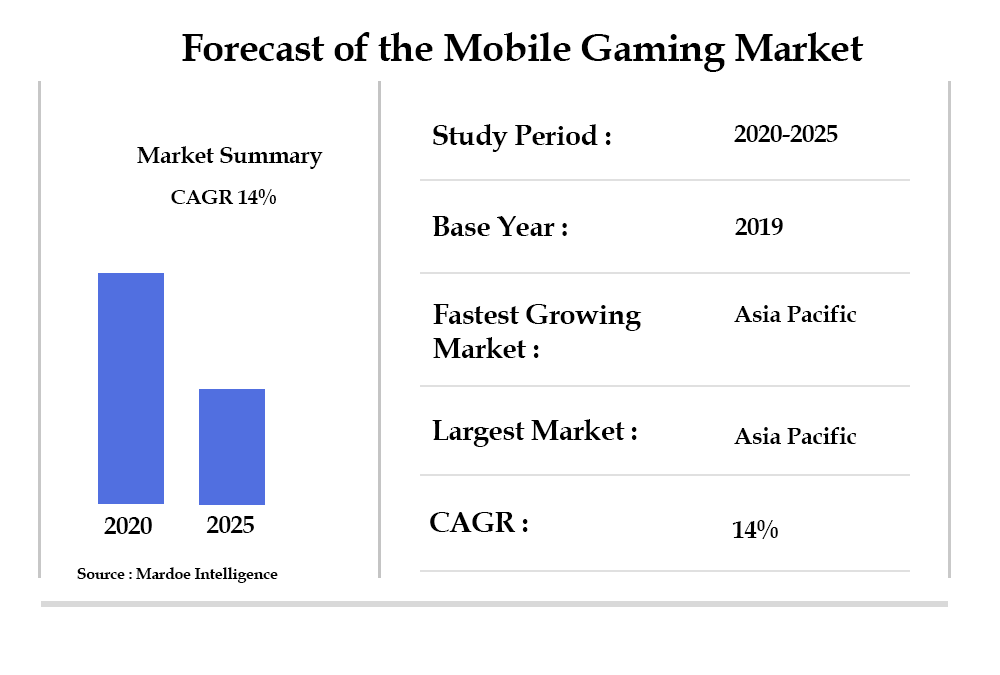 The gaming industry is evolving because game developers are continually pushing their innovative ideas by using a formulated guide of a mobile game development. Because of the wide variety of genres available, the gaming industry never lags in terms of revenue, job opportunities, and technology.
The Crowned Prince of Mobile Gaming Industry is:
1. PUBG Mobile
When it started on PC back in 2017, PUBG began the battle royal obsession, and now, it is available on mobile. All thanks to Tencent for making PUBG mobile one of the most popular multiplayer games. It is not the same game as the PC version, but it is a brilliant mobile game that keeps both you and your friends busy for months to come. With its realistic gameplay, one can easily get hooked to this game.
PUBG created an overnight sensation, and it's not wrong to consider it the best multiplayer game for mobile ever launched. No game can exceed PUBG Mobile when it comes to online multiplayer games. It's a battle royal fun, with a hundred players searching for weapons on an island. They all combat with each other to be the last man standing. Its versatility makes it one of the best multiplayer shooting games for Android.
Key Features of multiplayer game:
Wide range of weapons.
Enticing graphics and addictive gameplay.
Supports voice chat.
Exhilarating maps to conquer.
Gear Up With These Top Rated Multiplayer Games
Like many other events, it will probably not be possible in any near future to host an in-person game night with your friends. But that does not mean that you can't virtually re-create your own home's safety experience. You can play these free multiplayer games for Android and iOS your iPhone or Android phone, whether you are a highly competitive guy or simply play games casually.
As mobile devices are becoming more powerful every year, so does the mobile games are evolving. Thanks to Gameloft, EA Sports, and other great brands, we can use android and iOS mobile versions of their games. These multiplayer game apps for Android and iOS will surely brighten up your dull pandemic isolation. The gaming industry is the most booming industry to invest in, and if you are planning to convert your raw ideas into a full-fledged game, then you should take the help of an organization with deep expertise in the gaming industry.