Mobile applications have continued to evolve over the years. Mobile applications are an essential part of a smartphone, and it is used almost in every segment in today's virtual era. From making shopping easier to provide an enhanced lifestyle option to its users, mobile applications are shining the prospect's light in every business ventricle. The stage of mobile applications is newly set, and there is a lot of high-quality opera yet to get delivered by mobile applications. One particular segment that mobile applications are deeply influencing is online transactions using mobile payment apps.
Mobile applications are penetrating every segment of the business aspects and teaching every organization new techniques to do business online. These applications are also called m-Wallet, or mobile wallets, which are highly secured and highly reliable. In this article, we will go through the best mobile payment apps in 2020. But before that, let us go through exciting statistics that will tell you the growth of mobile payment apps:
Top 10 Mobile Payment Apps of 2020
The only digital way to do online shopping is to find secure methods of payment online. Below are the best apps that pay your bills and help in transacting money without any hassle. These apps are available on your favorite platform, and we have attached download links so that you can download them for digital transactions:
1. Paytm: Most Famous Mobile Payment App
Paytm is a semi-closed mobile payment app launched in 2010, with a mobile market that enables consumers to charge money and pay for merchants with business links to the company. In addition to making e-commerce transactions, the Paytm wallet can also be used to pay bill payments, transfers money, and retail traders' services. It has recently partnered with premium education establishments in India to make cashless payments for tuition, bills, and other costs by capitalizing on the reach and growth of the Indian education sector.
In most stores, you can display the Paytm QR code. The Paytm applies to both of these merchants. So it's often essential to maintain Paytm App as shopkeepers don't even know about any other payment applications. Shopkeepers can get money back to their account free of charge from now on, leading to acceptance. As a wallet mobile recharge platform, the journey of Paytm began. However, it's got hundreds of services today. Paytm has the most facilities for all payment applications.
Key features of this best mobile payment app:
QR code scanning.




Banking services.




Credit score query.




Numerous cashback offers.
2. Google Pay: Most Reliable Mobile Payment App
They have very rapidly grown their user base as part of the Google community, despite being a late entry. You can send money to friends via Google Pay, pay bills, purchase them online, recharge them on the phones, and all via UPI. As your current bank account works with Google Pay, your money is protected on your bank. It doesn't matter to reload wallets, and you don't have to do any extra KYC, which is required for all other applications. Google pay is eligible for cashback, and it gets credited directly to the bank account. 
The "scratch cards" is yet another significant part to play with Google Pay. Another gift card is rewarded as a scratch card when the customer makes a new purchase. Users will get a gift after scratching the card in the form of money credited directly to the registered bank account. Plus, Google Pay relates to over 50 banks in India, making it even easier to manage funds and transactions. Google Pay is one of the best mobile payment apps for iPhone.
Key features of this best payment app:
Handy "scratch cards" for exciting rewards.




Encrypted and secured by Google.




Send money directly to friends.




Available even on non-rooted devices.
3. PhonePe: Fastest Mobile Payment App
PhonePe is listed as one of the best mobile payment apps in India for the first time. It is a groundbreaking software that has made the Indians trust online mobile payments. PhonePe makes payments for UPI's and allows users to recharge, order food, shop, etc. in one application only. PhonePe also provides its customers with different deals, incentives, and cash. PhonePe is undoubtedly better than most UPI-paid applications or Internet banking services with one of the most accessible interfaces with the safest and quickest payment online experience in India. 
As this is a UPI app, no information needs to be added about the receiver account. When you shop online, PhonePe Mobile Wallet offers discounts and coupons. You can update your mobile wallet via a connection with your bank account and allow up to 1 lakh rupee transaction. Make sure that you put this e-wallet in your mobile phone and pay online. When the fund is moved from one account to another, you can identify the new beneficiaries. You may also use its history feature to repeat a smartphone recharge.
Key features of this popular payment app:
Quick refunds.




Exciting gift cards.




Mutual funds option.




Different insurance plans.
4. Freecharge: Most Convenient Mobile Payment App
Freecharge is another online mobile payment app in India that offers functions such as mobile recharge, billing, transmission, or cash receipt through UPI – following the development of the BHIM UPI ID and linking the banking account. Also, it all seems very convenient to make UPI payments because of its quick design. It makes it easy for us to pay online and digital on phones securely.
Freecharge also offers the facility for investments in Mutual Fund funds, SIP savings, booking movie tickets, shopping, buying food, travel-tickets, etc. Its digital payment facility is the fastest growing platform for paying electricity bills, mobile and DTH charges, and much more. Using Freecharge, one can easily escape lengthy queues. 
Key features of this best app to transfer money:
Invest in mutual funds.




Get personal loans.




QR code feature.




Express FD account feature.
5. BHIM SBI Pay: Most Secure Mobile Payment App
BHIM SBI Pay is the State Bank of India's UPI App, and subsequently, the mobile charge and payment service have been added. There are also several other programs. If you monitor your bank balance and make payments regularly using the UPI application, this should be your preferred payment application. There is a handy way to check your accounts' bank balance. It provides the dashboard with a one-tap balance feature. 
This mobile payment app is perfect for banking. However, some modern age features may be missing. You can still use your PhonePe / Paytm along with this app. The BHIM SBI Pay is a more reliable application since a 6-digit PIN is required to use it. Both PIN and UPI make it more secure and highly reliable. People also have more faith in SBI services as it is a government sector.
Key features of this wonderful app to send money:
Easy recharge.




Explore local deals for best offers.




Order food.




Highly secured.



6. MobiKwik: Underrated Mobile Payment App
Mobikwik is a flexible, secure mobile payment app that lets you use the mobile number to pay or move money. You can reload and pay bills on mobile devices in seconds. Purchase all online with decent discounts and use the mobile wallet. With Mobikwik Mobile Wallet, it is easy to make bill payments, mobile recharge, shopping, and more. 
Mobikwik doesn't have many facilities like Paytm, but it does have all the functions. The Mobikwik has the cleanest and most eye-catching GUI. The transaction will be a pleasure for you. You can only see the most commonly used icons on the dashboard. The wallet balance is displayed at the beginning. It's also an easy process to add money to the pocket.
Key features of one of the best online payment apps:
Easy mobile recharge.




Faster money transfer to the bank.




Get instant loans.




Invest in mutual funds.
7. HDFC PayZapp: Mobile Payment App Protected With Triple Security Controls
PayZapp is a full payment solution that allows you the freedom to pay in one click. PayZapp lets you recharge your smartphone, DTH, and Data Card, pay bills, compare and book flight tickets, shop, buy film tickets, music, and food. It also allows you to transfer money to everyone in your phone book and use the great Smartbuy deal. 
PayZapp is an HDFC bank's official mobile payment app for online payment. PayZapp is available to customers in all banks. It allows you to pay by inserting the credit or debit card details and saves the card details for future transactions. The bank is secure with your card info, and you don't have to think about it. For each transaction, the PayZapp mobile wallet performs three security controls.
Key features of one of the best mobile phone payment apps:
Secured by PIN.

QR code scanner.

Robust dashboard.

Card details are secured with the bank rather than getting stored on the phone.
8. Amazon Pay: One of the Top Mobile Payment Apps
Amazon Pay is an Amazon-owned mobile payment app and online payment management service. Amazon Pay, which was founded and globalized in India in 2017, uses Amazon's customer base to offer customers the option of paying on external trading websites, such as BigBazaar and others using their Amazon accounts. 
Amazon pay is now available for shopping on Amazon. Amazon Pay also has ties with fintech enterprises like ZestMoney to allow cost-effective EMI payment options on its platform. EMI payment options make Amazon Pay an essential aspect of how people will use it for supporting their Amazon accounts. In addition to Amazon.in, UPI payments for utilities and shopping are eligible for Amazon Pay.
Key features of the most popular mobile payment apps Android:
Instant money transfers.

Fast and easy recharges.

Provides a great shopping experience.

Highly secured.
9. Kotak 811: High on Features Mobile Payment App
Kotak 811 is both a banking application and a UPI client. It doesn't mean that our best UPI apps can't be included in this list. It is very straightforward to open a Kotak 811 account. Unlike other bank accounts, you need not have any sum in your account. You can also retain zero balance. 
Kotak 811 provides you with an online shopping virtual debit card. UPI features in its banking app and offers mobile recharges, payments for charges, and other transactions. Kotak 811 is also a bank that helps you to earn interest. Up to 6% p.a. can be gained on a balance over 1 lakh to overall. 
Key features of the best mobile payment apps:
Book tickets.

In-built BHIM feature.

Pay credit cards bill online.

Check the account statement. 
10. Airtel Thanks: Minimal Mobile Payment App
Airtel Money Pays Bank started the wallet. Pay, recharge mobile, and transfer money to your friends on your mobile wallet on any bank account. Great discounts and coupons can be shopped online via this mobile payment app and can pay with only one click with this e-Wallet app.
Key features of  online payment apps:
Free movies and music.

Heavy discount on every recharge.

Free mobile Antivirus.

Referral feature for earning more.
Growth of Mobile Payment Apps: Brief Overview
For the convenience of their customer base, multiple organizations have already made mobile wallets mandatory. Prominent mobile wallet providers have offered enticing discounts and cashback to attract and maintain more users. These are used to promote frequent transactions by customers double the gain to both clients and mobile wallets.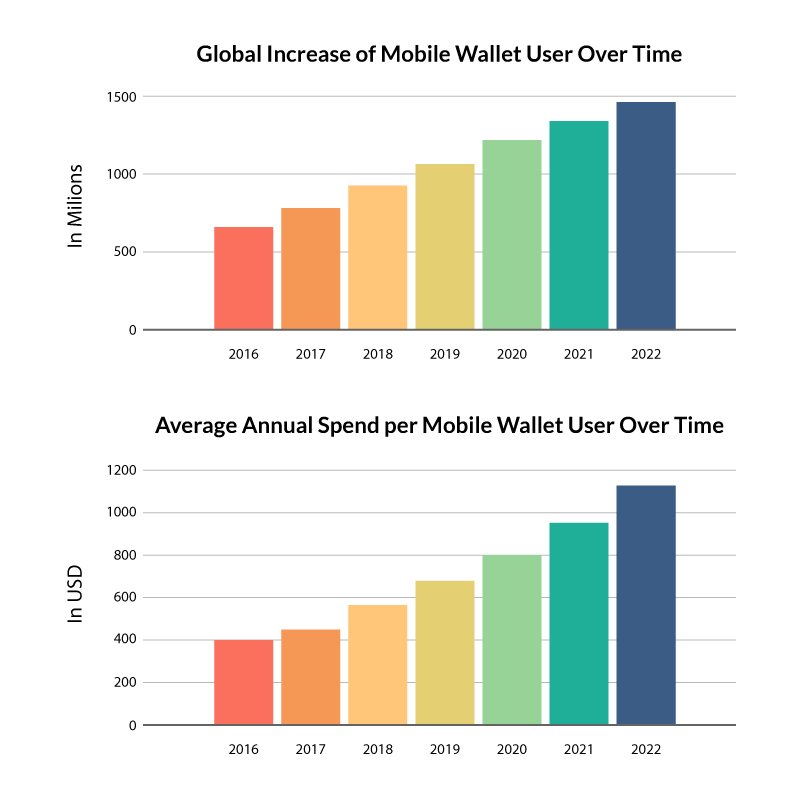 Source: Fintech News
The growing availability of cashback and the like of others was a crucial element in driving global trends in mobile wallets. By 2024, the mobile wallet market volume, guided by changing customer behavior and the rising number of company strategies for attracting new users, has been projected to reach USD 250 billion. The rising graph is an exact pictorial representation of how quickly and how suddenly the mobile payment apps market enlarged.
Secure Your Every Penny Using These Mobile Payment Apps
You should consider several factors when searching for a payment app. First of all, you may want to ensure your phone is compatible with the payment application or not. Apple Pay will not work on Android devices. You may also want to think about the cost of using the app. Many applications can charge fees for sending or receiving money.
The figures for mobile payment apps show the rising need for safer, quicker, and productive mobile payments apps; efforts are also increasing to make payments to individual or brick and mortar shops. Gross businesses and companies are continually searching for customer-friendly technology, which gives consumers more control. So, the market for mobile payment apps will tend to rise at a progressive rate, especially in this global pandemic situation.
Frequently Asked Questions
Payment applications typically shield you from fraudulent purchases, but not necessarily from other fraud, even if you connect to a debit or credit card that otherwise provides you those safeguards.
There are many apps for paying bills like Paytm, PhonePe, Google Pay, etc. You should pay bills only after comparing the discounts and prices offered on the most popular mobile payment apps. You can save a considerable chunk of money by carefully doing so.