Small get-togethers are making money from sitting in their basement. They are playing online games and making the gaming industry a rival for traditional sports. They are earning money but still, some feel that it is not a quite professional career. But the time has come when such online gamers are unlocking their talents to create promising business opportunities. Some online games such as Roosterteeth and pewDiePie have millions of subscribers by using youtube.
 As twitch rises, some live streamers like Ninja and Shroud are growing their fanbase and even some professional gamers like KurkoKy and Sumail have gained lots of cash from tournaments. 
As per Steve Borenstein,  Chairman of Activision Blizzard's Esports Division and Former CEO of ESPN and NFL Network, " I believe esports will rival the biggest traditional sports leagues in terms of future opportunities, and between advertising, ticket sales, licensing, sponsorships and merchandising, there are tremendous esports growth rate areas for this nascent industry.
Esports industry is a flourishing global industry where talented video gamers play competitively. As traditional sports have their rivals so esports have also their online video game rivals in the market. Now it is not a game playing in the basement but esports apps is a booming industry in real-time which is growing and investable. Developers and sports betting game development company are offering online gaming services on a wide level. 
What is e-sports?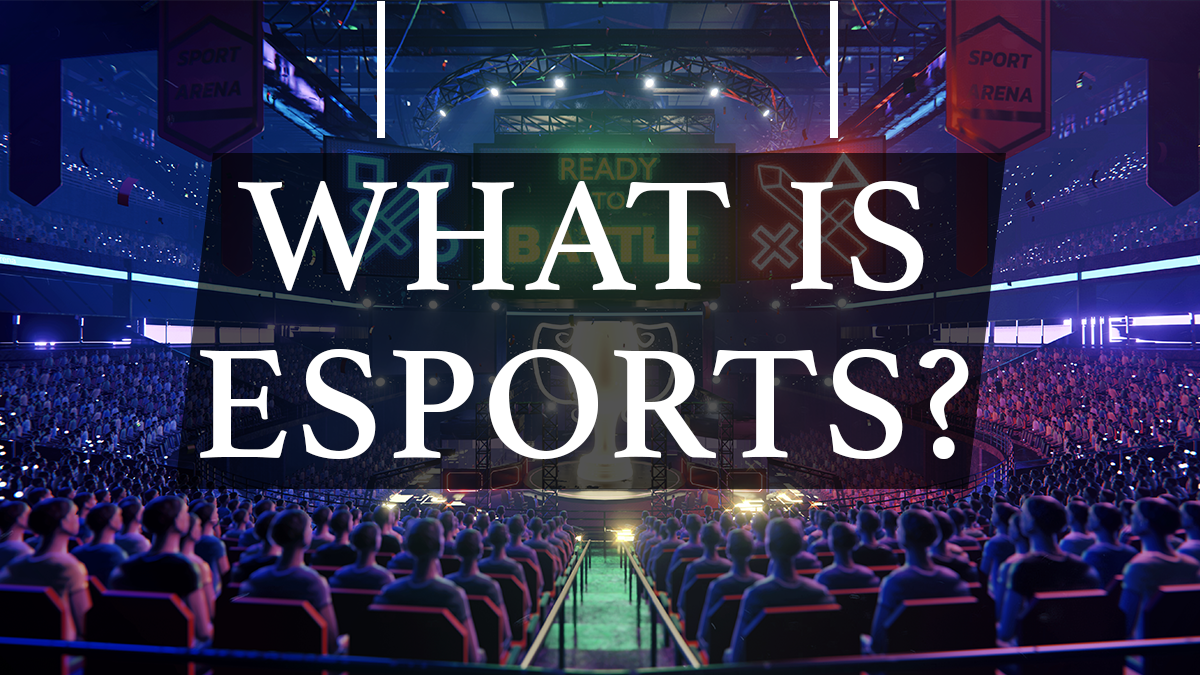 Definition by Discover Esports
Esports, electronic sport, competitive gaming, professional gaming, or any variation of those words is a form of competition with the medium being video games. Individuals use computers or specific video game consoles to play various video games titles against each other. There are 5 main genres that are played at a professional and amateur level are First Person Shooter ( FPS ), Fighting, Real-Time Strategy ( RTS ), Multiplayer Online Battle Arena ( MOBA ), and collectable card game. 
History of Esports
Esports business has started from the year 1972 when a game space invaders championship gained 10k participants. As the 2000s came, esports became serious among its fans. There were some tournaments hosted by Major League Gaming in 2002. MLG has become the world's most amazing hosts in Esports business nowadays. Prizes for 2019 Dota 2 international and 2019 fornite world cup have gone above $30 million. 
The epic games by the unreal engines got titles like Gears and Wars and infinity blade received $100 million in the year 2019. A professional gamer, 16, Kyle Bugha Giersdorf won $3 million in the most recent tournaments. You will be surprised to know that more than 380 million people watch esports all over the globe both online and in-person. 
Esports Industry Statistics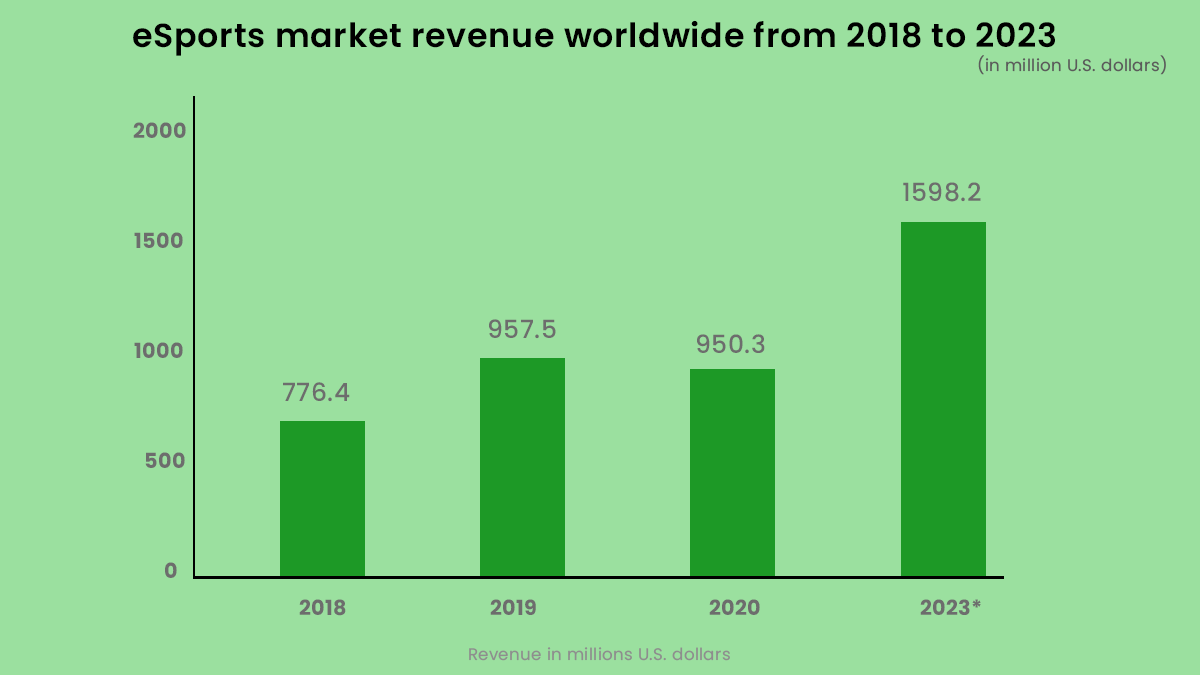 Top 4 Reasons why people love eSports
The basic aspect of gaming is to enable users to be in a virtual world, explore all the stuff, and perform actions which have not become our daily lifestyle. That is one major captivation. It provides a platform which shows what millions of other people are doing, the gaming battlezones have become a part of the entertainment, and a big interaction between users and players. Rise of esports Fan Base of esports is continuously growing.
We hope now you have understood what is esports and why do people watch it?  Esports app offers you an experience which you will not get anywhere else. There are online chats which enhance the tenacity between users and players which creates a healthy competition during the game. Here are the top 4 reasons why people love esports in the real world. 
The Personalities & Casters

The Team & Players

The Stories

The Game
Which esports games are most popular in 2020? 
As the actual rankings of the most popular esports app games fluctuate slightly month to month. Here we are describing 10 most-watched games on the dominant streaming site twitch remain constant. League of legends with 3.8 million viewers is the only most-watched esport in the world. 
| | | | |
| --- | --- | --- | --- |
| Rank | Game | Viewers | Tournament |
| 1 | League of Legends  | 3.8 million | League of Legends Worlds 2020 |
| 2 | Mobile Legends | 2.8 million | MPL ID Season 6  |
| 3 | Free Fire | 1.2 million | Free Fire League 2020 Clausura |
| 4 | Mobile Legends | 1.2 million | MPL ID Season 5 |
| 5 | PUBG Mobile | 1.1 million | PUBG Mobile World League 2020 |
| 6 | League of Legends | 1.1 million | LCK Spring Split 2020 |
| 7 | CS: GO | 1 million | IEM Katowice 2020 |
| 8 | League of Legends | 1 million | LEC Summer Split 2020 |
| 9 | Mobile Legends | 1 million | MPL Invitational 4 Nation Cup 2020 |
| 10 | Free Fire | 896K  | Copa America 2020 |
The Growth of eSports 
The global eSports market has surpassed 380 million in 2018 viewers as forecasted by a Newzoo report. The report stated that there were a total 557 million viewers out of which 250 million are regular enthusiast viewers while 307 million are occasional viewers as predicted in 2021. The market is projected to be a billion dollars and more are the numbers of viewers and players. In 2018, the market share was 51 percent while it is now more than 57 percent. The awareness of esports is enhancing regularly. People now know why esports is so captivating and addictive.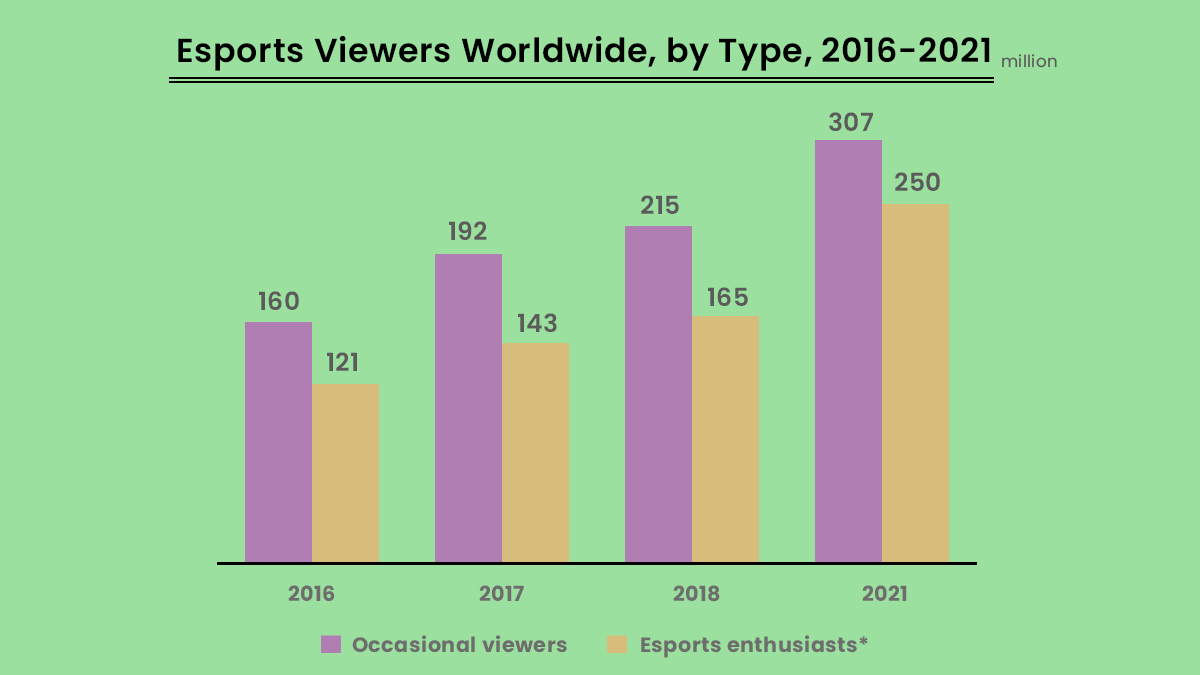 Previously, users used to stream only by web portals and bigger screens. With the coming of gaming mobile applications, esports are streaming on mobile applications have made it easier for smartphone users. Esports has become a discussion among youngsters. The industries are converting from simple strategic to complex digital ecosystems. This has led to the creation of many esports industry growth leagues. The IEM Katowice and League of Legends World Championship are two most popular events till date. During the first quarter of 2018, audiences engaged in 17.9 million hours watching their favourite esports. 
| | | | | | | |
| --- | --- | --- | --- | --- | --- | --- |
| Image | Rank | Title | Total Hours | Esports Hours | Share Esports | Change |
| | 1 | Dota 2 | 38.8 M | 17.9 M | 46% | – |
| | 2 | League of Legends | 81.2 M | 17.2 M | 21% | 1+ |
| | 3 | Counter-Strike | 26.1 M | 15.6 M | 60% | 1- |
| | 4 | Overwatch | 30.9 M | 13.2 M | 43% | 2- |
| | 5 | Hearthstone | 33.5 M | 5.1 M | 15% | – |
| | 6 | Tom Clancy's Rainbow Six: Siege | 9.2 M | 2.3 M | 25% | 8+ |
| | 7 | StarCraft ll | 4.4 M | 1.5 M | 35% | – |
| | 8 | PLAYERUNKOWNK'S BATTLEGROUNDS | 43.4 M | 1.2 M | 3% | New |
| | 9 | Street Fighter V | 2.4 M | 1.2 M | 51% | New |
| | 10 | World of Warcraft | 13.1 M | 1.1 M | 9% | New |
How does Esports make Money?
Looking at such unpredictable comprehensive growth of esports industry. As we are seeing esports has become a billion dollar esport industry and have acknowledged how it is developed so much. Another surprising fact is companies are earning so much from esports mobile applications. GTA online supported its developers to earn up to $1.02 billion. This is the just one online game which can tell you how big the esports industry is.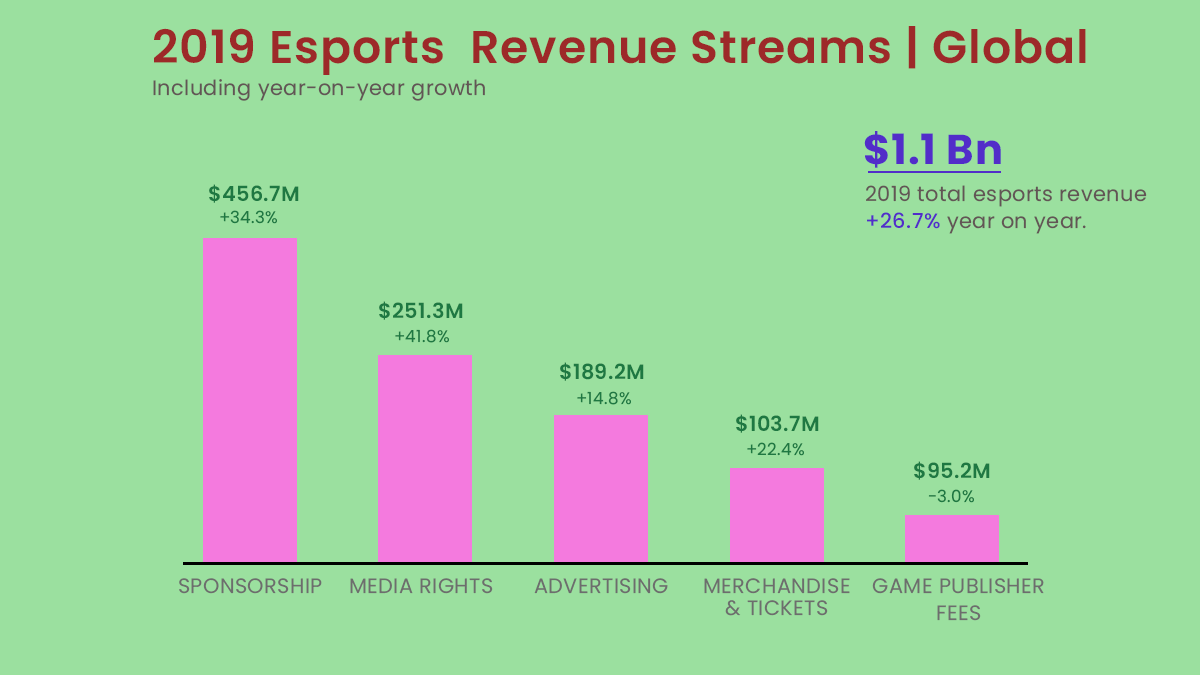 Gaming companies who are the developers of most popular games are earning insanely. eSports companies earn majorly from sponsorships and advertising as per esports industry analysis. The other revenues are generated from ticket sales, merchandising and media rights. 
Future of eSports– The Bottom Line
The esport app is representing our culture as modern and highly advanced but it is also merging with traditional sports. Some games are making their debut in the digital gaming industry as a demo sport. The esports industry has earned billions during the pandemic and it is growing on a large scale. The only industry flourished in a pandemic is esport. Developers and game app development companies are offering efficient services in the game app development. The future of the esports industry is promising as it is offering addictive services which make our boring days so experiencing. The online games had made our lockdown period a memorable one. In this article, we discussed how esports is emerging and a winning industry to make esports future the best one. 
Frequently Asked Questions