Have you seen a new pic every day that looks amazing? Well, the reason behind the beauty of an image is an editing app. Yes! You heard right. With the help of a photo editing app, people can easily edit their photos and make them professional and awesome. As a result, many enterprises have decided to build a photo editing app.
If you want to build an editing app, the first thing that comes to mind is where to start. If you also need clarification, contact a photo editing app development company with good years of experience in this field. It helps build an app, understand you, and implement your ideas.
Moreover, a leading agency also follows step-by-step to build an app. This post will share some information, including features, advantages, types, popular photo editing apps, steps, and costs. So,  what are you waiting for? Just scroll through the post and get the answer to your question.
How Does Photo Editing App Work 
As mentioned above, photo editing apps help people make their images look professional and more charming. However, many people must learn how to use a photo editing app. Now let us have a look at how an editing tool works.
1. Upload a Photo
The first step is to use a photo editing app to upload the picture that you want to edit. A modern photo editing platform will allow an image selection from the gallery. Moreover, you can take the snap instantly.
2. Select a Desired Filter or Preset
Now, users need to try and use the filter they like. Additionally, picture editing applications always offer to adjust the filter strength. Other settings are available to expose and adjust the brightness.
3. Editing the Image 
An image editing application provides many options for changing and enhancing pictures. In simple terms, users are eligible to crop or rotate an image, tilt it, adjust saturation and many more.
4. Save the Picture 
Once you make all the changes, you must save a new picture to your device, whether a smartphone, computer or laptop. To do it, click on the save option or the save icon on the photo editing app.
5. Share and Edit Images on Social
Now it is time to share the edited image. Several applications allow users to share edited images on social networks without even leaving an application.
So this was all about the working of an image editing app. If you need an idea about how to use a photo editing app, read the above-listed points that will assist you in using an app.
Benefits of Building a Photo Editing App for a Business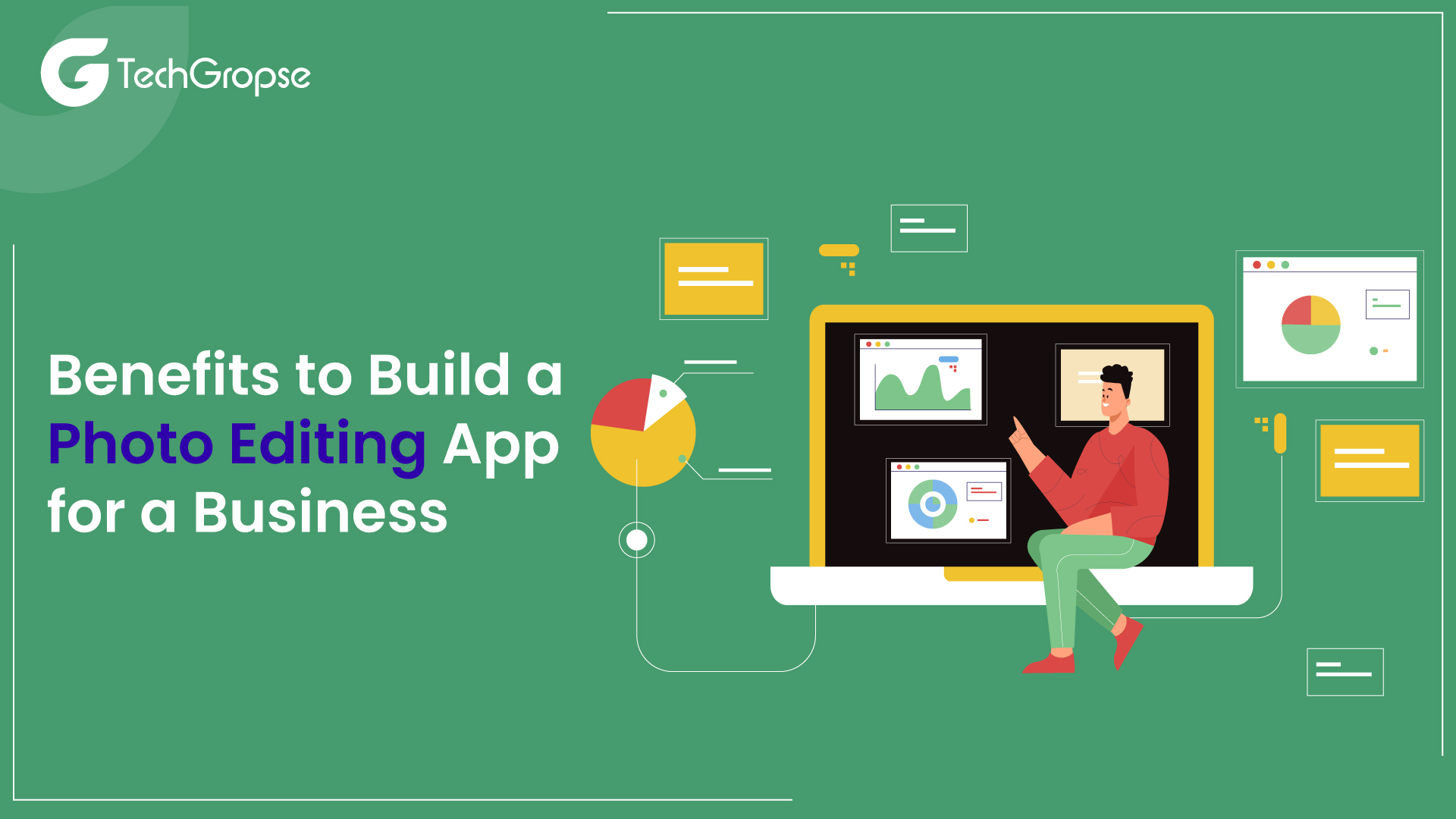 There are many businesses that have doubts about how photo editing apps are beneficial for them. If you are one of them, there are several advantages to building a photo editing app for a business, including:
1. Enhance Branding 
Photo editing applications can help a business enhance its branding efforts by allowing customers to edit and customize images featuring its products or services. In simple terms, it can help create a personalized experience for the customer and strengthen their connection with the brand.
2. Increase Engagement 
A photo editing application is a great tool to increase customer engagement. The users can share their edited images on social media, which can help increase brand awareness and bring in new customers.
3. Revenue Generation 
You know a photo editing application can be monetized via in-app purchases, subscription models or ads. This can be an additional source to earn revenue for a business.
4. Meeting Customer Requirements 
In today's technology world, customers seek high-quality images from businesses. A photo editing application can help businesses meet their expectations by allowing users to enhance their images and create professional-looking photos.
4. Increased Engagement
You know that a photo editing application can increase engagement with a business's products or services by allowing users to build and share visually appealing photos that promote the brand.
5. Brand Awareness 
By incorporating branding elements such as logos or watermarks, a photo editing application can assist in promoting a business's brand and increase its visibility.
6. Data Collection 
A photo editing application can collect valuable data on user behaviour and preferences, informing marketing strategies and improving customer experiences.
Generally, a photo editing application can assist a  business in enhancing its visual presence, increase customer engagement and offer additional revenue streams.
Core Functions to Build a Custom Photo Editing App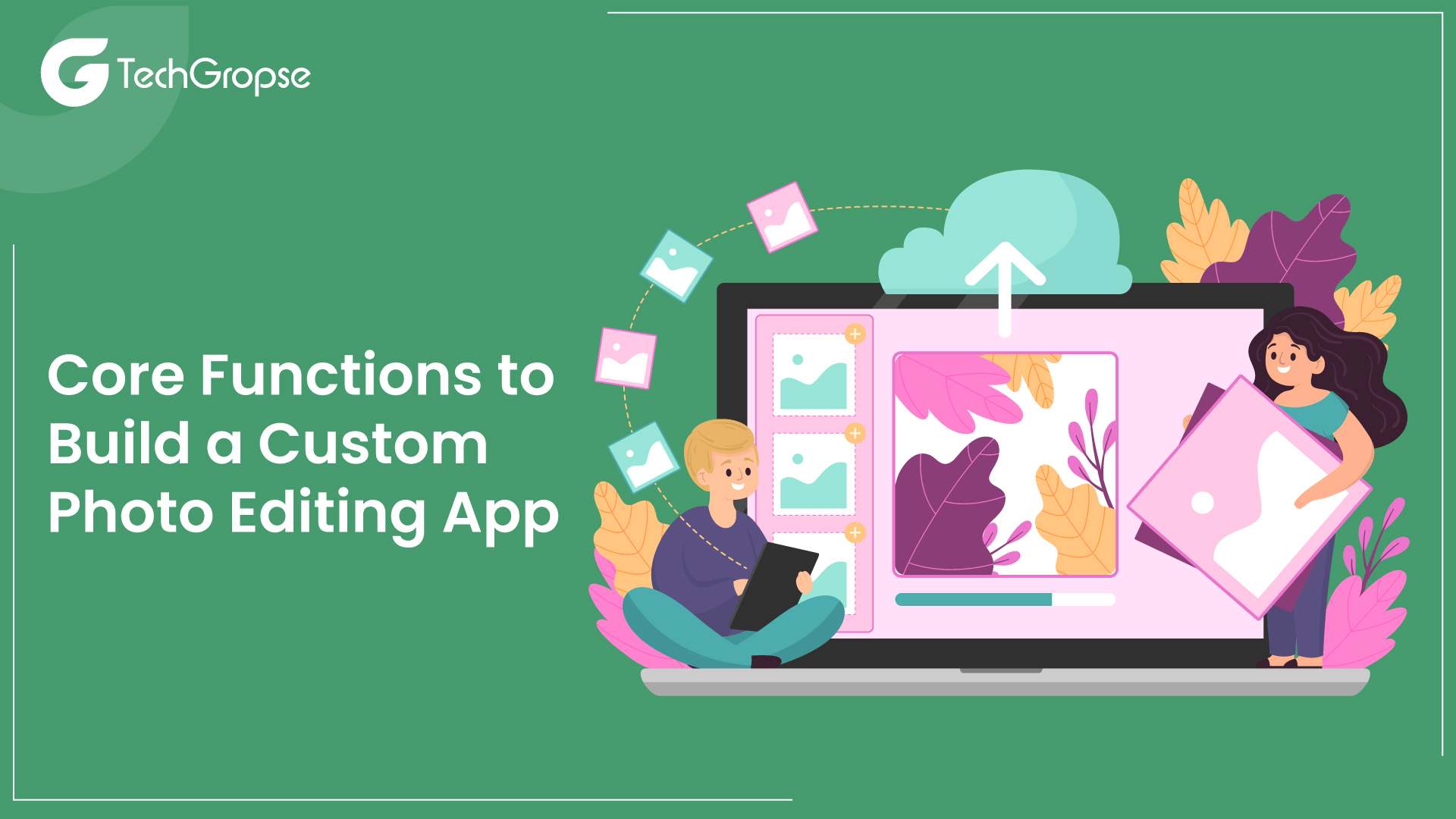 When deciding to build a photo editing app, it is necessary to consider a clear set of features to cover the user's requirements and make your application stand out from the competition. For your help, we mentioned some required features an editing app must have.
There are many applications where users must register or log in to an account to start an app. So, it is necessary to have this feature in your application that helps users log in using their email, phone number and social media account.
In order to include this feature in your application, you can also contact a photo editing app development company that helps you from start to finish to create a functional and easy-to-use application for your business.
This is another important feature of a photo editing application. This feature allows the users to provide permission to the device's library to upload an image. Even users can immediately take a picture and edit it easily.
Therefore, you have to make sure that the application has this feature. In order to get the best services, search for an on demand app development company with good years of experience and knowledge in the app development field.
Social Network Integration 
Social network integration is another great feature of your app that simultaneously provides two winning benefits for your potential users. First, users can log in or register for their application using a social media account that will prevent them from filling in personal information. Second, users can share edited photos on their Instagram accounts and various messengers from the app.
This is also an essential feature that allows the users to specify all preferences for the work of the social photo editing app. Generally, this feature allows choosing where to store and save photos, tuning the size and quality of the saved images, and managing the subscription plan.
Additionally, users can contact support if required. However, building an app is a more challenging task than it seems, so you have to hire  dedicated developers with years of experience and knowledge to build a functioning app.
This feature helps users create a folder to save edited images and share the album with other users. The album can be divided by themes, dates or user preferences. This function helps users manage all the images conveniently and store them in the application's cloud to avoid uploading them on their smartphones.
Henceforth, you have to ensure the application is equipped with this feature. However, doing this job is difficult, especially if you need more technical knowledge. In such a case, you need to hire mobile app developers to help you complete the app development project.
Photo Feed and Social Elements 
This is another feature of a photo editing app. When someone has edited their images in the application, apart from sharing them on social media, they include the edited picture in the photo feed of the editing app itself.
The users can subscribe to interesting images authors, get inspiration from them and be able to share masterpieces with their subscribers. Henceforth, including this feature in your application is a good idea.
You can contact an Android app development company with a good portfolio and reputation to make the job more convenient and easier.
This feature allows users to express their creativity and imagination, which makes an app more attractive. This feature allows them to build colourful GIFs or stickers from their images. It will increase user engagement and give them the opportunity to have fun with your app.
By adding this feature, users can easily chat and share edited images or favourite filters and preset with each other in messages. They can also share impressions with like-minded people and will encourage users to actively use your program.
This is why you have to include this feature in your app. For this job, you can hire React native app developers who can build a photo editing app using React.
List of the best Photo Editing Applications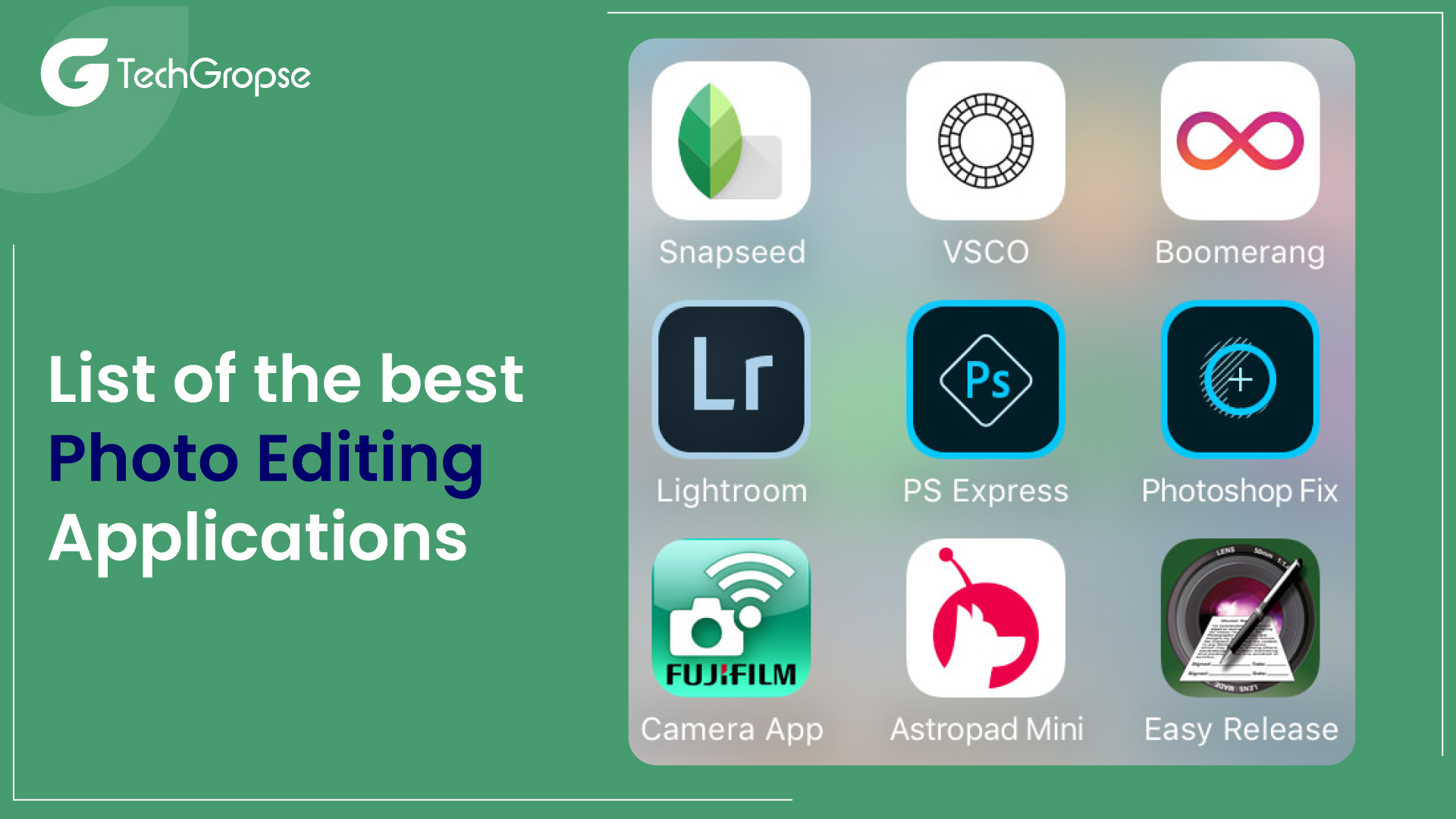 Over the years, the demand for photo editing apps has been higher. Therefore, people are looking for the best photo editing application that helps them to edit their images to post them on social media. But the question is, which is the best photo editing app today?
Here, we mentioned a list of top photo editing apps so you can choose one per your requirements.
1. VSCO
VSCO is an ideal choice for photo and video editing. Usually, this application is most popular among instagram users to edit images. Nowadays, the app has 4 million paying users, a total of 40 million weekly active users.
Without paying fees, people can access a handful of basic VSCO filters, use standard editing tools, and view the content published by others in the application's image feed. A subscription to the application gives them access to the full editing tool set, exclusive preset filters and many more.
2. Afterlight 
Afterlight is the best photo editing application that was launched in 2012. It is free of cost to use, but it has limited features. In order to use all the features, you have to take a subscription plan. The application has a clearly arranged user interface that is easy to navigate for the least experienced users.
The amazing thing about the app is that it's filters and classic editing tools will help to enhance images without making them look too unnatural.
3. Snapseed 
This is the best Android application in order to edit images. Now it is available for iOS-based smartphones as well as tablets. This application provides a wide variety of editing tools and filters that can be tweaked precisely. You know that the app can fix an image that is far from perfect and enhance any image with the most advanced edits.
4. Adobe Photoshop Lightroom CC
Adobe Photoshop is free to install, but you must purchase some features. Moreover, the platform offers a rich library of interactive tutorials meant to teach to edit images without sophisticated preset filters such as Pro.
This application also has a comprehensive toolset that photographers and artists use to craft their best pictures.

5. Facetune2
Facetune is the most popular photo editing application to edit an image. The first version of the application was developed in 2013 and is currently available on the app store. Meanwhile, Facetune2, which was released in 2016, is available for both iOS and Android owners. This application has an advanced version with more sophisticated tools to enhance the user's images. On the other hand, in 2020, the agency launched a separate app for editing face-tune videos.
Some popular photo editing apps can be used to edit pictures. If people are looking for a popular editing application, they can choose one from the above list. You can also take an idea from these apps and build your own application.
How to Earn Money on Your Photo-Editing App?
As the popularity of photo editing apps is increasing daily, businesses have decided to build a photo editing app. But they have a query about how it helps to make money. If you recently decided to create such an application and have the same concern, you are at the right place.
This section will discuss some points that help understand how photo editing apps help make money. So let's start.
By showing advertisements of other businesses to their users, businesses can earn money. The more a user interacts with the ads, the greater your chances of earning more money. It means building a photo editing app is a profitable deal for you.
The next mode to earn money with the help of a photo editing app is to offer features that the users would pay to use. You can include an effect, a filter, and holiday-themed frames in your app and take some charges for them.
These are the two ways to earn profit by building photo editing applications. These models help you in earning good profit and revenue.
Step-By-Step Guide to Build  Photo Editing App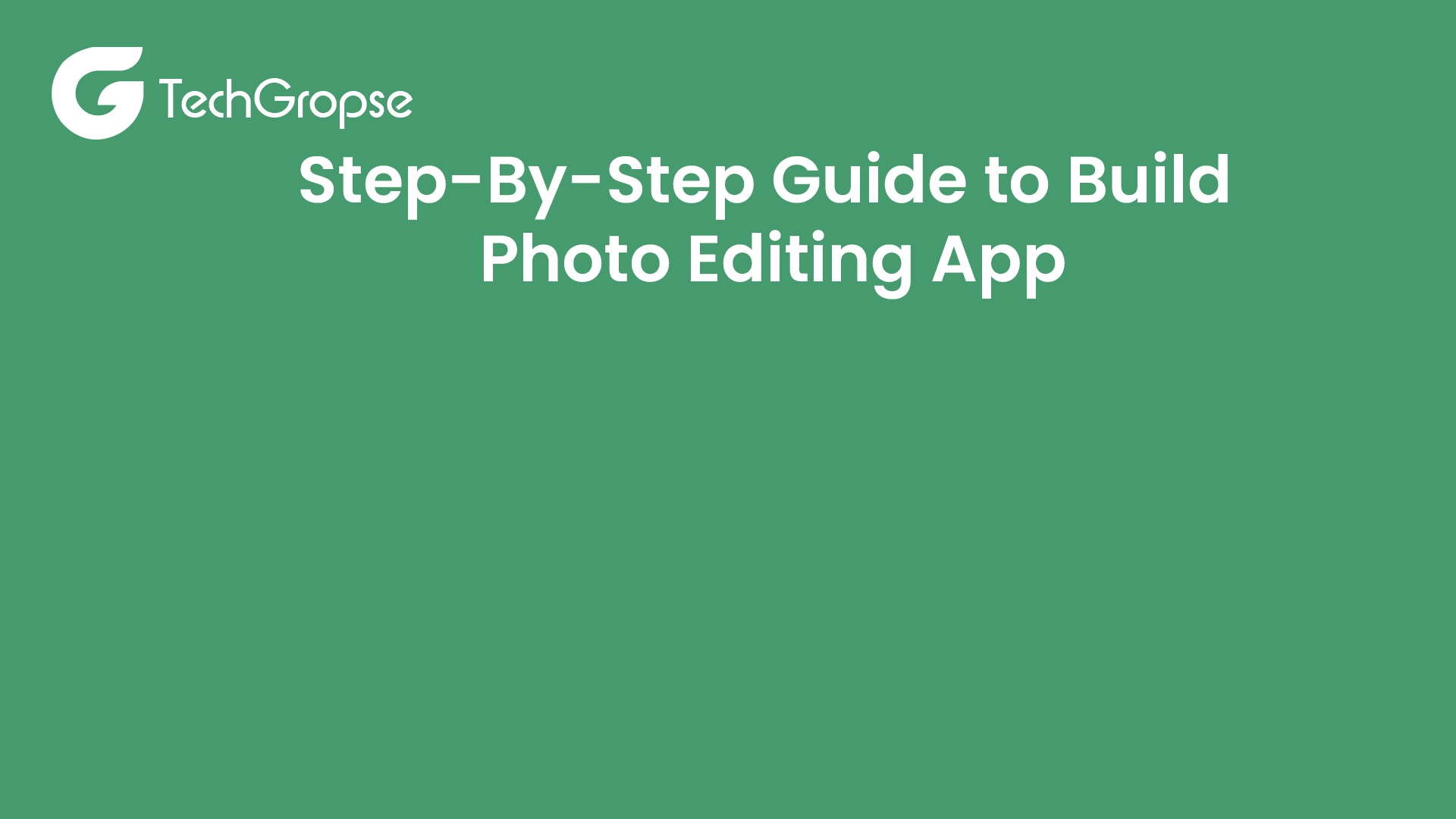 If you are interested in crafting a photo editing app, you have to take some important things into consideration to make sure that your application stands out from the competition. For your help, below we mentioned some key steps you could take to build a photo editing app:
Identify Your Target Audience and Niche
Before starting the app development process, defining the target audience and the specific niche within photography that you want to focus on is essential. It will assist you to tailor your application's functionality to meet the requirements of your target audience.
Once you have knowledge of your target audience, it is time to conduct market research and identify areas where you can differentiate your product. Analyse customer reviews and feedback that help to understand what users like and dislike about existing products. This information can create a feature set that sets your application apart.
Now you have to choose a platform to build an app. There are many platforms, such as iOS, Android, Windows, etc., so you must choose one per your requirements. You can choose both and easily build a hybrid application that works on both platforms.
Plan Your App's Functionality 
Once you choose a platform, you have to choose functionality for your application, including basic editing tools such as brightness adjustment, cropping and filters. In order to make the application unique and attractive, you should consider advanced features such as background replacement, object removal, and special effects to differentiate your app from others in the market.
The design of your application is important to its success. So you have to choose a design style that is visually appealing and easy to navigate. Consider typography, colour scheme and iconography when designing your application's interface.
To make innovative designs, you can also contact a photo editing app development firm with a team of skilled designers with good hands to create professional-looking designs for various projects.
You must hire a team of experienced developers to build your application. However, you must ensure they have good knowledge of software development frameworks such as React Native or Flutter to speed up the development process. Moreover, you have to make sure that the application works seamlessly on different platforms and devices.
Then you must thoroughly test your application to identify and fix issues or bugs. Once you ensure everything is ok, and your application is bug-free, launch it on the app store or Google Play store. In order to make the audience aware of your app, you can run a marketing campaign.
Cost to Build Photo Editing App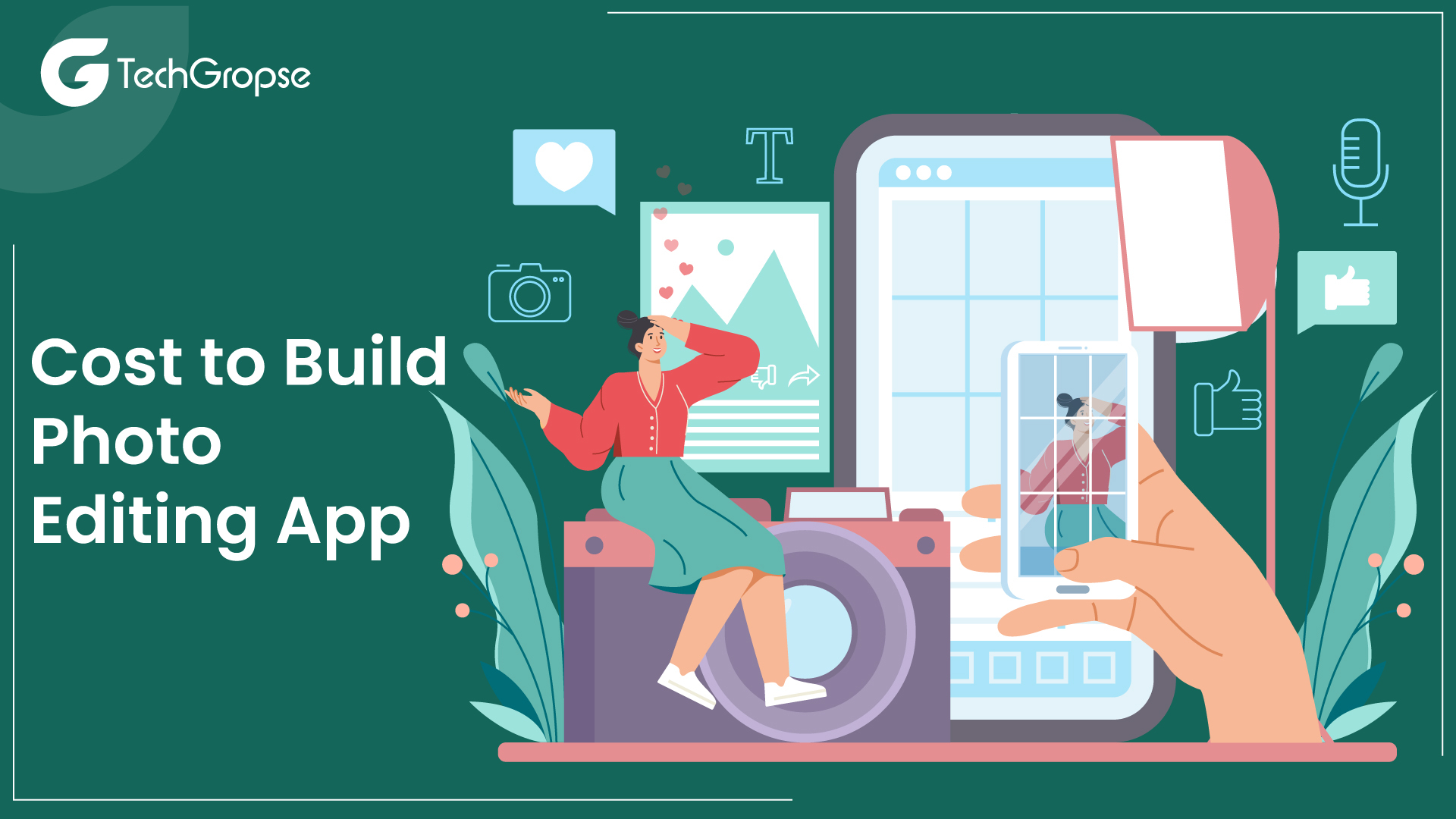 The Photo editing app development cost can vary from $50,000 to $100,000, depending on the number of features, complexity, framework, and technology. Many other factors will affect the overall budget, including coding, wireframe, UI/UX design of the app and many more things.
Determining the exact cost of the development project is a complex task and depends on several aspects. For your help, we mentioned a list of costs that will assist you in taking an idea of how much you have to spend to build a photo editing app.
| | | |
| --- | --- | --- |
| Type of App | Cost for 1 Platform | Duration |
| Simple | $15,000-$20,000 | 2-3 Months |
| Basic | $30,000-$60,000 | 3-6 Months |
| Complex | $65,000- 80,000 | |
The cost of building a photo editing app also depends on the location of the developers. Each country has several app development companies that take different charges per hour. Below we mentioned a list of hourly costs of different countries; let's take a  look for an idea:
| | |
| --- | --- |
| Country | Hourly Cost to Build Photo Editing App |
| USA | $30-$100 Per Hour |
| Europe | $40-$100 Per Hour |
| Saudi Arabia | $25-$80 Per Hour |
| India | $15-$40 Per Hour |
The Final Note
As social media platforms have become more popular over the years. As a result, the demand for photo editing apps is high. Such applications help to edit the image and make them look more professional. Therefore, businesses decide to build a photo editing app.
If you also decide to develop an app but don't know about the process, read the information above. In order to make the development process easier and more convenient, you can get in touch with a leading mobile app development company committed to providing you with ultimate solutions as per your requirements.
FAQs
1. How much does it cost to build a photo editing app?
The complexity of the features, the platform you want to build for (iOS, Android, web, or desktop), the number of developers engaged, and the development team's location can all significantly impact the price of developing a photo editing app.
For a single platform (iOS or Android), a ballpark estimate for developing photo editing software with minimal features can range from $30,000 to $50,000. If you wish to include sophisticated features like facial recognition, filters, special effects, or AI-powered capabilities, the price may increase dramatically.
In addition, ongoing expenses for server fees, bug repairs, and updates should be considered. It's essential to remember that these costs are only very rough estimates, and the real price of developing an app might vary greatly based on your unique requirements and the team you choose.
Therefore, it's imperative to speak with a seasoned team of app developers to obtain a more precise estimate of the price of creating a photo editing app customised to your unique needs.
2. What's the best app for editing pictures?
The best photo-editing software for you will depend on your unique demands and preferences among various excellent apps. Here are several possibilities:
Adobe Lightroom:  Adobe Lightroom is a potent application with various editing tools and sophisticated options, including selective tweaks and colour grading. Professional photographers love it, and it offers a free trial.
VSCO: This programme makes creating a unified style for your images simple thanks to its extensive selection of presets and filters. Additionally, it provides simple editing features like cropping and exposure adjustment.
Snapseed: This free application offers a variety of editing features, such as selective changes and sophisticated ones like brush tools and healing tools. It also provides a huge selection of filters and presets.
PicsArt: This software has many editing tools, including sophisticated features like curve tweaks and clone capabilities. Along with the option to add text and stickers to your images, it also provides a variety of filters and artistic effects.
The perfect app for you depends on your requirements and tastes. To determine which choice you prefer, it is worthwhile to test out a few.
3. How can I edit my photo?
Depending on the type of editing you want and the resources you have at your disposal, there are numerous ways to edit your images. Here are some typical actions for fundamental photo editing:
Selecting editing software Numerous editing programs, like Adobe Photoshop, Lightroom, GIMP, Pixlr, Canva, etc., are accessible online or on mobile devices. Select the one that best meets your needs.
Crop and Resize: You can crop and resize a photo to alter its dimensions or size. Cropping and resizing both allow you to get rid of extraneous parts from the image.
The amount of light that reaches the camera lens while taking a picture is called exposure. You can improve the appearance of a photo by adjusting the exposure settings if it is too bright or too dark.
Change the colour: You can change the photo's colour to make it more vivid or muted. The photo's brightness, contrast, and saturation can be changed.
Remove blemishes and flaws: You can use the cloning or healing tool to erase any blemishes or flaws from the image.
Add filters to your photo to change the appearance and feel of it.
Once you're happy with the edits, save the image in the format of your choice, such as JPEG, PNG, or TIFF.
Remember that the secret to altering images is to play around with various settings and tools until you get the desired effect.
4. How can I create photo editing apps? 
Developing a photo editing app is a complicated process requiring both technical expertise and creative vision. Here are some broad guidelines for developing a photo-editing app:
Define the audience and purpose of your app: Determine the precise tasks that your app will carry out, as well as the kind of people who will utilise it best.
Select a platform for development: You can select from a variety of platforms, including iOS, Android, and cross-platform frameworks like React Native or Flutter. Make sure the platform you select fits your app's goals and intended users.
Create the user interface for your app: Any photo editing software needs a simple, clear user interface. Make sure to create a user-friendly interface so that users can easily access and utilise the app's features.
Decide which features to include: Choose the photo editing features—such as cropping, resizing, colour correction, filters, and more—that you wish to include in your app.
Create your app: The features and functionality of your app should be developed using a programming language like Swift or Java.
Test your app: Before making it available to the general public, thoroughly test your app to find any flaws or difficulties and repair them.
Launch your app: Once complete, publish it to the app stores and use various marketing methods to advertise it to your target market.
Always remember that developing a photo editing app requires a lot of work, so be ready to dedicate time, energy, and resources to the endeavour.