"Introducing Cartlow – an outstanding app that is about to revolutionize the mode we shop online anywhere, anytime! Get ready to say goodbye to boring old shopping methods because Cartlow is here to make your life easier and more awesome. With this app, you'll be able to shop smarter than ever before and you can build an app like Cartlow!"
The Cartlow app has appeared as a game-changer in the e-commerce world, revolutionizing the way people buy and sell pre-owned and renovated products.
With its user-friendly interface and inventive approach, Cartlow has achieved significant recognition and traction in the market.
Read this carefully!
Successful e-commerce applications = Results
For example, the top smartphone applications are Amazon, Flipkart, Souq, Namshi, and Carrefour UAE are results.
Wait, wait, results?
Do you know if these application results?
Results of what?
These top applications are the result of the process of an ecommerce app development company.
In short, we know each step that is required to develop a successful e-commerce application. Today, we are going to discuss this step-by-step mobile app development process with you.
Before that, let's understand the fundamentals of online shopping app development first.
Fundamentals of Cartlow App Development
When you get an idea to build an app like Cartlow or want to know how to make an outstanding mobile app, have a lot of questions popping up in your head.
●     What to know before developing an app like Cartlow?

●     What is the e-commerce app development lifecycle?

●     What are the steps in developing the perfect app?

●     How to build an app like Cartlow from scratch?

●     How much time does it take to develop an app like Cartlow?

●     How to streamline the mobile app development process?
If you are looking to create a successful app, be sure to bookmark this post.
Reason?
It will guide you through the step-by-step process of developing an iOS or Android mobile app, while also providing insight into the methodologies involved.
Overview of the Cartlow app and its success
Cartlow, the app that has taken the shopping world by storm, is a revolutionary platform that allows users to purchase open-box and refurbished products at unbeatable prices. With a simple and user-friendly interface, Cartlow makes online shopping a breeze.
Achievements and recognition of the Cartlow app
Establishment (2019): Muhammad Tayyab, Suleman Akhtar, and Iliyas Memon established this wonderful concept in 2019. The company aimed to create a unique e-commerce platform in the UAE and Middle East region that specialized in selling refurbished and pre-owned consumer electronics and gadgets. This approach is demanded by budget-conscious shoppers and those looking for more affordable options.
Since its launch, Cartlow has obtained immense success and recognition. It has been hailed as one of the top apps in the e-commerce industry, winning awards for its unique approach and unparalleled customer service. With millions of downloads and a growing customer base, Cartlow has become a household name, revolutionizing the way people shop for affordable, high-quality products.
Essential Steps to Build an App Like Cartlow
Building an app like Cartlow, which is an e-commerce platform, and an on-demand app development company involves several steps.
To build an app like Cartlow, you should consider the following steps:
Step 1: Market Research and Analysis
To build an app like Cartlow, it is essential to understand the market trends and customer demands. Well, the growth of the refurbished market has been excellent, with more and more customers looking for affordable options without compromising on quality. Additionally, the rising focus on sustainability and reducing electronic waste has further fueled the demand for refurbished products. By clicking into these trends, Cartlow has carved a niche for itself in the market.
Specify your target market and competitors.
Analyze customer needs, preferences, and pain points.
Determine the feasibility and demand for a refurbished/pre-owned product marketplace in your target region.
Step 2: Project Requirement Discussion
When you are designing an e-commerce app, there is a second step called "Discussing Your Project." It is like having a chat about your app idea and figuring out the basics of how it should perform. When someone wants to create an app, top e-commerce development company usually expect them to reach out to us and start this discussion.
What Do Companies Expect From You, From Their Clients?
First, we want the basic details from your end like below.
●     What problem do you want to fix with this application?

●     What kind of mobile application do you want to build? (Android or iOS)

●     How much is your app development budget?

●     What is your app development deadline?

●     Do you have any other app comparable to your app concept?
Step 3: Business Model
After discussing your ideas and knowing what you want, the mobile app development company has a special meeting to get things started. In this meeting, the company picks the people who will work on your app and give you some valuable advice on how to make it even better.
Define your business model such as revenue streams (e.g., subscription fees, commissions, advertising).
Decide whether you want to focus on a specific niche like fashion or electronics.
Step 4: Legal and Regulatory Compliance
Why NDA for Your App Idea?
This part to build an app like Cartlow is vital, but some Android app development company don't pay it enough attention.
It is like a secret code we follow during the entire app-making journey. This way, we avoid any mix-ups or confusion between you and us, the app-making experts.
Register your business and comply with local regulations for e-commerce.
Manage issues like user privacy, data protection, and consumer rights.
What Will You Bring to the Project Development Agreement?
The agreement involves the following points.
Project Deliverables
Milestones
Legal clauses
Reference
Step 5: UI/UX Design
Have you ever wondered about what makes a good design? Here are some questions mobile app development company ask clients to create awesome designs for their apps:
1. What color would you like for your app?

2. Tell us about your basic preferences for color and fonts.

3. Which apps do you like?
By answering these questions, you will help us create a design that you will definitely love for your app.
So let's get started and make your app look amazing together!
As per your taste, we make sample screens using mobile app design tools like
Sketch
Adobe XD
Adobe Photoshop
What Do We Deliver During This Step?
The sample has a splash screen (first screen), an app icon, a log-in, or sign-up form, and the home page. An Ecommerce app development company has designed two UI/UX choices for you.
After sending the samples, we wait for your essential feedback and make the changes, if any, according to your preferences. This is just one of the early phases of application development.
Development companies want to check them out and tell you which one you like better. Once you have seen them, just let us know what you think. If there is anything you want us to modify, we will do it according to what you want.
Pro Tip: Before you finish making your app, try doing a minimum-viable-product launch. It is an amazing way to make sure your app works well and is liked by the people you want to use it.
How Much Does it Cost to Design an App Like Cartlow?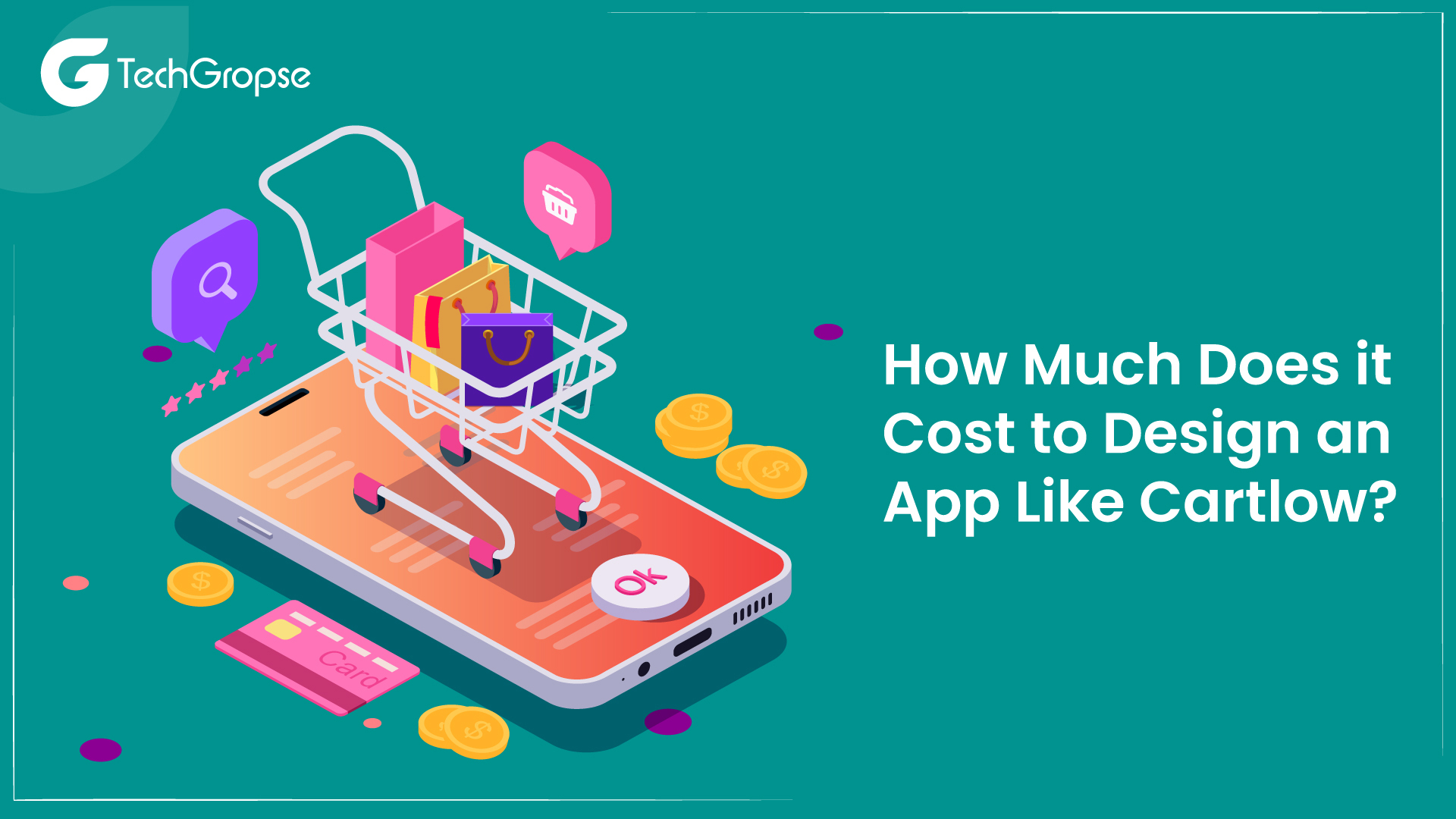 "Average costs of mobile application design around$10,000 to $150,000."
Basically, app costs depend on how long it takes to make and how much the designer charges per hour. Usually, the cost includes the money needed to design the app too. Look at the table below to see how many hours it takes to design various types of apps and how much they cost.
| | | |
| --- | --- | --- |
| Complexity | Average App Design Hours | Average App Design Cost |
| Simple App Design | 40 to 160 hours | $2000 to $4000 |
| Medium App Design | 150 to 350 hours | $5000 to $9000 |
| Complex App Design | 600 to 1000 hours | $10,000 to $25,000 |
Step 6: Developing Your Mobile Application
The process of online shopping app development is divided into 3 parts.
Components of Mobile App Development
Explanation
Front-end App Development
●     Hire ecommerce app developers with expertise in different types of Android app development.

●     Start creating the app's core functionality such as product listings, user registration, and payment processing.

●     Implement features like search, reviews, filters, and ratings.

Backend Development
●     Develop a robust backend system for user data, managing products, orders, and payments.

●     Set up secure and scalable servers.

API Integration
●     Integrate reliable payment gateways to enable secure transactions.

●     Ensure PCI compliance for managing sensitive payment details.
Android app development company uses the following technologies for Android:
| | |
| --- | --- |
| Programming Language |         Kotlin |
| IDE |         Android Studio |
| Database |         Realm, SQLite |
| Tools |         Android SDK, and Android NDK |
Cartlow app development uses the following technologies and the best iOS app development software to develop complete iOS apps.
Programming Language
●     Swift

●     Objective C

IDE
        XCode
Database
●     SQLite

●     Realm

●     CoreData

Tools
        Xcode
Activities Involved in Cartlow App Development
| | |
| --- | --- |
| Activity | Required Hours(Approximate) |
| Software architecture | 25 hrs |
| Backend development | 175 hrs |
| Frontend development | 175 hrs |
| Total Development Hours | 365 hours |
Step 7: Implement Essential Features to Build an App Like Cartlow
| | |
| --- | --- |
| Feature | Description |
| User Registration | Allow users to create accounts securely and manage profiles. |
| Product Listings | Display refurbished and pre-owned products with details and pricing. |
| Search and Filters | Implement robust search and filtering options for product discovery. |
| Product Details | Provide comprehensive details, including specifications and warranty details. |
| Shopping Cart | Allow users to add, manage, and review items in their shopping cart. |
| Checkout and Payment | Allow secure payment processing with different payment options. |
| Order History | Keep a record of users' past orders and order status. |
| User Reviews and Ratings | Allow customers to review and rate products and sellers. |
| Seller Profiles | Show seller profiles with reviews, ratings, and verification status. |
| Notifications | Send push notifications for order updates and promotions. |
| Wishlist | Let users create and handle wishlists for future purchases. |
Step 8: Advanced Features of Cartlow App Development
| | |
| --- | --- |
| Secure Payment Processing | Ensure robust security for user payment details and PCI compliance. |
| Return and Refund Policy | Clearly explain the return and refund policy for transparency. |
| Shipping and Delivery Tracking | Provide real-time order tracking and delivery status. |
| Customer Support | Offer different customer support channels like email and live chat. |
| Sustainability Initiatives | Highlight eco-friendly practices and a commitment to sustainability. |
| Recommendation Engine | Recommend products based on preferences and browsing history. |
| Language and Currency Support | Make the app accessible to a global audience by supporting numerous languages and currencies. |
| Social Media Integration | Allows users to share products and reviews on social media platforms. |
| Admin Panel | Provide administrators with a dashboard to manage orders, products, users, and sellers efficiently. |
Step 9: QA Testing
Let's dive into the difference to get better clarity about QA testing as an integral part of the mobile app development process. You can hire dedicated developers who help to define the stages of app development.
Functional Testing
Non-functional Testing
This type of testing is like giving the app a big exam to see if it fulfills all the needs of the client. It is like giving the app various tasks and seeing if it does them correctly. If the app's buttons and screens work the way they are supposed to.
This thing is all about how good an app is, but not just the fun things. It looks at things like how safe it is, how fast it responds, how well it can manage lots of people using it, how easy it is to use, and how well it works.
The needs of the business are the inputs for functional testing.
Scalability, speed, and other performance parameters are part of non-functional testing.
Easy for manual testing.
Tough for manual testing.
Examples: Functional Testing

●     Unit testing

●     White-box testing

●     Black Box testing

●     User-acceptance testing

●     Regression testing

●     Smoke testing

●     Sanity testing

●     Integration testing

Examples: Performance testing

●     Load testing

●     Volume testing

●     Penetration testing

●     Compatibility testing

●     Migration testing

●     Stress testing

●     Security testing

●     Installation testing
Step 10: Launch Your Application
Congratulations, you have made it this far! Now it's time to launch your app and get it into the hands of eager users.
How to Publish the App on the Play Store and App Store?
No worries! We help our clients put their apps on Appstore and Playstore for free.
What do We need from you?
All we require is your username and password for your developer account to upload the app.

Is it Easy to Publish The App?
The Google Play Store and App Store have strict rules to make sure apps are good, but we have experts who know how to make it happen.
When you place your app in the app store, there are some things that must be included:
The name of your mobile app.
A description of what your app does.
The category your app belongs to.
Keywords that help people discover your app.
An amazing picture that describes your app.
Screenshots of your app in action.
After you submit your app to the App Store, it goes through a review process. This entire process can take a few days or some weeks.
The time it takes depends on how good your app is and if it follows all the rules for making apps on iOS. Also, don't forget to test your app on various devices to make sure it works well.
Step 11: Follow a Unique Marketing Strategy
By implementing unique strategies, Cartlow can effectively market its app while promoting sustainability and attracting environmentally-conscious consumers.
Implement an augmented reality (AR) feature that enables users to try products before purchasing.
Promote a sense of community among users through social media groups, forums, and user-generated content related to sustainable living.
Make informative content that educates users about the advantages of refurbished products and the environmental impact of their choices.
Collaborate with eco-conscious influencers to promote Cartlow and its sustainability message to a wider audience.
Step 12: Post-Production Support
Post-production support for the Cartlow app is necessary to ensure its continued success and user satisfaction.
It involves some key factors, such as regular bug fixing and updates to address any issues that may occur and to introduce the latest features and improvements.
Security maintenance is essential to protect user data and transactions, on the other hand, performance optimization ensures the app runs smoothly across different devices and under varying network conditions.
Providing responsive user support channels like customer service and live chat, is essential for managing user inquiries and concerns promptly.
Well, user feedback helps in making continuous progress, and server maintenance ensures that the infrastructure remains robust and scalable.
Ready to Turn Your Amazing Idea into a Live App
By following these 12 steps, you can embark on a journey to create an app like Cartlow that not only meets market demands but also delivers an exceptional user experience.
From comprehending the target audience to implementing core functionalities, designing the interface, and implementing effective marketing strategies, every step plays a crucial role in building a successful app.
By staying focused and committed throughout the development process, you can create an app that disrupts the market and establishes a strong presence, just like Cartlow.
So, there you have it – a roadmap to building an app like Cartlow. Remember, building an app is a challenging but rewarding journey.
Stay focused, keep learning, and embrace the inevitable ups and downs.
Happy coding!
FAQ: 12 Steps to Build an App Like Cartlow
1. Can these steps be used in other industries or are they specific to e-commerce apps?
While this post focuses on building an app like Cartlow, the steps outlined here can be applied to other industries as well. The principles of understanding the market demand, defining features, designing an interface, planning development, implementing core functionality, testing, and marketing strategies are applicable to different types of apps.
2. Are there any specific technologies or programming languages recommended for app development?
The selection of programming languages or technologies may depend on different factors such as your team's expertise, the app's needs, and the targeted platforms. However, popular options for app development include languages like Java, and Swift, and frameworks like  Flutter or React Native.
3. How long does it take to build an app like Cartlow?
The time needed to build an app like Cartlow can vary depending on aspects like the complexity of features, team size, development approach, and project scope. While it is challenging to provide an exact timeframe, it is advisable to make a detailed project plan, considering the various stages of development, testing, and iterations.