Do you want to rent, buy or sell your property through a new technology without the involvement of brokers, but you are confused about where to start? Don't worry at all! We are a NoBroker app development company that helps you to build an app like NoBroker.
A real estate app like NoBroker is a platform designed to simplify and streamline the process of buying, selling, or renting properties.
NoBroker is a famous real estate app in India that helps connects property owners directly with potential buyers or renters. It is a way to eliminate the requirements for intermediaries such as brokers or agents.
It empowers users to see their ideal properties or suitable residents without the requirement for intermediaries and offers a range of additional features and services to simplify the entire process.
In this post, we will discuss the steps to like to build NoBroker app and the key considerations that you need to keep in mind to make your app a success. From understanding the key features of NoBroker to securing funding and implementing a monetization strategy.
What is NoBroker?
NoBroker is a well-known real estate platform based in India that has transformed the way people buy, sell, and rent properties. The platform is known for its unique concept of "No Brokerage," which means that users do not have to pay any brokerage fees.
NoBroker was launched in India in 2013 by Amit Kumar Agarwal, Akhil Gupta, and Saurabh Garg. They are the co-founders of the NoBroker platform, which revolutionized the real estate industry by delivering a direct owner-to-consumer model, stopping the need for brokers and agents.
The mobile app development company may offer value-added services like online rent payment options, legal assistance, virtual property tours, property verification, and documentation support.
These services improve the overall user experience and streamline the transaction process. This not only saves time but also reduces costs associated with brokerage fees. In this platform,  user reviews and ratings are available for both properties and owners. This helps users make informed decisions and build trust in the platform.
Why is an App Like NoBroker Popular Among Users?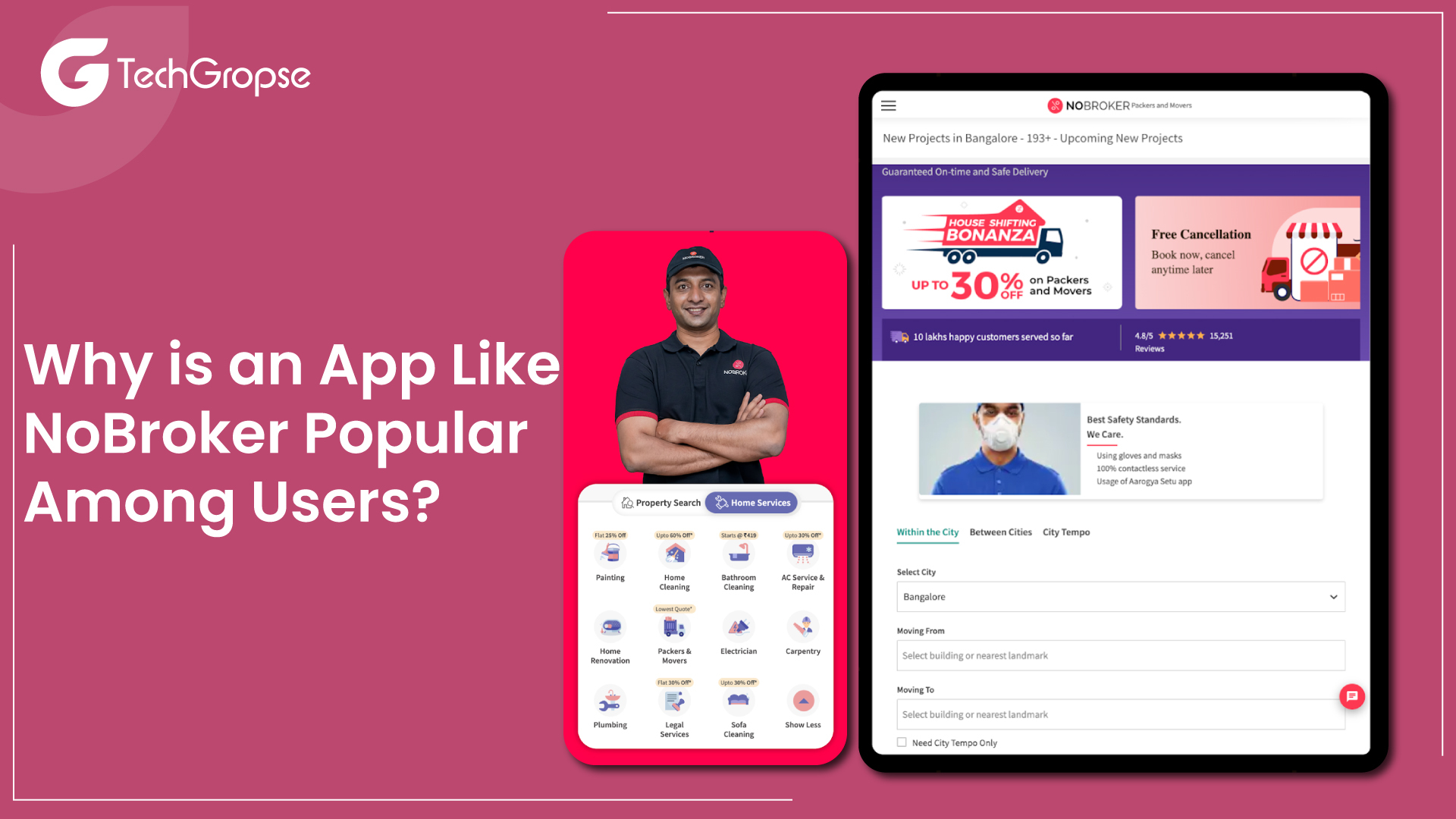 Yes, you may be think why all these types of apps are so popular in this modern world. Well, let us tell you about all the essential details of real estate apps like NoBroker.
NoBroker has disrupted the traditional real estate market in India, authorizing users to find properties or tenants without the need for intermediaries.
Its extensive property listings, user-friendly platform, and value-added services have positioned NoBroker as a leader in the Indian real estate tech space.
Before to build an app like NoBroker you must consider the reason behind its popularity. Here's an overview of NoBroker, including interesting facts and statistics:
Direct Owner-to-Consumer Model: NoBroker facilitates direct interactions between property owners and potential buyers or tenants, eliminating brokerage fees and saving both parties money. The platform delivers a transparent and hassle-free experience.
Extensive Property Listings: NoBroker has an extensive database of property listings across major cities in India. Users can search for properties based on budget, location, and preferences, with photos, detailed information, and floor plans available for every listing.
Growing User Base: NoBroker app has experienced remarkable growth since its inception. As of 2021, the platform claimed to have served over 10 million users, with a notable number of successful property transactions completed.
Tenant Verification Services: It offers tenant verification services, such as background checks and document verification, ensuring a safer and more trustworthy renting experience for property owners.
Market Insights and Trends: NoBroker delivers valuable market insights and trends through its data analytics. This fact helps users make informed decisions about property investments and rental rates.
Additional Services: NoBroker has expanded its offerings beyond property listings, introducing services such as packers and movers, home loans, and property management, delivering a complete real estate ecosystem.
Funding and Recognition: NoBroker has acquired significant funding from prominent investors and venture capital firms. The platform has been recognized with different awards, acknowledging its creative approach and positive impact on the real estate industry.
What is the Process to Build an App Like NoBroker?
Are you tired of the same old boring technique to build an app like NoBroker? Well, have no fear!
If you want to build an app like NoBroker, you must hire dedicated developers, a skilled development team like designers, front-end and back-end developers, testers, and project managers.
It is essential to follow a systematic and iterative approach to ensure the app meets user expectations and delivers a fantastic real estate experience.
Here's a detailed process to guide you:
1. Conceptualization and Planning
Define the goals and objectives of the app.
Conduct market research to understand user needs and competition.
Identify the key features and functionalities to include in the app.
Create a comprehensive plan, such as timelines and resource allocation.
2. Design and User Experience
Develop a user-friendly interface that is visually appealing and intuitive.
Design wireframes and prototypes to visualize the app's layout and flow.
Focus on providing a smooth user experience throughout the app.
3. Back-End Development:
Set up a scalable and secure server infrastructure.
Develop a robust database to store user and property details.
Implement APIs and integrations for data exchange with third-party services, like payment gateways and location services.
4. Front-End Development
Develop the user interface and implement the app's design.
Ensure cross-platform compatibility, considering both iOS and Android platforms.
Optimize the app's performance and responsiveness.
5. Features and Functionality
Implement essential features such as property search, listing creation, and user profiles.
Incorporate advanced features like search filters, messaging systems, and notifications.
Integrate additional services, including document management, tenant verification, and payment processing.
6. Testing and Quality Assurance
Conduct multiple testing to identify and fix bugs.
Ensure the app functions smoothly across various devices and screen sizes.
Test the app's security measures and data protection protocols.
7. Deployment and Launch
Submit the app to the respective app stores (Apple App Store, Google Play Store).
Prepare app store assets, such as app descriptions, screenshots, and icons.
Follow the app store guidelines and policies for successful submission.
8. Support and Maintenance
Continuously observe the app's performance and user feedback.
Address user concerns and make necessary updates and progress.
Regularly update the app with new features and security enhancements.
Implementing a Monetization Strategy to Build an App Like NoBroker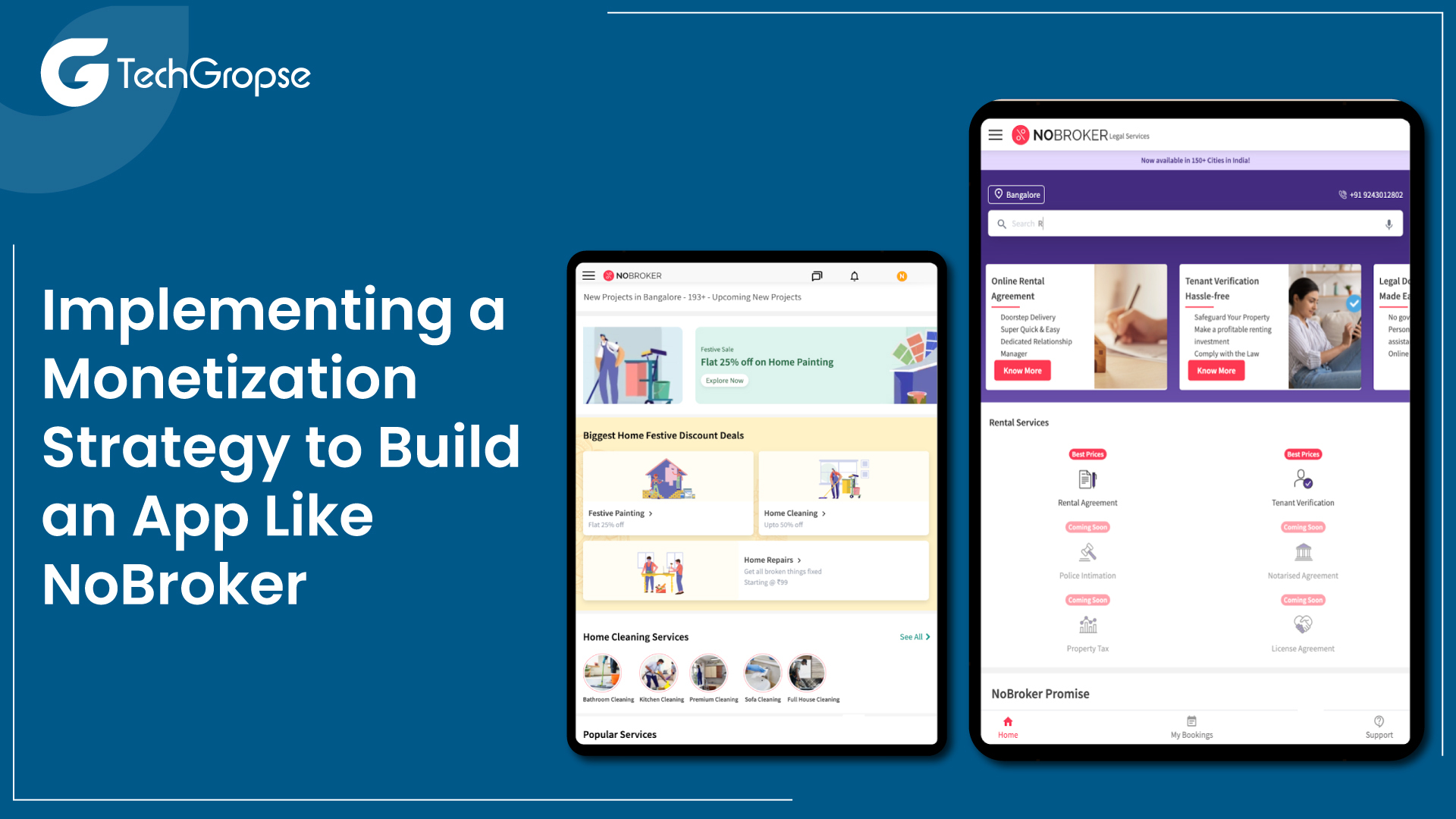 Really are you thinking about whether Is NoBroker profitable? Well, many on-demand app development company implement a monetization strategy to build an app like NoBroker that involves developing revenue while delivering value to users.
Consider some effective monetization strategies:
Listing Fees: Charge property owners a fee to list their properties on the platform. Offer various listing packages with amazing features and visibility options.
Subscription Model: Include subscription plans for premium features and enhanced services. Offer benefits such as priority listing, advanced search filters, or additional analytics for subscribers.
Featured Listings: Allow property owners to pay for featured listings that obtain higher visibility and prominence in search results. Highlight their properties to attract more potential buyers or renters.
Lead Generation: Provide paid lead generation services to property agents or brokers. Connect them with interested buyers or renters, making revenue for each successful lead generated.
Advertisement: Include targeted advertisements from real estate developers, related industries, or home improvement companies. Show relevant ads within the app, ensuring they don't interfere with the user experience.
Transaction-based Commission: Earn a commission from successful property transactions encouraged through the app. Charge a percentage fee based on the property's sale or rental value.
Value-added Services: Offer additional services like property verification, interior designing consultations, legal assistance, or home loan partnerships. Collaborate with service providers and earn a commission for each successful referral or partnership.
Analytics and Data Insights: Offer premium analytics and market insights to real estate developers, agents, or property investors. Propose clear reports on property demand, market trends, and user behavior for a subscription fee.
Partnerships and Affiliates: Collaborate with relevant businesses and select affiliate partnerships. Earn a commission for each user referred to partner services like home insurance, packers, movers, or property management companies.
Freemium Model: Offer a basic version of the app for free and provide premium features and services through in-app purchases or subscriptions. This allows users to experience the app's core functionalities while attracting them to upgrade for advanced features.
It is essential to balance revenue generation with maintaining a positive user experience. You must test and refine your monetization strategy based on user feedback and market dynamics to confirm it aligns with the requirements and preferences of your target audience.
Essential Key Features of an App Like NoBroker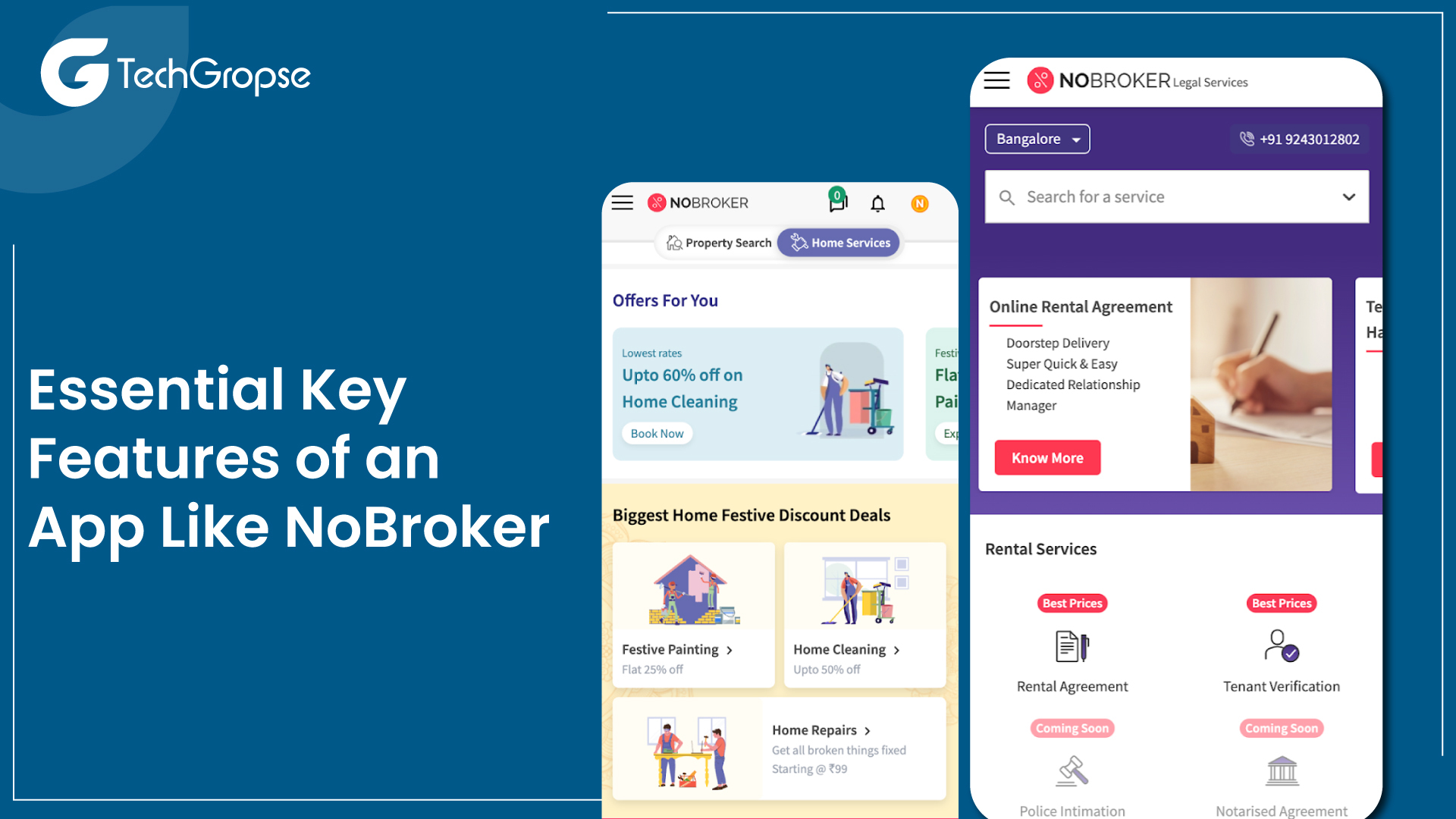 Is an app like NoBroker change your life? Absolutely! It is a life-changing way than discovering a new addiction to a beautiful home and seeing your bank account shrink like a wool sweater in the dryer?
But all jokes apart, an app like NoBroker can truly be a transformative experience. You will have the opportunity to support innovative ideas and passionate owners who are working to make the world a better place.
A robust app like NoBroker should have the following must-have features to deliver a comprehensive and user-friendly real estate experience:
User Registration and Profiles: Allow users to create accounts and make profiles with relevant details like contact details, property preferences, and saved searches.
Property Listings: Enable property owners to list their properties with detailed information like property type, location, size, price, and high-quality images.
Advanced Search Filters: Implement powerful search filters to help users refine their property search based on parameters like location, budget, property type, amenities, and more.
Map Integration: Integrate maps to provide a visual representation of property locations, allowing users to explore properties in specific areas or neighborhoods.
Messaging and Communication: Allow direct communication between property owners and potential buyers/tenants via an in-app messaging system. This facilitates easy and convenient conversations for property visits, inquiries, and negotiations.
Saved Searches and Alerts: Allow users to save their search preferences and set up alerts for new property listings that match their standards. This ensures they stay updated with relevant properties.
User Reviews and Ratings: Implement a rating and review system for users to share their experiences with properties and property owners. This helps others make informed decisions and establishes trust within the community.
Property Verification and Authenticity: Offer mechanisms to verify property listings and ensure their authenticity. This may include document verification, property visits, or user feedback.
Favorites and Shortlisting: Enable users to save properties as favorites or create shortlists for easy reference and comparison.
Analytics and Market Insights: Provide users with valuable market insights, trends, and analytics on property prices, rental rates, demand-supply dynamics, and other relevant data. This helps users make informed decisions.
Push Notifications: Send push notifications to users regarding new property listings, saved search updates, messages from property owners, or other important app updates.
Secure Payments: Integrate secure payment gateways to facilitate online transactions for services like listing fees, subscription plans, or other monetization features.
Customer Support: Offer responsive customer support channels such as chat or email to address user queries, feedback, and concerns.
By including these essential features, an app like NoBroker can provide a comprehensive and user-friendly platform for property owners and seekers, simplifying the real estate process and improving the overall user experience.
What is the Cost to Build an App like NoBroker
Now, you might be surprised, "Is an app like NoBroker really cost-effective?" Well, let us ask you this – have you ever spent $20 on a cup of tea that tastes like dirt and guilt? We thought so.
NoBroker app development cost can differ depending on various factors, including the complexity of the features, the platforms like iOS, and Android you want to target, the development approach (native or hybrid), the development team's location and expertise, and the development timeline.
However, it is important to note that estimating the precise cost without a detailed requirements analysis is challenging.
Basically, the development cost can be broken down into the following components:
Planning and Design: It involves conducting market research, making wireframes, designing the user interface (UI), and developing the app's overall architecture. The cost for this phase typically ranges from $5,000 to $15,000.
Development: The actual coding and implementation of the app's features and functionality. The cost will depend on the complexity of the app and the number of platforms targeted. Development costs can vary from $15,000 to $50,000 or more.
Backend Development: Creating database management, server infrastructure, and integrating third-party APIs. The cost for backend development can be from $10,000 to $30,000, depending on the complexity of the backend systems.
Testing and Quality Assurance: Thoroughly testing the app to identify and fix bugs, ensuring a smooth user experience. This phase can cost roughly 15-25% of the total development cost.
Deployment and Maintenance: Preparing the app for launch on app stores, building app store assets, and ongoing maintenance and updates. Maintenance costs can vary depending on the scale and complexity of the app.
Considering these factors, the total cost to build an app like NoBroker can range from $30,000 to $100,000 or more, depending on the specifics of your project.
List of Top Apps Like NoBroker
Here is a list of top real estate apps similar to the NoBroker
| | | |
| --- | --- | --- |
| App Name | Description | Features |
| Zillow | It is a famous real estate marketplace for buying, selling, and renting properties. It offers property listings, market trends, and mortgage information. | Zestimate®: Estimates property values using AI algorithms. Offer interesting "Make Me Move" feature for homeowners to indicate their price to sell. Offers 3D Home tours for virtual walkthroughs. |
| Magicbricks | It is an Indian real estate platform offering property listings, locality insights, and property-related services such as home loans and property management. | SmartSearch: AI-powered search that learns user preferences and recommends relevant properties. Provides locality ratings and insights. Offers "Smart Agent" to connect users with agents based on their needs. |
| 99acres | Another Indian real estate platform that allows users to search for properties, explore neighborhoods, and connect with property owners and agents. | Map-based Search: It enables users to search for properties on an interactive map. Offers an Instant Connect feature for users to directly contact property owners. Provides a Rental Price Heatmap for comparing rental rates. |
| Apartments.com | It is a well-known platform that focuses on rental apartments, offering a huge range of listings, virtual tours, and tools to simplify the rental process. | 3D Floor Plans: Offers interactive 3D floor plans for a virtual walkthrough of apartments. Provides a Rent Calculator to determine affordability. |
| PropTiger | An Indian real estate platform offering project details,  property listings, and personalized property recommendations. It also provides assistance with home loans and legal processes. | Property Matchmaker: Uses AI to match users with their ideal properties. Offers a "Real Estate Forum" for users to seek advice and interact with experts. |
| Housing.com | A real estate app in India providing neighborhood insights, property listings, and innovative features like virtual reality property tours. | Slice View: Provides a 3D view of apartments to visualize the floor plan and space. Offers a "Rent-O-Meter" to determine fair rental prices in a specific area |
| CommonFloor | An Indian real estate platform that offers community insights, property listings, and services related to buying, selling, and renting properties. | Community and Events: Connects users with their community and offers features like event listings and discussion forums. Provides a "Real Estate Wiki" with articles on real estate-related topics. |
| NestAway | A platform in India that focuses on rental properties, offering listings, virtual tours, and hassle-free renting experiences with fully furnished options. | Furnished Homes: Focuses on fully furnished rental homes with amenities. Offers a "Home Services" feature for easy access to maintenance services. |
Final Thought
Building an app like NoBroker takes time and effort, but with the proper and unique approach, it is possible to develop a successful app that serve the needs of users in the real estate industry.
By understanding the key features of NoBroker, conducting market research, choosing the right technology stack, collecting feedback, securing funding, implementing a monetization strategy, and ensuring user privacy and data security, you can enhance your chances of success.
With a clear roadmap in place, you can build an app like NoBroker that offers a superior user experience and meets the needs of users in the real estate industry.
FAQ: Steps to Build an App Like NoBroker
1. What is the alternative for NoBroker app?
As the demand for easy and hassle-free property searching solutions continues to rise, several alternatives to NoBroker app have emerged in the market serving to this need. Some of these include well established players such as Housing.com, MagicBricks, Commonfloor, and 99Acres.
2. Is NoBroker profitable?
Yes, NoBroker is the Indian online real estate platform that connects property owners and renters directly without the requirement for middlemen, has shown remarkable growth over the past few years.
3. How is NoBroker making money?
NoBroker is a famous online platform that helps consumers rent or buy homes without having to go through traditional real estate brokers. The company make revenue by charging fees for different services it provides like property listings, renters screening, and document verification.