Music is undoubtedly the best therapy to reduce stress and freshen the mood. Therefore, it is good to listen to music. However, many people need help remembering all the lyrics. But gone are the days when people remember only one or two lines of a song.
Thanks to the technology that gives an app like Shazam. This is the best music recognition app that helps people search for any song in a few seconds. As a result, many companies are deciding to build an app like Shazam.
The Shazam music finder application was launched in 2002, where users will get all the details of the song through SMS. The best part of this app is that it is able to run on both Android and iOS devices. As a result, you can use it on any device or platform with ease. This is why the demand for music app development services has become high.
If you want to generate more revenue and profit, it is a good time to search for professionals who have good experience in identifying music app development. Having years of experience, knowledge, and skills, they will provide you with ultimate solutions as per your requirements. This blog post will share the detailed procedure to build an app like Shazam. So. Let's take a look at this blog post.
What is Shazam and How Does It Work?
Shazam is a song finder app that was launched in 2002 with 2580 services. The users are able to receive the complete details of the song through SMS. If you listen to a song you love in the street or anywhere, you need to click a Shazam button, and the application will recognize what's playing in a few seconds. The best part of the app is that it is able to recognize a song even if the environment is noisy and there are many other distracting sounds around.
Shazam works well in an offline mode. It means if something goes wrong with the internet connection, it will still save your search. Another good thing about the app is that it is available for iOS and Android devices as well as Apple Watch, Android Wears, and MacOS. There is always a lite version for Android that weighs less than 1MB. If you want to build an app like Shazam, get in touch with professionals.
Undoubtedly, an on-demand app development company has a team of experienced developers with good skill sets and knowledge. So they will provide you with quality solutions without any compromise. Therefore, it is good to seek the help of experts to build a successful app.
Essential Features to Build an App Like Shazam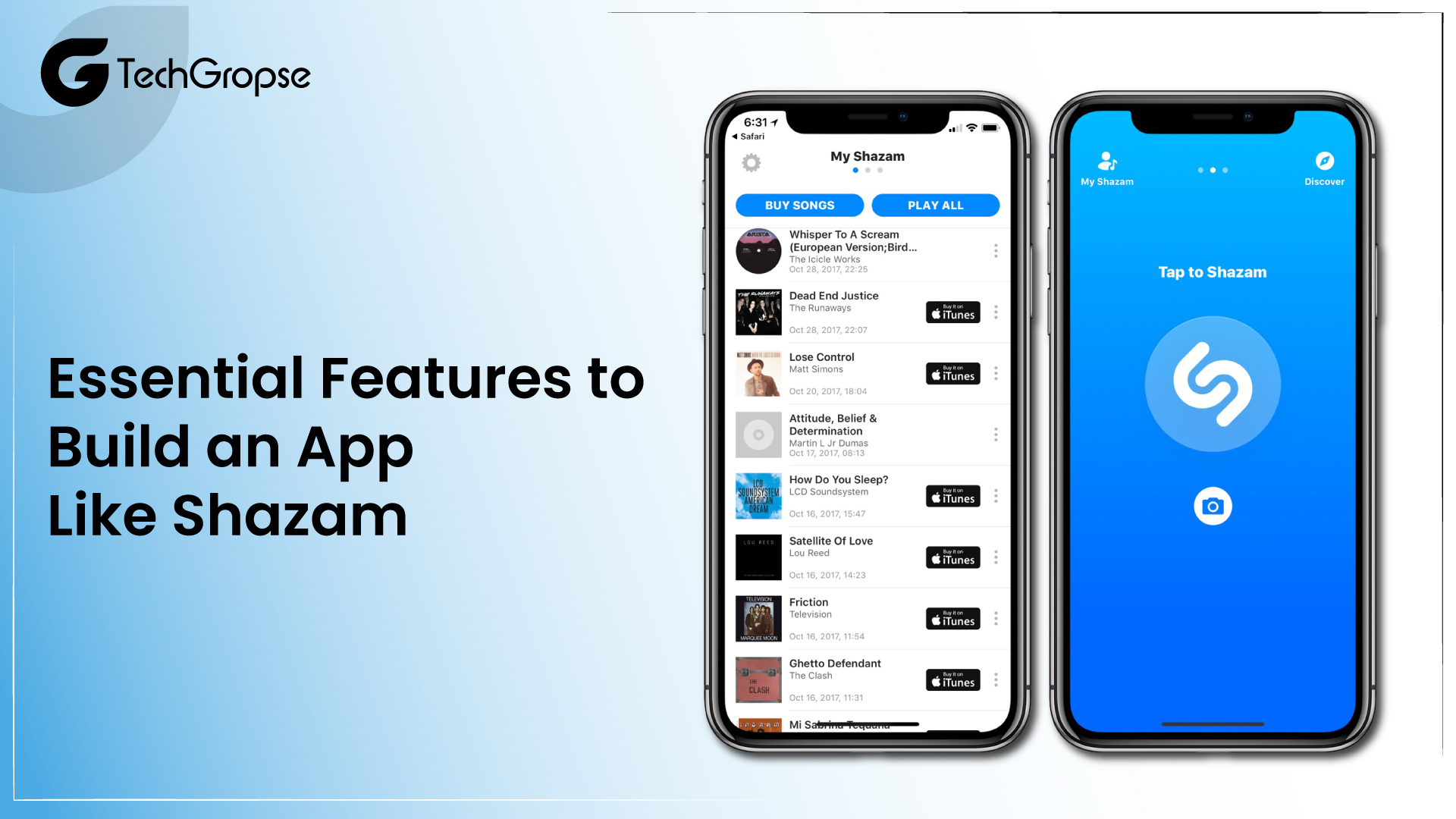 Without a feature application is nothing. Therefore, when investing in identity music app development, you must include rich and advanced features that take your business to the next level. Below we mentioned a list of features a music app should have:
1. Search Visualization
This amazing feature enables the users to search music while including visual aspects such as an animated music loading icon to keep them stuck to your Shazam-like app for lifelong. With the help of this app, every single element you include in your mobile application will include more worth it, which increases user engagement and brings in better business profit.
With the help of this feature, you can include a voice recognition circle to indicate to the users about the processing. Therefore, you have to add this feature. To make this task more convenient and easier, you can contact a streaming app development company that is committed to providing you with ultimate solutions.
2. Personal Account
This is another essential feature you have to include in your application. This feature will help users from losing the music they have looked up to. All the searches performed on the app will be saved to their account and accessed from anywhere. Moreover, this amazing app contains sharing creatures that assist in promoting your song-finder app and attracting new users.
Thus, you have to include this feature in your app. However, app development is challenging because it requires several aspects. So when deciding to build an app like Shazam, you have to know the Shazam app development cost.
Once you have knowledge about the cost of building an app like Shazam, you can easily determine how much you have to invest. On the basis of cost, you can decide whether in-house or a leading company is good for your project.
3. Recent Searches Map
This application will guide users through an interactive map and allow them to listen to the songs that people are listening to at the moment. In simple terms, the most recent activities can be accessed through this functionality, and users are able to gain more visibility and profit, like a Shazam music recognition app.
So, when deciding to build such an app, you have to hire dedicated developers who are well-experienced and educated. With years of experience and knowledge, the professionals will provide the best solutions without compromising on budget.
4. Song Description
Undoubtedly, several people love listening to music, and many love to get detailed descriptions of what they listen to. Henceforth, it is necessary to include this feature. With this amazing application's help, users easily access song lyrics, title, artist, label, album, release date, number of times the song is searched, etc. In simple words, users can get access to the complete details of the song they listen to and get suggestions for the relevant songs.
As a result, you have to include this feature in your app. However, doing this job takes work so that you can contact mobile app developers for hire. The professional will help you in every possible way.
5. Visual Recognition
This amazing feature allows users to scan print ads and QR codes to access AR content. It means you have to include this feature in your application as it will provide benefits to your business. However, building an app is a challenging task, which is why you have to contact a mobile app development company that will assist you in building your app.
With years of experience and skill sets, professionals can build an app like Shazam. This is why you have to contact the professionals for your next project.
How Apps Like Shazam Help to Make Money?
Apps like Shazam primarily generate revenue in a variety of ways. Here are some popular ways to make money using Shazam or similar music recognition apps.
Shazam may display advertisements such as banners, interstitials, and video advertisements within the App. Advertisers pay to display ads to Shazam's large user base, and apps earn revenue from displaying those ads.
Shazam may partner with music artists, record labels, or brands to promote their content and products. This includes featuring sponsored songs, albums or playlists within the app and highlighting featured content to users. Brands can also partner with Shazam to promote their products by embedding content within their apps.
By partnering with online music stores and streaming platforms, Shazam earns commissions. When a user identifies a song through her Shazam, the app may provide links to purchase or stream the identified song from affiliate partners. Through these links, Shazam receives referral fees when users purchase or subscribe to music services.
Data Licence and Analysis
Shazam collects massive amounts of data about musical tastes, trends, and user behaviour. This data is invaluable to music labels, artists, advertisers, and other industry players. Shazam may license this data or provide analytics services to these parties to gain insight into their music consumption patterns and enable them to make informed decisions.
Partnerships and Integrations
Shazam may partner with other apps, platforms, or devices to expand its reach and functionality. For example, Shazam integrates with music streaming services, allowing users to listen to identified songs seamlessly. Shazam may generate revenue through such partnerships by receiving a portion of the subscription fees or royalties for these integrations.
Shazam is available in a free version of the app with limited functionality and occasional ads and a premium version with additional features such as ad-free usage, unlimited song identification, personalized recommendations, and exclusive content. Users can upgrade to the premium version by paying a subscription fee, which will generate recurring revenue for your app.
Technology to Make an App Like Shazam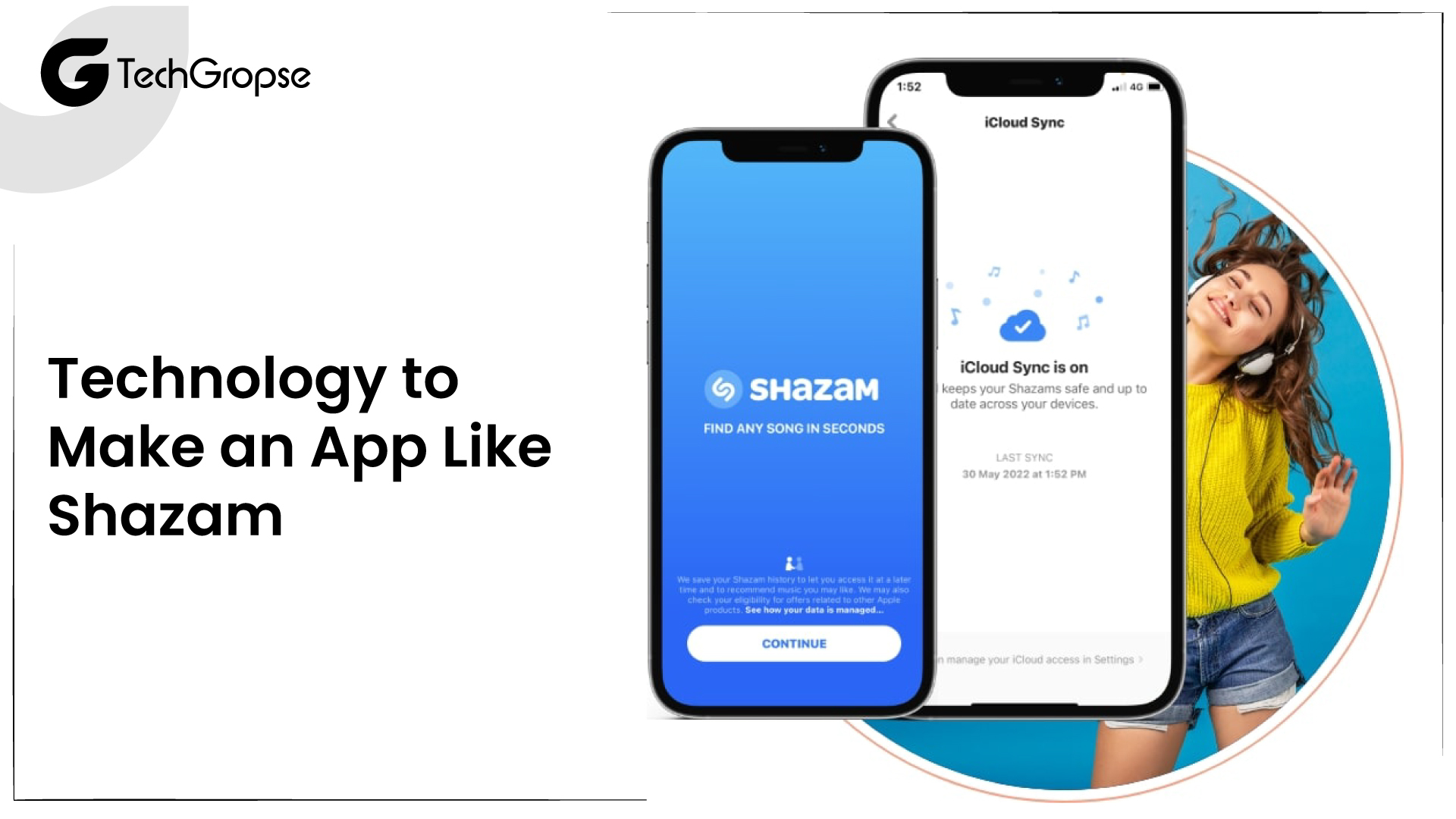 Well, the technology always matters when it comes to building an app like Shazam. The right technology ensures an accurate match. Therefore, choosing the accurate technology to build an app like Shazam is necessary.
Audio fingerprints are generally used to identify audio samples and locate the matching audio lying in the database. This audio print matches the unlabeled music and matches the song's fingerprints from the audio base.
It is a three-dimensional graph that is used to represent sound. It considers the amplitude and volume and keeps track of the change in frequency.
Steps You Have to Follow to Build an App Like Shazam
If you want to build an app like Shazam, below is the step-by-step procedure to build a functional app. So, take a look at the following steps:
Step 1:-  Conduct In-Depth Market Research
The first step is to build an app like Shazam; it is necessary to conduct in-depth market research. As we all are aware that the development market is becoming highly competitive with millions of mobile apps, it is imperative to conduct market research before building an app like Shazam.
By following this step, developing a successful mobile app is good. Therefore, you have to learn and research more about the music recognition application before building it.
Step 2:- Create a Business Plan & Model
This is another essential step you have to follow to build an app like Shazam. It is necessary to create a business plan that helps you in getting success. You must also build a business model that brings in high profit and revenue. Therefore, when deciding to build an app like Shazam, you need to follow this step.
Step 3:- Start the Development Process
Once you have the required information, such as the business plan, business model, and design, it is time to begin the mobile app development procedure. It is one of the essential steps of the entire procedure. Henceforth, it is better to have an experienced in-house team of developers or hire dedicated developers from a reputed firm.
Step 4:- Test & Maintain the Application
No doubt that testing and maintenance are the keys to mobile app development success. It does not matter whether you are building an application like Shazam for Android or iOS; testing is essential to launch the app and keep it running for years to come. When deciding to hire professional developers to test your app, your application's user experience and efficiency will increase with time.

Step 5:- Launch the Application
Now it is time to launch the application on the Google play store or Apple Store. Once you launch the application on the play store, you have to promote it on all the social media platforms and let your app gain more visibility and profit in the coming time.
You can easily build an app like Shazam by following all these steps. However, building a functional app without any technical knowledge is quite challenging. In such a case, you have to seek the help of a music streaming app development company.
The Last Note
Music is the best way to reduce stress and anxiety. But sometimes, we see that many people face difficulty remembering a song's lines. But now, they don't have to worry about it because Shazam helps you search for a song you want to listen to.
However, building such an app is a challenging task, so it is advisable to hire dedicated developers with years of experience and knowledge. They will provide you with the best solutions that you want to build a music streaming app.
FAQs
1. Is there an app like Shazam for pictures?
Of course, there are also applications such as Shazam for pictures, like Snapply, to recognize music.
2. What are the other top competitors of Shazam?
The top competitors of Shazam are SoundHound, TrackID, etc.
3. Can Shazam identify songs playing on your phone?
Of course, it can identify the songs playing on your phone by using sound recognition technology.
4. What technology does Shazam use?
Generally, this app uses audio fingerprints, which are based on time-frequency graphs, in order to identify the song playing in the background.