In the world of shopping, livestream is growing fastly. As a result, the demand for live video shopping app development. No doubt, livestream apps allow brands to communicate with their customers to sell. Therefore, people prefer live video streaming before purchasing a product or service.
This type of shopping app provides reliability, satisfaction and uniqueness for customers. If you want to take your business to the next level, building an app like Whatnot is good. However, having all the information you must know before building an app is necessary. This tutorial will cover the steps to build a live-streaming shopping app with modern technology and reach features. Without wasting your precious time, let's take a look at this post. 
What is Whatnot?
Whatnot is a social selling platform that is based on live auctions. This live selling app, combined with the thrill of real-time bidding, is a winning combination for many buyers and sellers. It allows individuals to buy and sell a wide range of items, such as toys, comics, trading cards, souvenirs, and handmade crafts.
The platform serves as a hub for collectors and enthusiasts to interact, discover rare items, and participate in buying and selling activities. It provides a convenient and accessible way for individuals to display their collectables and sell them to a wider audience.
Whatnot allows sellers to create product listings and provide detailed descriptions and images to attract potential buyers. On the other hand, shoppers can browse different categories and offer to find products of interest. The platform enables secure transactions and offers shipping and delivery options.
In addition to marketplace functionality, Whatnot facilitates the community by hosting live-streaming events. These events allow sellers to showcase their wares in real time and provide buyers with a unique, interactive experience. Users can interact with sellers, ask questions, and participate in bidding and buying items during the live stream.
Overall, Whatnot provides a platform for collectors and sellers to connect, buy, and sell a wide range of collectables and one-of-a-kind items, fostering a vibrant community of like-minded people. 
How Does Whatnot App Work?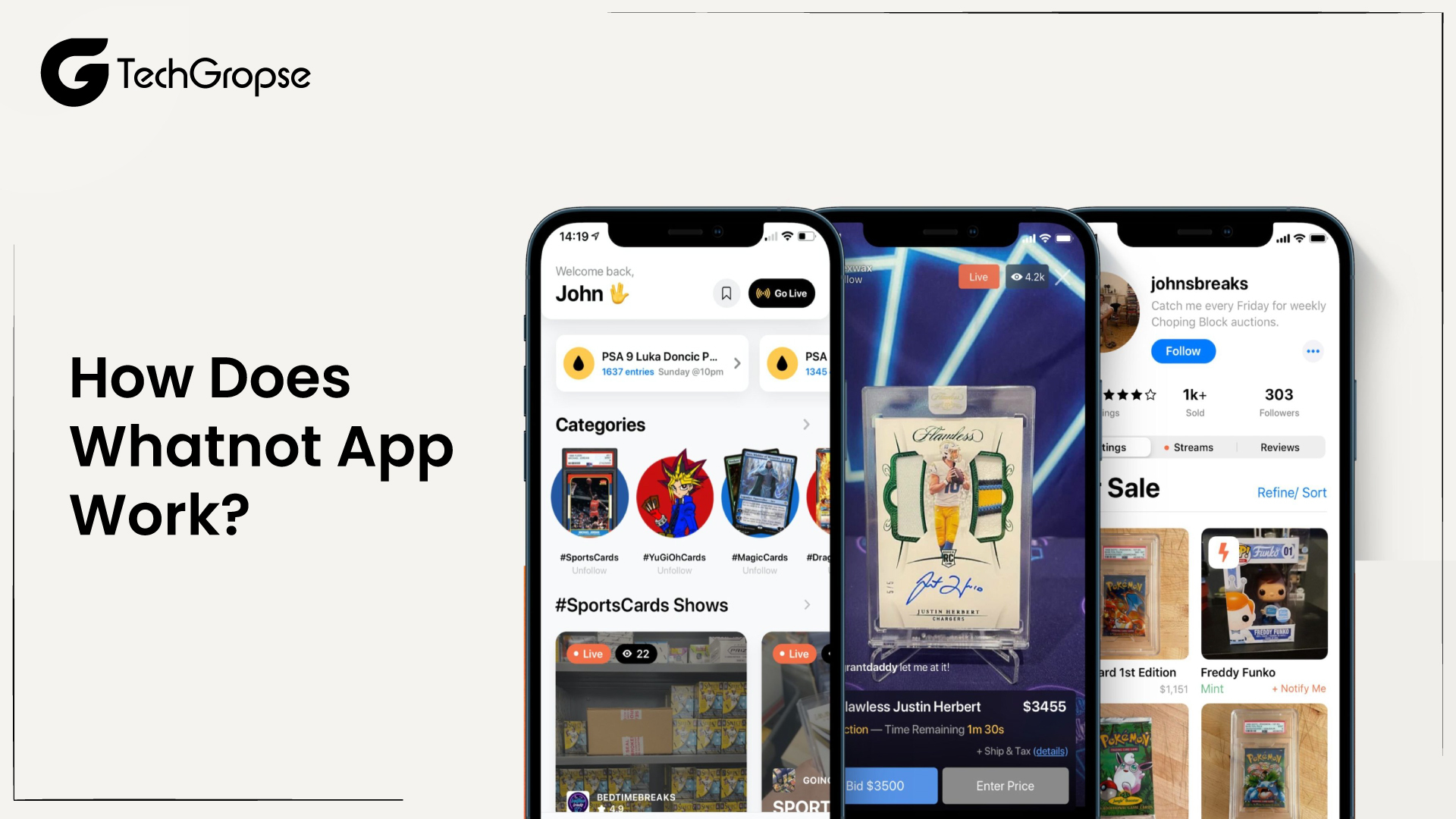 Undoubtedly, Whatnot is the best live video shopping app to buy and sell products online. But many people have questions about its work. If you also want to know how does Whatnot app work, then you have to look out for the following:
To get started with Whatnot, you would need to download the app from your mobile device's app store and create an account. The registration process may involve providing your email address, creating a username, and setting up a password.
Once you have an account, you can start browsing through the listings of collectables available on Whatnot. The app likely categorizes items into different sections or allows you to search for specific items or brands.
If you have collectables to sell, you can create a listing by providing details about the item, such as its condition, description, and uploading photos. You may also need to set a price for the item and indicate whether you are open to negotiation or offers.
When you find a collectible you're interested in purchasing, you can select it and proceed to the buying process. This typically involves confirming the item, reviewing its description and photos, and selecting the desired quantity if applicable. You would then proceed to the payment step.
Whatnot likely provides a secure payment system allowing buyers to make app transactions. You may be required to enter your payment details, such as credit card information or a link to a digital payment service. Once the payment is confirmed, the seller is notified, and they arrange to ship the item to you.
Communication and Feedback
Whatnot may facilitate communication between buyers and sellers through messaging or chat features throughout the process. This allows for any questions, negotiations, or clarifications to be addressed. After completing a transaction, users may have the option to leave feedback or ratings for each other based on their experience.
Why are Live Video Shopping Applications Trending in the Market?
Over the years, the demand for live shopping apps has gained high popularity. As a result, many companies are deciding to build an app like Whatnot. It is obvious that it has become a trending phenomenon in the market because of several reasons. Some of the reasons are listed below:
Enhance Customer Engagement
We all know that live video shopping applications allow retailers and brands to engage with their customers more effectively and personally. Through the help of such apps, customers are able to interact with hosts or sales representatives in real time, seek product demonstrations, ask queries and receive instant responses. 
It creates a more immersive and dynamic shopping experience, creates a more immersive and dynamic experience, and closely resembles an in-store experience. As a result, many people decide to build a live video shopping app that helps them to generate more revenue and profit.
Real-Time Product Demonstrations
We all know that live video shopping enables hosts or influencers to showcase products and demonstrate their functionalities in real-time. The customers are able to see products in action, understand how they work and get a good sense of their quality and functionality. It helps build trust and confidence in the product leading to increased sales conversions. 
As a result, companies are investing in ecommerce app development. If you want to build a functional live-streaming shopping app, you have to seek the help of experienced developers, as they have good knowledge of coding and trends.
Social Shopping Experience 
Live video shopping integrates social media platforms allowing viewers to like, comment and share the live stream with friends and followers. This social element encourages a sense of community and encourages peer recommendation. The customers are able to get feedback from others, make the shopping experience, participate in discussions and feel a sense of belonging. 
Comfort and Accessibility
Live video shopping brings convenience to your customers as they can shop from the comfort of their own homes or from anywhere with an internet connection. This eliminates the need to visit the store, saving time and effort physically. Additionally, most platforms offer on-demand reruns of previous streams, allowing customers to access live video shopping sessions anytime, ensuring accessibility and flexibility.
Limited Time Offers and Limited Offers
Live video shopping often includes time-limited offers, flash sales, and exclusive sales that are only available during the live stream. This creates a sense of urgency in the customer and her FOMO (fear of missing out), prompting her to buy now. The limited-time nature of these offers creates additional excitement and encourages impulse purchases.
Influencer Marketing and Credibility
Live video shopping harnesses the power of influencers and brand ambassadors. Influencers often host these livestreams to promote their products using their expertise, personal style and passionate fans. This influencer marketing approach adds credibility and credibility to the shopping experience as customers trust the recommendations of the influencers they follow.

Personalized Recommendations
Live video shopping platforms can use customer data and AI algorithms to provide personalized product recommendations. By analyzing customer preferences, purchase history, and browsing behaviour, these platforms are able to suggest products that match individual customer tastes and preferences. This personalized approach will improve your shopping experience and increase your chances of conversion.  
These are some of the reasons why live video shopping apps are trending in the market. Suppose you also want to build a functional app. In that case, it is a good idea to search for an on-demand app development company that is committed to providing you with ultimate solutions as per the requirements of your business. 
Benefits of Building an App Like Whatnot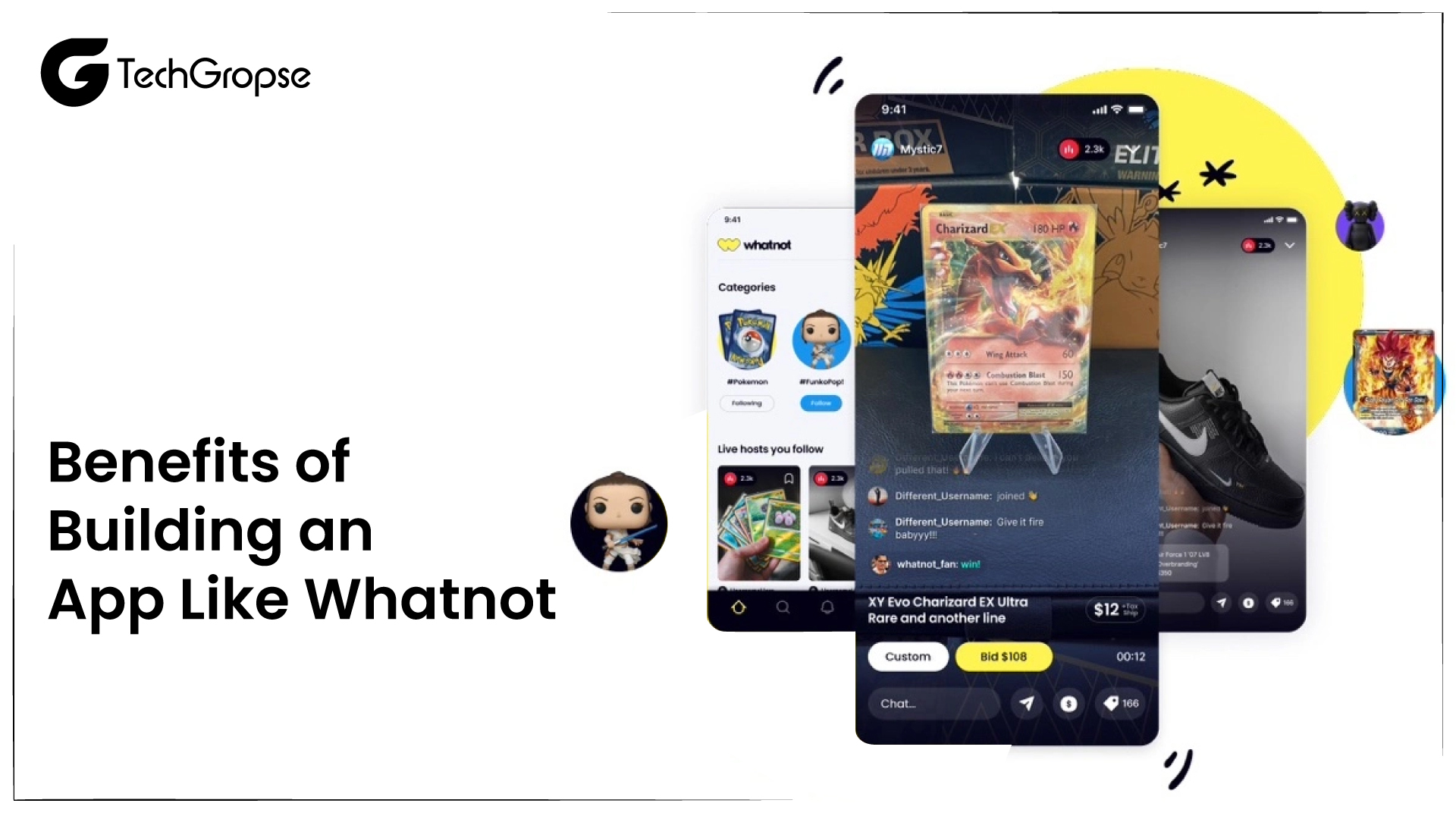 No doubt that there are several advantages of live-sharing video shopping apps. Below we highlight some unbelievable benefits of building an app like Whatnot:
The first advantage of building an app like Whatnot is rapt attention. We all are aware that when we read an advertisement, our minds can be distracted by something else. However, images and videos remain in our minds. Therefore, a video streaming app is beneficial for you as it influences the productivity of your business. 
In order to build a functional app, you must seek the help of a mobile app development company committed to providing the best solutions per your requirements.
Increased Reach and Visibility
Building an app like Whatnot can assist you in reaching a broader audience of collectors and enthusiasts. By leveraging the app's features, such as social integrations, item listing and search functionality, you can attract users from various geographical locations interested in specific collections. This is the great advantage to building an app like Whatnot. 
Streamlined Buying and Selling Experience
Undoubtedly, Whatnot offers a user-friendly interface and features tailored to buy and sell collectables. When you replace these functionalities, you are able to offer a streamlined experience for browsing, purchasing and bidding items. It can include secure payment gateways, integrated shipping options and seller verification procedures. This is the best advantage to build an app like Whatnot.
However, you must seek a leading company's help to create a video shopping app. No doubt that professionals have good experience and knowledge, so they provide you with the best solutions.
Accessibility and Convenience
Another advantage of building a video shopping app is accessibility and convenience. An app like Whatnot allows users to access a wide range of collectables from their smartphones. The users can browse, purchase and sell items on and go. It makes it more accessible instead of a traditional marketplace or physical eCommerce store. It will attract more users to prefer a mobile shopping experience. Therefore, building an ecommerce app to take your business to the next level is good.
Steps to Build an App Like Whatnot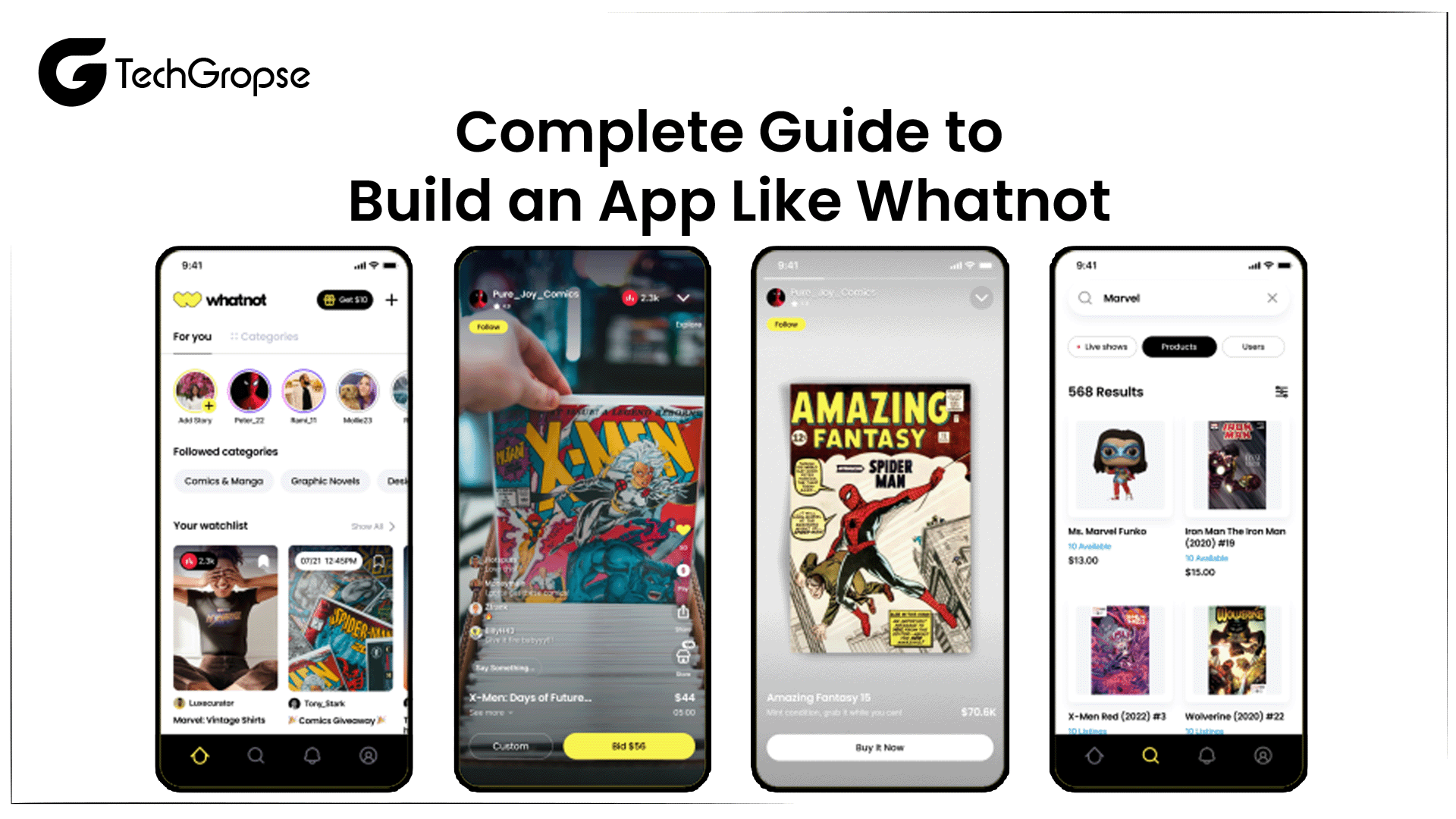 Building an app like Whatnot, a popular e-commerce platform for buying and selling collectables, requires careful planning and execution. Here are 10 steps to guide you through this process.
1. Identify your Target Group
Start by understanding your app's users. Whatnot is primarily aimed at collectors, so you'll have to decide whether to focus on a similar niche or expand your reach.
2. Define the Purpose of Your App
Be clear about the purpose of your app. Decide whether to create a platform solely for collecting and selling collectibles or to integrate additional features such as social interaction and auction mechanisms. 
3. Conduct Market Research
Thoroughly research the market and analyze competitors. Identify gaps in existing solutions and determine how your app can offer a unique value proposition to your users.
4. Create a Feature List
Based on our market research, we created a comprehensive list of features that the app offers. This may include user registration, product listings, payment integrations, search functionality, messaging, ratings and reviews.
5. Design the User Interface 
Work with UI/UX designers to create intuitive and visually appealing user interfaces. Focus on providing a seamless user experience that allows buyers and sellers to easily navigate, search for items, and interact with each other.
6. Develop the Backend
Hire experienced developers to build the backend infrastructure for your app. This includes setting up databases, servers, and APIs for user authentication, data storage, and communication between your app and external services such as payment gateways.
7. Implement Front-end Development
Front-end developers turn UI designs into real code using frameworks like React Native and Flutter for cross-platform app development. These ensure that your app works smoothly on different devices and screen sizes.
8. Integrate Payment Gateways
We work with trusted payment processors to integrate secure and reliable payment options into your app. This allows users to make purchases and facilitates smooth transactions between buyers and sellers.
9. Test the App
Conduct rigorous testing to identify and fix bugs and usability issues. We perform both functional testing to ensure that everything works as intended and user testing to gather feedback and make necessary improvements.
10. Launch Your App and Market It
After thoroughly testing and improving your app, release it to the app stores (iOS and Android) and promote it through various marketing channels. Work with influencers, use social media and apply digital marketing strategies to engage users and build vibrant communities. 
Conclusion 
Over the years, the demand for video shopping apps is becoming high. Therefore, lots of companies are deciding to build an app like Whatnot. But building an app like it is more challenging because it requires several aspects. As a result, you must seek the help of a leading mobile app development company with years of experience to build a functional and easy-to-use app.
However, you must know the Whatnot app development cost before handing over your project to someone. It will assist you in making a wise decision that is essential for the success of your project.
FAQs
1. How Much Does it Cost to Build an App Like Whatnot?
The cost of app development depends on several factors such as complexity, type of framework, location of the developers and many other factors. In order to determine the actual cost, you have to communicate with the project manager of a selected on-demand app development company.
2. How Much Time Does It Take to Build an App Like Whatnot?
Unlike the cost, time also depends on multiple factors. Some of the considerations are framework, features, experience and complexity. If there is less complexity, then your project takes 3-6 months. If there is high complexity, then you have to wait for 6 months or more. 
3. Can you Provide Maintenance and Support Services After the Development Services?
Of course, we provide maintenance and support services to our valuable clients for 1 year free of charge when they take app development services from us. After that, they have to pay a small amount.