Auction is also a trend still now. However, technology makes some changes in the action procedure. Since everything in the present era has become digital, the auction has always become online. Creating an auction application can be a lucrative venture, as it taps into the growing online marketplace and offers a platform for buyers and sellers to interact. As a result, it is profitable to build an auction app.
However, there are several aspects you have to consider when deciding to build an auction app. Therefore, it is important to make sure that you know all the aspects of building an app. To make the development process more efficient, you can also seek the help of professionals who have good skill sets, years of experience and a proven track record. If you decide to build your own app, you are at the right place. In this comprehensive guide, we will outline the process to build an auction app, covering everything from planning and design to development and launch.
Auction App Brief Overview
Auction applications have become a significant trend in today's time. Whether you have a retail business or real estate, you can sell everything worldwide through the help of an auction app. You know that an online auction app is just like a virtual marketplace where you bring buyers and sellers who are interested in bidding on one platform.
We all know that the auction has a period so the seller can gain maximum from the bidding. As a result, many entrepreneurs concentrate on building an auction app or website such as eBay. However, the current procedure of auction is somewhat different from the traditional one. If you enter as a buyer in one of the online auction apps, you will opt for a list of all the products the seller wants to sell.
Therefore, it is your discretion to select a product at your convenience. In today's time, numerous auction applications, such as eBay, have become household names. As a result, if you want to build an auction app, it is necessary to do complete research on the market and the procedure of how the application works. On the other hand, the application is user-friendly and easy to use.
In order to make the application development process more efficient, you can search for an auction app development company that has worked on similar projects in the past and can easily handle the complexity. They will help you take your business to the next level easily.
Is it Worth Building Your Own Auction App?
We live in a technological era where everything is just a tap away. The same thing about online auction applications. With the help of such an application, buyers can bid for any product at their convenience. It means whether travelling or in the kitchen, people can still be a part of online action. Below, we list out the advantages of an online auction app:
The first and foremost advantage of an online auction is that you will defy distance and time. As a result, you are eligible to reach a large number of buyers worldwide. Since there are multiple types of buyers, such as young buyers and stay-at-home buyers, you can get them instantly.
Furthermore, mobile applications are in trend now, which means buyers can conveniently select. They are able to bid for the products sitting in the comfort of their couch. As a result, it is good to get auction app development services from a reputable name in the city that has a proven track record of past work.
Another great advantage of building an action app is that you have a larger reach. In simple terms, you can get potential buyers from your place and worldwide. So you are able to enhance your business globally.
It is true to say that auction app development has become beneficial to your business. As a result, it is a good idea to build an auction app. In order to make the development process more secure and efficient, you can contact the professionals.
Through the help of an online auction app, buyers are able to bid at their convenience. On the other hand, it allows a particular buyer to bid on multiple auctions on the same day. It can do so in the comfort of their house and at a time that is suitable for you. Furthermore, it is excellent for those who don't have the time to visit traditional auctions because of a lack of time and workload.
If you want to provide this advantage to your customers, it is good to build your own app by seeking the help of professionals who will assist you in every possible wayMoreover,  it is necessary to know the auction app development cost that helps you in setting a budget.
Hosting an online auction is less stressful for the sellers. This will save a lot of time and extra expenses, such as organizing the auction place for the visitors to build a perfect ambiance and other similar activities. But an auction app can make this task more convenient. Therefore, it is beneficial to build an auction app.
But when it comes to building an auction app, it is good to search for a leading mobile app development company with a dedicated team of developers to build robust and functional solutions per the client's requirements.
Last but not least, an auction app saves both time and money. It means this will save travel costs for buyers and sellers as well, and they can make all the transactions and deals from anywhere. On the other hand, there are no extra expenses such as venue charges and refreshment costs. Therefore, it is good for both buyers and sellers.
Step-By-Step Guide to Build an Auction App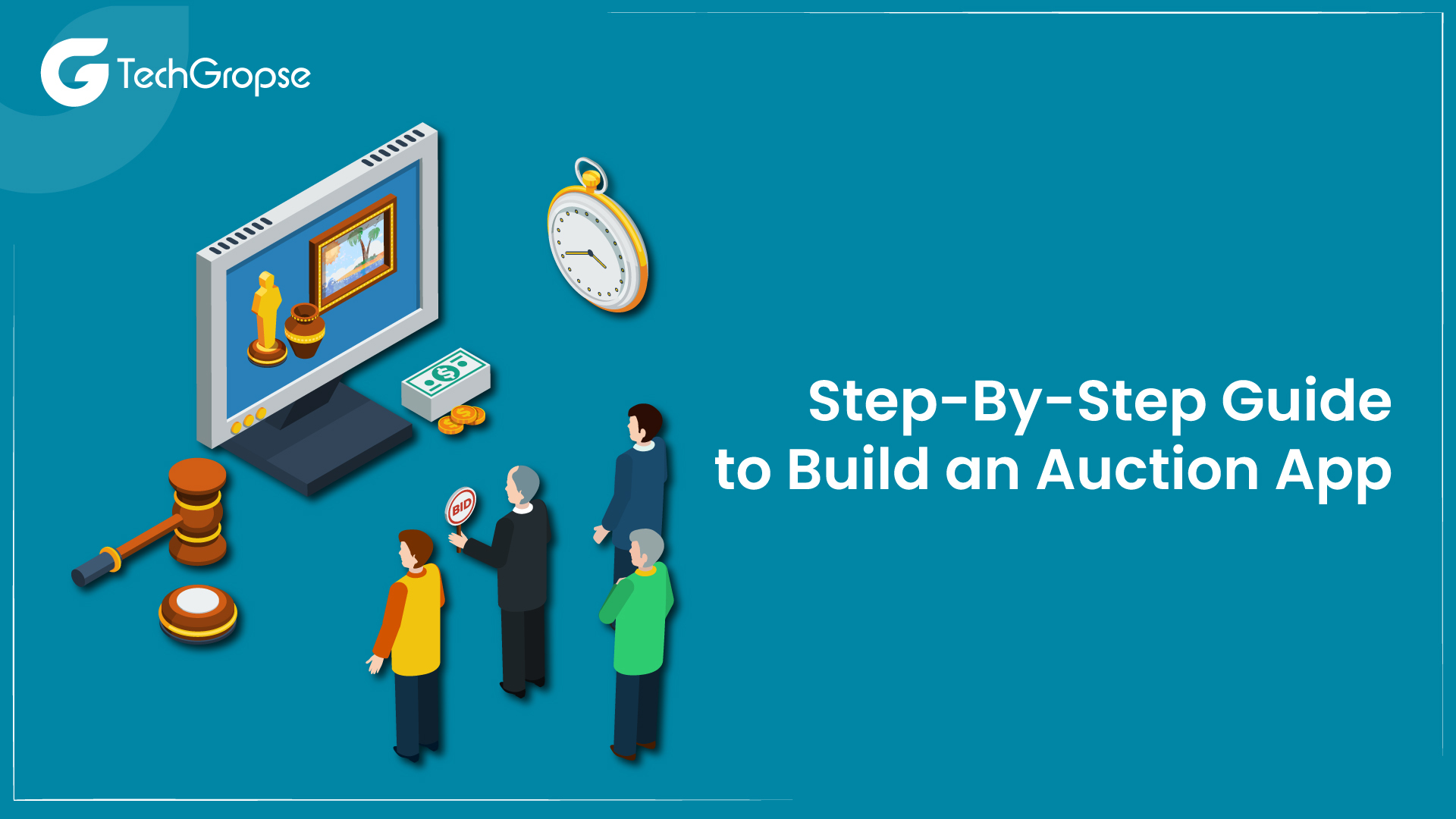 Creating an auction app can be a tough and challenging task, especially for those who don't have experience in app development and programming. However, it is possible to build a functional and robust application with careful planning, right support and attention to detail.
In order to build an auction app, you can follow the below-listed steps. By following these steps, you can easily build an app as per your requirements.
1. Choose a Domain Name
The domain name is important to help users find you easily. So, when deciding to build an auction app, it is important to choose a domain name. However, you have to make sure that the domain name is memorable. It will make sure that users easily find and access your online action app. Moreover, you need to ensure that the name is relevant, short, easy to pronounce, unique as well as SEO friendly.
There are many reputable domain registrars to select from. Some of the popular names are NameCheap, GoDaddy, Bluehost, Google Domains, etc. In case you are confused about which one is the right to choose a domain name, you can hire dedicated developers who will help you in choosing the right domain name that suits your business and build a functional app.
2. Get a Web Hosting Account
Web hosting is a service that generates storage space and servers across to websites and makes them available to the public via the internet. Without a web hosting account, you can access your auction app. Therefore, you have to keep an eye on several aspects. Some of the aspects are listed below:
Know your website's hosting needs
Research and compare web hosting providers
Choose a hosting plan based on storage, server resources, bewitch and pricing factors
Configure your domain name
Upload your online auction software files.
3. Define the Model of Online Auction App
Now, you have to select which auction application's format to implement. This is an essential step since it will determine how buyers and sellers interact and how online auction apps operate. There are undoubtedly several different auction models available, each with its advantages and disadvantages.
By choosing the right model, you can easily create an engaging and profitable platform that meets the target audience's requirements. Whether you want Android app development services or iPhone, it is necessary to define the model.
4. Enlist the Core Features of the Auction App
The feature list determines what functions the auction website, such as eBay, will provide to its users that directly impact user experience and engagement. You know that the increasingly fierce competition in the technology sector has offered customers more options for software products. Therefore, select the functions that appear on your own auction app.

5. List Technical Needs
This is another step you have to follow to build an auction app. In this step, you give all your technical needs for your upcoming bidding app to the development team and provide the right direction and tools for app development. If there are clear technical requirements, it is easy to optimize time and money in the development procedure.
Starting technical needs at an early stage, the enterprise facilitates communication between stakeholders and the development team. Therefore, it is required to list technical requirements.
6. Finalize the Tech Stack to Build an Auction App
Once you decide to build an automation app, it is necessary to finalize the technology stack. We all know that building an auction app needs a wide range of development technologies in order to work together seamlessly, the app development team is required to choose the right technology stack to make sure the output quality of the product. It will assist you in ensuring the success of iPhone app development projects.
7. Craft App Design
The app design interface of an auction site is an essential component as it directly affects the customer experience and is the face of the brand. Customer experience and is the face of the brand. You know that the customers tend to stick with services/products with good design.
Based on the technology needs and choices identified in the steps above, it's time to build mockups for your own online auction app that are appealing and user-friendly. Auction app layout, logo placement, theme, colour, etc., are the factors you have to consider in the UX/UI  design procedure.
8. Develop an MVP
Instead of building a complete app from scratch, building an MVP with only features to test the products and shorten time-to-market would be better. By letting early adopters experience the MVP first, you can gather their feedback and use it to improve later versions of the bidding system.
But don't take an MVP lightly. In order to make sure your target customer's requirements, don't forget to research the market and select the right key features thoroughly. Suppose you use a software outsourcing service to participate in the product development process. In that case, you have to protect yourself by composing a non-disclosure agreement and keeping the project's confidential information.
9. Test and Launch the Auction Website
We all are aware that app development is a procedure of constantly adapting, changing and perfecting. Therefore, you have to test your app before launching it on official sites. When it comes to testing an app, there are several methods, from manual to automatic, so you can choose one as per your need, whether it is usability test, A/B testing, load testing, user feedback or network security testing.
Once the app is tested, you have to launch it on Google Play Store or Apple Store. Moreover, you can share the download link on social media platforms. It will help users to download the application.
10. Marketing
Launching an app is not enough. People don't have any idea that you launch an app on Google Play Store or Apple Store, so it is necessary to advertise the app. For this, you can seek the help of social media, where thousands of people are online. When you share the link, people get more about your app and download it to their smartphone.
Final Note
Building a successful auction application requires a strategic approach, a deep understanding of the target audience and a commitment to quality and compliance. Once you decide to build an auction app, you have to make sure that all the aspects are up to date. In order to make sure that your project is going in the right direction, you can look out the above-listed steps and check that you follow all the steps.
In case you don't have technical knowledge and expertise, you can seek the help of an on-demand app development company  that is committed to providing you ultimate solutions as per the requirements of your business.
FAQs
What is an auction app, and how does it work?
An auction app is a digital platform that allows users to buy and sell items through an auction-style bidding process. Users can create listings for their items, set a starting price, and allow others to bid on those items. The highest bidder will win the item at the end of the auction.
 What are the main features of the auction app?
An auction app's essential features include user registration and authentication, ad creation, bidding functionality, real-time notifications, payment processing, user profiles, and functionality.
What technologies are commonly used to create auction applications?
Technologies commonly used to build auction apps include front-end technologies like HTML, CSS, JavaScript and frameworks like React or Vue.js. For the back end, you can use programming languages ​​like Python, Ruby or Node.js and use databases like PostgreSQL or MySQL. Real-time features can be implemented using WebSocket technology. Mobile apps can be built using platforms like React Native or Flutter.
How to plan application architecture?
Start by defining application requirements, user flows, and data models. Plan your database schema considering factors such as user accounts, advertising, auctions, and payments. Choose the appropriate technology stack for the front and back ends. Think about scalability and security from the beginning.
What are the security considerations for auction apps?
Security is critical to protecting users and their data. Perform secure authentication, authorization, and session management. Use HTTPS for secure communication. Protection from common web vulnerabilities such as SQL injection, Cross-Site Scripting (XSS), and Cross-Site Request Forgery (CSRF). Protects user payment information with encryption and compliance with payment industry standards.