Do you have any ideas to build an eCommerce app?
Yes!  It is required to have the right strategy, a full-proof plan and other things. From creating an eye-catching design to ensuring secure payment, there are numerous things to consider. This will help you to build a successful and easy-to-use application.
We all know that it's really challenging to visit several shops to buy different products and things for working and busy people. In such a case, people are looking for eCommerce apps that save time and also save money by providing exciting offers and discounts. As a result, many enterprises are looking for an eCommerce app development company to build e-commerce stores where everything is available online.
Today, in this podcast, we will discuss the complete process to build an eCommerce app, the features you have to include in your app and other essential things you have to know as it will make sure that your project succeeds.
The Common E-Commerce Applications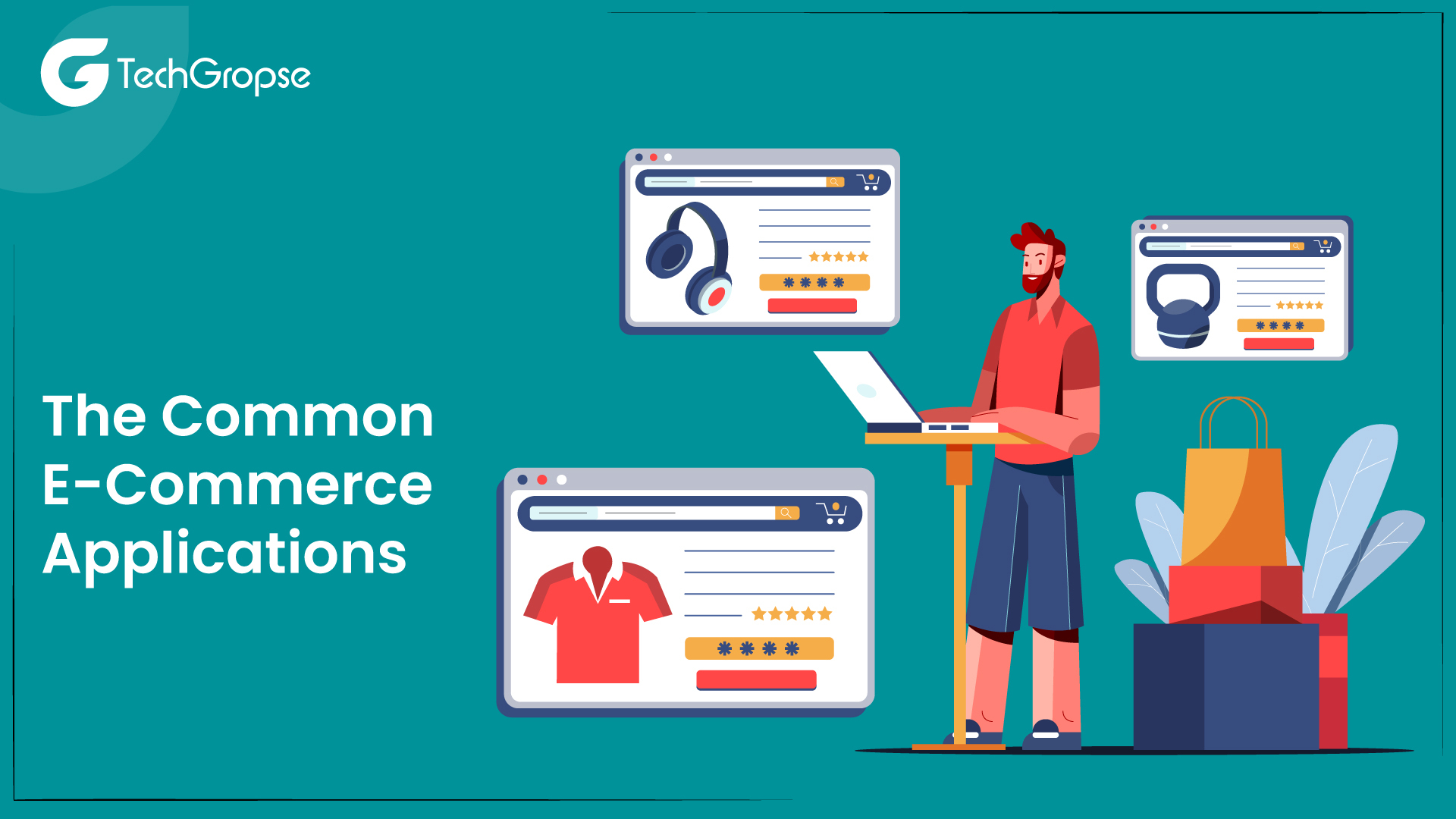 Diving into developing an eCommerce app, it is crucial to define the scope of app development. So when deciding to build an eCommerce app, it is necessary to consider what type of customers you want to cater for and what features would be most useful for them, keep an eye on their browsing habits and device capabilities.
Once you know what kind of app you need it is easy to take the next step. If you don't have any idea of what kind of application is profitable to you, the listed types of applications will assist you in starting the development process.
1. Manufacturing eCommerce Applications
Through the help of manufacturing procedures to collect, store or process raw materials to produce usable goods. Building manufacturing eCommerce applications is beneficial for industry and government. From production to distribution the whole procedure is expensive and lengthy.
As a result, it is beneficial to build such an application that helps the business to reach the next level with ease. Hope you understand the reason eCommerce applications are becoming increasingly easy to build. However, you have to search for   eCommerce app development companies in UK to provide the ultimate solutions as per your requirements.
2. Retail and Wholesale e-commerce Apps
The internet is the best place to sell products and services. Thus, it is a great idea to build a retail and wholesaler eCommerce app. This type of application can be created in several ways. So, this is an ideal choice to invest your hard-earned money in such kinds of projects to get more revenue and profit.
But prior to taking the next step, it is essential to contact the professionals. As they have the proper information knowledge and sources to build eCommerce app, they will suggest the best idea and also help to implement your ideas into reality.
3. Financial eCommerce Applications
No doubt that eCommerce is more closely connected to financial services than ever. Both are associated with successful businesses and businesses as well as banks use eCommerce solutions.  In simple terms, banks provide good Internet banking services for simple banking.
Through the help of such apps, banks can provide a good internet banking service to make banking simple. With financial eCommerce apps, users can check their bank accounts or pay through electronic payment. Therefore, it is also good to build financial eCommerce Apps that allow users to do transactions through the help of the internet.
But building this kind of application is not an easy task, which is why you have to do several things. You have to know the e-commerce app development cost and many other things prior to starting the development process.
4. Social Commerce
Social media platforms have become more than just communication tools; they are now powerful e-commerce platforms. Social commerce integrates shopping features into social media sites, allowing users to browse and purchase products without leaving the platform. Instagram Shopping and Facebook Marketplace are prominent examples of social commerce.
In order to make such an app, it is necessary to contact a mobile app development company that helps you in taking your business to the next level.
5. Subscription E-Commerce
Subscription e-commerce offers customers products or services on a recurring basis. This model is popular for products like streaming services (e.g., Netflix and Spotify), meal kits, and subscription boxes (e.g., Birchbox and Dollar Shave Club). Subscriptions provide convenience, personalization, and the anticipation of receiving new items regularly.
While deciding to build eCommerce app, you can choose subscription e-commerce services and succeed in the marketplace.
6. Dropshipping
Dropshipping is a unique e-commerce model where retailers don't stock products themselves. They partner with the suppliers who take care of inventory and shipping. In simple terms, when a user places an order, the supplier delivers the product directly tocustomers.This approach minimizes upfront costs and inventory management for retailers.
7. Digital Products and Services
 E-commerce isn't limited to physical goods. It also includes digital products and services like e-books, software downloads, online courses, and streaming content. Platforms such as Amazon Kindle, Udemy, and Netflix have thrived in this category.
8. Marketplace E-Commerce
 Marketplace e-commerce platforms bring together multiple sellers and buyers in one place. Examples include Etsy for handmade goods, Alibaba for global trade, and Shopify for entrepreneurs looking to create their own online stores. These platforms provide sellers with access to a larger customer base and often offer built-in tools for managing sales.
9. Cross-Border E-Commerce
With the globalization of e-commerce, cross-border transactions have become increasingly common. Consumers can purchase products from international sellers, and businesses can expand their reach to customers worldwide. Cross-border e-commerce is facilitated by platforms like AliExpress, eBay Global Shipping, and Shopify's international features.
Why Are e-Commerce Apps a Better Bet for Businesses?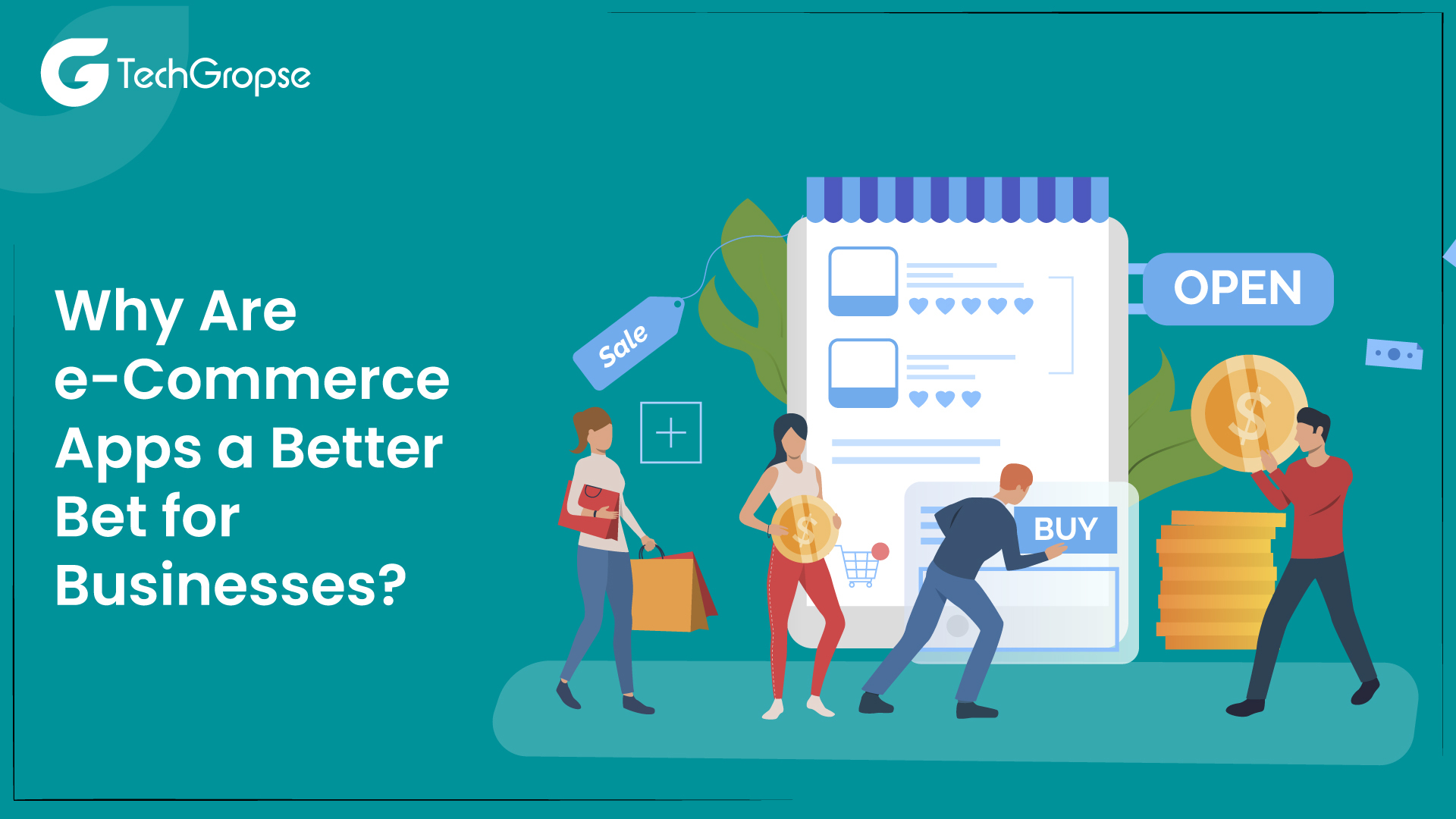 We all know that eCommerce applications are becoming more popular worldwide.  As a result, small to large enterprises are investing their money to build an eCommerce app. But still, people don't have an idea why eCommerce apps are a better bet for businesses.
If you are one of those who follow others but don't have any idea about this you have to read this section and know the reasons why eCommerce apps are best for your business:
1. Wider Range
E-commerce applications break down geographical barriers, allowing businesses to reach customers beyond their local area. With the right marketing and optimization strategies, an e-commerce app can attract a global customer base. This broader reach translates into increased sales potential and a larger customer base.
2. Convenience
Convenience is one of the main reasons why e-commerce apps are a better choice for businesses. Today's consumers value convenience more than ever, and e-commerce apps give them the ability to shop anytime, anywhere, from the comfort of home. This 24/7 accessibility can lead to higher conversion rates and customer satisfaction.
3. Custom
E-commerce applications can collect data about customer preferences and behaviour, allowing businesses to personalize their marketing efforts. By providing relevant product recommendations and personalized promotions, businesses can improve their customer's shopping experience, increase sales, and build brand loyalty.
4. A mobile-First World
We live in a mobile-first world. Smartphones are the primary devices people use to access the internet, and mobile apps are a natural extension of this trend. The e-commerce app is optimized for mobile devices, providing a seamless and user-friendly shopping experience on smaller screens. This mobile optimization can have a significant impact on the success of a business because it serves the majority of online shoppers.
5. Push Notifications
Businesses can deliver push alerts directly to clients' devices via e-commerce apps. This is a powerful marketing tool to inform users about new products, promotions and special offers in real-time. Push notifications can help re-engage inactive customers and boost sales during flash sales or limited-time offers.
6. Improve User Experience
E-commerce apps can provide a more streamlined and richer shopping experience than mobile websites. They can integrate features like one-click purchasing, intuitive navigation, and simple payment options, making the purchasing task faster and more enjoyable for customers.
7. Offline Access
E-commerce applications can provide some degree of offline access, allowing customers to browse products and add items to their carts even when they are not connected to the Internet. This feature ensures that potential sales are not lost due to poor connectivity.
These are some reasons why eCommerce apps are beneficial. If you know the reason, you can easily build an eCommerce app including rich features and technology that stand you from the crowd.
Steps You Have to Follow to Build an eCommerce App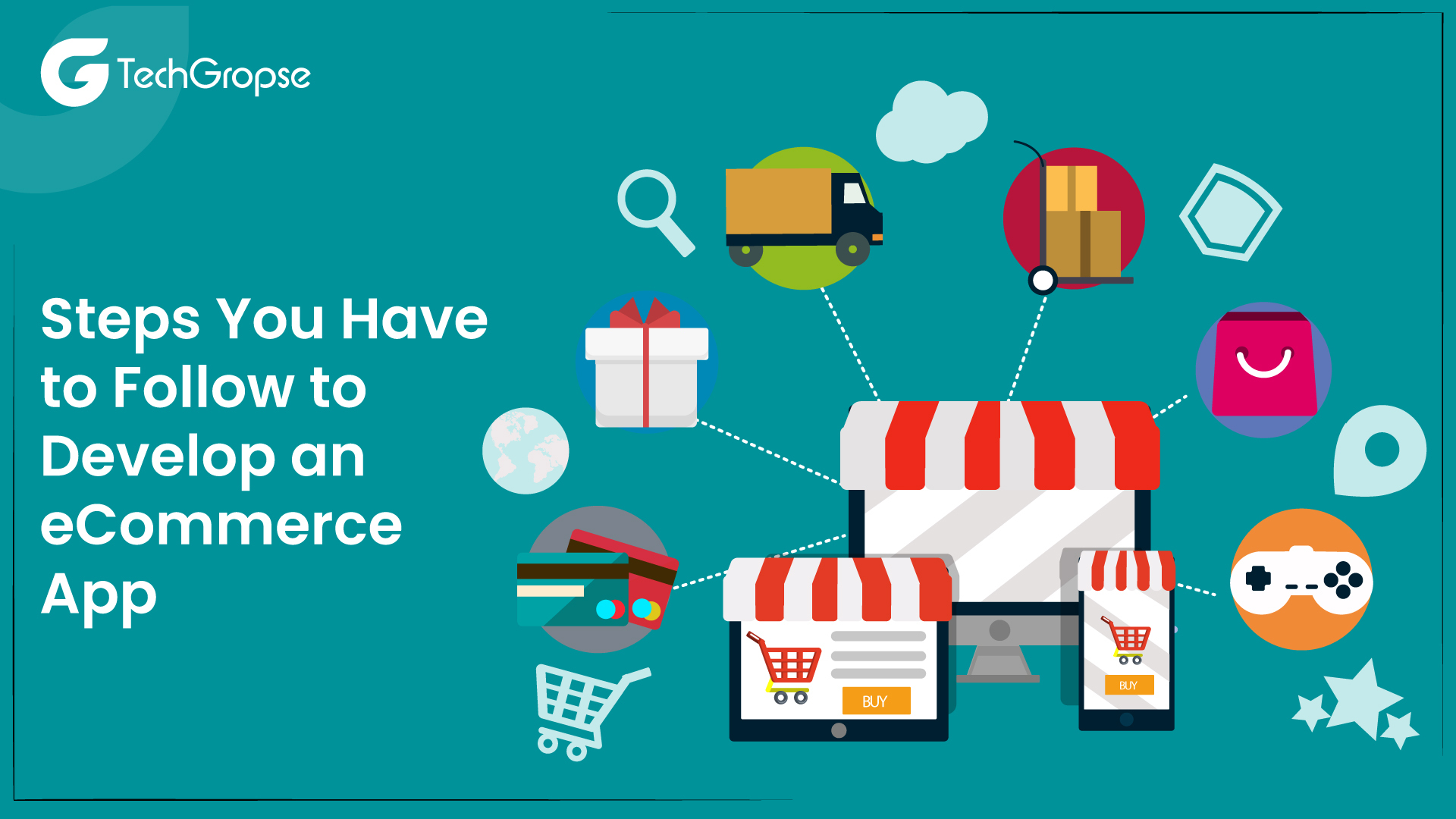 Developing an eCommerce app is not a cakewalk. As we mentioned, developing an eCommerce app requires several aspects. If you decide to build your own app, it is necessary to follow the complete procedure. For your help, we list out all the steps you have to follow to build an eCommerce app:
1. Research
This is the first and foremost important step to build an app. Once you decide to build an eCommerce app, it is essential to search and identify what's going on in the market and what is popular. It will give an idea to start the development process. Therefore, you have to search the market to define the right app platform and the features you have to include to make your application user-friendly and attractive.
2. Set the Goal
Once you do the research, it is required to set a goal for your business. To know the goal of app development, you have to ask three questions yourself, like what problems am I trying to solve, who am I selling the product to? And How do I understand if it's successful?
Asking these questions you can easily set a goal to build an eCommerce app. However, it is difficult to build an app on your own. Thus, you need to hire dedicated developers who have good knowledge, skills and experience.
3. Choose the Right Platform
Another step in developing an eCommerce app is choosing the right platform. You have to keep an eye on the ecommerce app development cost, inventory and choose the CMS, database and salable framework. With the help of this information, it is easy to decide whether you have to choose iOS, Android or both. It goes without saying that you require targeting the mobile platforms where you will get more users.
4. Define Feature Set
After that, you have to define a feature set. You have to make sure the necessary features you have to include in your app. Once you have a clear idea of the features, it is easy to take the next step. Login, push notifications, and in-app chat are common features every application has.
To make your application more attractive and eye-catching, you have to include advanced features that make shopping more convenient and easier. To make the application unique you can add a pay letter feature and support feature to the app. To build an app on time, you can hire an on-demand app development company.

5. Create UX/UI Design
UI/UX is the most crucial part of app development. Therefore, when deciding to build an eCommerce app, you have to ensure that the design of the app looks professional and eye-catching. If the design of the app is classy, it will become your voice and the business identity of the target customers. Colour schemes, smooth transitions, and appealing visuals from one page to another are what make a lasting impression on the customers.
6. Build MVP
MVP is a stage where you have to focus on the most important features of your app. Instead of implementing a full-fledged product right away, it is good to go for a continuous evaluation of the product, which fuels further revisions. The main aim of MVP is to learn what users think of the product, reduce risks, cut development time and allocate resources more efficiently.
7. Gather Feedback
Once MVP is released, it is necessary to start gathering feedback from customers. It's a procedure to check how users interact with the app, finding possible improvements and capturing feedback.
Feedback collection is significant in eCommerce app development as it assists you in figuring out what works for your target audience and what doesn't.
8. Search for a Dedicated Team
You have to search for a mobile app development company that has good years of experience and knowledge to build functional apps. A dedicated team of developers implement the idea into reality without compromising on the quality of a project.
The Final Note
Developing a successful e-commerce application requires meticulous planning, attention to detail, and a customer-centric approach. By following this step-by-step guide, you can create an app that not only meets the needs of your target audience but also stands out in the competitive e-commerce landscape. Remember that app development is a continuous process, and remaining adaptable and responsive to user feedback is key to long-term success.
To make the procedure easier and more convenient, you can seek the help of a mobile app development company that will help you take your business to the next level.
FAQs
1. What is an e-commerce application?
An e-commerce app is a mobile application, which allows users to browse, search, and purchase products or services online. It often includes features like product listings, shopping carts, payment processing, and order management.
2. What are the main steps in developing an e-commerce application?
Key steps include:
Planning
Market research
Design
Develop
Test the app
Launch
3. Which platform should I choose for my e-commerce app: iOS, Android, or both?
Choosing a platform depends on your target audience and budget. Developing for iOS and Android (cross-platform or native) will reach a wider user base. However, if your resources are limited, consider starting with a single platform and expanding later.
4. Should I create a native app or a cross-platform app?
 Choosing between native and cross-platform development depends on factors such as budget, development speed, and user experience. Native apps offer better performance and user experience but require platform-specific development. Cross-platform applications can save development time and resources but may have performance limitations.