Have you ever thought that you do not need a huge space to start a food business? Starting a food truck business is an excellent idea for your business, and you can grow more if you want to build a food truck app.
Food trucks have become a staple in many cities, offering a variety of delicious cuisine and a unique dining experience. With the rise in popularity of food trucks comes the need for businesses to stay ahead of the competition and offer customers a way to order and pay for their food conveniently.
The food truck industry has been growing over the past few years, with more and more people opting for the convenience and unique experience that food trucks provide.
It is where food truck apps come in, providing an easy customer ordering process and a way for business owners to manage their operations more efficiently.
You can reach a vast audience and increase sales by building an app allowing customers to locate and order from your mobile restaurant quickly. With exciting features such as GPS tracking and real-time menus, customers can always look at your truck and see what's on offer.
With push notifications about new menu items or special events, you can keep your loyal fans in the loop about anything with your business. So take advantage of the opportunity to expand your reach and improve customer experience to build food truck app today!
Communicating with an on-demand app development company that offers all these features in a single tap is essential.
In this post, we will explore the benefits of having a food truck app, the features to include in your app, and how to market it effectively to boost sales.
What is the Food Truck Industry?
The food truck industry is an exciting and dynamic industry that has evolved into a vibrant and growing part of the culinary industry. At its core, food trucks are mobile restaurants that provide easy, convenient, and delicious meals to people on the go.
These vehicles range in size from small carts selling snacks and beverages to oversized trucks with fully equipped kitchens that can prepare full-course meals.
One of the most benefits to build food truck app is its flexibility. These entrepreneurs can take their business on the road, catering at events, or visiting different locations within a city or town.
Additionally, they offer cuisine at affordable prices, making it accessible to many people who could not have access otherwise. With a focus on creativity, engagement, and entrepreneurial spirit, the food truck industry offers endless possibilities for innovation and growth.
Food trucks are mobile kitchens serving customers food and beverages in public places like parks, festivals, and downtown areas.
Current State of the Food Truck Industry
According to the National Restaurant Association, the food truck industry has increased steadily over the past decade, with more than 24,000 food trucks working in the United States. The industry has an estimated value of about $1.2 billion and is projected to continue expanding in the coming years.
The Rise of Build Food Trucks App in the Business World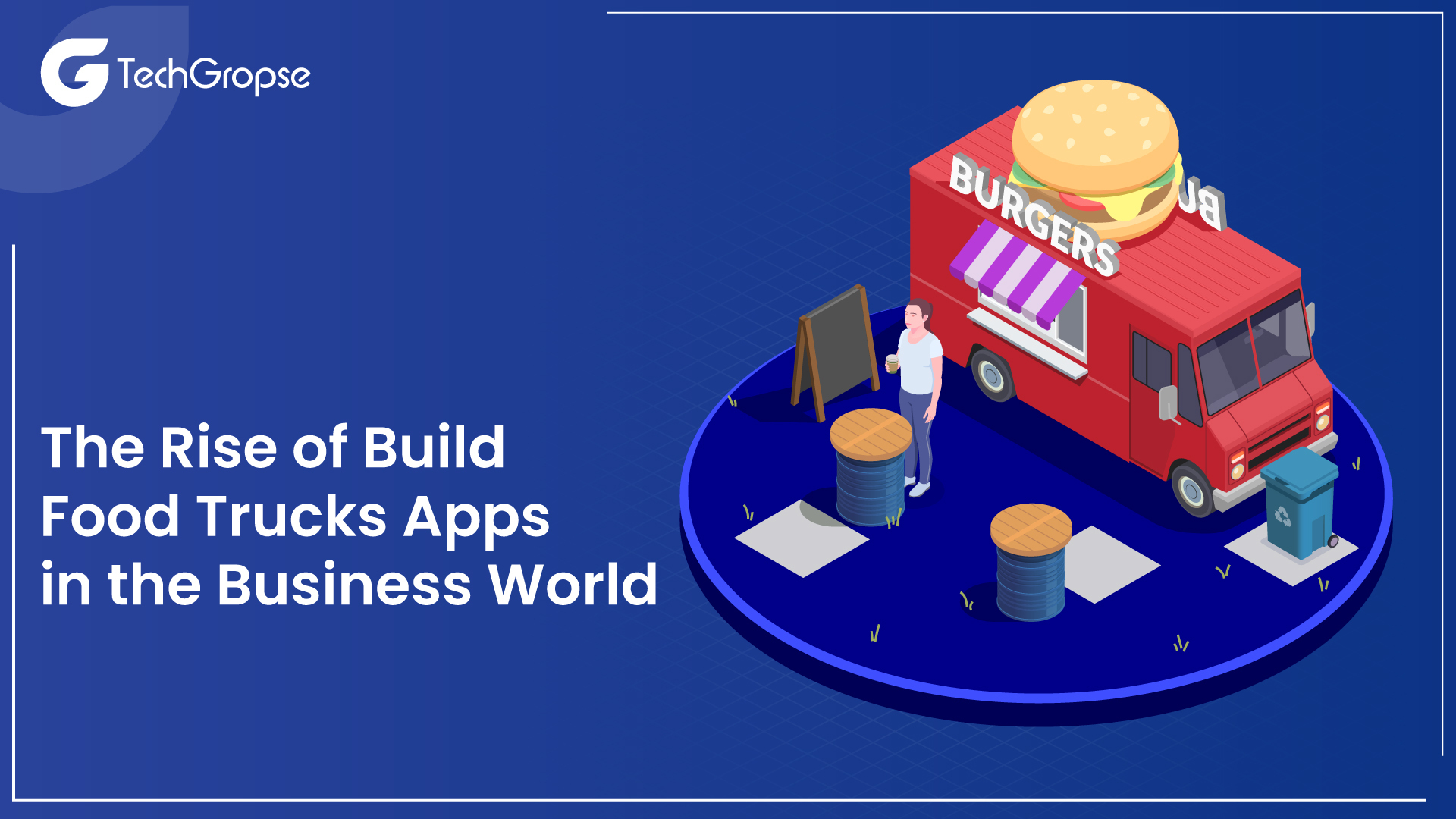 Food trucks have become a boom in recent years, popping up in cities worldwide with their delicious and innovative culinary offerings. The popularity of food trucks can be attributed to their low overhead costs and flexibility in location, offering them to bring their unique cuisine to various neighborhoods and events.
As you can see the popularity of the food industry, you can build a food truck app to grow and stand out in this competitive world.
1. Explaining the Popularity of Food Trucks
Food trucks offer a unique and affordable dining experience, often serving dishes, not in traditional brick-and-mortar restaurants. They also provide the convenience of quick and easy food on the go, making them a fantastic choice for busy individuals and families.
2. The Growing Need for Food Truck Apps
As the number of food trucks continues to rise, so does the need for efficient and user-friendly ways for customers to order and pay for their food. It is where food truck apps come in, allowing businesses to streamline operations and enhance the customer experience.
3. Impact of COVID-19 on the Food Truck Industry
Like other businesses, the food truck industry was also impacted by the COVID-19 pandemic. With the closure of many restaurants and dining establishments, food trucks have become a go-to option for people looking for an easy and safe meal.
The portability of food trucks made it easier for them to adapt to the ever-changing regulations and restrictions. It has made them an even more fantastic choice and has led to an enhancement in food truck app development services.
What are the Advantages of Food Truck App for Your Business
In the technology world, building a food truck app for your business is a great way to fulfill your customers' requirements. A food truck app can provide many advantages, like convenience, increased sales, and improved efficiency. You can get more benefits with Food Truck App Development Company that offer various services to boost your business.
1. Convenience for Customers
One of the essential advantages of having a food truck app is the convenience it provides to your customers. With the app, customers can quickly look at your food truck's location, view your menu, and place an order from their mobile device. It saves time and makes ordering more efficient for the customer and the food truck owner.
With the help of Food Truck App Development, you can have more exciting features so that customers get all the amazing things in just a single click.
2. Increased Sales and Revenue
If you are planning to build food truck app that helps enhance sales and profit for your business. With the app's ability to offer mobile ordering and payment, customers can order from anywhere and anytime. It can show increased sales, as customers can easily place an order without physically visiting the food truck.
3. Improved Efficiency for Food Truck Owners
A food truck app can also improve the efficiency of your business operations. With the app's ability to track orders and inventory, food truck owners can better maintain their business and decrease waste. It also allows them to focus on preparing quality food for their customers.
How to Start a Food Truck Business From Home
Did you know that there are apps that help you find food trucks? Yup, it's true! These apps make it easy to find your favorite food truck and enjoy yummy food with friends and family.
And get this; some people even love food trucks near their school or work. How cool is that? As a business owner, you can make your app to help people find your food truck and have a great time with their loved ones.
Imagine you have an excellent idea about any mobile app. You have to understand what you should do next. In this case, you should connect with a mobile app development company
that helps to convert your idea into a profitable business.
These apps work in two tactics including:
Dedicated food truck app: It works for a brand. It is only for you if you plan to start a specific business. You can offer all the excellent services to your customers through a dedicated food truck app where they can explore the fabulous menu, order their favorite food, and look at the location of trucks or trucks in their area.
Food truck finder app:  It follows the concept of Apps such as Uber, where you can build a platform to connect food truck owners to millions of customers. Here you will earn profit through listings and commissions.
Build food truck app business from home is an exciting and rewarding venture that allows you to share your passion for good food with the world.
Essential Key Features for Your Food Truck App Development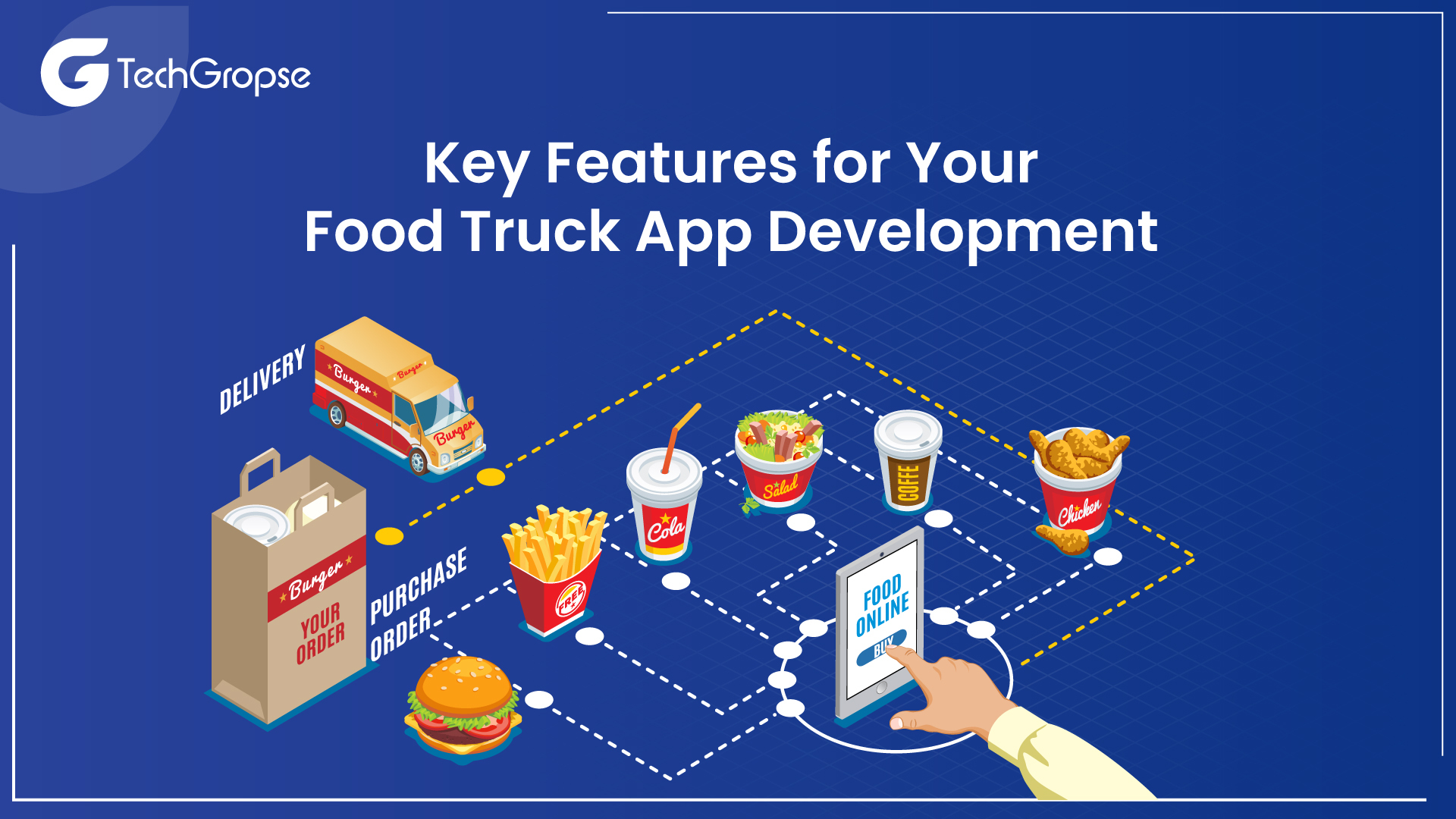 Food Truck App Development services customized food truck apps can provide even more benefits to your business. With the ability to customize your app's features and functionalities, you can tailor it to meet the specific requirements of your business.
# Basic Fetures
The basic features shows that a food truck app must have various features such as:
Easy & Quick Search: Your mobile app must have an easy search feature that helps users quickly search the truck nearby to their location. Users can explore the menu through the search feature and look for the specific food item they need.
Menu and Ordering System: Before building a food truck app, you should add the list of excellent services to customers for all your food trucks in the app, so they can visit their favorite menu items available. Your food truck app should include a menu and ordering system allowing customers to view your menu and place orders directly.
Real-time Location Tracking: Real-time location tracking is an important feature to include in your food truck app, as it allows customers to quickly locate your truck and see when it will arrive at their desired location. You must hire dedicated developers to integrate GPS in your food mobile app to let users navigate your truck.
Push Notification & In-app Messaging: If you plan to build food truck app, a push notification is an essential part of your application. It allows customers to know about your current specified location and store different new food items that will be planned to add to the menu.
This feature helps to send a message to various users at a time. Push notifications and in-app messaging can help you communicate with your customers and keep them updated on your location, menu changes, and promotions. It can help increase customer engagement and loyalty.
Revenue Growth: Nowadays, everyone wants to generate a high income and set the business to the next level. You can also become a profitable business to build food truck app. Food truck businesses can very well scale up orders and bookings, which helps to offer various choices for online food ordering facilities to their potential customers.
The user can place a food order like an online food ordering script. Also, the owner can arrange the charges to the customer's doorsteps. The inventory can be exceptionally maintained of multiple raw materials through the mobile application.
Rating & Review: Android app development company offers feedback features that your customers give their feedback to enhance the service and food quality. With this fantastic feature, you can verify which of your food trucks is working well and gaining the highest rating and review from their customers.
Time Scheduling: Customers can book the delivery time of their specific orders or meal while ordering, and it helps the customer avoid a waiting queue. It is expecting the particular business of every day for the business owner. Food truck app development for the food truck business excessively covers the way to making brand loyalty.
Different Payment Options: Food Truck business provides various options of payment that your customer can pick as per their suitability. It helps to enhance your services and quickly deliver a customer's doors to a broad collection. In this digital time, many customers prefer to pay bills via e-wallets, Credit/Debit cards, or net banking; therefore, it is essential to have this easy-to-pay feature.
#Advance Fetures
You can add advanced features to take your app to the next level. It will improve the user experience. Let's have a quick look at all these advance features:
Easy CMS: CMS offers business owners to handle all app panels effectively-for example, the user panel, admin panel, driver panel, restaurant panel, etc.
Analytics: When customers use any app, generated data is beneficial for analysis to make the right business decisions. The same concept is applied to the food truck app.
E-wallet: With the help of the e-wallet app, users can directly pay for their orders. They only have to recharge it every time. It is a quick and easy payment method with almost all modern apps.
Earning Tracker: It contains all the essential information related to all the orders and how much you have earned in a day, week, or month. You can easily monitor your orders and payment.
In-App Communication: Communication is an essential part of the business to create a strong bond with the customers. The in-app communication feature will help you to communicate with users directly.
How to Market Your Food Truck App to Increase Sales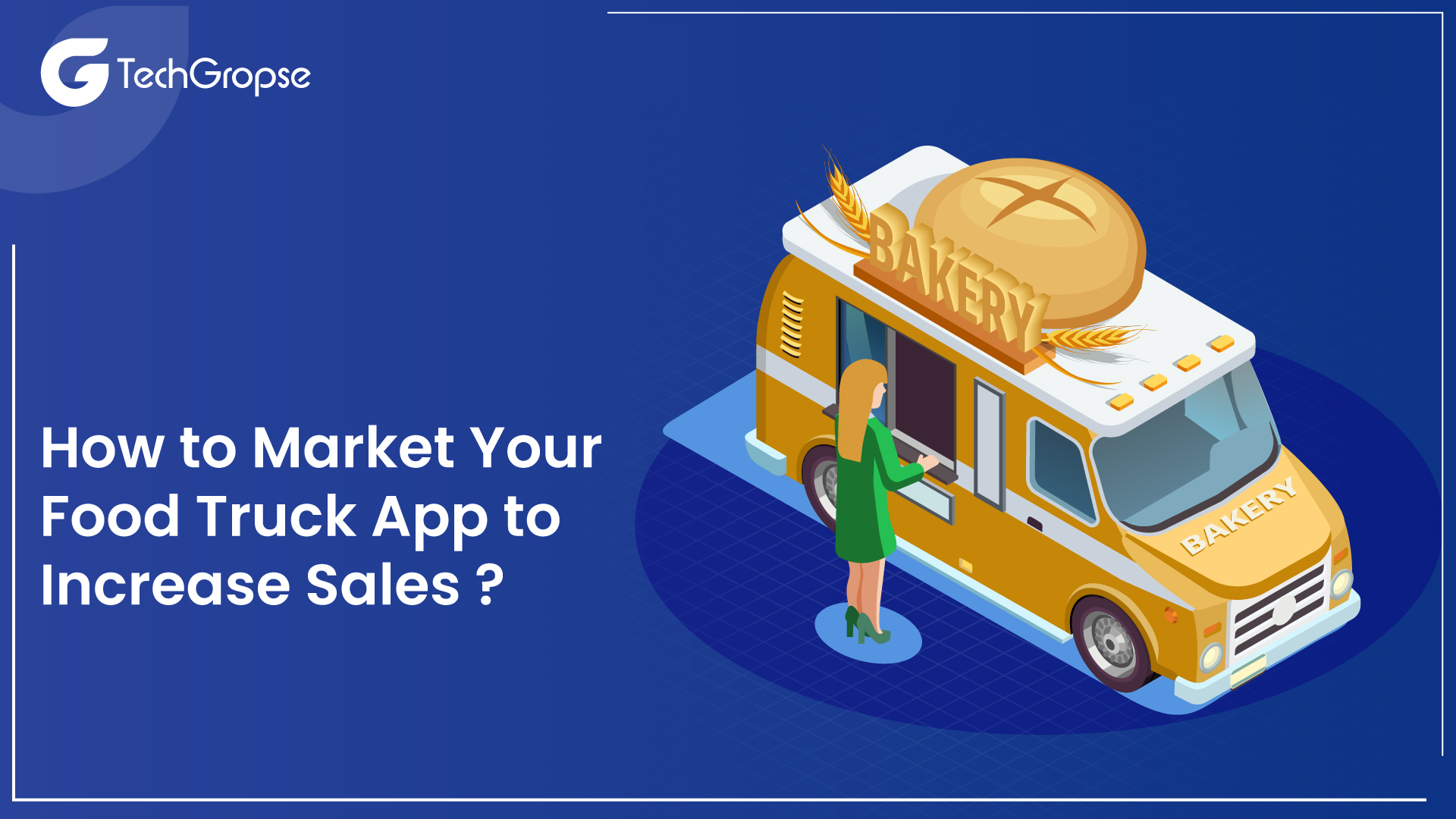 Once you plan to build a food truck app, it is essential to consider how to promote it to increase sales. Here are some effective marketing strategies including:
1. Social Media and Influencer Marketing
Social media is an excellent way to promote your food truck app. You can use social media platforms like Instagram, Facebook, or TikTok to show your app's features, share customer reviews, and offer exclusive discounts. Partnering with influencers can also help promote your app to potential customers.
2. App Store Optimization (ASO)
After build the food truck app,  you should move on to App Store Optimization (ASO). It is optimizing your app store listing to enhance its visibility and ranking. Ensure you write an outstanding app title, description, screenshots, and videos. Use relevant keywords for search optimization, and motivate customers to leave positive reviews and ratings.
3. Word of Mouth and Referral Marketing
Word of mouth and referral marketing can be a powerful way to promote your food truck app. Encourage existing customers to share the app with their friends and family. Offer attractive incentives or discounts to customers who refer your app to others.
How Much Does it Cost to Build Food Truck App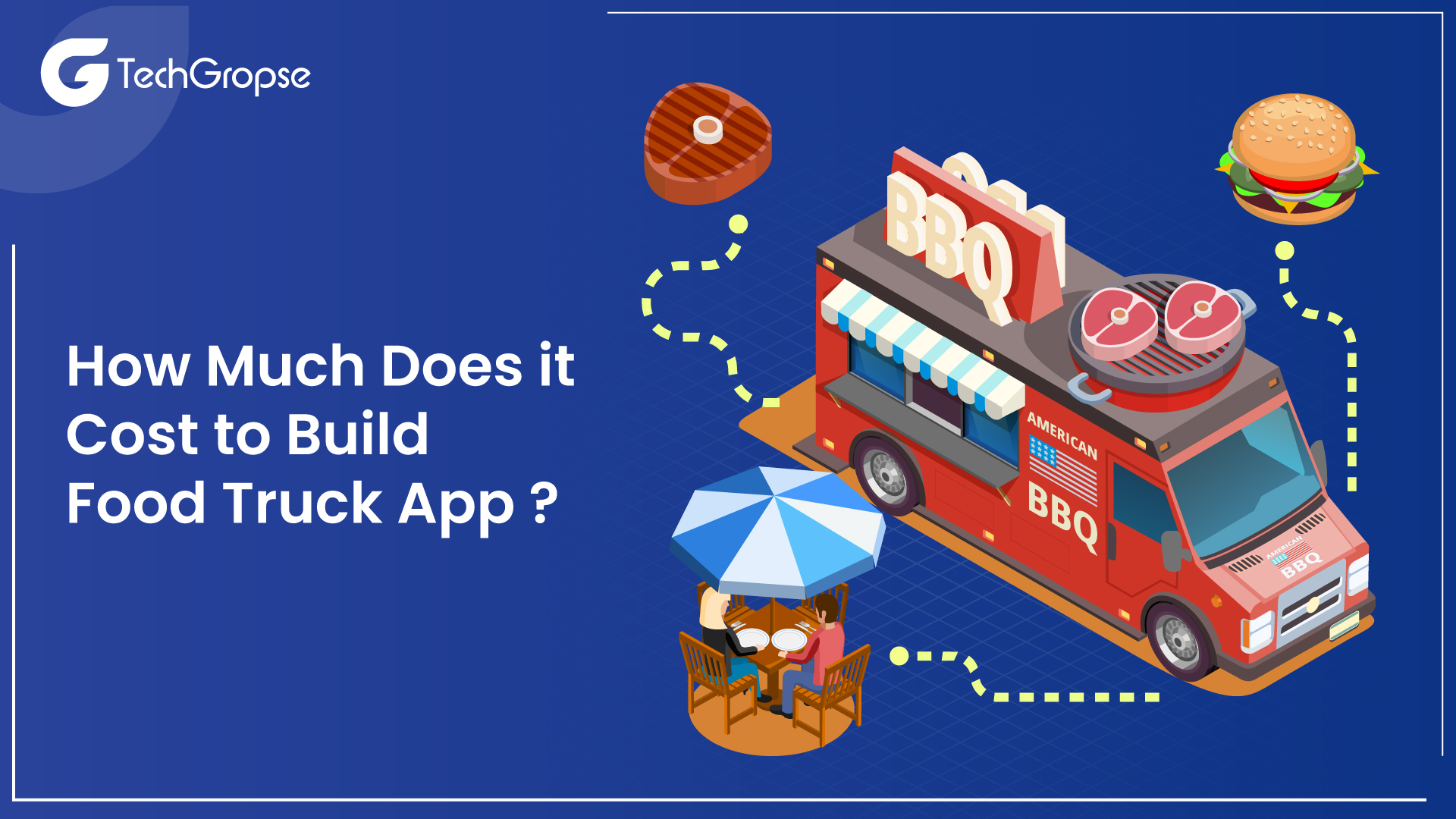 To Build food truck app is such an exciting prospect for any budding entrepreneur who wants to bring delicious meals to people on the go.
Food Truck App Development cost depends on multiple factors, and most countries are willing to develop your mobile app. The price depends on the following:
Design
Platforms
Development
Location
Standard Features
Advanced Features
Not only will a well-designed food truck app help you connect with customers and create more sales, but it also allows you to streamline your operations and enhance customer satisfaction. If you want to build a food truck app, investing in a high-quality app is a smart move that will pay off.
Real-Life Examples of Successful Food Truck Apps
If you want to build a food truck app, you should analyze so many food trucks out there; finding ways to stand out from the crowd is essential. Here are some examples of food truck apps for reference that have had success:
| | | | | |
| --- | --- | --- | --- | --- |
| S. No. | App Name | Reviews  | Rating | Download |
| 1 | Truckster | 2M+ | 4.1 | 10M+ |
| 2 | StreetFoodFinder | 0.5M+ | 4.8 | 10M+ |
| 3 | US Foods | 2M+ | 3.7 | 10M+ |
| 4 | Best Food Trucks | 1M+ | 4.2 | 10M+ |
| 5 | FoodPops | 1M+ | 4.1 | 1M+ |
| 6 | Zomato | 5M+ | 4.6 | 10M+ |
| 8 | Mobile Nom | 2M+ | 4.2 | 10M+ |
The Closing Words
A food truck app can be a game-changer for your food truck business. A food truck app can differentiate your business from the competition by offering convenience, boosting customer loyalty, and enhancing business efficiency.
If you plan, a food truck app can be a valuable addition to any food truck business, providing convenience and flexibility for customers and streamlining operations for business owners.
As the food truck industry continues to grow, staying ahead of the curve and embracing innovative technology is essential.
Take advantage of the benefits of a food truck app and explore your options for app development today.
FAQ: Why Your Business Need to Build Food Truck App
1. What is the advantage of a food truck?
In today's modern world, a food truck is a perfect way to satisfy your hunger without compromising quality or taste. These mobile kitchens provide a vast range of gourmet cuisines and unique dishes that you would not necessarily find in traditional restaurants. Still, they also come with the added advantage of mobility.
2. How do I attract a food truck business?
It may involve partnering with local businesses or securing permits from the city government. Marketing efforts will also be crucial in attracting a food truck business, like promoting the location through social media and local advertising. By taking these steps, you can create an environment where food trucks thrive and bring delicious cuisine to our community.
3. Why is social media advertising critical for a food truck?
In today's digital age, having a strong social media presence plays a vital role in growing any business, and this rings especially true for mobile vendors like myself. Social media provides an affordable and effective platform to reach potential customers, build brand recognition, and drive sales through geo-targeted ads and promotions.
4. What is the most profitable food cart business?
According to recent research and statistics, the most profitable food cart businesses specialize in high-demand foods such as hot dogs, tacos, pizza slices, ice cream, and coffee. These types of carts are always in demand because they appeal to a broad audience and can be sold quickly at a high volume.