Landing pages usually help to convert the audience into leads, which is why it is necessary to have a landing page in today's time. It serves as the initial point of contact between the audience and the brand, which makes the first impression count. A well-crafted landing page can drive conversions, capture leads and ultimately contribute to your business's success. Henceforth, you have to search for the best landing page builder.
You know that landing pages are generally designed with specific purposes, such as promoting a product, service, event or many more things. Its key objective is to guide visitors toward a single, focused call to action. You know that the design, content, and user experience are meticulously tailored to encourage visitors to take that desired action.
As a result, every company decides to build a landing page that helps them to get success. Today, we will briefly discuss the complete process to build a landing page and any other information you want.
An Overview Of the Landing Page
Aanding page is known to convert the visitors into leads. Each company has their own landing pages that help them generate more profit and allow visitors to visit a place where they can order products and services. The most noticeable part of the landing page is the prevalence of lead forms, which solicit users' contact information in return for something of value.
In simple terms, landing pages are specific web pages which are specially designed and optimized to motivate a particular action or conversion from its visitors. The actual work of the landing page is to guide the audience toward a specific call to action, including signing up for a newsletter, making a purchase, downloading ebooks etc.
Key Benefits of Building Landing Pages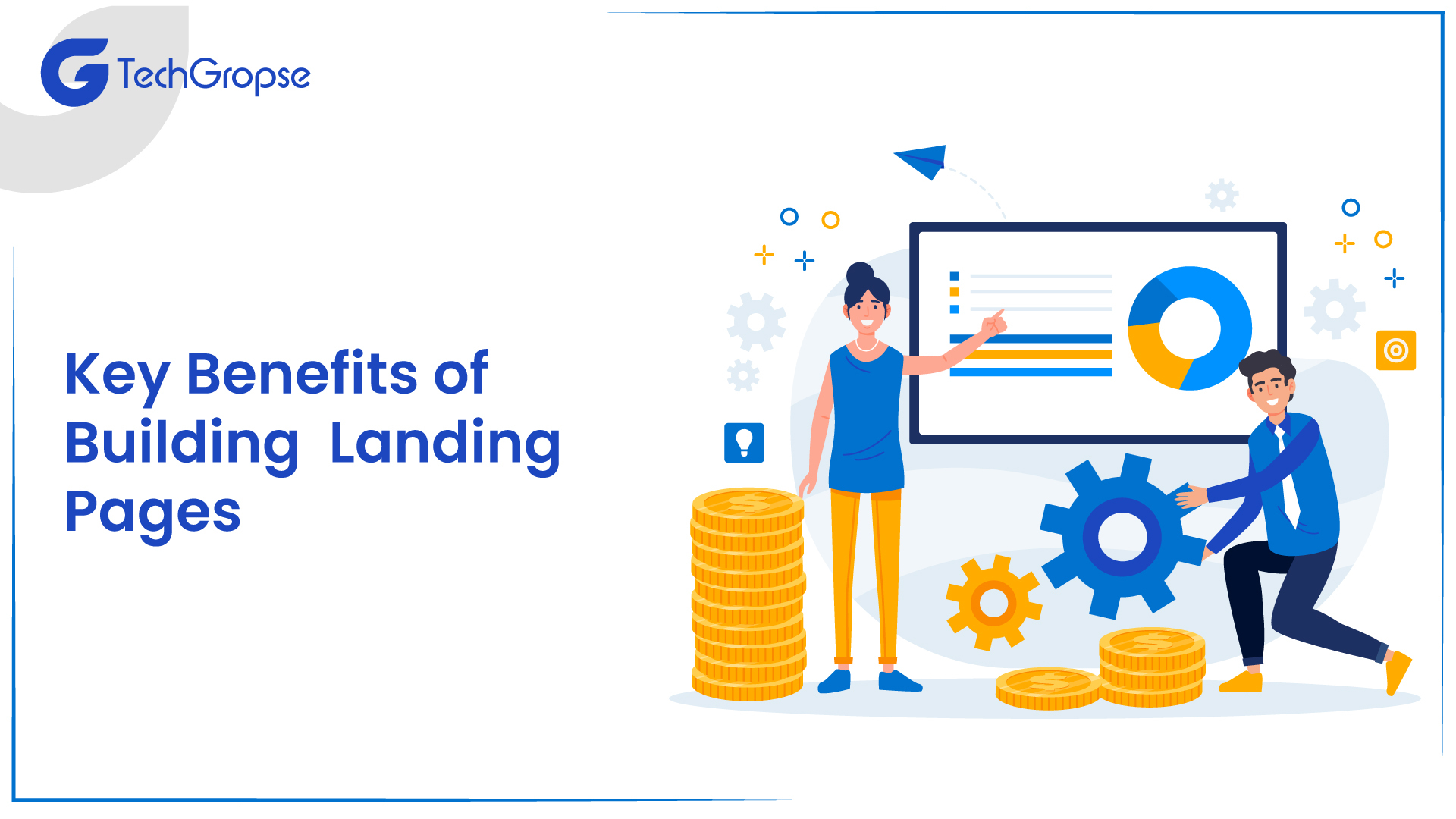 In the dynamic landscape of digital marketing, a landing page stands as a strategic cornerstone, providing numerous advantages that can significantly impact a business's success. As we mentioned above, a landing page is generally designed with a specific purpose to get more traffic to websites. Therefore, the demand for landing page development is high.
Apart from this, a landing page has many other advantages that make it profitable for businesses. Some of the benefits are listed below:
1. Precise Audience Targeting
No doubt, landing pages empower marketers to tailor their message to a specific target audience. Focusing on a particular product, offer, or service business can make sure that the content resonates with the intended audience's requirements and interests. The tailored approach improves the overall user experience by raising the possibility of visitors engaging with the information and taking the intended action.
In order to make the development process, you can also seek the help of a free landing page builder that will help you easily create a landing page to get more leads to your websites.
2. Enhance Conversion Rates
No doubt that a well-optimized landing page is a conversion powerhouse. Landing pages can guide visitors toward a single call to action by removing distractions and keeping the content streamlined and focused.
This clear path increases the chances of conversion, whether it's signing up for a newsletter, making a purchase, or downloading a resource. Therefore, you have to build landing pages for your business. With the help of the landing page, it is easy to enhance conversion rates that undoubtedly benefit your business.
3. Improve Data Collection and Insights
Landing pages serve as a valuable tool to collect data and insights about the audience. Businesses can gather information such as email addresses, names, demographics, and many more via forms and interactive elements. This information offers valuable insights into your audience's preferences and behavior, facilitating the customization of future marketing efforts and nurturing of leads.
If you need to learn how to build a landing page, search for a builder that makes the job easier and more convenient.
4. Effective A/B testing
A/B testing, also known as split testing, is an important aspect of refining marketing strategies. Landing pages are ideal candidates for A/B testing, allowing marketers to test different elements such as titles, images, CTAs, and layouts to determine which versions perform best. By analyzing the results, businesses can refine their landing pages for optimal conversion rates over time.
To create a landing page, you can search for a website development company that has a good portfolio of past work and a good reputation in the market. With years of expertise and knowledge, they will build a responsive landing page.
5. Seamless campaign integration
Landing pages are designed to link seamlessly with specific marketing campaigns. Whether you're running a social media ad campaign, email marketing campaign, or pay-per-click (PPC) campaign, a dedicated landing page ensures visitors get the message and experience they need as well as consistent experience, from initial ad to final conversion. This integration improves the consistency of the brand and strengthens its credibility. In simple terms, it is beneficial to build landing pages for businesses.
6. Increase SEO Relevance
Search Engine Optimization is important for driving organic traffic to your website. Landing pages can be optimized for specific keywords and phrases relevant to the campaign, improving their chances of ranking higher in search engine results. Because landing pages are heavily focused on a specific topic, they can cater to long-tail keywords, attracting more quality traffic.
7. Iterate and deploy quickly
Creating landing pages doesn't require extensive development work, especially when user-friendly tools and templates are available. This flexibility allows businesses to quickly create, test, and deploy landing pages for different campaigns. Whether you're responding to an urgent promotion or adapting to market trends, landing pages allow for quick action.
8. Measurable ROI
The effectiveness of landing pages can be quantified using key performance indicators (KPIs) such as conversion rate, click-through rate (CTR), bounce rate, and more. This measurable data provides insights into the ROI of your marketing efforts and helps justify resource allocation for future campaigns.
9. Improve branding and messaging
Landing pages provide an opportunity to reinforce your brand identity and message. By using design elements, color schemes, and consistent tones, businesses can create memorable and cohesive brand experiences. Additionally, landing pages allow you to convey a personalized message that directly addresses the problems and needs of your target audience.
10. Generate and Grow Leads
Landing pages are especially effective for generating leads. By offering valuable offers like ebooks, white papers, webinars, or discounts, businesses can entice visitors to provide their contact information. This kicks in the lead nurturing process, allowing you to interact with leads over time and guide them through the sales funnel.
Therefore, you have to create a landing page for your business. In such a case, you can also hire web developers who will help you in completing this job.
List of Best Landing Page Builders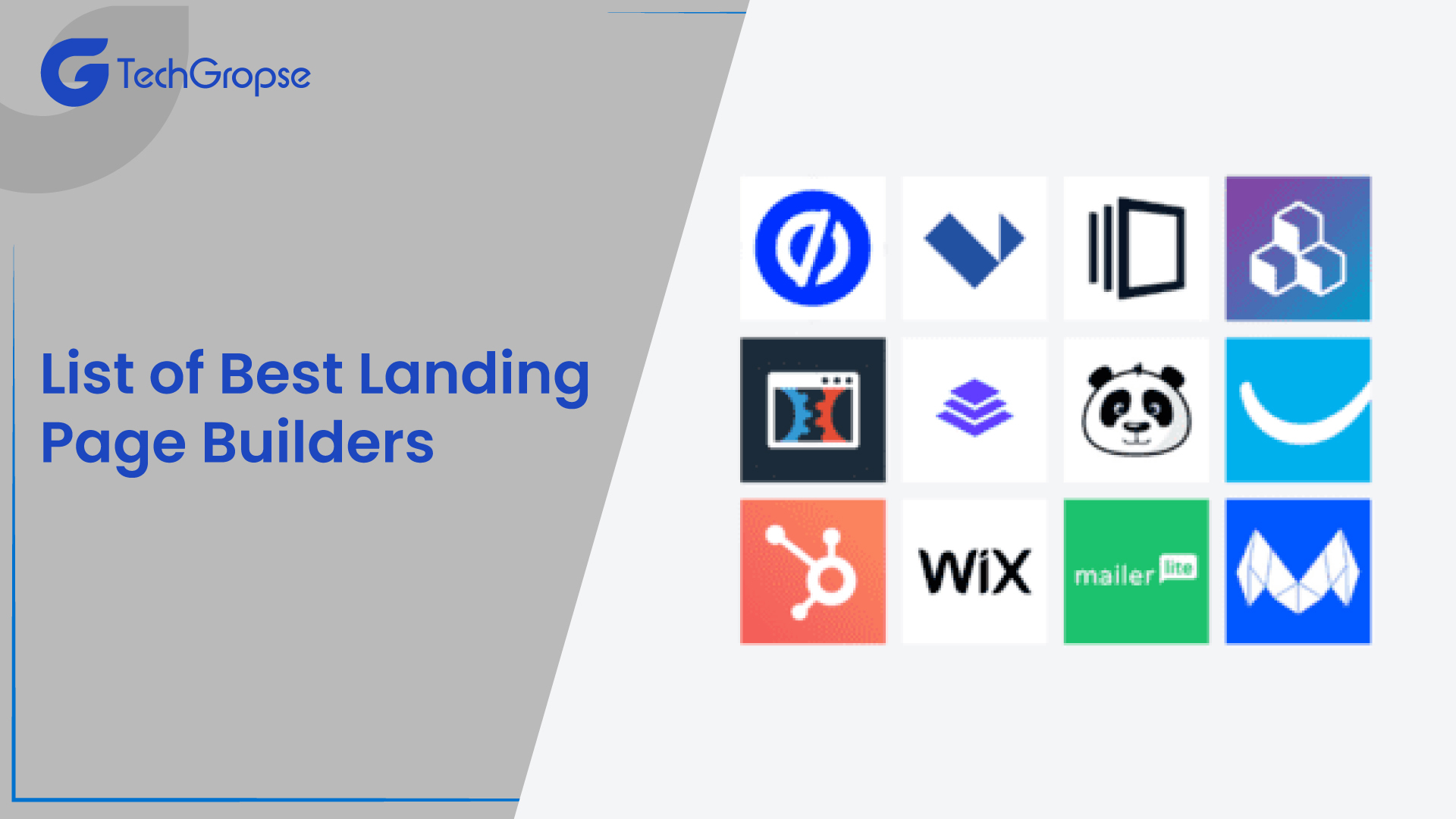 No doubt that landing pages play an essential role in the success of the business. Therefore, it is necessary to build a landing page for your business. If you don't have any idea how to build a landing page, you can seek the help of the listed landing page builders:
Unbounce is included in the list of  highly reputed landing pages builder in the market. Through the help of this app's drag-and-drop builder, users can build, launch and optimize custom landing pages for any campaign.
In order to use Unbounce, you have to pay $80/month. You know it is one of the most competitively priced for building a landing page. Once you take a basic plan, you can access 75 landing page templates with features such as HubSpot integration, WordPress & HubSpot and A/B testing.
Instapage is a popular landing page builder that consists of all the top features that a landing page builder requires to turn traffic into conversions. You know that the basic plan starts from $199/mo (Paid annually and provides you access to hundreds of mobile-friendly predesigned templates that are conversion-optimized to assist you in generating leads for your business.
Moreover, you are eligible to get access to Instapage's amazing image library, which consists of royalty-free stock images, videos, and vectors. Through Instapage's easy-to-use drag-and-drop page builder, you are able to design stunning landing pages and publish them within minutes.

When building a landing page, you can count on a Swipe page that helps you create instantly fast, mobile-optimized AMP landing pages. It has 70+ modern landing page templates; you can choose the template that best suits your requirements and customize it to your liking.
It is also integrated with popular payment platforms such as Stripe and PayPal, making it a great landing page builder. It also has affordable landing page builders on the market.
Leadpages is a great landing page-building software that provides powerful templates and tools to optimize leads and sales for your business. Here, you will get 160+ free landing page templates that can be sorted based on conversion rates and filtered by industry.
Its easy interface and drag-and-drop builder assist you in customizing the landing page without any technical skills. Apart from advanced features such as A/B testing and built-in payments, you always have the option to build lead capture pop-ups that can assist you in collecting leads from anywhere on your site.
Landingi landing page builder allows users to create and optimize their custom landing pages without programming skills. It provides a great selection of predesigned templates and offers you all the tools required to design and customize your own landing page, so they can convert visitors into leads.
Steps to Build a Landing Page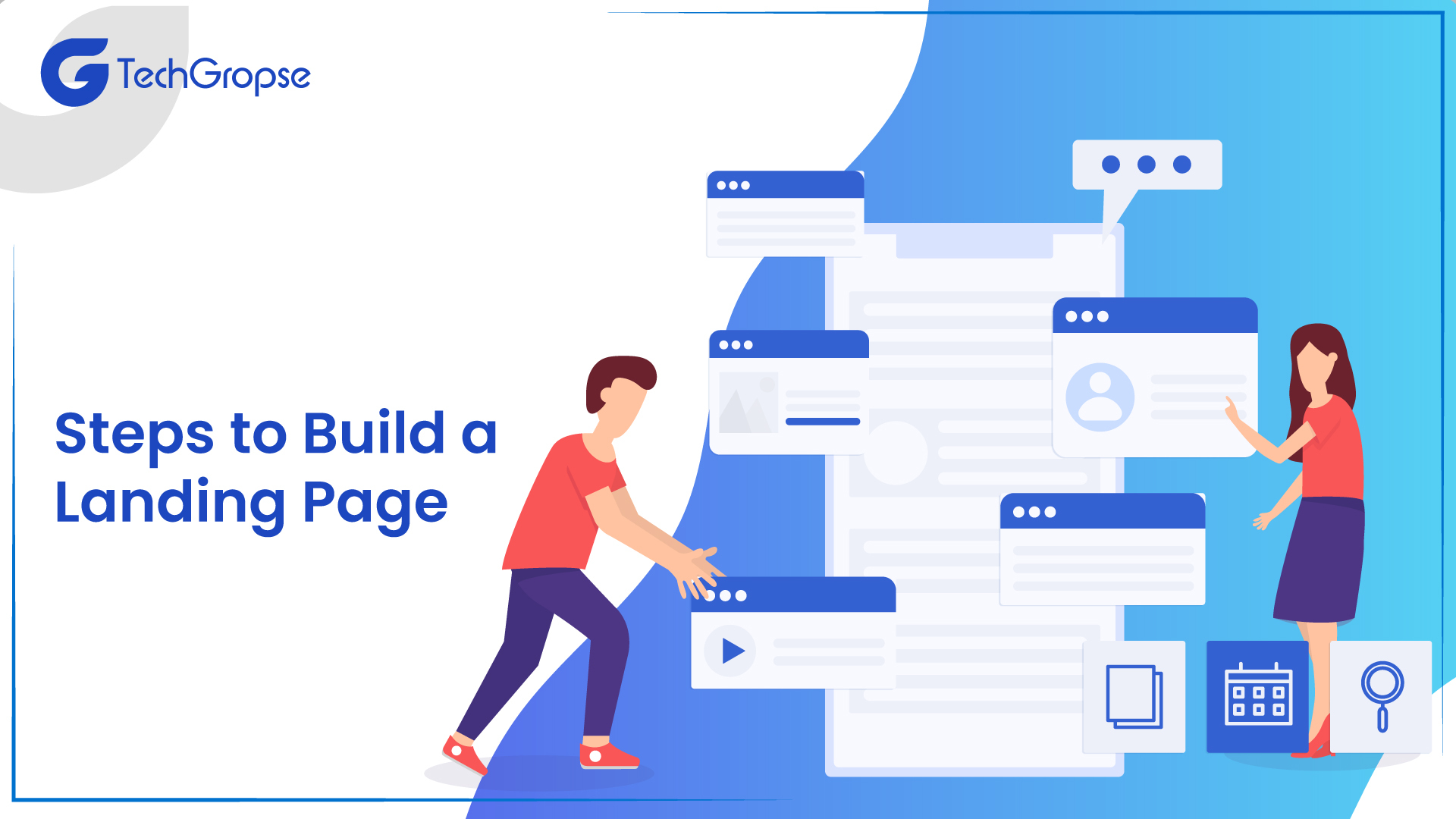 Once you know a landing page is essential for your business; you must follow the complete process. It is obvious that there are several landing page builders in the market, but all are relying on something other than them. If you want to build your own page, below is a simple step-by-step guide on how to create a landing page.
1. Create a Landing Page Signup Form
When deciding to build a landing page, you have to design one that helps you focus on your desired marketing goal. For this, you need a landing page with email signup. There are some platforms that provide specific forms for landing pages, while others let you build standalone landing pages that are easy to customize. So you can choose them to build a signup form.
2. Choose a Theme
You will obviously want to match your website's current theme. However, if you want unique and special landing pages for special occasions like Christmas or Friday, a different theme might serve as an eye-catching alternative. This step includes choosing a layout for the content on your landing page. You can change your selected layout's fonts, images, and colors.
3. Fill in the Content
Now you have to edit the template and fill it with fresh content. It includes promotional copy, logo, enticing headlines, and many more. You will always get to select the input fields to set up on your smartphone. A landing page always needs additional content, such as options to enable opt-ins for email or SMS marketing.
4. Adjust Design Elements
Similar to both theme and content, the landing page will need you to establish design elements. It includes the overall page layout, input fields, where you position your content, and your choice of colors, fonts, and other design elements throughout the page.
5. Set Sharing Options and Additional Settings
Now you have to adjust your setting to come up with the most efficient land pages. It includes sharing options so your visitors can share on social media, activating your CTA buttons and input fields, as well as setting a limited time for temporary landing pages.
6. Create a "success page."
After that, you have to make sure that there is a way for your customers to know their signup was successful. This is the main purpose of a success page. After your visitors have provided their contact information or engaged with your campaign, a success page will inform them that everything has proceeded as intended.
7. Test the Landing Page
Now you have to test the landing page. You have to make sure that the page is working properly. Generally, testing the process, from start to finish, will confirm that the landing page will offer your customers an enjoyable experience.
8. Launch the Landing Page
Once you have got your landing page searching great and you have made sure it has a 'success' page, you can launch it on your website and make the page live. It is a simple process, and with the right landing page builder, you get access to multiple features and improved landing page tools with advanced settings.
Final Note
A landing page is undoubtedly essential for your business's success. Henceforth, you have to build a landing page for your business. If you don't know how to build a landing page, it is suggested to hire dedicated developers.
Once you hire mobile app developers, they will easily build a landing page to generate more leads for your website. Moreover, they always strive for the quality of a product. Henceforth, it is good to rely on professionals for landing page creation.
FAQs
1. What is the landing page for?
A landing page is a single web page designed to convert visitors into leads or customers. It usually focuses on a specific offer, product, or action.
2. How do I define my target audience?
Research your target market's demographics, interests, and weaknesses to create content that resonates with them.
3. What should I include on my landing page?
Include a compelling headline, brief description, relevant images or videos, the benefits of the offer, a call to action (CTA), and social proof.
4. How to create an effective headline?
Create a clear, concise, and compelling headline that communicates the value of your product.