Have you ever had to wait a long time to get your hair done at the salon? Having to call or go in person to book your appointment can be super annoying. But guess what? There is a solution! We can build salon app that lets you book your salon appointment whenever you want.
In addition, who has the time or patience for that? It is not like we don't have apps for everything else these days. No more waiting on the phone or going to the salon in person. And the best part is that the salon managers can quickly track all their appointments.
The salon industry has undergone a massive transformation in recent years, with the rise of mobile technology and the increasing popularity of salon apps. In 2023, the salon industry is expected to continue its rapid growth, and salon apps will play an essential role in shaping its future.
If you are a salon owner or entrepreneur looking to build salon app in 2023, this post will offer you a complete guide on how to do so. From understanding the current salon app market and identifying your target audience to designing, developing, launching, and marketing your salon app, we will cover all the steps you must take to make your app a success.
Let's dive in!
The Rise of Technology in the Salon Industry
The beauty industry has always focused on making customers an enjoyable and relaxing experience. However, technology has revolutionized how salons operate, offering a new level of convenience, accessibility, and personalization for customers.
Salon apps have come to the forefront to fulfill the increasing demand for online bookings, personalized services, and tailored recommendations.
These apps are more than just convenient for customers. Still, they are also essential for salon owners to streamline their business processes and enhance customer service with a great mobile app development company.
Designing and Developing Your Salon App
Do you want to build salon app at a beauty salon? Many people use apps to make their lives easier, and businesses use them to stay ahead of the competition. A salon app might be just what your company needs to succeed.
In today's world, most people use the internet to find the needed services. That's why having a user-friendly salon app is so essential. Here are some reasons why you should invest in the best appointment booking app or salon app development:
It will help your business grow
It will make it easier for users to book appointments as per their need
It will save you time and money in the long run
So, if you are ready to take your salon to the next level, consider a salon app development company to make a great app!
1. Bookings Easier
When you want to go to a salon, it is essential to be able to make an appointment quickly. The people who work at the salon can create a unique computer program that lets you schedule your appointment. This helps them make sure that two people only accidentally book at one time. It also helps them avoid making mistakes when figuring out who is coming in and when.
2. Digital Improvement
If you own a salon, you can show it to the world using special computer programs for salons. This salon booking app development can help you get noticed online and stay ahead of other salons in today's digital world. Cool, right?
3. Attraction And Retention
Build salon app on your phone is super helpful. You can easily talk to salon people, make appointments, and do other stuff on the app. But, the people who make the app require it to ensure it works perfectly when many people use it. That's why they must provide the app's front and back parts to work together smoothly.
Why do You Need to Build Salon App?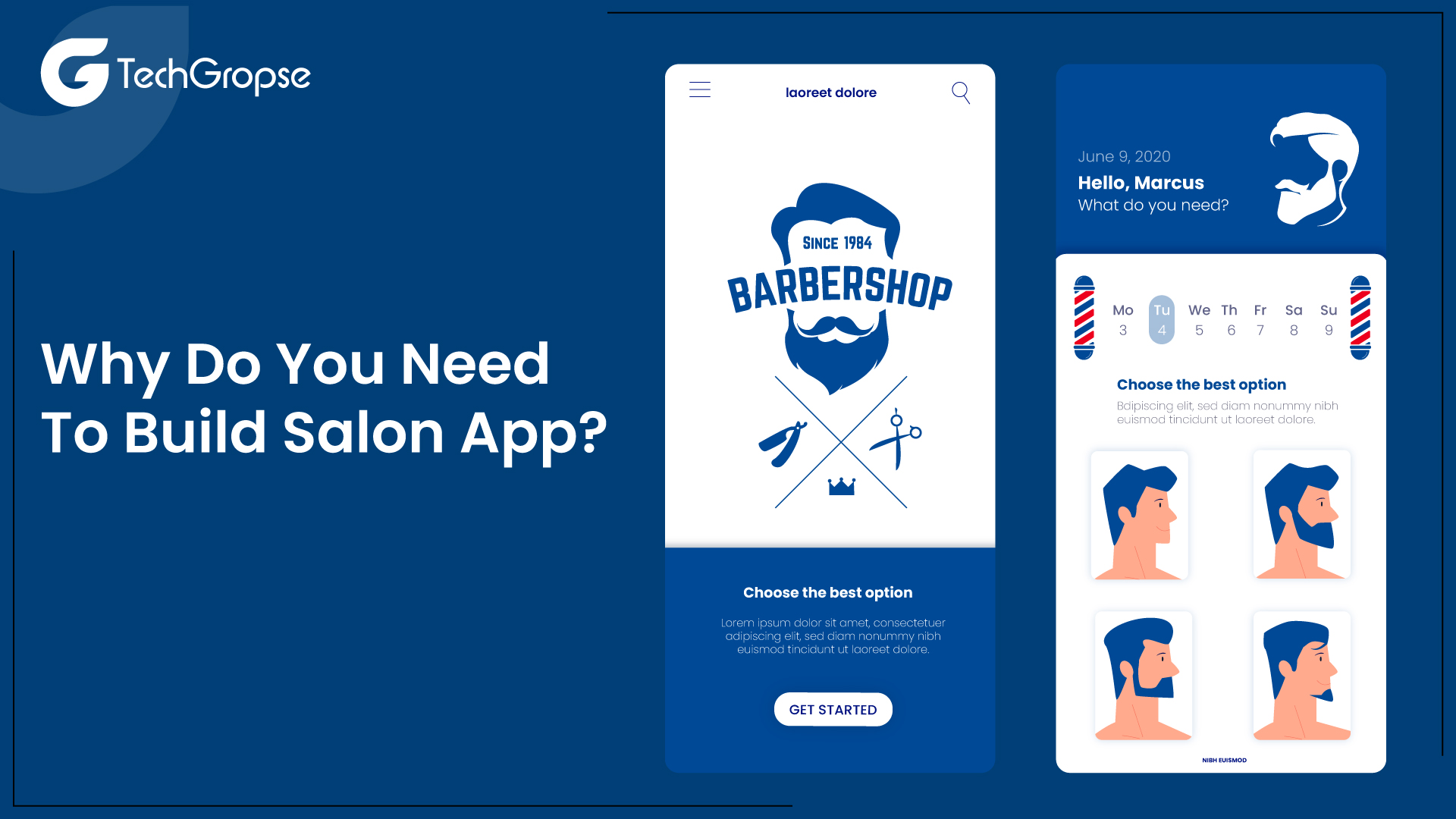 If you plan to build salon app, it is an excellent idea for any modern, tech-savvy business owner. Creating a salon app needs careful consideration of the needs of both the customers and the business.
Here are some compelling reasons why you should build salon app including:
A salon app offers the best platform for streamlining operations and enhancing customer experience. With anything from booking appointments to managing inventory and marketing services all in one place
A salon appointment booking app allows your clients to schedule an appointment as per their time and need, irrespective of your working hours.
The fact that many users are searching for 'Salons near me' and 'Book a salon near me' should tell you that you have to build a salon booking app to make it simple for them.
With the hire mobile app developers by your side, there is no limit to the fantastic features you can incorporate into your app – from personalized recommendations based on previous visits to exclusive rewards programs and photo galleries showing your work.
Build salon app is all about putting yourself ahead of the competition in every way possible and giving yourself the tools needed to grow and thrive in today's digital age.
How to Build Salon App for Your Business?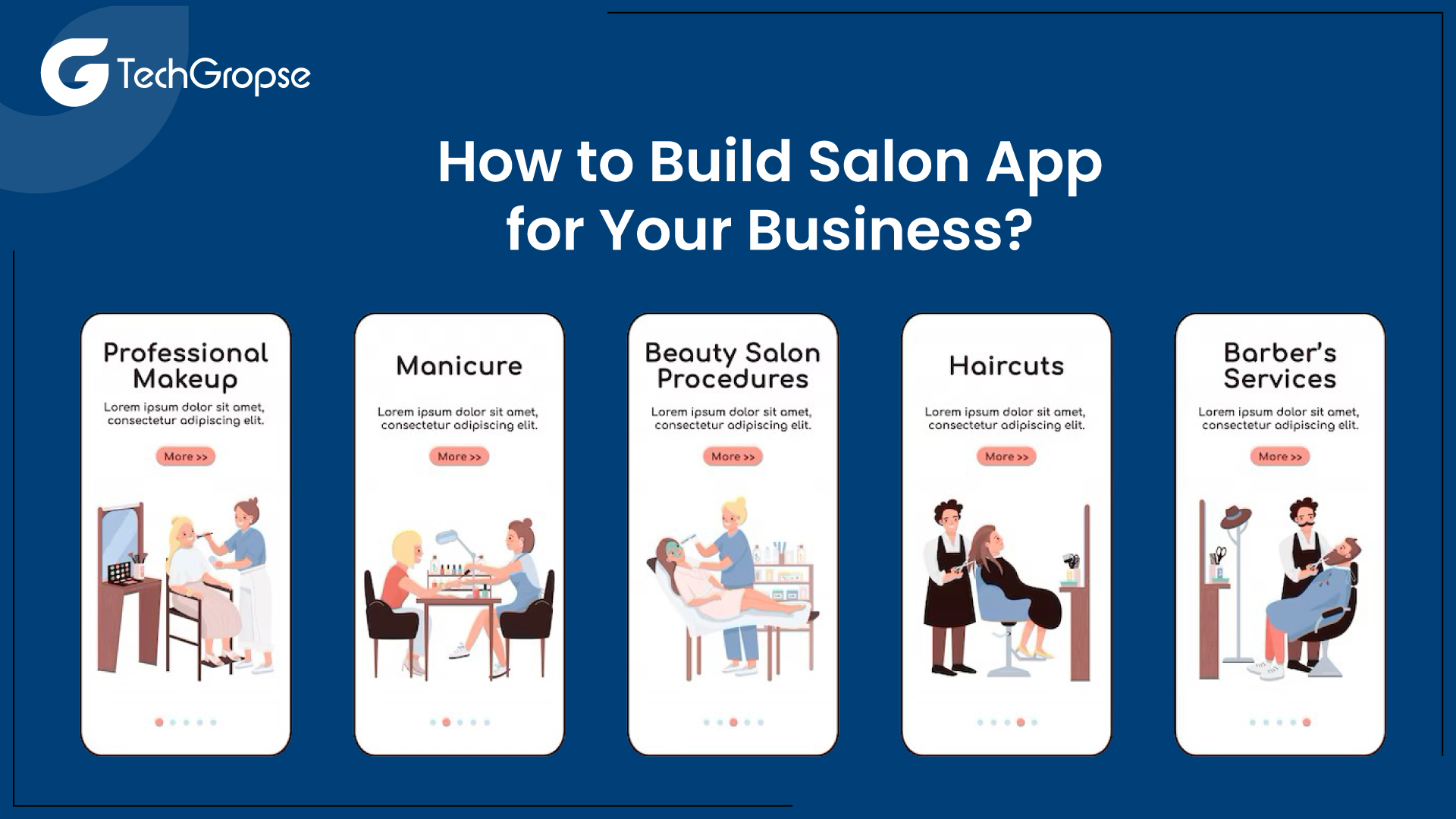 Before build salon app, it is essential to understand the pain points that customers face when scheduling appointments, managing their services, and staying connected with their salon.
Follow all these steps you can build salon app for your business such as:
1. Define Your Goals
This is an incredible opportunity to streamline and enhance the customer experience at the salon, making it more accessible and user-friendly than ever before. Many on demand app development company aim to build a mobile platform that will offer customers to easily schedule appointments, manage their profiles and preferences, and get personalized recommendations for services they may be interested in. You also serve as a hub for beauty tips, hairstyle inspiration, and exclusive promotions or discounts.
2. Research and Analysis for Salon App Development
Salon owners must know what their customers want and lack and what they are looking for in a salon app. Conducting market research and looking for customer feedback will help identify and address these pain points.
3. Defining Your Target Audience
When you plan to build salon app, it is essential to identify your target audience, and it is crucial for the success of your salon app. Are you targeting busy professionals, college students, or stay-at-home moms? This will determine the features and functionality of your app.
4. Understanding Your Unique Selling Point
Your unique selling point (USP) distinguishes your salon app from competitors. It could be your pricing, the quality of services you offer, or the convenience of using your app. Identify your USP and highlight it in your app's branding and marketing.
5. Developing Your Brand Identity
Your app's brand identity should reflect your target audience and USP. Your branding should be consistent across all platforms, from your app design to social media profiles.
6. Right Technology Stacks for Salon Apps
Factors to consider when selecting the right technology stack to build salon app include the complexity of features, budget, and your development team's expertise.
Android app development company offer various technology stacks like MEAN (MongoDB, Express.js, AngularJS, and Node.js), MERN (MongoDB, Express.js, React.js, and Node.js), and PHP (Laravel, CodeIgniter, and Yii). Choose a technology stack that aligns with your business needs and budget.
What Features Should You Include to Build Salon App?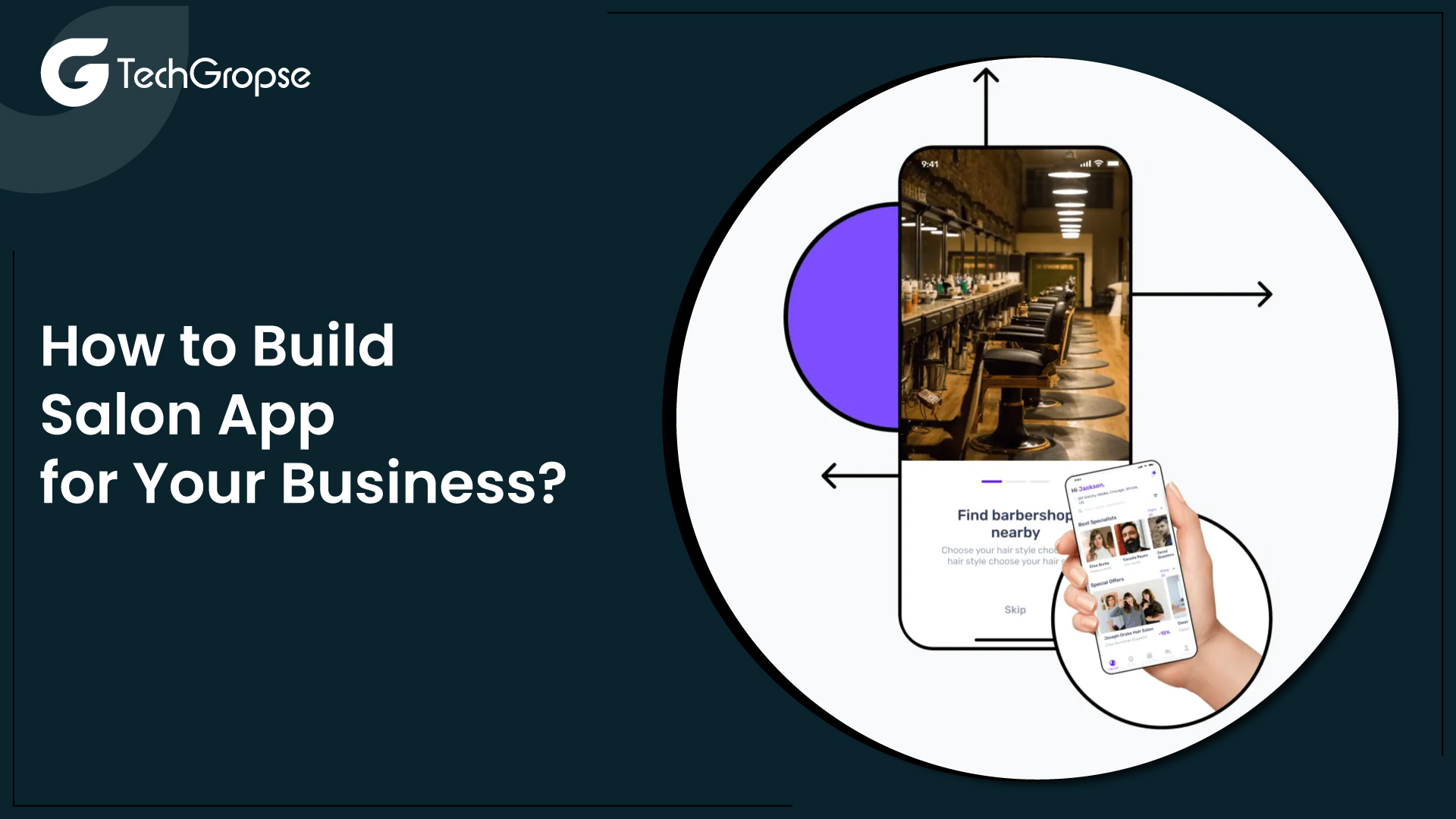 The beauty industry is frequently evolving, and new technologies and trends are constantly emerging. As you plan to build salon app, it is essential to stay up to date on these trends and innovations when you plan to build salon app.
For Customer
User friendly interface: Make the page's user-friendly interface look cool and exciting so that everyone visiting will want to return repeatedly.
In-built calendar: Remember to add a calendar to your app to keep track of all your appointments. This will help your customers easily see when you are available and book their appointments. It also connects to your calendar, so you won't double-book yourself.
Commitment fee: Ensure you include a commitment fee for customers who attend their appointments.
Push notifications: With so many apps and software out there, it is easy for people to forget about yours. But don't worry, there's a cool trick to remind them! It's called push notifications. It's a way to send your customers updates and news about your app. So, to ensure people remember your app, use push notifications.
Offers and Services: The app shows various services, deals, and associated discounts.
Festive discounts
Latest trends
Combo offers
Style library: Including a style, the library can be incredibly useful. Adding a photo gallery with tons of photos for your customers can help give stylists an idea of what they want, thus improving communication.
GPS: Every app these days uses GPS. You have to include GPS to guide your customers to search the salon.
Cashless beautification: This excellent app lets you pay for your beauty treatments without carrying cash. You can use your phone to pay, which is super easy and convenient. No more worrying about losing your money or forgetting your wallet at home. Open the app and pay for your treatment with a click on your phone.
In-app payments: In-app payments make it simple for your customers to make payments, especially in the post-COVID era. In-app payments offer you to maintain your secure customer's transactions and payment details.
For the Admin
Client management: For efficiently managing clients, there should be three arrangements:
A straightforward layout for viewing, adding, and deleting users
The providing to view client audits of beauticians
View and monitor client profiles
Beautician management: Use this simple and fantastic feature to add, delete, or update beautician management. You can also see the beautician's timetable.
Service management: The service management offers the admin to view, add, delete, and edit data. This data includes ID cards, bank details, beautician records, and appointments.
Appointment management: This feature lets the admin see and maintain past and upcoming appointments.
Benefits to Build Salon App for Your Business
The world has gone digital, and businesses that do not embrace technology risk getting left behind. One way to stay ahead of the game is by build salon app for your business.
If you are considering improving your beauty business, consider getting a Salon App. Many mobile app development company can help you give your customers a better experience and make your business more successful.
These apps are convenient for customers and essential for salon owners to streamline their business processes and enhance customer service. Happy customers mean a happy business.
1. Improved Customer Experience
24/7 Availability: Customers can book appointments anytime, even outside business hours.
Customizable Services: Customers can select services they want and customize them to their liking.
Personalized Notifications: Customers receive personalized notifications about appointments, promotions, and special offers.
2. Enhanced Business Efficiency
Streamlined Employee Management: Employees can manage their schedules, appointments, and client information from one place.
Easy Inventory Management: You can easily manage your inventory and avoid running out of supplies.
Automated Business Operations: Automate some of your operations, like appointment scheduling and reminders, to save time and improve efficiency.
3. Increased Revenue Generation
Automated Sales and Marketing: You can automate your sales and marketing efforts, making reaching more customers easier and generating more revenue.
Additional Revenue Streams: To generate more revenue, offer other services or products, such as home delivery.
Targeted Promotions and Discounts: Offer targeted promotions and discounts to attract and retain customers.
4. Streamlined Appointment Scheduling
Real-time Appointment Booking: Customers can book appointments in real time, making it easier to plan their schedules.
Automated Appointment Reminders: Automated reminders reduce the likelihood of missed appointments, which can lead to lost revenue.
Easy Rescheduling and Cancellations: Make it easy for customers to reschedule or cancel appointments, reducing the likelihood of no-shows.
5. Better Communication with Clients
Instant Messaging: Use the app to communicate with customers in real time, offering a more personalized experience.
Customer Feedback and Reviews: Allow customers to leave feedback and reviews on your services, helping you to enhance and attract new customers.
Exclusive Offers and Announcements: Offer special promotions and announcements to your loyal customers, making them feel valued.

6. Data Analytics and Insights
Business Performance Metrics: Use data analytics to monitor business performance metrics like revenue, customer satisfaction, and employee performance.
Customer Behavior Insights: Analyze customer behavior to gain insights into what they want and how you can enhance their experience.
Market Trends Analytics: Keep abreast of the latest market trends and competitors to stay ahead.
7. Personalized Marketing and Promotions
Targeted Promotions and Discounts: Target promotions and discounts to individual customer segments to boost loyalty and satisfaction.
Personalized Recommendations: Use customer data to provide customized recommendations on services or products they may be interested in.
Referral Programs: Reward customers for referring their friends and family to your business, attracting new customers, and increasing revenue.
8. Accessibility and Convenience for Clients
Mobile and Web-based Access: Customers can easily access the app from anywhere, making it more convenient to book appointments or stay updated on promotions.
Easy Navigation and User Interface: Make it easy for customers to navigate the app and book appointments easily.
What is the Salon App Development Cost for Your Business
Have you noticed how people are booking their salon appointments differently these days? Instead of calling or walking in, they use phone apps to reserve a spot. This behavior change has caused a trend in the beauty industry where more and more salons are building their own apps.
These apps can help with things like managing appointments and keeping track of clients. Beauty professionals know that people love using their phones, so they focus on building apps for their businesses.
They only have to figure out how much it will cost to make the app. There are a lot of aspects that go into the cost, so it is essential to consider everything before making a decision.
App features -general and advanced
UI/UX development -research and tools
Mobile app designing
Mobile app complexity
Primary function
Technology environment (Android, IOS, or both)
Developer's skills and experience
Future Trends and Innovations in the Salon App Industry
The beauty industry constantly evolves, and new technologies and trends are always emerging. As you plan for your salon app's future, staying current on these latest trends and innovations is essential.
1. Emerging Technologies and Trends
Some emerging technologies and trends in the salon app industry include artificial intelligence, personalized recommendations, and virtual try-on features. These technologies can help improve the user experience and make your salon app more innovative and exciting.
2. Opportunities and Challenges in the Salon App Industry
There are a lot of opportunities and challenges when you plan to build salon app. As more and more people turn to digital solutions for their beauty requirements, there is incredible potential for growth and success. However, competition is high, and staying ahead of the curve is essential to remain competitive.
3. Preparing Your App for the Future
To prepare your salon app for the future, stay up to date on emerging trends and be ready to adapt as necessary. This may involve integrating new technologies, updating features, or expanding into new markets.
Have a Quick Look on Top 7  Salon Apps
In the age of smartphones, mobile apps have proliferated in almost each sector of life. The beauty industry is no exception. Salon apps have become increasingly popular over the years and are now considered must-have tools for all types of salons; from spas and beauty parlors to hairdressers and barbershops.
Here are the 7 top salon apps that can help you streamline and grow your salon business.
| | | | |
| --- | --- | --- | --- |
| S.No. | Salon Apps | Best Feature | Pricing |
| 1 | MyCuts | Accessible through various devices and an excellent management system. | Free for the first 25 clients. Usres can get standard and Premium Subscription for &15 and $25 |
| 2 |   Vagaro App | 24-hour availability | Starting from $25 per month for a single customer with a free trial for a month |
| 3 | Phorest | Built-in barcode scanning features make it easy for monitoring inventory. | Starting from $99, Grow Ultimate, and amazing Enterprise subscriptions at minimum price |
| 4 | Square | Integrated with amazing customer relationship and management tools. | $60, or $299 every month depending on the subscription plan |
| 5 | MindBody | Integrated Tools for building customized marketing initiatives for clients. | Starting at $159 per month, Accelerate plan at $279 per month, Ultimate plan at $499 per month, Ultimate Plus at $699 per month |
| 6 | Acuity | Esay group bookings | $14, $23, and $45 for Emerging, enhancing, and Powerhouse subscriptions |
| 7 | The Salon Iris App | Payroll management, stock controls, and Point of Sales. | $29 and $59 for Basic and Deluxe subscriptions |
The Closing Words
building a salon app can be a game-changer for your business. By understanding the requirements of your customers, selecting the right features, designing and developing a user-friendly interface.
By launching and marketing your app successfully, and continuously improving it, you can create a salon app that will help you stand out from the competition. Embrace technology, and you will be well on your way to a successful salon business in 2023 and beyond.
FAQ: How to Build Salon App in 2023
How to create a beauty salon website?
Creating a website for your beauty salon is an exciting and essential step in growing your brand and attracting new clientele. To start a stunning website, select a platform such as Squarespace or WordPress that allows easy customization and user-friendly design.
How much does it cost to build salon app for business?
Generally, estimates range from $5,000 to $20,000 on average for a basic salon app with standard features like appointment booking and push notifications. But investing in quality development can take your business to the next level!
What features should I include in my salon app?
The features you include in your salon app will depend on your business needs and the preferences of your target audience. Some key elements include real-time appointment booking, automated appointment reminders, instant messaging, customer feedback and reviews, and seamless payment integration.
How long does it take to build a salon app?
The time it takes to build a salon app can vary depending on the complexity of the app and the development team's availability. Building an app from start to finish can take anywhere from a few months to a year or more. Be patient and work closely with your development team to ensure your app is built to your specifications and needs.