No doubt, video editing applications are in high demand whether you want to edit video for social media or other sites. Video editing apps generally empower you to enhance your video with effects, subtitles, music and more for that viral impact. With the help of such an application, it is easy to improve the quality of the video. As a result, the demand for video editor app development is becoming high.
There are several popular video editing applications, such as CapCut and TikTok, for editing videos. As a result, enterprises are looking for a video editor app development company that will assist them in building an app like CapCut. If you want to take your development project to the next level, you are at the right place. 
In today's blog post, we will discuss the CapCut business model,  how to make money with CapCut, and other essential things. Let's look at the post and get the desired information you have to know to succeed.
What is CapCut?
CapCut is a free video editing app that lets users instantly turn their smartphone videos into pro-quality content. Its user-friendly features include speed adjustments, cutting, reversals, music integration, stickers, text, and more. It suits all skill levels and is compatible with online, mobile editing and Windows. You know that what makes CapCut exceptional is its knack for enhancing videos not just for Facebook and Instagram but always for YouTube, ensuring a polished, professional result. 
You know that the revenue of this application is over 10 billion. As a result, many companies are looking for a trusted partner who can build video editor apps. If you are interested in building such an application, you must know the model. Knowing CapCut's business model, it is easy to proceed to the next step.
How Does CapCut Work?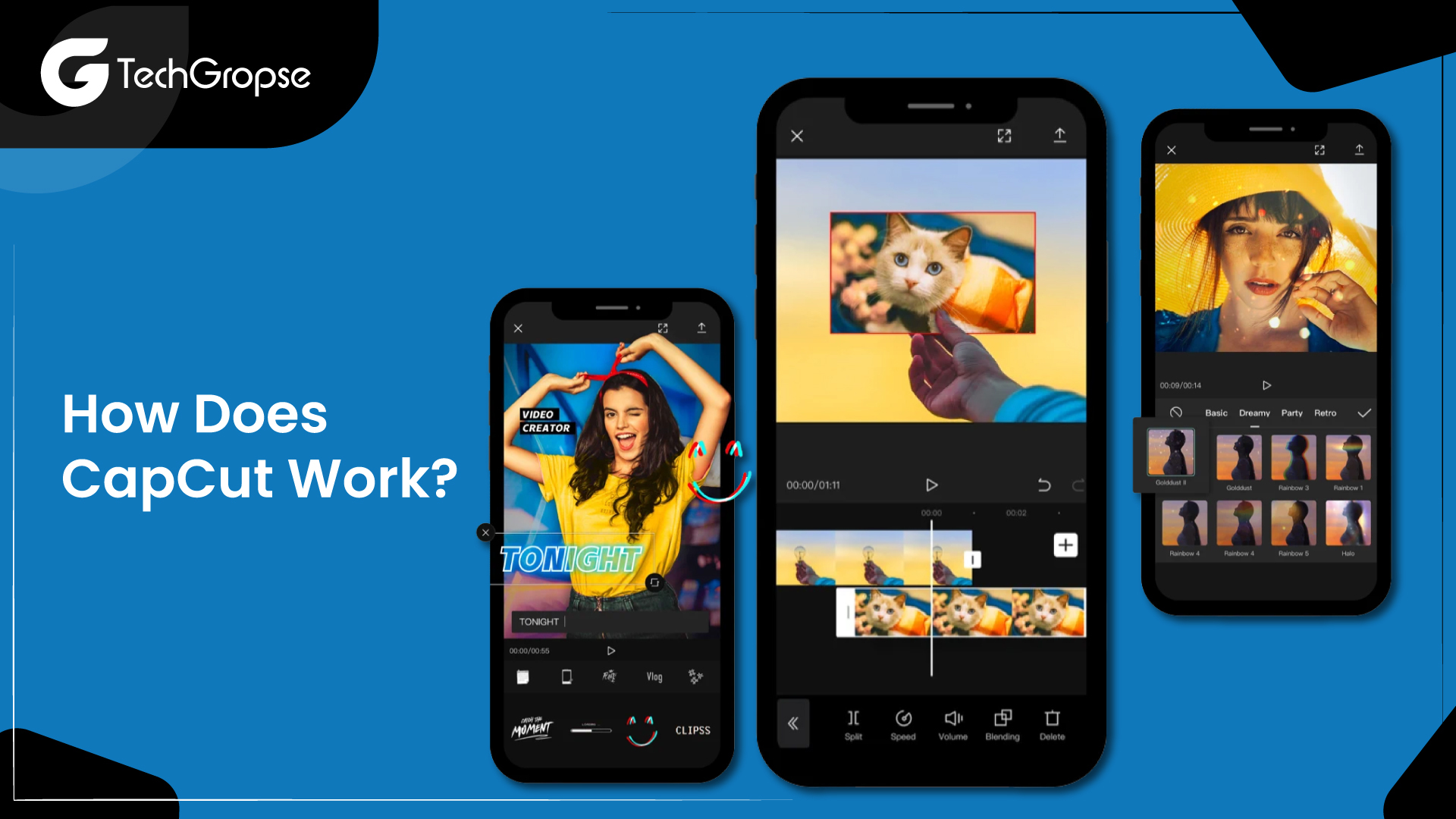 CapCut helps to edit a video by providing a simple and intuitive interface. Once a user opens this application, they will find a selection of templates to choose from, making it easier to create videos based on different themes or styles. Once a template is selected or a new project is started, users can edit their video immediately.
The application offers various tools that allow users to cut out unnecessary parts, adjust the playback speed, and split videos into sections to create impressive visual effects. 
The application always boasts a collection of filters and effects that include flair to videos, making them look professionally polished.
These effects can be applied with a tap, instantly transforming the overall look and feel of the video. If the users are impressed with their creations, CapCut gives permission to share their masterpieces directly to social media platforms like Instagram, allowing them to showcase their work worldwide. 
Its seamless integration with social media further boosts its popularity and ensures that user's videos reach a broader audience. After getting information if you want to build your own app, it is suggested to know more about the CapCut Business Model that helps you do your job.
What Are the Top Features of CapCut?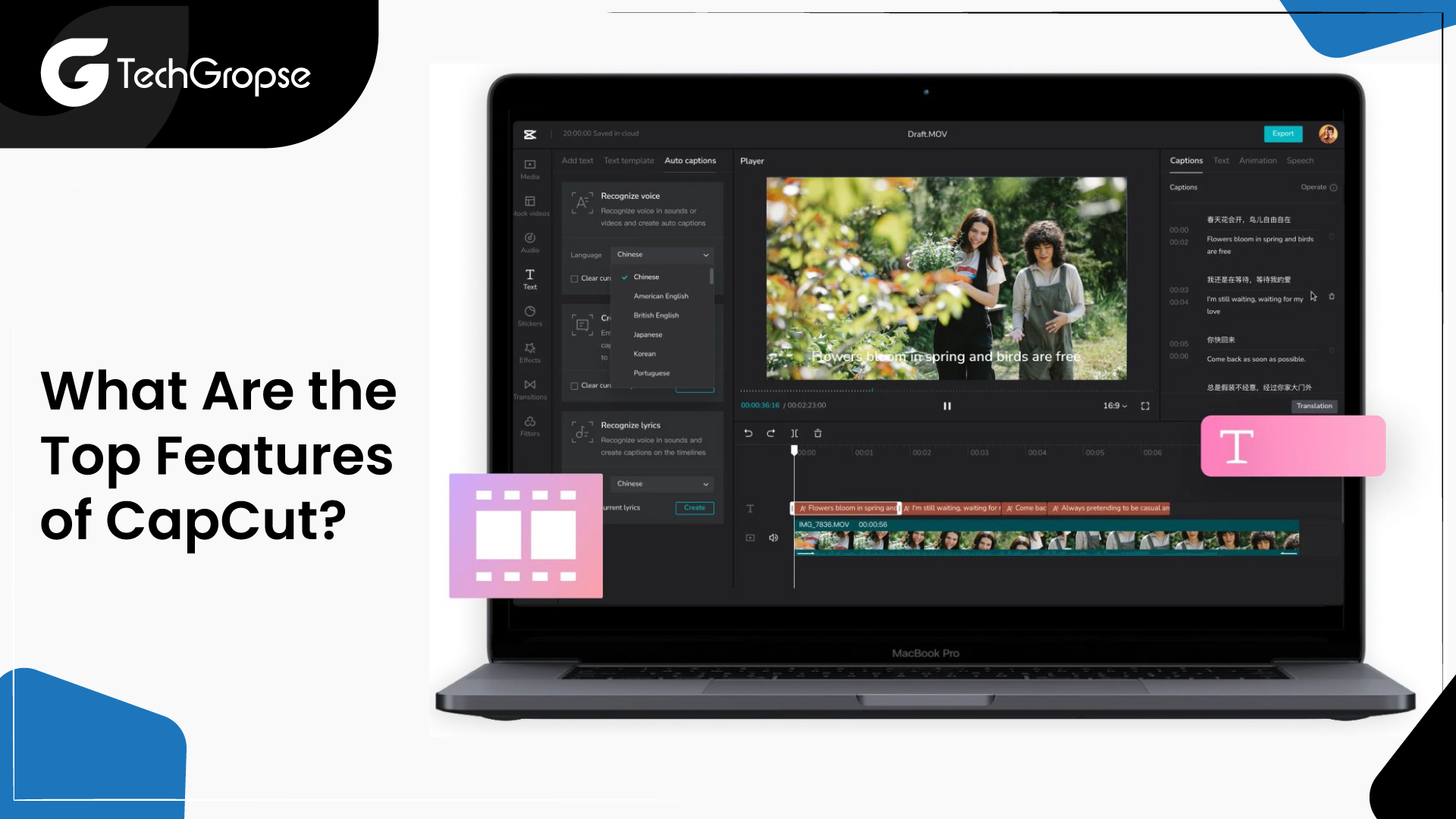 No doubt that CapCut provides a plethora of basic and advanced features in order to empower users. What makes CapCut popular apart from the CapCut business model? The answer is its features. Let's take a look at its advanced features below:
1. Extensive Selection of Templates 
No doubt that CapCut simplifies video creation with user-friendly templates. Users must insert their clips into these professionally designed templates with transitions, color schemes, animation and soundtracks. This time-saving feature enhances efficiency. The best part of the application is that the high-quality templates are free of cost, making sure accessible video editing for all, regardless of skill level. 
As a result, you have to build an app like CapCut to get more profit by providing the best solutions to your valuable customers.
2. Intuitive Interface
CapCut provides an intuitive interface that makes video editing straightforward. Without any doubt, you can efficiently perform a wide range of tasks along with adjusting video formats, splitting and merging clips, resizing canvases, changing playback speed and even reversing clips accomplished with a few simple taps on its intuitive timeline. Including speed, ramps enable you to build seamless transitions in the videos. 
Its notable function is the overlay feature, allowing users to superimpose additional clips onto the main footage. Users are always able to adjust the size and trim these overlay clips, similar to how you manipulate the primary clip. Moreover, it supports standard overlay practices such as green screen effects and adding backgrounds. Thus, CapCut like app should have this feature.
3. Text Solutions 
Text can be incredibly informative, and you make it engaging when you include it in a video. As a result, CapCut offers a creative service by providing preset templates for text editing. It eliminates the requirements to navigate numerous complex tabs in order to adjust font size, bubbles, and styles. 
However, consider using the voiceover and Auto caption tools in the audio editing section if you feel the manual text entry becomes tedious. When you press "Auto Caption," CapCut automatically generates captions and assigns them to specific time codes. On the other hand, you are able to delete, split, or move the caption into a new one. In order to edit multiple captions simultaneously, use Batch Edit, allowing you to review and stylize them collectively with a simple tap. 
4. Audio Toolkit 
CapCut offers a rich music library with exclusive copyrighted songs, but if you prefer your tracks, you are able to import them or extract audio from existing videos. Sound effects are always at your fingertips, made even more accessible with a user-friendly search bar and a favorite button. 
Editing audio tracks separately is a breeze, allowing users to adjust volume, trim as required, determine starting and ending points. CapCut even surprises with match-out tools for including beats, giving you the choice to add them manually or let the app do it automatically.  
5. Chroma Keying 
CapCut enables users to unlock their creative potential with its video background remover tool. Easily extract the main subject or object from your videos, providing endless creative opportunities. After removing the background, you are able to replace it with a new one or overlay the subject on a separate layer. 
This technique, called chroma keying or the green screen effect, seamlessly integrates subjects into various backgrounds, enhancing the visual appeal of the video. This application's background remover empowers you to build dynamic scenes, transport subjects to diverse settings, and transform your imaginative ideas into captivating visual effects. 
Henceforth, you have to invest in CapCut app development. It will assist you in ensuring that the app will provide more revenue and profit.
6. Stickers and Special Effects 
CapCut makes video editing as easy as image editing, with a wide choice of categorized stickers ranging from emojis to themed items such as snowflakes, arrows, stars, and special occasions such as Christmas and New Year's. While you can import your images as stickers, note that there's no search bar or favorite button, so navigating the abundant choices may be overwhelming for frequent sticker users. 
Additionally, it provides two types of special effects body: effects and video effects. The video effects apply to the entire video and can be included in the main video, overlay, or both. On the other hand, body effects target specific areas or parts of the human body in the video, automatically detected and enhanced by CapCut. 
How CapCut Makes Money?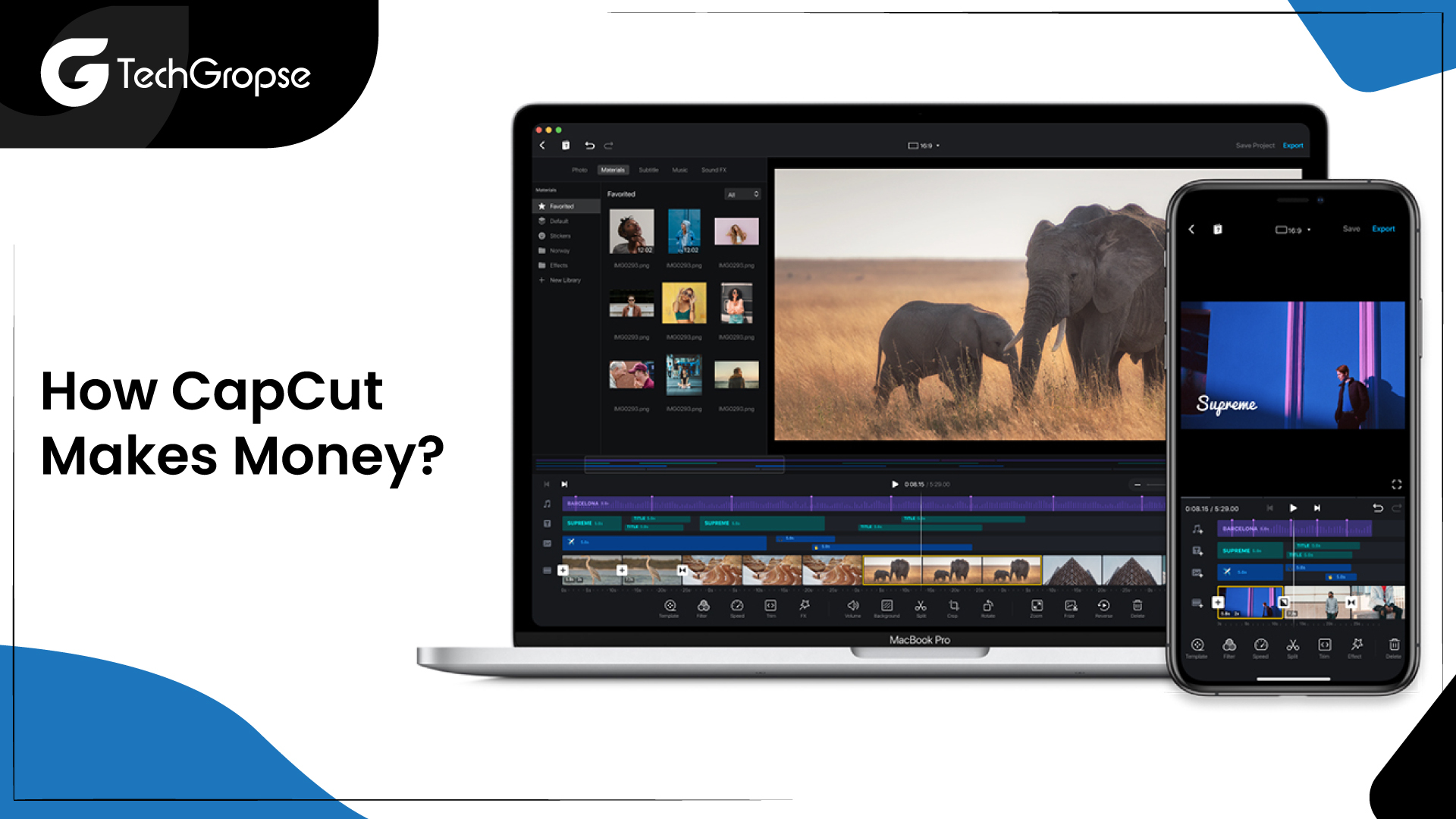 1. Freemium Model
CapCut primarily operates on a freemium model, meaning the app is free to download and use but offers premium features or content that users can purchase. In the case of CapCut, basic video editing features are offered for free, attracting a large number of users. However, users should subscribe to the premium version to access advanced tools and special effects or remove watermarks. Thus, it is good to build a CapCut-like app.
2. In-app Purchases
This app offers various in-app purchases to enhance user experience.
These can include additional filters, effects, transitions, or even premium music tracks that users can integrate into their videos. By providing these extra features at a cost, CapCut monetizes the creativity of its user base.
3. Subscription Plans
CapCut likely offers subscription plans for users who want to unlock the full range of features consistently. These plans could be billed monthly or annually, providing users with a more cost-effective option compared to one-time in-app purchases. Subscription models create a steady stream of revenue and incentivize users to commit to the platform for an extended period. If you want to make money, it is a good idea to build such an application. However, it is necessary to know the CapCut business model.
4. Ad Revenue
The free version of CapCut is likely ad-supported. This means users see ads while using the app, and CapCut earns revenue from ad impressions and clicks. Advertisers pay CapCut to showcase their products or services to the app's user base, leveraging the high levels of engagement of individuals who create and consume content on the platform. However, you have to search for a mobile app development company that helps you in building an app like CapCut. 
5. Brand Partnerships and Collaborations
CapCut may collaborate with brands for sponsored content or special features. For example, it could partner with a popular music streaming service to offer exclusive tracks within the app. These partnerships not only generate revenue but also add value to the user experience by providing unique and premium content.
6. Data Monetization
While privacy concerns should be addressed responsibly, many free apps, including CapCut, may collect anonymized user data. This data can be valuable for market research, advertising targeting, and analytics. CapCut might monetize this data by providing insights to third-party companies or using it to improve its own services, making data a supplementary source of revenue.
Brief on CapCut Business Model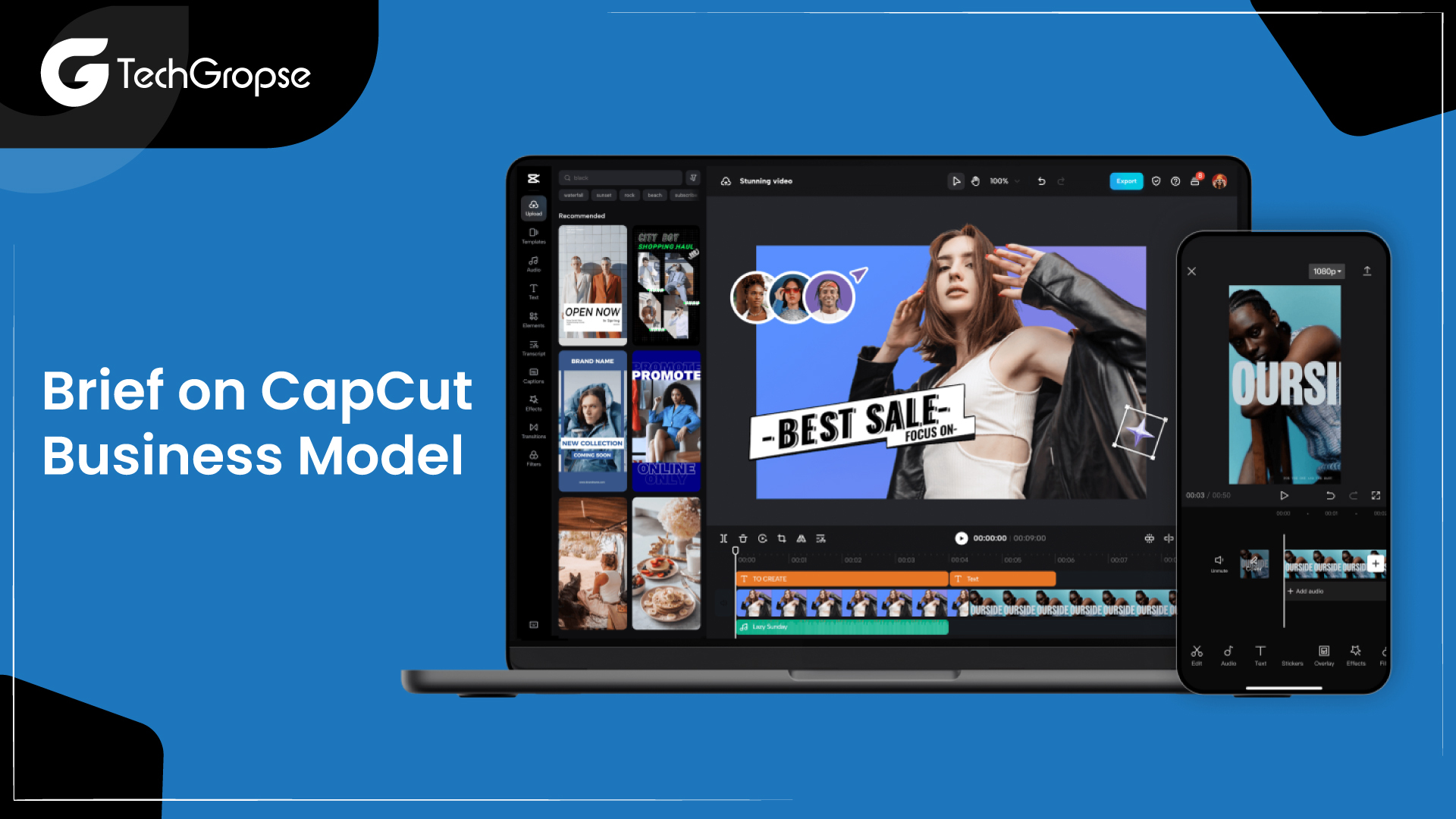 CapCut's business model is multifaceted, incorporating various revenue streams to support its operations and support its continued growth. Here are five key points that describe CapCut's business model: 
Freemium Model With in-App Purchases
CapCut operates on a freemium model, allowing users to download and use it for free. This approach helps attract a large user base and encourages users to explore the app's features. To enhance the video editing experience, users can opt for in-app purchases.
These purchases may include premium features, advanced editing tools, special effects and filters. This allows CapCut to appeal to both casual users interested in basic editing and more serious content creators willing to invest in additional features.
Subscription-Based Revenue with CapCut Pro
CapCut offers a subscription-based service called CapCut Pro, which provides users with an enhanced editing experience for a recurring fee. CapCut Pro subscribers enjoy exclusive benefits such as access to advanced features, an ad-free environment, and early access to new updates. The subscription model ensures a stable and predictable revenue stream for CapCut, while users who choose CapCut Pro will benefit from a more transparent and feature-rich editing platform. The subscription model encourages user loyalty and engagement.

In-app Advertising for More Revenue
In-app advertising is an important source of revenue for CapCut. While the basic features remain free for users, CapCut strategically integrates advertising into the app.
Brands and advertisers pay CapCut to showcase their products or services to the app's user base. These ads can appear in a variety of formats, including banners, videos, or sponsored content. Revenue generated from in-app advertising helps maintain CapCut's free usage model and supports the app's continued growth.
Monetize Content Through Partnerships
 CapCut actively monetizes content by forming partnerships and collaborations with brands, influencers, and content creators.
CapCut can secure sponsorship or collaboration deals for branded content by fostering relationships with those with large audiences on the platform. Brands pay for the visibility gained through these partnerships, and CapCut takes a portion of the revenue. This symbiotic relationship allows creators to monetize their content while providing CapCut an additional revenue stream.
Global Expansion and Market Penetration
CapCut's business model includes a strategic focus on global expansion. As the app becomes popular in different regions, it will attract a diverse user base and expand its market reach. This global presence increases overall user engagement and attracts international advertisers. CapCut leverages its growing global user base to secure larger-scale partnerships, collaborations and advertising opportunities. The success of this expansion contributes to CapCut's revenue growth and strengthens its position in the competitive video editing application market.
Cost to Build an App Like CapCut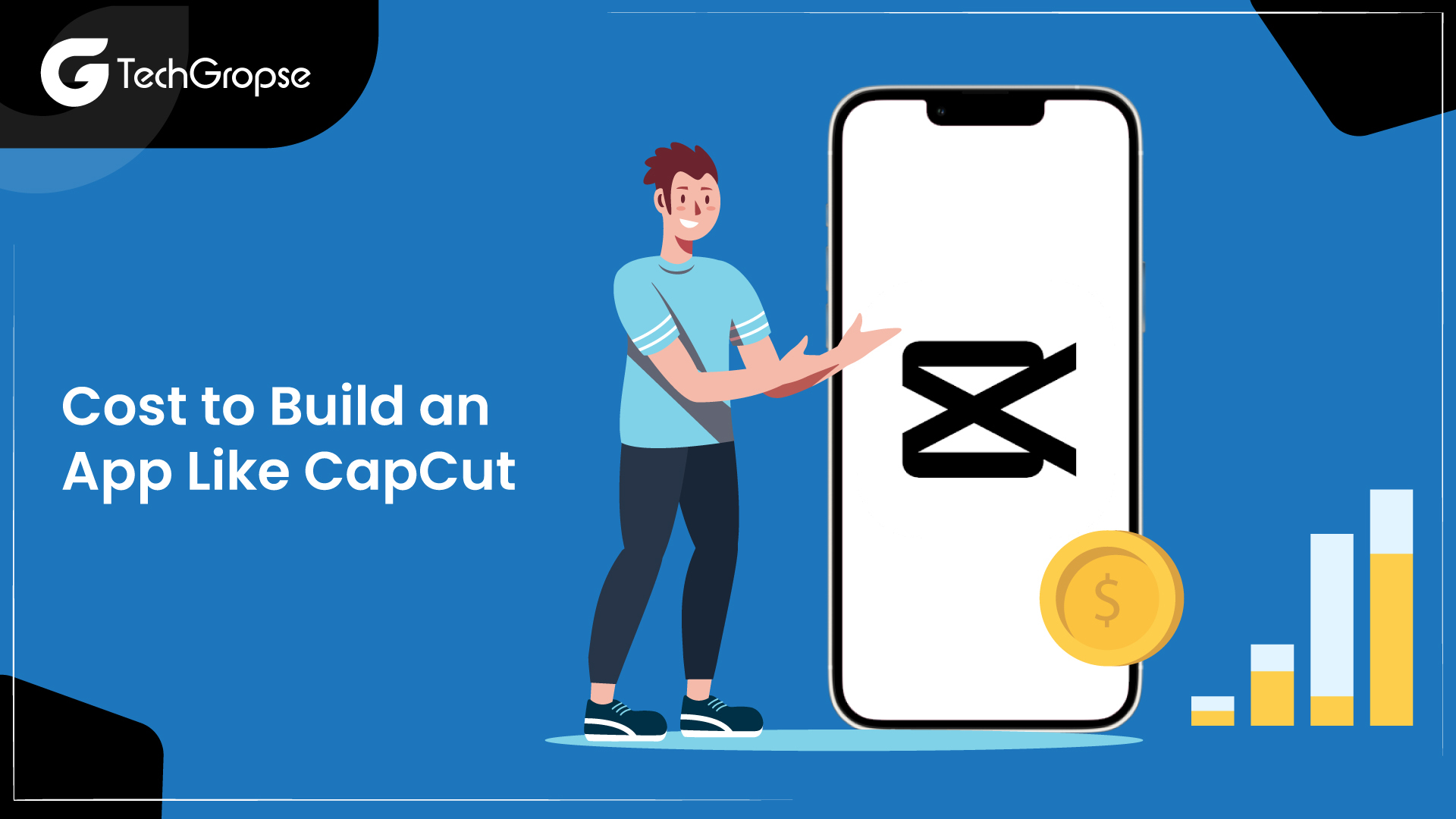 Once you have all the aspects and information that are required to build an app like CapCut, it is time to start the development procedure. However, the question is how much you must spend building an app. Well, mobile app development cost may differ based on several factors. 
If there is less complexity and features to include in an app, the cost will be less. Moreover,  android app development cost less compared to iPhone. Many factors may affect the cost to build a functional app. For an idea, we list out a table for you:
| | |
| --- | --- |
| Component  | Cost |
| UI/UX Design  | $5,000-$15,000 |
| Front end Development  | $15,000-$40,000 |
| Back end Development  | $20,000-$50,000 |
| Features Integration  | $10,000-$30,000 |
| Testing  | $5,000-$15,000 |
| Maintenance & Updates | $5,000-$20,000 |
| Miscellaneous  | $5,000-$10,000 |
Keep in mind that it's a rough estimate, and the actual cost can vary based on factors like the location of the development team, maintenance, and updates. In order to know the actual cost, it is suggested to consult with a mobile app development company. 
Summing Up
For editing a video, the requirement for a video editing app is high. As a result, people are looking for a video editing app development company committed to building CapCut apps. But you also know the CapCut business model that helped you complete the app development procedure successfully.
However, the app development procedure is not an easy task. In such a case, searching for mobile app developers is suggested. With a team of dedicated developers, making the development process easier and more efficient is easier.
Thus, searching for a team of professionals with good years of experience in the Android app development field is necessary when deciding to build an app. 
FAQs
1. What is CapCut's revenue model?
CapCut primarily generates revenue through in-app purchases and advertising.
Users can purchase premium features, effects, and other editing tools within the app.
2. Is CapCut a subscription service?
Yes, CapCut offers a subscription-based model called "CapCut Pro.
" Users can subscribe to Pro for additional features and an ad-free experience.
3. How does CapCut make money from advertisements?
CapCut integrates ads within the app, and advertisers pay for space and visibility.
Users might encounter ads while using the app, and CapCut earns revenue from these ad placements.
4. What advanced features does CapCut Pro have?
CapCut Pro offers advanced editing features, filters, effects, and exclusive tools.
Subscribers also enjoy an ad-free environment and can access additional content.
5. Are there other revenue sources for CapCut?
In addition to advertising and in-app purchases, CapCut may explore partnerships, collaborations, and sponsored content as additional revenue sources in addition to advertising and in-app purchases.