Smartphones and other handheld devices have totally changed the way we do things. Now, you can do almost anything with just a few taps on your smartphone. As more consumers seek convenience and efficiency in their daily lives, car wash app development has emerged as a game-changer in the industry. 
On demand app development company offers one cool service that you can find on your phone is a car wash app. Instead of wasting time driving to a car wash and waiting in line, you can simply use the app to request a car wash right at your own home. It is awesome and saves you a lot of time. 
The app works by letting you search for car wash technicians and then you can request a cleaning for your car. The technician will come right to your doorstep and take care of everything. It's a really neat idea and that's why it's so popular.
Right now, almost everyone in the US has a car, and those cars need to be cleaned every other day. Because of this, there are a lot of apps that let you get a car wash whenever you want. This is great for the people who offer car wash services because they can use technology to give fast and convenient service to their customers.
If you are a business owner, this is a really good way to make money. You can join the growing market for on-demand car wash apps and become well-known in the industry.
Introduction to Car Wash App Development
On-demand car wash app have become famous in today's digital age. With the convenience of smartphones and the rise of on-demand services, customers now expect everything to be accessible at their fingertips – including car wash services. Car wash apps provide a seamless and hassle-free way for users to schedule appointments, track their vehicles, and make payments, all from the comfort of their own smartphones.
Car wash apps offer the requirements of busy car owners who value their time and seek hassle-free solutions for maintaining the cleanliness and appearance of their vehicles. By leveraging the power of mobile technology, these apps connect car owners with professional car wash service providers, offering them a huge range of services like interior cleaning,  exterior wash, waxing, detailing, and more.
For users, car wash apps offer convenience and time-saving benefits. Instead of wasting time waiting in long queues or making phone calls, they can simply book a car wash appointment with a few taps on their screens. Additionally, these apps often include features like GPS tracking and real-time updates, making it easy for users to keep track of their car's progress and estimated arrival time.
Market Size and Stats of Car Wash App Development
The car wash app development industry has witnessed a significant transformation in recent years, largely driven by the expanding digital landscape.
| | |
| --- | --- |
| Year | Car Wash App Market Size (in billions of dollars) |
| 2021 | $32.91 |
| 2022 | $35.45 |
| 2023 | $38.25 |
| 2024 | $41.33 |
| 2025 | $44.72 |
| 2026 | $48.45 |
| 2027 | $52.55 |
| 2028 | $57.07 |
| 2029 | $62.05 |
| 2030 | $67.54 |
Type Of Car Wash Application Development 
When it comes to car wash app development, there are various types of approaches that can be taken based on different factors like mobile app development cost, budget, scope, target audience, and business needs.
Here are three common types of car wash app development:
1. Native Car Wash App Development
Native app development involves building separate applications for multiple platforms like iOS (using Objective-C or Swift) and Android (using Kotlin or Java). Native apps offer a smooth user experience, high performance, and access to platform-specific features. However, developing separate apps for every platform may need more time and resources.
2. Hybrid Car Wash App Development
Hybrid app development involves building a single app that can run on various platforms using web technologies like CSS, HTML5, and JavaScript. Hybrid frameworks like React Native or Flutter allow developers to create cross-platform apps with native-like functionality. Hybrid apps provide faster development time and cost savings compared to native apps, but they may not offer the same level of performance and platform-specific capabilities.
3. Web-Based Car Wash App Development
Web-based app development involves creating a car wash application accessible through web browsers. Web apps are built using web technologies and can be accessed on various devices, including smartphones, tablets, and desktops, without the need for downloading or installing an app from an app store. Web apps offer wider accessibility and easier updates but may have limited access to device-specific features and functionalities.
Determine Core Features of Car Wash Mobile App
Here's a table highlighting the core features typically found in the user, car washer, and admin panels of a car wash app development:
| | | | |
| --- | --- | --- | --- |
| Features | User Panel | Car Washer Panel | Admin Panel |
| User Registration | ✔️ | | |
| User Profile Management | ✔️ | | |
| Service Selection and Booking | ✔️ | | |
| Real-Time Tracking | ✔️ | ✔️ | |
| Secure Payments | ✔️ | ✔️ | |
| Ratings and Reviews | ✔️ | ✔️ | |
| Push Notifications | ✔️ | ✔️ | |
| Loyalty Programs and Discounts | ✔️ | | |
| Multiple Service Provider Integration | ✔️ | | |
| Schedule Optimization | | ✔️ | |
| Customized Service Packages | | ✔️ | |
| In-App Chat or Customer Support | ✔️ | ✔️ | |
| Vehicle Tracking and Maintenance Reminders | | ✔️ | |
| Integration with Payment Wallets | ✔️ | ✔️ | |
| Analytics and Reporting | | | ✔️ |
| Admin Dashboard | | | ✔️ |
| User Management | | | ✔️ |
| Car Washer Management | | | ✔️ |
| Service Management | | | ✔️ |
| Payment Management | | | ✔️ |
Advanced Features Commonly Found in Car Wash App Development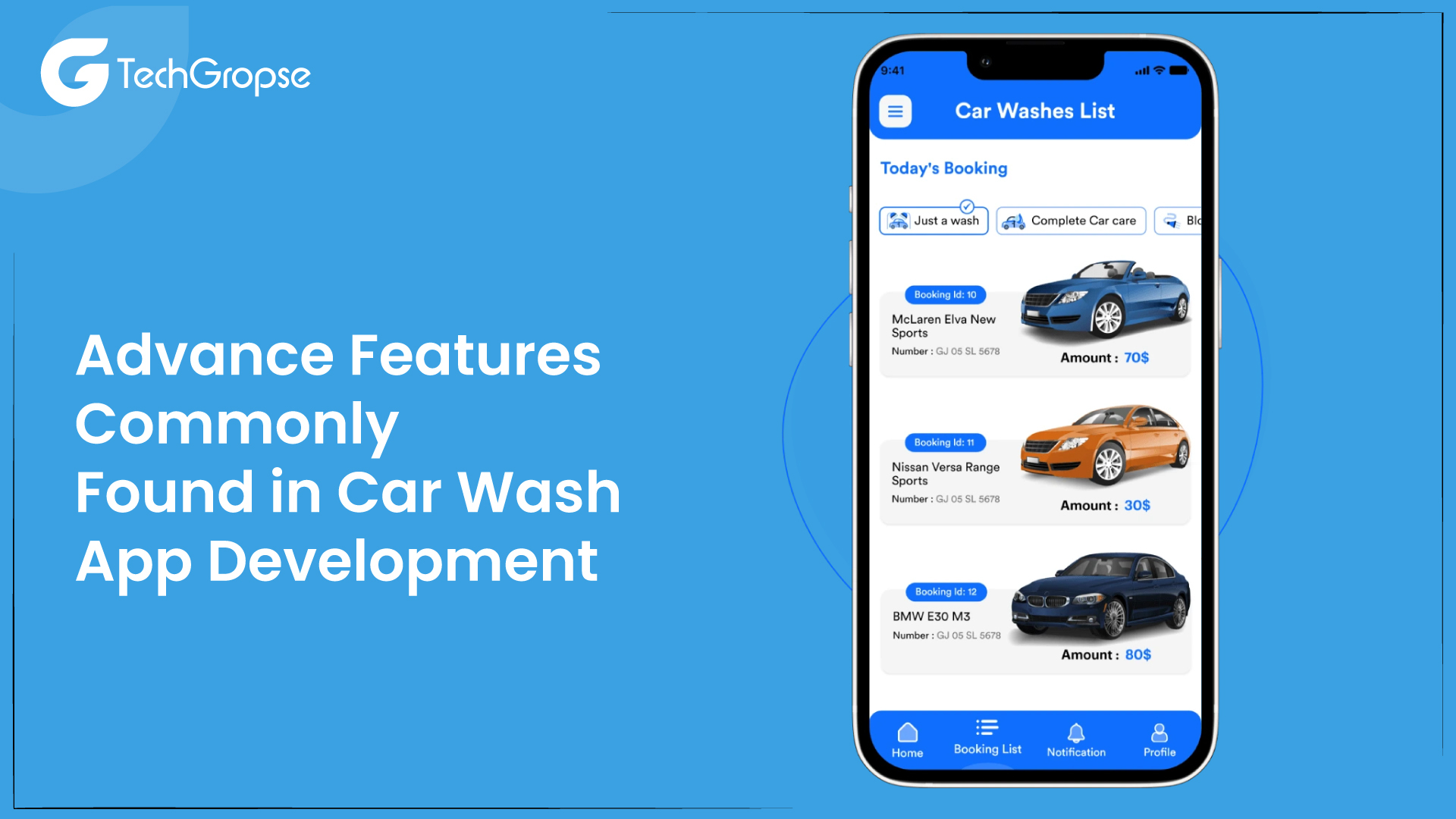 Car wash mobile app development include advanced functionalities to further improve the user experience and streamline the operations of the car wash business. 
Here are some advanced features of car wash apps:
1. Multiple Service Provider Integration
Car wash apps can integrate with multiple service providers, allowing users to select from a broader range of options based on availability, pricing, location, and customer reviews. This feature gives users more flexibility and ensures they can find the most suitable service provider for their needs.
2. Schedule Optimization
Advanced scheduling algorithms can optimize appointment bookings based on aspects like service duration, location, and availability of service providers. This helps in maximizing the efficiency of operations and minimizing idle time for both the car wash business and service providers.
3. Customized Service Packages
Car wash apps may offer customized service packages where users can make their own collection of services, specific cleaning treatments, select detailing options, or add-on services according to their preferences.
4. In-App Chat or Customer Support
To manage any concerns, queries, or issues faced by users, car wash apps may include an in-app chat feature or customer support system. It allows users to communicate directly with service providers, customer support representatives, or app administrators, ensuring timely assistance and satisfactory resolutions.
5. Vehicle Tracking and Maintenance Reminders
Car wash apps can include features to monitor vehicle maintenance schedules and send reminders to users when their vehicles are due for services, such as oil changes or tire rotations. It helps users stay on top of their vehicle maintenance requirements and ensures the longevity and optimal performance of their cars.
6. Integration with Payment Wallets
To offer a seamless payment experience, car wash apps can integrate with popular digital payment wallets such as Apple Pay, Google Pay, or PayPal. This enables users to make quick and secure transactions without the hassle of entering payment details manually.
7. Analytics and Reporting
For the car wash business, advanced analytics, and reporting features can deliver insights into customer behavior, revenue trends, service utilization patterns, and other key performance indicators. This data can help in making informed business decisions, identifying areas for improvement, and implementing targeted marketing strategies.
How Much Does Car Wash App Development Cost?
Determining the exact cost of car wash app development can be challenging as it depends on different aspects like the app's complexity, platform (iOS, Android, or both), features, development team's location, and additional services required.
However, we can provide you with a rough estimate of the cost range based on industry standards. Please note that these figures are estimated and can differ significantly:
| | |
| --- | --- |
| Development Phase | Cost Range (USD) |
| Discovery and Planning | $2,000 – $5,000 |
| UI/UX Design | $3,000 – $8,000 |
| Front-end Development | $6,000 – $15,000 |
| Back-end Development | $8,000 – $20,000 |
| API Integration | $2,000 – $5,000 |
| Testing and QA | $3,000 – $8,000 |
| Deployment and Launch | $1,000 – $3,000 |
| Maintenance and Support | $2,000 – $5,000 per month |
*Please note that these cost to build an app are estimates and can vary based on the complexity and customization required for your car wash app. Additionally, hire dedicated developers, car wash application development, and geographical location may also impact the overall cost. 
Key Factors Influencing the Car Wash Mobile App Development Cost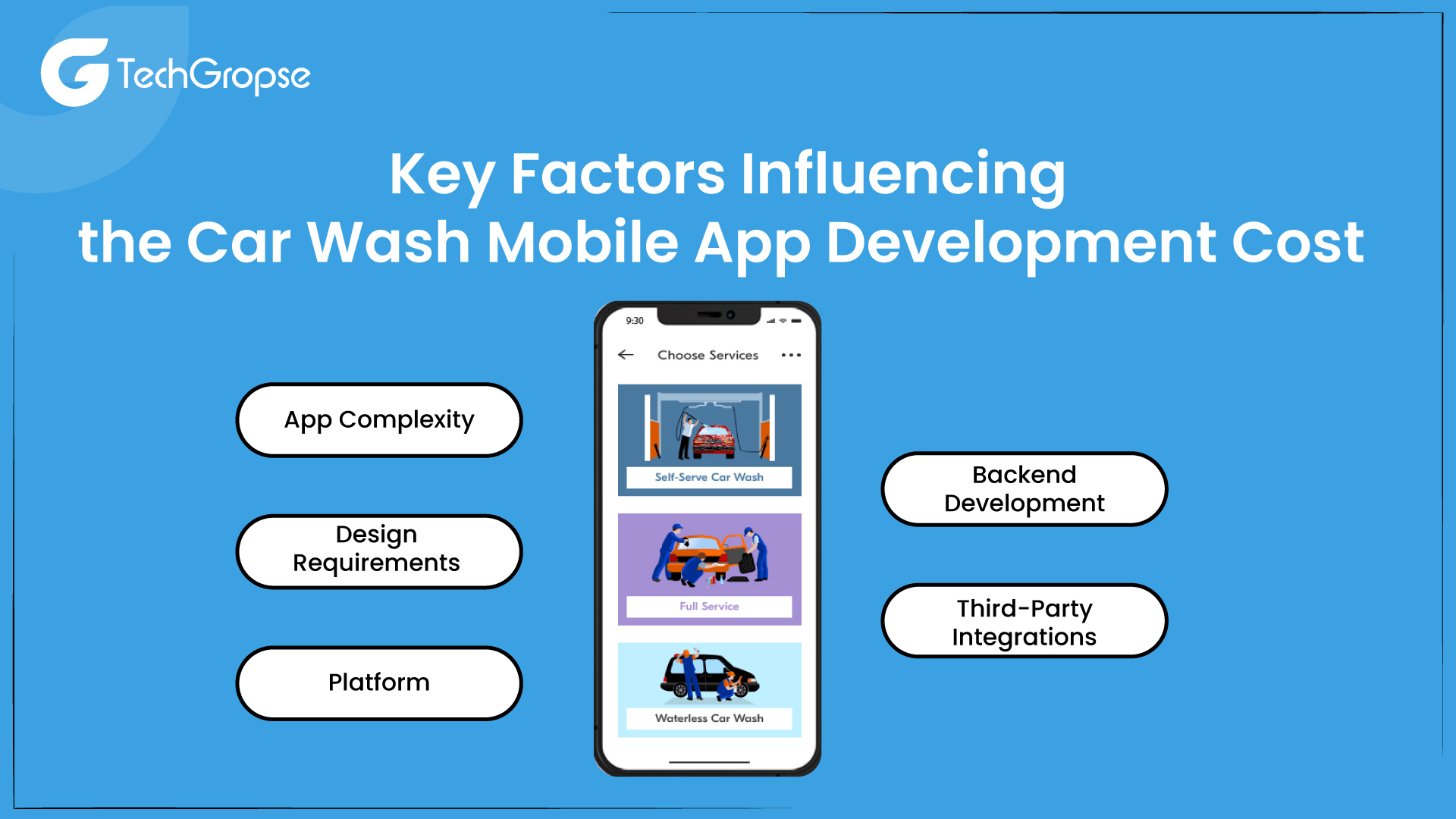 If you plan to build a car wash app you should consider various factors that influence the cost of car wash mobile app development. Here are some key factors that can impact the overall cost:
1. App Complexity
The complexity of the app, including the number of features, integrations, and user flows, directly affects the development cost. More complex features or unique functionalities may need additional time and effort, thereby increasing the cost.
2. Design Requirements
The app's user interface (UI) and user experience (UX) design play a vital role in attracting and engaging users. Customized and visually appealing designs may affect higher costs compared to standard or template-based designs.
3. Platform
Developing a car wash app for a single platform (Android or iOS) is basically more cost-effective than building it for both platforms. The choice of platforms will impact the development effort and cost.
4. Backend Development
The complexity of the backend infrastructure like server setup, database management, and API development, can significantly impact the cost. Advanced functionalities like real-time tracking, scheduling algorithms, and data processing may require more backend development effort.
5. Third-Party Integrations
Integrating third-party services like payment gateways, mapping services, SMS gateways, or push notification services may involve additional costs. These integrations require development effort and may involve subscription or licensing fees.

6. Team Composition and Location
The size and location of the development team play a role in determining the cost. Hiring a team from a high-cost region may result in higher development costs compared to teams from regions with lower labor costs.
7. Testing and Quality Assurance
Ensuring the app's quality and functionality through thorough testing is crucial. The complexity of the testing process and the number of devices, platforms, and scenarios to cover may affect the overall cost.
8. Post-launch Maintenance and Support
After the app is launched, ongoing maintenance, bug fixes, feature updates, and customer support require additional resources. Including these costs in the initial development plan is essential for a successful long-term app.
9. Project Management and Communication
Efficient project management and clear communication between the development team and the client are vital for a smooth development process. Factors like project scope, client involvement, and communication channels can impact the overall cost.
The Revenue Model of Car Wash Mobile App Development 
There are several revenue models that can be implemented for a car wash mobile app. Here are some common revenue models in the car wash app industry:
Service Commission:

The app owner can charge a commission fee from the car wash service providers for every successful booking or transaction made through the app. This commission can be a percentage of the service cost or a fixed fee.
Subscription Model:

The app can offer premium subscription plans to users, providing them with additional advantages like discounts, priority booking, or exclusive services. Subscriptions can be billed monthly, quarterly, or annually, generating recurring revenue for the app owner.
Advertisement:

The app can make revenue by displaying targeted advertisements to users. Car wash service providers or related businesses can advertise products,  services, and promotions within the app. App owners can charge businesses for ad placements based on impressions, clicks, or a fixed fee.
Partnerships and Referral Programs:

The app can establish partnerships with car wash equipment suppliers, auto detailing product manufacturers, or other related businesses. Through referral programs or affiliate marketing, the app can earn a commission for each referral or successful transaction made by users to these partner businesses.
White Labeling or Licensing:

If the car wash app is highly successful and has unique features or functionalities, the app owner can consider white labeling or licensing the app to other car wash businesses or entrepreneurs. This involves charging a fee for the rights to use the app's technology, branding, and features.
In-App Purchases:

The app can offer additional services or add-ons that users can purchase within the app. For example, users may have the option to upgrade to premium car wash packages, request specialized detailing services, or purchase car care products directly from the app.
Final Words
Car wash app development offers immense potential for businesses in the car wash industry to streamline operations, enhance customer experience, and boost profitability.
By taking into account the key factors influencing development costs, understanding the scope and features of a car wash app, and exploring different development approaches, businesses can make informed decisions that align with their goals and budgets.
It is essential to carefully consider the selection of a reputable development company and implement cost optimization strategies to maximize the return on investment. As the car wash industry continues to evolve, embracing technological advancements like car wash apps can pave the way for success in this competitive market.
FAQ: How Much Does Car Wash App Development Cost?
1. How much does it cost to develop a car wash app?
The cost of developing a car wash app can vary depending on several factors such as the complexity of the app, the number of features, platform compatibility, design requirements, and integration with third-party systems. A custom-built car wash app can range from a few thousand dollars to tens of thousands of dollars, while template-based or hybrid app development options may be more cost-effective.
2. What features should a car wash app include?
A comprehensive car wash app should include key features such as user registration and authentication, car wash booking and scheduling, GPS tracking and navigation, payment gateway integration, and a review and rating system. These features allow users to easily locate nearby car wash facilities, book appointments, track their vehicle's progress, make secure payments, and provide feedback about their experience.
3. How do I choose the right car wash app development company?
When choosing a car wash app development company, it is important to consider factors such as their portfolio and experience in developing mobile apps, client reviews and testimonials, their development methodology and communication process, and cost transparency and flexibility. It is advisable to research and compare multiple companies to ensure you find a reliable and experienced partner for your app development needs.
4. Are there any ongoing costs associated with car wash app development?
Yes, there can be ongoing costs associated with car wash app development. These costs include maintenance and updates to keep the app running smoothly, licensing fees for any third-party services or APIs used in the app, and potential marketing and promotional expenses to attract and retain users. It is important to factor in these ongoing costs when planning your budget for car wash app development.