The car wash industry has undoubtedly seen a significant transformation in a few years. Nowadays, people select professional car washes instead of DIY washes than ever before. It opens the doors of growth for business owners and helps them get new opportunities. As the car wash app development industry grows, people prefer car wash apps to save time and money.
As a result, the demand for on-demand car wash solutions is high. By building a functional and easy-to-use application, it is easier to earn revenue and good profit quickly. As we all know, it is a tough task to book an appointment and stand in a long queue for car washing on working days. People don't want to waste their weekends.
Therefore, they prefer car wash apps that help them to save time and money. If you also want to build your own app, it is necessary to have a clear idea about the latest trends, processes, features you have to include, and many other things. This will help you in completing app development jobs as soon as possible.
Car Wash Market Analysis and Size
A report shows that 80% of automobile owners in 2021 have used car wash apps as an alternative to washing their cars at home. Data shows that millions of vehicles are washed in car wash centers daily. On the other hand, technological advancement makes the life of human beings easier and more convenient.
As a result, the demand for car wash mobile app development has become highly popular. You know that market research analyses that the car washes mobile app market are expected to reach 400 million USD dollars by 2028, which is USD 250 million in 2021. The revenue rate may be higher than the mentioned number.
So, investing in car wash app development is a good time. Building such an application makes it easier to serve the best customers and earn good profit. In order to earn a good profit, you can also build your own app by seeking the help of a car wash app development company that will assist you from start to finish to build a functional app that is compatible to run on different devices.
Benefits of Building Car Wash App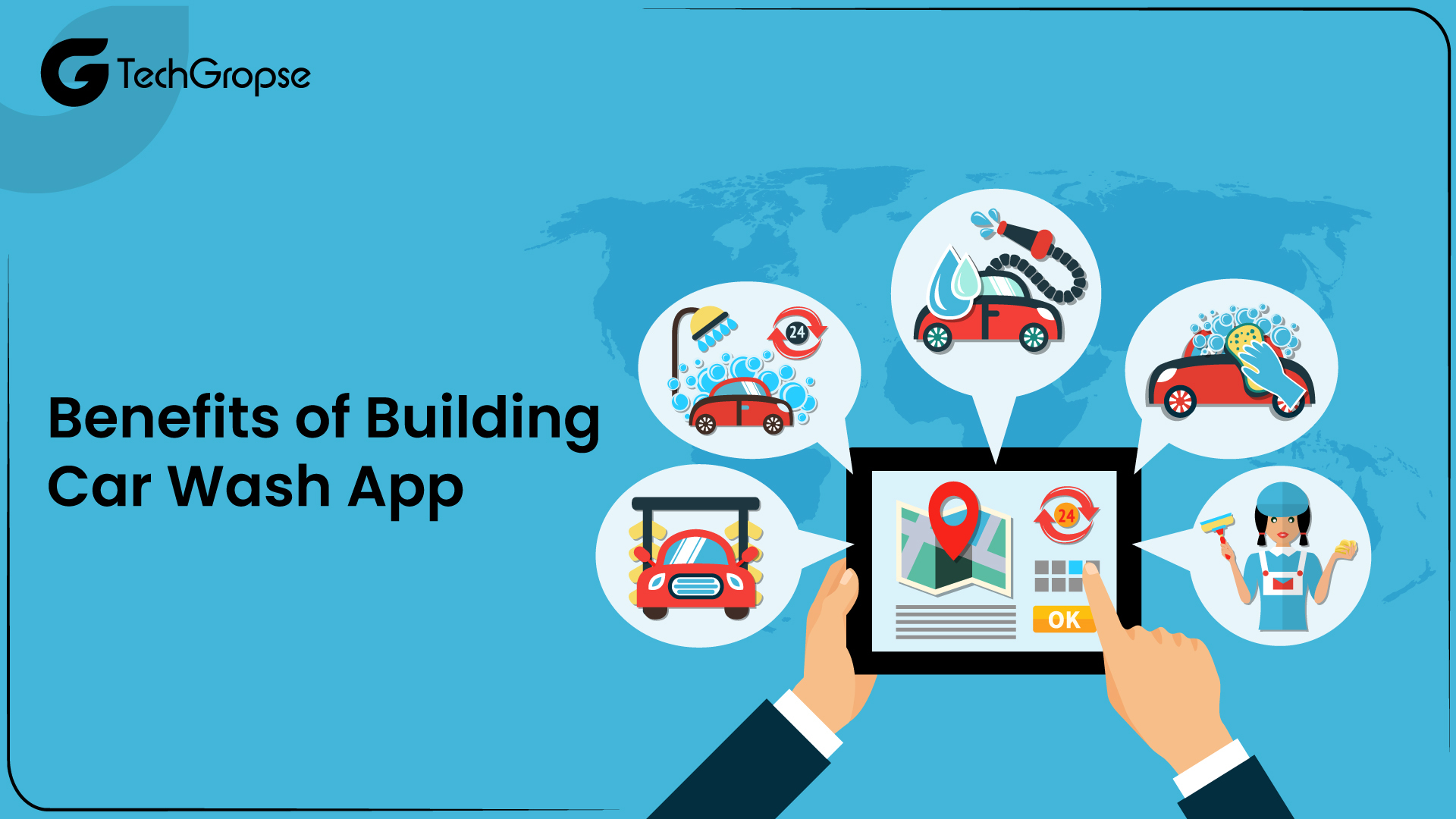 Car wash app development has several perks for users and businesses. Below we mentioned some advantages of car wash app development for users and businesses.
Perks for Customers
1. Easy and Instant Access
Car wash app development offers a seamless experience. Customers can easily make car wash reservations and check their previous transactions offline once internet service is restored. They can get easy and instant access to book an appointment for car washing.
2. Customized User Needs
Car wash applications offer information to customers based on their specific requirements. The users are able to customize their requirements as per their business requirements, which helps them to serve the best to their customers.
3. Instant Response
Customers always require an instant response. The car wash application allows users to get instant responses from the service provider. It also gives permission to car washers to engage with those searching for immediate services.
4. Multiple Services Requests at Once
With the help of an on-demand car wash app development, users are able to submit multiple service requests for many vehicles simultaneously. They can easily submit appointments on the app for numerous cars.
5. Detailed information
Once users choose offline services, they cannot get detailed information about the service provider they choose. On the other hand, a car wash app provides all the details about vehicle washers' services and their associated costs. In simple terms, users are able to decide which service is the greatest fit for them.
6. Offers and Discounts
The car wash app provides information about the company's most current deals and special offers. Users are able to use this information to make more informed judgments about the packages they want to purchase.
Advantages for Businesses
1. Enhance in Productivity
A Car wash app enhances productivity. Once the productivity is increased, you will get good profit and revenue. Henceforth, investing in car wash application services is a good idea.
However, building an app on your own is not an easier task, so you need to seek the help of experienced developers with good knowledge and experience in the app development industry.
2. Avoid Unfavorable Situations
Car wash apps help businesses to establish a positive reputation in the marketplace. Positivity can assist them to succeed in a certain field. Apart from this, customer input obtained through the Internet helps them expand locally.
In order to get the best solutions for your business, you have to search for leading professionals with years of experience in the car wash mobile app development industry.
3. No Bragging Allowed
The car wash application helps business owners to avoid situations in terms of the bargain. Once business owners sell products and services offline, customers brag about reducing costs. On the other hand, online purchases of services and goods can have no option but to pay the price stated.

4. Management is Easier
With the help of an app, it is easier to manage booking slots accurately. It means business owners ensure customer satisfaction. Henceforth, this is beneficial for building a car wash application for your business.
5. Payment By Internet
The car wash app will offer various payment gateways for users. It means customers can pay for services using payment gateways other than cash. This is an effective way that helps you to boost your business and traffic to your application.
6. Enhance Brand Recognition
Building an app makes it easier to enhance brand recognition. Once you build an app, you can easily increase brand awareness. It will help you in taking your business to the next level. Therefore, creating a car wash app for your business is a good idea.
Latest Trends in the Car Wash Industry
If you decide to get car cleaning app development services for your business, you must follow the latest trend. It will make sure the success of your business. For your help, we mentioned some trends below:
Automation can change the way across every industry. While car washing business owners cannot adopt newer technology, automation is the biggest trend. New technology helps car wash businesses cope with rising labor costs by speeding up the procedure.
First, car washers must use RFID chips to recognize monthly membership holders. No doubt that convenience is essential to customers, and RFID chips remove friction from their visits. Once the driver arrives, a screen reads the radio frequency identification chip on their windshield. The system lets the driver through and charges their credit card.
On the other hand, automation helps car washing owners to reduce tunnel collisions. Advanced anti-collision systems automatically sense where cars are in real-time rather than predicting where they should be.
Membership programs are a growing trend in the car wash industry as it helps customers to spend more money and select a particular facility over the neighboring ones. This will take many forms, with one of the more popular being an unlimited wash club.
The customers are able to join the club and receive a bundle of wash and detailing services as often as they love. By providing membership options, businesses can ensure their success.
This trend can improve a car business in many ways. You know that it automatically adjusts equipment to the size and shape of the car. Then the tunnel uses only the water and soap required for each car. Moreover, brushes adjust, allowing better access to hard-to-reach areas and more thorough cleaning.
The best thing about Sonar is that it reduces operating costs by reducing waste. So this trend can be followed to build a functional application for your business.
Ceramic technology is known as a car wash chemical newbie but it has amazing results. The traditional ceramic protectant technology usually uses polysilazane fusions and heat lamp curing to preserve a washed car by preventing water from pooling and beading on its surface.
In order to succeed in the car wash industry, you can adapt to this trend that helps you take your business to the next level with ease. If you decide to start your own business, you must ask a car wash app developer to adapt to this trend.
Customer tracking assists you in streamlining the customer experience while gathering critical data in order to improve the business. Customer relationship managers help to analyze your customers and their preferred services. With the help of this information, you are able to expand your reach, offer more services to your customers, and improve your marketing tactics.
Revenue Model for On-Demand Car Wash App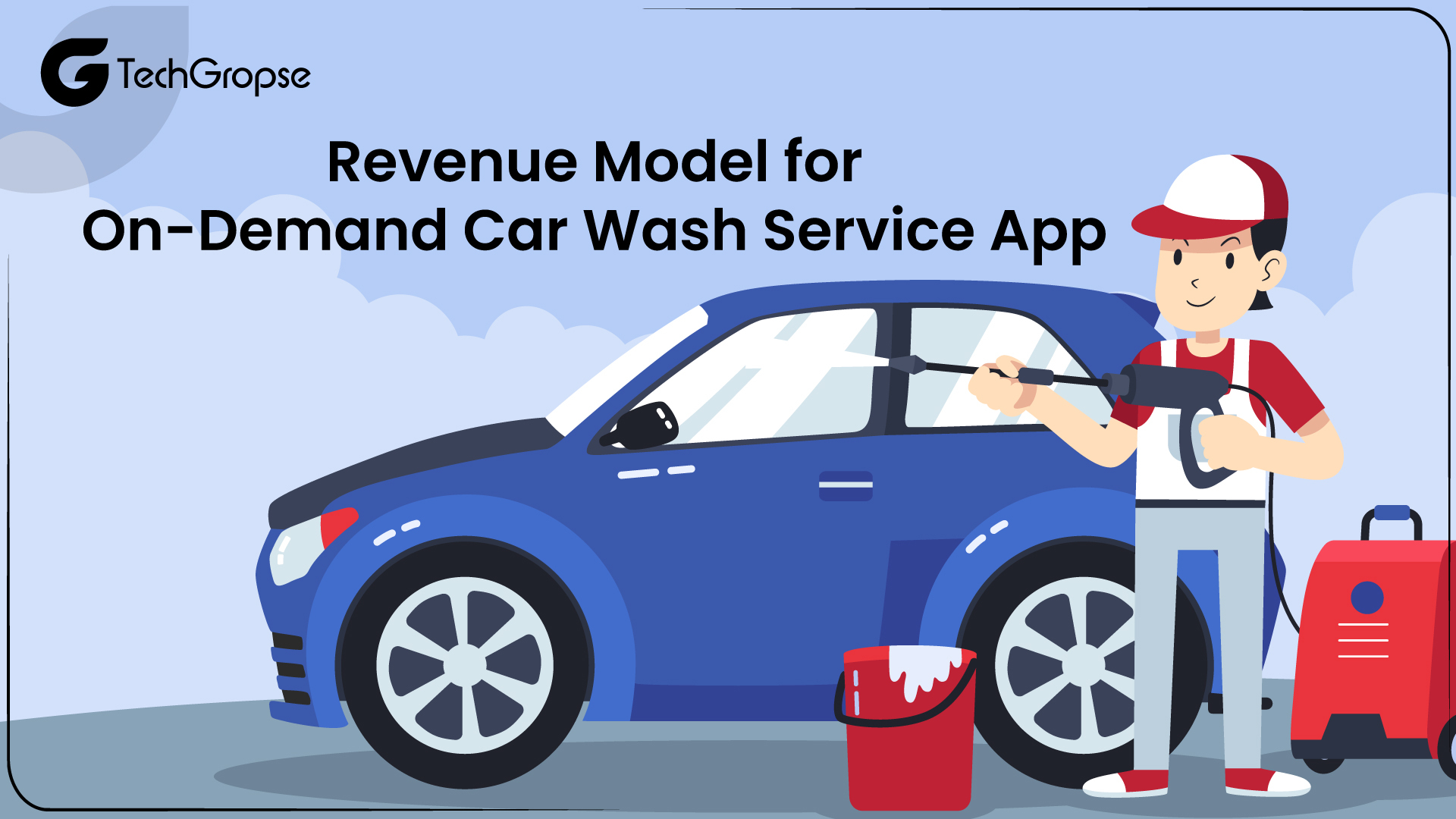 How do car wash applications help to earn money? Well, there are numerous revenue models that help you in earning money. Let's take a look at some of the most essential models for generating revenue:
1. Advertisements
In order to get more money, car wash service companies can use the app and advertise products of third parties on the app. It will offer space on their applications in exchange for money. Like other businesses, it will earn significant money through advertising.
2. Sponsorships
When you work efficiently, it does not harm promoting the services of another car wash agency and their job. Allowing sponsorship, businesses can earn a good amount of money. Therefore, it is a good revenue model for those willing to earn a handsome amount of money.
3. Merchandise
Apart from providing car washing services, businesses can always sell their brand products, such as car wax, shampoo, cleaning gloves, exterior paint, and many more, on their application along with the other services. It will help you in getting a good amount of money.
Conclusion
Over the years, the demand for car wash apps has become high. As a result, the demand for such apps is increasing. But when building such an app, you have to know the car wash application development cost. It will assist you in determining the budget you have to create to build a functional car wash app.
Moreover, you have an understanding of current trends. This will help the car wash business owners serve their customers the best. To get a handsome amount of money, read out the above-listed trends. It will help you in making a wise decision.
FAQs
1. How Much Does it Cost to Build a Car Wash App?
The cost of car wash app development depends on several factors, such as complexity, features, etc. To get the actual cost, you have to contact a mobile app development company with a different model per your requirements.
2. How Much Does It Time to Build a Car Wash App?
Unlike the cost, the time to build a car wash app depends on several factors such as framework, complexity, the experience of developers, and many more things. If there is less complexity, the project will be delivered within 2-3 months.
3. How Car Wash Apps Help Make Money?
No doubt that people try to save their time and money. So they prefer online applications that improve productivity and increase traffic to apps. Moreover, businesses can earn money by advertising third-party products and services.
4. What are the Benefits of a Car Wash App?
With the help of a car wash app, users can easily book an appointment and save time and money. Moreover, businesses can get more profit. In simple terms, a car wash app is beneficial for both users as well as service providers.