You know how the COVID-19 pandemic changed a lot of things, right? Well, one of the things it changed is how companies do business. Instead of having their own team of workers, many companies now hire a dedicated development team to help them out.
In today's fast-paced digital world, businesses need talented and dedicated developers to turn their ideas into reality. Hiring a dedicated development team can be cost-effective for companies looking to build and maintain high-quality software products.
However, with so many factors to consider, like cost, location, and skill level, hiring a dedicated development team can be challenging. But what if a company needs help with technical stuff? That is where a dedicated development team comes in!
Instead of going through a bunch of interviews to choose the right person, a software development company can hire a whole team of experts in one place. Software development services can help you find the best team per your needs.
But wait, there's more!
Hiring a dedicated team has a lot of other benefits too. In our post, we will discuss the key factors to consider when hiring a dedicated development team in 2023, the essential features of such groups, and how they compare to in-house teams.
So, if you are considering hiring a team to help with your tech needs, keep reading!
What is a Dedicated Development Team?
When it comes to software development, a dedicated development team can make a significant difference. A dedicated development team is a group of developers that work exclusively on a specific project for a client. They are hired full-time or part-time and share the same goals as the client.
They are focused on delivering the project requirements and work solely on the client's project, unlike freelancers who may work on multiple projects at a time.
Thus, we have created an in-depth guide on how to hire a team of developers, make wise decisions, and get more from the process.
If your business needs help with a project, you can select a dedicated development team to work on it until it is done. You don't have to worry about where it lives because you can find talented people by outsourcing software development worldwide.
When Should Hire a Dedicated Development Team?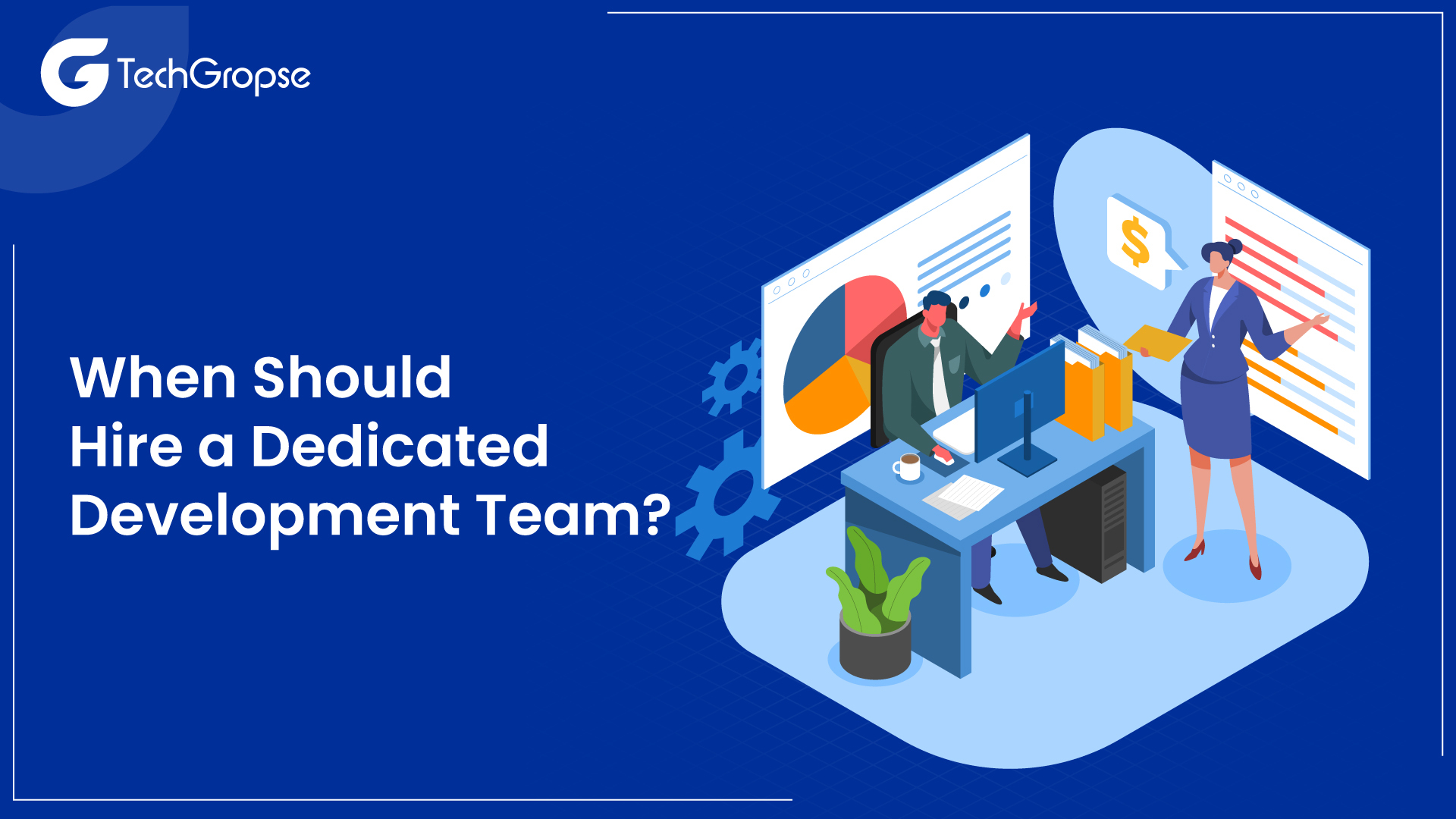 Did you know that over 68% of American businesses hire outside teams to help with their computer stuff? And in Britain, over 70% of them are already doing it. Big and medium-sized companies also use these outside teams to help them with their computer work.
Hiring a dedicated development team can offer several benefits, such as reduced development costs, access to a talented pool of developers, and quick scaling of development teams. They can act as an extension of your in-house team and work together to achieve your business goals.
1. Introducing a New Product
If you are starting a new business or already have one, putting together a dedicated team of people who can make a new computer program is a good idea. This will help you start making your product as soon as possible. It is also a smart way to save money and time while working on it.
2. Long-Term Projects 
If a development company wants to improve its technology, it should find a good team to help them. This team of developers can work quickly and efficiently. With their help, the company can make its products even better without sacrificing quality.
3. Companies with an Affordable Cost
Sometimes hiring people who live in the same country as you are too expensive, like in the USA, France, or Germany. You can still get help from people who live in other countries where it is cheaper to hire them. Places like Central and Western Europe have many talented people who can help you. So, even if you don't have a lot of money, you can still get the help you need to make your business successful.
4. Scaling
If you want your business to grow big, you must have a dedicated project team that knows how to make software. It is a good idea to hire a team from the same country where you are opening a new office or a team that knows much about the technology you use.
Who Can Hire for Your Dedicated Team?
Outsourcing software development services is the best solution for mid-sized businesses and enterprise clients and, in a few cases, for companies of a smaller size. Basically, this model is the best fit for:
Companies that want to cut expenses on IT processes
Companies that require to support their own teams with new skills
Startups that want to hire dedicated developers quickly
Development of complex projects that require the use of different technologies
Tasks that need hard-to-find talents
Projects with strict needs may become more complex over time
Projects that only take some months or years of development and hiring developers
Those who want to share or have complete control over the project's performance
When you hire dedicated team of developers it can be comprised of specialists performing the following roles:
         Roles
 

       

               Responsibility

Business Analyst
Performs deep analysis of your business domain, collects solution needs, and aligns them with your business requirements.
Product Manager
Responsible for shaping a product vision and making an actionable strategy to turn this vision into product needs.
The project Manager
Leads your dedicated team and sets the project schema according to time and budget. Also acts as a mediator between you and the hired team.
UX/UI Designer
Analyzes user needs and builds interactive interfaces that appropriately represent both the technical and business requirements of the platform.
The Tech Lead
Manages a team of developers, validates the technical architecture, and describes the tech stack of your application.
The Backend Developer
Create and maintains the technology needed for data storage, security, and other server-side functions.
Frontend Developer
Converts designs of UX/UI developers into amazing graphical interfaces where users can interact with the product.
Mobile Developer
Specializes in making mobile solutions for Android and/or iOS platforms.
A Quality Assurance (QA) Engineer
Track the application for bugs and ensures that your application satisfies pre-defined quality standards and needs.
What Are the Benefits of Hiring a Dedicated Development Team?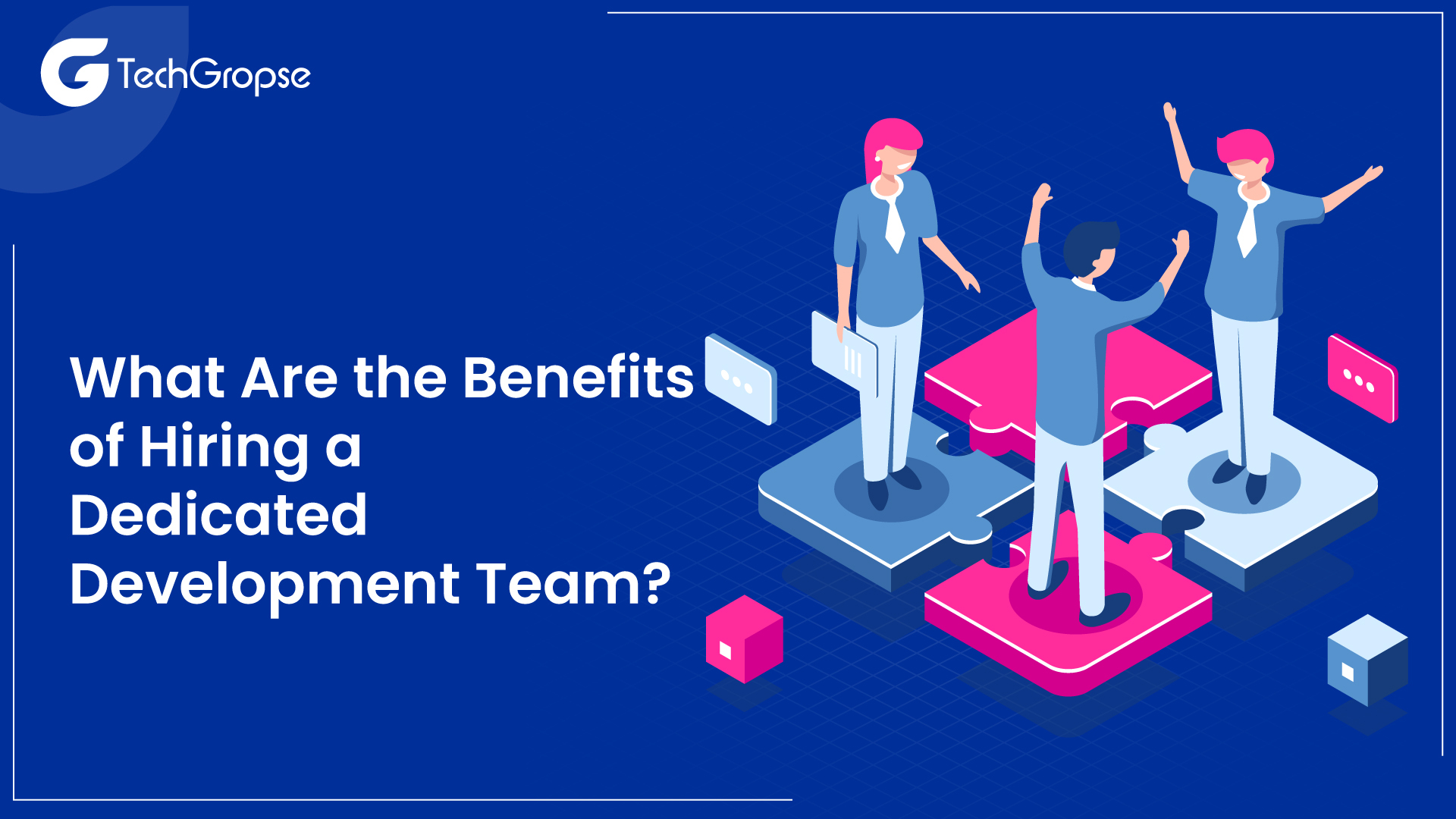 Hiring a dedicated development team can offer many benefits for businesses of all sizes. Here are a few key advantages to consider.
1. Cost Savings and Improved Efficiency
Development companies hire a dedicated team of developers where businesses can save money over the long term by reducing overhead costs associated with maintaining an in-house development team. Additionally, dedicated development teams can work more efficiently, leading to faster project delivery times and improved productivity.
2. Access to a Wide Range of Expertise
With a dedicated development team, businesses can access an expansive range of expertise in software development, design, and project management. This can help ensure that projects are completed to the highest standard and can lead to better outcomes for the business.
3. Faster Time to Market and Improved Product Quality
By working with a dedicated development team, businesses can speed up the development process and get products to market faster. Additionally, dedicated development teams can help companies to improve the quality of their products by leveraging their expertise and experience to identify areas for improvement.
In-House Team vs. Dedicated Software Development Team
Are you trying to decide if you should hire a team to work in your office or if you should hire a team that works remotely? It can be tough to choose, but if you weigh the good and bad things about each option, you can make the best decision for yourself.
Have a closer look at the pros and cons of in-house development teams.
Pros
Cons

Quick communication
Ability to make a specialist within the company
Attention to detail

Shortage of expertise
HR issues
High operating cost
Complex accounting
Compatibility issues among teams
Now, let's move on to the pros and cons of considering dedicated developers for hire:
Pros
Cons

Access to a wide talent pool
No requirement to prepare employees
Low operating costs
No taxes
No salary cost
No lengthy hiring and onboarding process

Lack of expertise
HR issues
High operating cost
Complex accounting
Compatibility issues among teams
Engagement Model Options Available for Hiring Remote Development Teams
There are three primary models to hire dedicated project team:
Dedicated team
Extended team
Outsourced team
1. Dedicated Team Model
When a company wants to build an app, it can hire dedicated team of developers who are really good at making it. This team will only work on that project and do their best to make it great. The company that hired them gets to decide what the program will do and how it will look. If they need more people to help, they can hire more.
2. Extended team
The extended software team model is like a team of superheroes! The customer has their own team of developers, but they can also bring in other experts from a different company to help. It is like calling in Iron Man or Captain America to join forces with your own team. The customer gets to choose the best remote talent to work with them, and they get to be the boss. It is like having your own super team that you get to control.

3. Outsourced team
An outsourced team is another business model where the owners build their house development process by outsourcing software development services from another country.
When businesses select these cooperation models, they have to pay attention to
the quality of the talent
the reputation of the potential vendor
Furthermore, many of us still need to understand the dedicated and outsourced team models with an outstaffing model.
One of the major differences between a dedicated team and staffing is given below:
Dedicated Team
Extended Team
Outsourced Team

Cooperation

Both a client and a vendor can manage

a team

The client manages a team

The vendor manages a team

Control
Complete control
Complete control
Partial control

Flexibility

Quick adaptation

to any project

changes

Quick adaptation

to any project

changes

Less flexible when it comes to changing some project elements
What is the Best Way to Hire Dedicated Developers?
Hiring a dedicated development team is a big decision and not one that should be taken lightly. To ensure that you choose the right team for your business, there are a few things to keep in mind.
1. Planning Your Requirements
When working on a project, it's super important to think about what you want to get out of it. You should ask yourself some questions like
How many and what experts does the company require?
What talents must the experts have?
What is the company's budget?
Once you have some answers, you can list what you need and find the right people to help you. This will make things a lot easier for you.
2. Market Research
You can use websites like Clutch or Good Films to learn more about a company that makes amazing apps. These websites are like report cards for companies that make things.
You can check out how good they are at making capability and what others think about them.
When you use these websites, it's important to look at these things:
Outsourcing location
Outsourcing developer rates
Reviews and feedback
Level of Expertise and skills
Tech and industry focus
Examples of best projects
3. Consider Experience & Expertise
When someone wants to hire a team to do a job, they get to pick who they want on their team. People with a group of workers will suggest the best people for the job. When interviewing people to be on your team, it is essential to ensure they have certain skills.
Here are some things you should look for:
 Level of proficiency in the essential tech stack
Soft business skills and knowledge of English
Projects in which the company-supplier experienced and how successful the outcomes of cooperation were
3. Choosing a Vendor
This is the most challenging part of the process. After deep research and narrowing down a list of service providers, it's time to choose.
Pay attention to 3 essential aspects: experience, portfolio, and level of communication.
The following way can be used for selecting a suitable vendor:
Detailed written question
Online meeting with a vendor
References
4. Questions to Ask 
Be bold and ask hard questions to your potential development team. Ask about their development approach, project management methodologies, and how they handle communication and feedback. A reliable dedicated development team will be transparent and open with you about their processes.
Factors Affecting the Cost of Hiring a Dedicated Development Team
Some factors determine the cost of hiring a dedicated development team, including
The Geographical Location of the Team: The cost of hiring a dedicated development team depends on the geographic location of the group. Developers in countries with a lower cost of living tend to charge less than those in more expensive countries. Here we compile approx rates of different regions:
| | |
| --- | --- |
| Country | Average rate |
| Russia | USD 30/hr |
| Ukraine | USD 37/hr |
| Brazil | USD 51/hr |
| Poland | USD 40/hr |
| United States | USD 71/hr |
| India | USD 15/hr |
Experience and Skill Level of the Team Members: The experience and skill level of the development team members affect the cost of hiring them. The more experienced developers with specific skills will charge more than junior developers with little experience.
A Number of Team Members: The number of developers required for the project also affects the cost of hiring a dedicated development team. A larger team may cost more than a smaller one, but it can help complete the task faster.
Project Complexity and Scope: The complexity and scope of the project also determine the cost of hiring a dedicated development team. A more complex project may require more experienced developers and take longer, leading to a higher price.
Future Trends in Hiring Dedicated Development Teams in 2023
As the business world evolves, hiring dedicated development teams is becoming an increasingly popular option for businesses looking to scale up their technology infrastructure. In 2023, we expect to see a few emerging trends shaping how companies hire dedicated development teams.
Emerging Technologies and Their Impact on Hiring Dedicated Development Teams
Technologies such as artificial intelligence (AI), machine learning (ML), and blockchain are rapidly paving the way for advancements in software development. Accordingly, we expect to see more businesses looking to hire dedicated development teams with expertise in these areas.
Changing Business Needs and Their Influence on Hiring Practices
As businesses continue to embrace digital transformation, their need for specialized software will grow. In 2023, we expect companies to hire dedicated development teams to build custom software solutions that cater to their unique needs.
Final Thought
Hiring a dedicated development team can help businesses save costs, enhance efficiency, and access expertise. Companies must consider factors like team location, experience, and communication skills to ensure a successful partnership.
In 2023, emerging technologies and changing business requirements will continue to shape the hiring practices of dedicated development teams.
By following the tips outlined in this post, businesses can select a reliable team that meets their specific needs and provides business value for years.
FAQ: Hire Dedicated Development Team in 2023
1. What is a dedicated development team?
A dedicated development team is a group of software developers and other professionals who work exclusively on a particular project for a client. Unlike traditional outsourcing arrangements, dedicated development teams are fully integrated into the client's organization and work as a cohesive unit.
2. How do dedicated development teams compare to in-house teams?
While in-house teams offer high control and can promote a stronger company culture, dedicated development teams deliver access to a wider range of expertise and can be more cost-effective. In-house teams need investment in infrastructure and resources, while dedicated development teams are fully equipped to handle projects from start to finish.
3. What factors affect the cost of hiring a dedicated development team?
The cost of hiring a dedicated development team can differ depending on various factors, including their geographical location, experience and skill level, number of team members, and project complexity and scope. Businesses must carefully consider these factors before hiring a team to ensure they make the best choices for their needs.
4. How can businesses select a reliable dedicated development team?
To select a reliable dedicated development team, businesses should consider the team's experience and expertise, communication and collaboration skills, and quality coding and testing practices. Asking relevant questions and checking references can also help businesses make informed decisions about their team choice.