Health is wealth, which is why we need to take care of our health. And we relied on it during the pandemic that health is everything. Therefore, fitness centres also invest in fitness apps that meet several health and fitness requirements. But small businesses have a query about the cost to build a fitness app.
Of course, developing a fitness app takes time, and there is a requirement for the latest technology and other things, which is why it is difficult to decide on the cost of creating a fitness app.   As we know, the competition is tough because every agency decides to develop a fitness app that helps users keep a record of their health. 
In simple words, people are gaining more control over their fitness and that too at an awesomely affordable price that is less compared to a physical fitness centre. As per the research, fitness applications have gathered a lot of crowds in a few years. In 2022, the user penetration will be 15.64%, projected to reach 20.29% by 2025.
So, it is proof that it is a great investment for gym owners as well as other fitness centres. If you are a business owner and want to serve the best, it is time to get in touch with an honourable and trusted mobile app development company that will make an app that has the necessary features. 
A List of Different Types of Fitness Apps You Can Consider Developing in 2022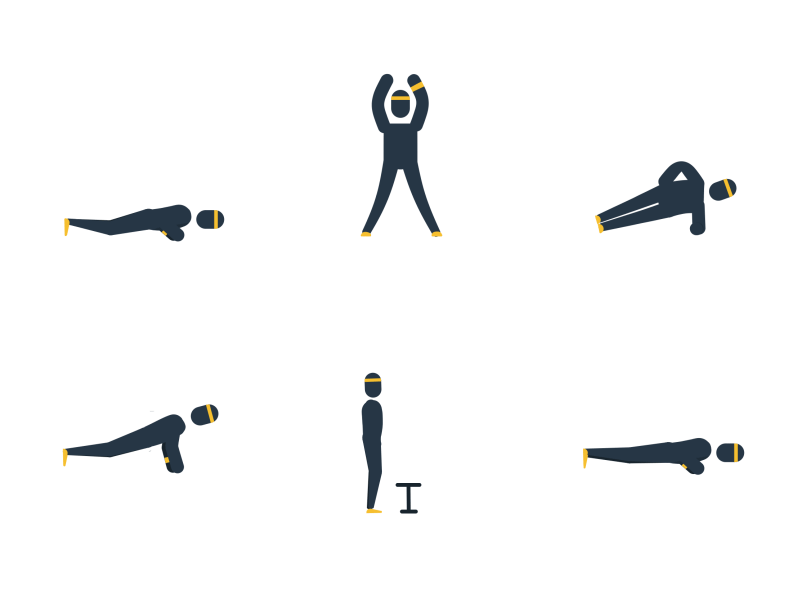 Developing a mobile fitness application is a great and excellent opportunity for revenue generation. However, there are different fitness apps, so you can choose any option to boost your business and get good revenue and a high return on investment. 
#1. Yoga and Meditation Apps
Yoga and Meditation are two types of applications that help users to maintain physical and mental health. Practically everywhere around the globe, people practise yoga and meditation.  These practices are popular worldwide, so you can develop a yoga application that helps people stay fit.
However, you need to know the cost to develop a fitness app. It is easy to set a budget for your company with complete information about the cost.
#2. Personal Training and Workout Apps
This application helps people to save their time who have busy work schedules and prefer these applications. Users get access to customise their own fitness routines or a list of workouts that focus on specific body regions.  
And a personal training application will give video tutorials and guided exercises that will assist you in improving your user experience. Thus, you can develop personal training and workout applications and earn good revenue. 
But the question is, what is the cost to make a fitness app in 2022? If you have the same query, you need to consult with a reputable name that will give you all the information about the cost. 
#3. Diet and Nutrition Apps
A proper diet is most important to stay healthy and fit. Exercise and diet play an important role in getting a good posture. We all know that junk food and unhealthy diets can cause different diseases, including high cholesterol, heart disease, obesity and high blood pressure.
However, diet application has a strict diet plan that has wholesome meals in daily food courses, these disorders can be prevented. Hence, it is the best fit for this goal. So, you can develop a diet application that has great features and technology to serve the best to customers.  
In order to develop such an app, you should seek the help of an on demand app development company that has years of expertise in developing fitness applications. With in-depth knowledge about coding, developers build a fully-functional application.
#4. Fitness Tracking App
A fitness tracking app is another name in the fitness app development category. With this application's help, users can maintain fitness records. In this application, you will find great features such as exercising or distance travelled when walking or jogging. The application for measuring activity always keeps track of calories burned during physical activity. 
If you have a fitness centre and you want to develop an app, a fitness tracking application is a great idea to generate more revenue. However, you should pay a high cost to create a fitness app. If you have a limited budget, you can contact a reliable and honourable agency that will guide you properly. 
Basic Features a Fitness App Must Have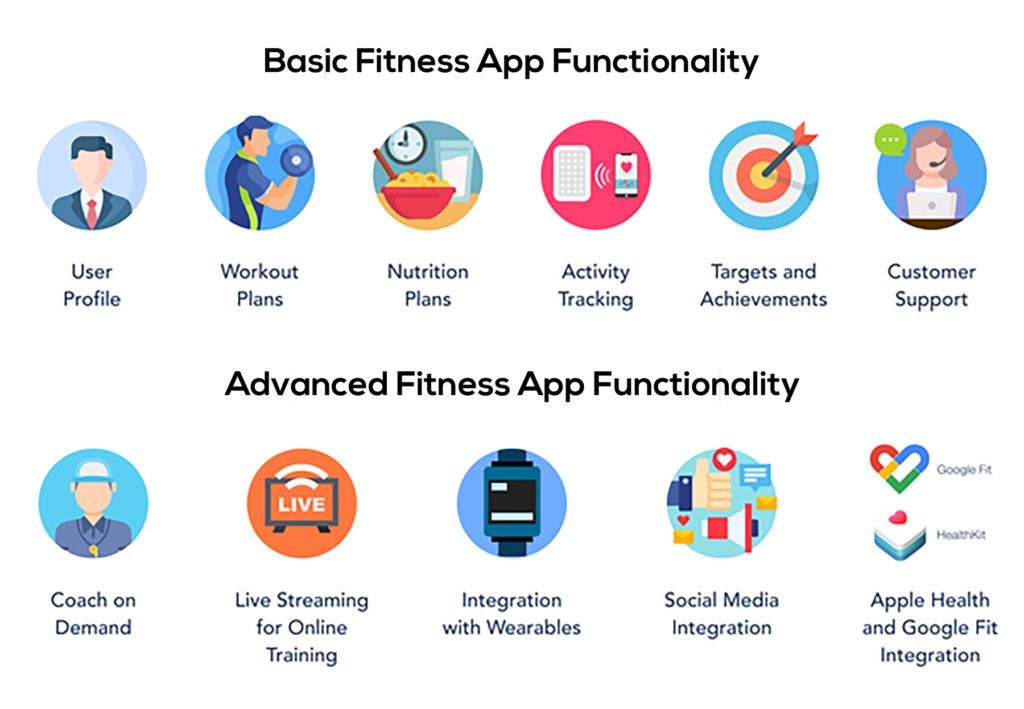 We all know that features play an essential role in the success of the application. Hence, it is required to add the necessary features to the application. Here, we mentioned a list of some basic features a fitness app must have. 
This is the required feature a fitness app must have that helps the users, trainers and admins to login into the application through email id, phone number and social media.
Social integration will synchronise the information stored on a social network with the fitness application. On the other hand, authorising an app through social media makes the search for friends easier, which is why it is required to add this feature to the application. 
The traditional fitness app usually focuses on activities such as running, walking, cycling and more. But now, applications show the number of steps, miles run, time taken, and calories burned. So, it is good to integrate this feature into the app. 
This is the must-have feature a fitness application must have. It lets the users plan and set achievable goals. So they can constantly move forward towards their goal. 
There are several workouts that may differ depending on the type of application. Most tracking applications come with a feature allowing you to create a custom workout plan or select from the offered ones. 
Notification is an essential feature of fitness or yoga apps. Through the help of this feature, users can get updates about new offers, videos of the exercise and other information. 
The Key Factors That Affect the Cost of Fitness App Development
As a fitness business owner, you also want to develop a fitness application that has the required features. But, the first question that comes to mind is the cost to make a fitness app, or what are the cost-affecting factors of fitness trainer mobile app development?
Of course, no one has enough money to invest in a project, so you need to take care of several factors that affect the cost of fitness app development. This will assist you in knowing the cost of fitness app development. 

1. Types of App Model
The type of app model decides the cost of the app development. Hence, you need to choose a model that is suitable for your business and budget. Then, you need to hire dedicated developers who will help you make a project equipped with the best features. 
2. Type of Business Model
The type of business model is always an essential factor affecting the overall fitness app development cost. Generally, the business or fitness app monetization models are freemium, subscription-based, premium, and many more. 
So, you can select any one of them, but the cost will be different because of the difference in features. Thus, you need to decide which type of business model you have and hire mobile app developers to complete this job.

3. App development team size
When it comes to deciding the cost to make a fitness app, it is time to check team size. Usually, the approx cost of a basic fitness application for a single platform is $30,000, according to an idea.
But it may be high with the fees of developers. The cost will be more when you hire a team including developers, project managers, QA professionals, and designers.
4. Mobile Platform
There are two main platforms such as Android and iOS. The cost to develop a fitness app depends on the mobile application platform. There is a difference in cost between Android and iOS.
In order to know the actual cost, you can get in touch with a reputable android app development company. A leading company will provide all the required information about the cost. 
5. Fitness App Designing 
The design of the fitness app always plays an essential role in overall cost. A stunning design can only work to make an application exciting and interactive. For implementing the design, there are some technologies required. 
To make the task more convenient and easy, hire android app developers who have years of expertise and a good hand in app development. This will assist you in developing a fitness app to serve the best to the valuable users.  
6. Features & Functionalities 
Features and functionalities always decide the cost of the fitness app development. If you want to get the basic features, you don't need to invest a huge amount of money. But you need to pay a huge amount when you are dedicated to adding advanced and great features to your application. 
7. App Security 
There are many people who are using the fitness training app, so there are ample chances of hacking and stealing information from hackers. If you want to ensure app security, you need to pay a high cost. 
Cost to Make a  Functional Fitness App in 2022
Above mentioned factors affect the cost of fitness app development. But there are some other factors that help to decide the cost to make a fitness app, such as geographical location and experience of the developers.
Of course, each country takes different charges for fitness app development that is based on UI/UX,  technology, and other things. So, it is difficult to know the exact cost to make a fitness app.
Here, we mentioned a list of the cost of creating a fitness app for an idea. This will help you in getting an idea about the cost of building a fitness app. So, let's start 
| | | | |
| --- | --- | --- | --- |
| Type of Services | Backend Development | iOS Development | Android Development |
| Features | 259 Hours | 438 Hours | 38 Hours |
| Framework | 35 Hours | 36 Hours | 120 Hours |
| UI/UX Designs | 40 Hours | 120 Hours | 62 Hours |
| Quality Assurance | 217 Hours | 218 Hour  | 218 Hours |
| Development | 36 Hours | 135 Hour  | 100 Hours  |
| Project Management | 124 Hours | 62 Hour  | 254 Hour |
| Total Time | 530 Hours | 1206 Hour | 2016 |
Cost to Make a Fitness App in 2022 According to Geographical Location 
| | |
| --- | --- |
| City | Cost to Make a Fitness App Per Hour |
| Europe | $50 to $150 Per Hour |
| USA | $30 to $ 145 Per Hour |
| UAE | $36 to 165  Per Hour |
| Saudi Arabia | $45 to $95 Per Hour |
| India | $25 to $80 Per Hour |
The Final Verdict
You got the answer to your question about the cost to make a fitness app in 2022. But as we discussed, developing an application is not an easy task, which is why you should contact a reputable fitness app development company.
With appropriate skills, dedication and years of experience, they make the task easier and also ensure customer satisfaction. Therefore, finding a reliable name with a good track record and reputation in the app development market is suggested.