"Whether you are going near or so far, Careem takes you there without a hitch."
Have you ever tried using an amazing taxi app like Careem? Or maybe you are thinking to build an app like Careem?
Well, if you want to do it right, there is something essential you should pay attention to.
It's all about hiring the right people to help you build an awesome ride-hailing app. You should hire mobile app developers who will work with you to make a brand-new app that your customers will love using.
As we know that the world of transportation and mobility has been revolutionized by on-demand ride-hailing apps, and Careem is one such platform that has gained immense popularity in the Middle East.
Careem offers convenient and reliable transportation services through its user-friendly mobile application.
If you are consider to build app like Careem, it is essential to understand the factors that influence its development cost.
From the key features and functionalities to the app development process and cost estimation, this post provides valuable insights into the various aspects to build an app like Careem.
So, let's dive in and explore the world of app development in the context of Careem.
Some Exciting Statistical Facts You Must Know
For some time when people used to book their rides over the phone with traditional taxi services.
But now, many people use apps like Careem. Where they can get quick on-demand transportation. Let's have a quick look at some interesting facts.
| | |
| --- | --- |
| Statistical Fact | Data |
| Global revenue from the taxi booking app market (2021) | $34.2 billion |
| Projected CAGR (Compound Annual Growth Rate) of the taxi booking app market (2022-2027) | 16.5% |
| Number of taxi booking app users worldwide (2021) | 400 million |
| The average number of daily taxi bookings through apps | 15 million |
| Percentage of taxi bookings made via mobile apps (2021) | 78% |
| The average time it takes to develop a taxi booking app | 3 to 6 months |
| Number of mobile app developers worldwide (2021) | 5.9 million |
| The average price of building a taxi booking app | $25,000 to $100,000 |
| Most popular features of taxi booking apps | GPS tracking, fare estimation, and payment integration |
| Major players in the taxi booking app market | Uber, Lyft, Didi Chuxing, Ola, Grab, and Careem |
*Please note that these statistics are based on available data up until 2021 and may have changed since then.
How Do Apps Work for On-Demand Taxi Booking Like Careem?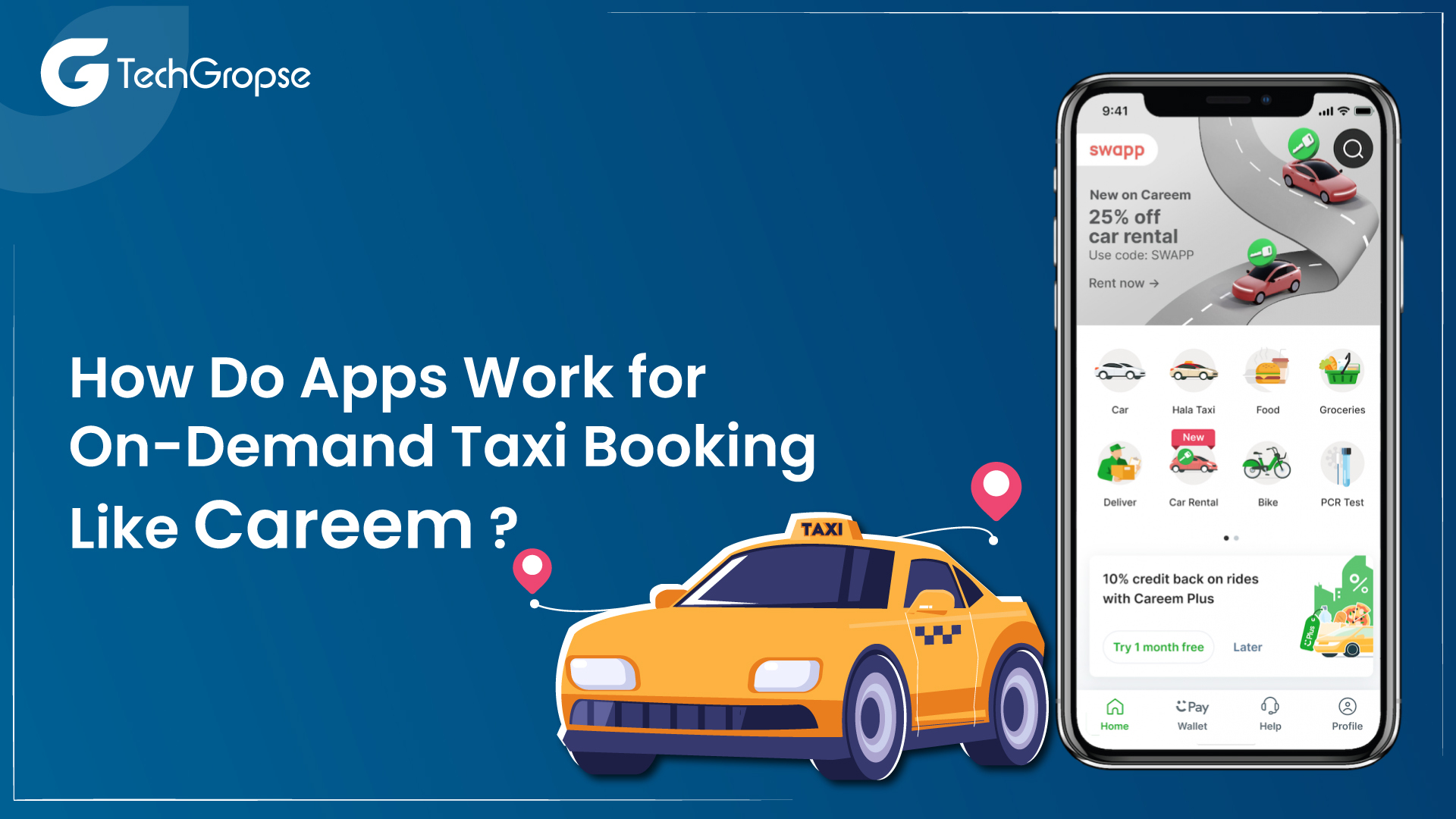 App development in Saudi Arabia makes incredible functions through a series of interconnected processes that involve users, drivers, and the app itself.
Here's a general overview of how these apps typically work:
1. Registration and Profile Setup
Users download the Careem app from their respective app stores and create an account by providing essential details like name, mobile number, and payment details.
Drivers also register with the app, submitting their personal details, vehicle details, and driving licenses.
2. Geolocation and Ride Request
Users open the app, which automatically fetches their current location using advanced GPS technology.
Users enter their desired destination and select the type of service (e.g., business, economy, etc.).
The app displays an estimated fare and arrival time for available drivers in the vicinity.
3. Driver Acceptance and Dispatch
When a ride request is made, the app sends notifications to nearby drivers.
Drivers can view the passenger's pickup location and decide whether to accept or decline the ride.
If a driver accepts the ride, the app establishes a connection between the driver and the passenger.
4. Real-time Tracking and Communication
Once the driver accepts the ride, the app gives real-time tracking, allowing passengers to monitor the driver's location and the estimated time of arrival.
Passengers and drivers can communicate through in-app messaging or calling features for any essential coordination.
5. Ride Completion and Payment
Once the passenger reaches their destination, the ride is considered complete.
The app automatically calculates the fare based on duration, distance, and any additional charges (if applicable).
Payment is processed via the app, using pre-set payment methods such as digital wallets or credit/debit cards.
Both passengers and drivers can rate each other and give feedback on the experience.
6. App Maintenance and Support
The app requires regular maintenance, updates, and improvements to ensure security, functionality, and user satisfaction.
Users can access customer support within the app for feedback, assistance, or dispute resolution.
What Are The Key Features Must Be Implemented in a Taxi App like Careem?
A taxi app like Careem or if you want to build food delivery app you must consider various features to provide a seamless experience for passengers.
Here are some key features that should be implemented to build an app like Careem.
#Passenger Panel
1. Registration and Profile Management
User registration and login functionality to create and manage user accounts.
Profile setup with essential details like name, contact information, and preferred payment methods.
2. Ride Booking
Easy-to-use interface for entering pickup and drop-off locations.
Option to choose the type of service (e.g., economy, business, luxury).
Fare estimation based on distance, duration, and any additional charges.
3. Real-time Tracking
Live tracking of assigned driver's location and the estimated time of arrival.
Map view showing the driver's route and progress toward the pickup location.
4. Multiple Payment Options
Integration with various payment methods, such as credit/debit cards, digital wallets, or cash.
Secure payment processing and the ability to save payment details for future rides.
5. Notifications and Alerts
Push notifications to inform users about ride confirmations, driver arrivals, and other relevant updates.
In-app alerts for important information or promotions from the taxi service.
6. Driver Details and Rating
Access to driver information, including name, photo, and driver ratings.
Ability to rate drivers and provide feedback on the ride experience.

7. Ride History and Receipts
A log of past rides, including details like date, time, pickup/drop-off locations, and fare.
Digital receipts for easy reference and expense tracking.
#Driver Panel
1. Registration and Verification
Driver registration and profile setup, including submission of personal information, driver's license, and vehicle details.
Verification process to ensure drivers meet the required criteria and standards.
2. Driver Availability and Status
Toggle switch or button to indicate driver availability for accepting ride requests.
Option to set online/offline status to control visibility to passengers.
3. Ride Acceptance and Management
Notification and alert system for incoming ride requests.
Ability to accept or decline ride requests based on availability and proximity.
4. GPS Navigation and Routing
Integration with GPS technology for real-time navigation and route guidance.
Optimized routing to efficiently reach the pickup and drop-off locations.
5. Trip History and Reports
Access to a detailed history of completed rides, including information such as pickup/drop-off locations, fares, and timestamps.
Generating reports for reviewing earnings, trip statistics, or tax purposes.
6. Driver Support and Assistance
Access to customer support and assistance within the app for addressing queries or issues.
Help center with resources, FAQs, and troubleshooting guidelines.
7. Driver Performance Analytics
Performance metrics and analytics to track key indicators such as trip completion rate, average rating, and earnings.
Insights and feedback on areas for improvement and suggestions for enhancing driver performance.
#Admin Panel
1. Dashboard and Analytics
Overview of key system metrics, such as total rides, active drivers, and earnings.
Detailed analytics and reports on user engagement, revenue, driver performance, and other relevant data.
2. User Management
Ability to manage user accounts, including registration, verification, and profile management.
Access to user data for support purposes and customer relationship management.
3. Driver Management
Driver registration and verification management, including driver documentation and background checks.
Ability to onboard and offboard drivers, review driver performance, and handle driver-related issues.
4. Fare and Pricing Management
Configuration of fare structures, pricing models, and surge pricing during peak demand.
Ability to set and modify pricing rules, discounts, and promotional campaigns.
5. Payment Management
Integration with payment gateways and management of financial transactions.
Monitoring and reconciliation of payments made by passengers and earnings for drivers.
6. Geolocation and Mapping
Management of geolocation services and integration with mapping technologies for accurate tracking and routing.
Ability to monitor driver locations, and real-time traffic conditions, and optimize routing.
7. Reporting and Insights
Generation of detailed reports and insights on system performance, revenue, user behavior, and market trends.
Data-driven decision-making based on analytics to optimize operations and improve user experience.
8. System Configuration and Settings
Configuration options for system settings, app features, service areas, language preferences, and other customizable parameters.
Advanced Features And Functionality to Build an App Like Careem
If you want to build an app like Careem you must consult with an On-demand app development company that offers various features and functionality to improve the user experience and facilitate seamless ride bookings.
Here are some interesting features commonly found in the Careem taxi app:
Ride Booking: Users can easily book a ride by entering their pickup and drop-off locations, selecting the type of service (e.g., economy, business), and viewing an estimated fare and arrival time.
Real-time Tracking: The app provides real-time tracking of the assigned driver, allowing users to track the driver's location and the estimated time of arrival.
Multiple Service Options: Careem offers amazing service categories to cater to different user preferences and needs like business, economy, and specialty options like Careem Kids for family rides.
Secure Payment Options: Users can securely pay for their rides through different payment methods such as digital wallets, credit/debit cards, or cash (in some regions).
In-app Messaging and Calling: The app facilitates communication between passengers and drivers through in-app messaging or calling features, allowing them to coordinate details or address any concerns.
Driver Ratings and Feedback: After completing a ride, users can rate their driver and provide feedback on their experience, contributing to the overall driver rating system.
Personalized Profiles: Users can make personalized profiles with saved addresses, preferred payment methods, and other preferences to streamline future ride bookings.
Multi-language Support: Careem app supports different languages to cater to a various user base, providing a localized experience.
Scheduled Rides: Users can schedule rides in advance, allowing them to plan their travel and ensure a driver is assigned at the specified time.
Safety Features: Careem prioritizes user safety and incorporates safety features like SOS buttons, driver background checks, and options to share ride details with trusted contacts.
Loyalty and Rewards Program: The app may include a loyalty program where users can earn points or rewards for frequent rides and redeem them for discounts or other advantages.
Trip History and Receipts: Users can access their digital receipts and ride history within the app for reference or expense management purposes.
How Much Does it Cost To Build an App Like Careem?
Careem app development cost vary based on several factors. Here's a rough estimate of the cost breakdown in the below table.
| | |
| --- | --- |
| Component | Estimated Cost Range |
| Basic App Development (Single Platform) | $25,000 – $50,000 |
| Advanced Features and Functionality | $10,000 – $30,000+ per feature |
| Backend Development and APIs | $10,000 – $25,000 |
| User Interface and Design | $5,000 – $15,000 |
| Third-Party Integrations | $5,000 – $15,000+ per integration |
| Quality Assurance and Testing | $5,000 – $10,000 |
| Deployment and App Store Submission | $1,000 – $5,000 |
| Maintenance and Updates | Ongoing costs (varies) |
However, the actual cost will depend on factors such as the mobile app developers in Riyadh, the development team's rates, location, and the chosen platform (e.g., iOS, Android, or both).
It's advisable to consult with a mobile app development company in Saudi Arabia or hire app developers in Saudi Arabia to get a more accurate cost estimation based on your specific project needs.
Factors Influencing the Cost to Build an App Like Careem
The cost of developing the Careem Captain app can vary depending on several factors. Here are some essential aspects that influence the overall cost:
Platform and Device Compatibility: The cost will differ based on whether you choose to develop the app for a single platform (e.g., Android or iOS) or other platforms. Supporting additional devices and operating system versions can improve development costs.
App Design and User Interface: The complexity and sophistication of the app's design and user interface (UI) can impact the cost. Customized and visually appealing UI elements may need more design work and development effort.
Features and Functionality: The number and complexity of features you want to incorporate into the app will influence the cost. Excellent features such as driver ratings, real-time tracking, multi-language support, payment integration, and advanced analytics may need additional development resources.
Integration with Third-Party Services: If you plan to integrate the app with third-party services like mapping and navigation (e.g., Google Maps), payment gateways, or SMS gateways, the cost may rise because of additional development and licensing fees.
Backend Development: The development of a robust and scalable backend infrastructure, such as server setup, database management, and API development, can contribute to the overall cost.
Team Size and Expertise: The cost may differ based on the size and expertise of the development team. Rates can vary depending on the location of the development team as well.
Testing and Quality Assurance: Essential testing and quality assurance processes are crucial for app stability and user satisfaction. The cost will depend on the extent and complexity of the testing needed.
Maintenance and Updates: Ongoing app maintenance, bug fixes, and updates to support new OS versions can incur additional costs beyond the initial development.
Top Alternative Apps like Careem
In today's digital age, a robust and well-designed app whether a food delivery app development company or grocery delivery app development is crucial for the success of any business.
Careem recognized this early on and invested heavily in app development to provide an efficient and convenient service to its users.
The app acts as a bridge between riders and drivers, allowing them to connect seamlessly and ensuring a hassle-free ride experience.
Have a quick look at the top alternatives to the Careem app
Ride-Hailing Service
Country of Origin
Availability
Features
Uber
United States
Global
Uber Pool (shared rides), Uber Eats (food delivery), Uber Rewards loyalty program, Uber for Business
Grab
Singapore
Southeast Asia
GrabPay digital wallet, GrabRewards loyalty program,

GrabFood (food delivery), GrabExpress (package delivery)

Ola
India
India, Australia, New Zealand, the United Kingdom
Ola Outstation (long-distance rides), Ola Money digital wallet,

Ola Auto (auto-rickshaw booking)

Lyft
United States
USA, Canada
 Lyft Pink (subscription plan), Lyft Line (shared rides), Round Up & Donate feature, Lyft Business for companies

Didi Chuxing
China
China
DiDi English version for international travelers, Hitch (carpooling service), DiDi Enterprise for corporate users

Bolt (formerly Taxify)
Estonia
Europe, Africa, Australia, Mexico
Bolt Business for corporate users, Bolt Food (food delivery), Bolt for Business
Yandex. Taxi
Russia
Russia, Eastern Europe
Child car seat option, In-app chat with the driver, Yandex. Navigator integration,
Gojek
Indonesia
Southeast Asia
GoPay digital wallet, GoFood (food delivery), GoSend (parcel delivery), GoTix (ticket booking),
Final Words
Building an app like Careem needs careful planning, consideration of various factors, and a thorough understanding of the app development process. From estimating the development costs to optimizing expenses, there are strategies that can help make the journey smoother.
However, it is essential to keep in mind the additional challenges like scalability, security, and legal compliance.
By taking these factors into account and leveraging the insights provided in this post, you can embark on the journey of creating a successful app similar to Careem, offering convenient and reliable transportation services to users.
FAQ: How Much Does it Cost to Build an App Like Careem
1. What are the fundamental features that make the Careem app stand out?
The Careem app offers some key features that contribute to its popularity. These include ride booking and tracking, user registration and authentication, seamless payment integration, as well as the ability for users to provide ratings and reviews.
2. How can I estimate the development costs for building an app like Careem?
Estimating the development costs for a Careem-like app needs to consider different factors. Key cost factors include the app's design and user interface, platform compatibility, app complexity, and customization requirements.
3. What strategies can help optimize app development costs?
To optimize app development costs, it is recommended to adopt agile development methodologies, prioritize minimum viable product (MVP) features, and carefully consider whether to outsource or develop in-house.