When it comes to app development, Android is undoubtedly considered the best. A recent Statista analysis predicts that by 2023, the global OS share of Android will be 87.4%. In other words, developing an Android app will help with brand promotion.
In another report it was estimated that global sales of mobile apps ranked $462 billion in 2019, and are expected to grow $936 billion by 2023. Isn't that breathtaking? But not every app will be a financial success. Because there are too many apps on the market, they are pricey, etc., only one mobile app out of every 10,000 survives.
It becomes essential to work with Android app developers who can help you create a fantastic app that will dominate the market and bring in a lot of profit.
The biggest question of all here is What is the cost to hire android app developers. Before beginning a new app development project, this is likely one of the first questions managers or corporations ask. The cost of employing an app developer and the overall budget for the development make up the bulk of every app development budget.
You have come to the right place if you need help figuring out how much it will cost to hire an app developer. Everything you need to know to calculate the price to employ app developers will be covered in this post.
What does an Android App Developer do?
Having an Android mobile app is a suitable trend among users since it gives you access to all the features you need at the touch of your fingertips. The number of mobile apps downloaded from Google Play increased to 111.3 billion in 2021 from 76 billion in the previous years.
To guarantee that the requirements of the user are handled and understood, developing Android applications involves experience and understanding of the various IDEs, frameworks, languages, and current trends. This will assist them in developing a simple, creative, and interactive app that aids in achieving these objectives.
Why are Android App Developers Important?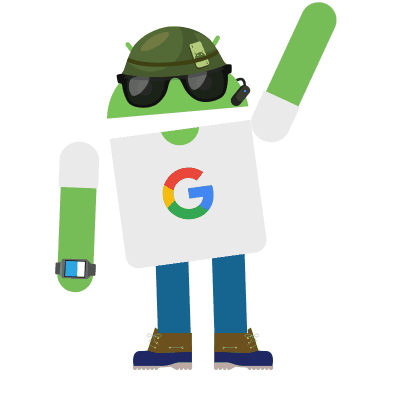 Here are some statistics about mobile app use that will help you understand why developing a mobile app could be advantageous for your company or organization:
Users use apps an astounding 49% of the time, or at least 11 times per day. 21% of them who are Millennials use an app 50 or more times every day.
Almost 57 percent of all digital content usage is practiced within apps. The typical consumer uses about 30 different apps on their tablet or smartphone each month.
It is expected that by the end of 2023 mobile apps will churn out around $935 billions USD.
The above statistics illustrate that a mobile app may be a potent tool for enhancing the user experience and reach of your company or business. Due to the rise in popularity of mobile applications, launching a robust android app will help you take your business to unimaginable heights.
Advantages of Android App Development For Companies and Startups
The mobility of Android phones is continuously changing the markets' industries. In recent years, mobile has exceeded desktop norms, and the gap is growing daily. It has developed into a necessary aspect of our lives and is no longer just a communication tool.
Hire the best Android app developers for your new company app for the following reasons:
#1. Greater Possibilities
Users actively look for cutting-edge apps that can assist them in completing tasks more conveniently and quickly. Startup industries will have a door open with plenty of opportunities in the market for your firm if they concentrate on android app development, put the appropriate resources in place, and show their inventiveness.
#2. Increased productivity
The developer of an Android app could save a lot of time by using one of the many code libraries that are accessible. Instead of beginning from scratch and efficiently serving your clients, you may construct feature-rich apps and save a lot of time and money by leveraging readily available scripts.

#3. Increase in returns
As an open-source platform, Android is less expensive to develop and offers free access to the SDK and development tools to developers. Additionally, there is a sizable market of devoted Android app developers with modern skills. As a result, it brings out more significant returns on investment that are profit-generating.
#4. Robust Apps
Using Android, you may make completely dynamic and unique applications. You can swiftly release feature-rich applications on the market because of its simple internal customization capabilities. Using a set of development tools and open-source code libraries, you may build an interactive application with a better user interface. The consequence will turn out to be an improvement in user-friendliness and revenue thanks to the mobile app's feature-rich design.
Factors Determining Cost to Hire Android App Developers
It's not the same as ordering a thing online when you pay a freelancer or company to develop you an app. When someone decides to outsource their app development, they mostly don't pay the same fixed price. Here are some factors to consider that affect the cost to hire android app developers.
1. Mobile Platform
The Hire android app developers cost is greatly affected by the mobile platform you intend to launch your app on. Do you intend to create an app for iOS, Android, or Windows? Have you given a cross-platform or hybrid app any thought? Depending on the operating system (or operating systems) you select, your cost will vary.
The least amount of labor for the developer is to launch the app on a single platform. It will take a lot of time and significantly increase the cost to engage an app developer if you want a native app that is compatible with various platforms.
Probably ask for a hybrid or cross-platform app if you want your app to be offered on other app stores. Compared to making several apps, this will be less expensive and result in a product that is delivered considerably faster.
An Android app generally costs more to hire an app developer to design than an iOS or Windows app. This is due to the fact that the Android platform is more complicated and requires the development of more things than iOS or Windows, which are both simpler and less demanding.
2. App Development
The kind of app you intend to develop will also affect the cost to hire android developers. There may be a large number of developers available to create your type of app if it is in high demand. Due to the abundance of developers available for hire, you may be able to negotiate fairly low pricing. But given how well-liked your type of app is, it might not be all that profitable once it's developed.
On the other hand, if the kind of app you want to create is specialized, there might not be many qualified developers. Because you don't have many other options, the ones who can charge a premium might do so. But if it includes different features it might also end up costing you more than usual.
 3. App Complexity
The cost to hire android developer is also influenced by how sophisticated your app is and how long it will take to finish the project. A straightforward 1-week project will be much less expensive than a challenging 12-month job. Similar to this, it's considerably less expensive to hire mobile app developers to add a new feature to your existing app than it is to completely redesign it.
Your app's price will be influenced by your initial concept, development strategies, design, features, integrations, and functioning. It will be simpler for the developer to predict the development phases, technology requirements, approaches needed, and the amount of time it will take to accomplish if you have the vision of your project clear in your mind.
4. App Developer's Location
Where in the world the app developer is located is one of the key factors that affects how much Hire android app developers cost. Developers in the US typically charge the most amount, while those in India usually charge the least.
It's crucial to keep in mind that getting a better product or service for a higher price doesn't always apply to app development. The majority of mobile app developer rates are in line with average earnings and cost of living levels around the world.
Given the vast differences in the cost of living between the US and the Philippines, you can figure out US-based app developers to charge more.

5. Skills and Expertise
The more experienced hire dedicated developers have , the higher their hourly fees will be, just like in any professional role. Choose a mobile app developer with 3–4 years of experience and positive evaluations over someone with 9–10 years of experience if you want to keep your prices down while still receiving a high-quality final result.
The Hire android app developers cost will also depend on their skill set and app knowledge. For iOS developers, the essentials are Objective C, Swift, and the Xcode IDE, whereas for Android developers, the essentials are Java, the Android SDK, and the Android Studio IDE.
Cost of Hiring App Developer vs. In-House
You have two options when considering the development of a certain app: either engaging in-house app developers to create the app, or outsourcing the project to a third-party development firm. Both options have advantages and disadvantages; ultimately, it comes down to your preferences and needs.
If you choose to develop the app internally, you must hire the best developers who are in line with the vision and objective of your business in order to create a highly functioning and productive app. Hiring app developers has several benefits, including complete control over the development process, financial flexibility in app development (you can customize the development process based on the budget), and ongoing technical support, including app upgrades and maintenance.
As an alternative, outsourcing the app development process has several advantages as well. By outsourcing app development, you can be sure to receive a highly scalable app that meets your needs and provides top-notch performance. When you outsource app development, there is typically a defined budget, a quicker response time, and it is more cost-effective than building it internally.
The Final Verdict: Cost to Hire Android App Developers
Despite our desire to place a cash value on the cost of android app development, we are only able to estimate it since each application development process involves a variety of factors that affect the final cost. Fortunately, there are a number of budget-generating factors for app development that can help you estimate how much it will cost to design an app.
Read also: How Much does it Cost to Hire Software Developers in 2022?
Having said that, we would not want you to leave this webpage with zero idea about the cost to hire android app developers. As per our data analysis and research we have scaled out the following estimated figures concerned with cost to hire android app developers.
Simple Apps- $40,000 – $60,000
Medium Complex Apps- $61,000 – $120,000
Complex Apps- $120,000+
Hourly Cost to Hire Android App Developers in Different Parts of the World
| | |
| --- | --- |
| Location | Cost |
| Southeast Asia | $40 – $80/hour |
| Latin America | $25 – $70/hour |
| North America | $45 – $80/hour |
| Northern Europe | $40 – $80/hour |
| Western Europe | $45 – $70/hour |
| Eastern Asia | $30 – $60/hour |
Conclusion
Every entrepreneur and business owner seeks an Android app developer that can deliver both quality and value. The location and level of expertise of a developer are two of the most important criteria when estimating their cost. Therefore, hiring foreign developers from countries with low developer rates, like India, and to hire android app developers at hourly rate for specific needs may be a smart way to achieve that balance.