App developers are the foundation of any mobile app development company. They help app development companies to make the work process flawless and effective in order to deliver robust mobile applications. New methods and developments are acquainted with the market and leverage the complete usage of development tools. App developers are turning the conventional strategy of app development into a new form to reduce the efforts to plan and create mobile applications.
If we talk about Saudi Arabia, there are many mobile app development companies working on both independent and organizational projects. You can hire app developers in the megacities of Saudi Arabia like Riyadh, Jeddah, and Medina to develop your business apps. The mobile app development industry in Saudi Arabia is flourishing, so it may be elusive for competent app developers. But the cost is one thing that further impacts the standing of app development companies in a particular region.
How Much Does It Cost to Hire App Developers in Saudi Arabia
The structure of the mobile application cost relies on multiple elements. App development services assist businesses to develop and facilitate their customers with various amazing predefined capacities. To comprehend the quote for app development, you need to have a good understanding of mobile app components. These components are significant and assist you in evaluating the mobile app development cost in Dubai, Riyadh, Kuwait, Doha, Muscat, and other areas in the Middle East.
Here is the expected cost of developing an app in Saudi Arabia:

Elementary app

: Cost around $ 12,000

An app with additional features

: Cost between $ 20,000 and $ 45,000

A complex app with a multitude of features

: The cost may surpass $ 80,000. 
The whole development process is just not limited to the cost. It's must to understand that complexity of the app also adds on to the time taken for the completion. Let's take a look at the average time required to develop a different level of apps: 
Elementary App: Requires about 500 to 700 hours of development

An application of average complexity: Requires around 600 to 1000 hours of development

A complex, time-consuming application: May exceed 1100 hours of development
Remember, the spending plan and time is vice-versa to one other. The enormous spending will lessen the time and the little spending will expand the hour of your time. 
On the off chance that there are other extra features required by the customers, application developers can charge around USD 10,000 to USD 50,000 to build up a mobile application in Saudi Arabia. This may change depending on the prerequisites and different features that get incorporated.
Factors to Consider to Hire Mobile App Developers in Saudi Arabia
A person who has dealt with mobile app development companies before may have an easy understanding of developing to hire the best app developers to create sustainable solutions for their customers on a large scale.
To develop an exceptional app, app development companies deploy various tactics depending upon their operational guidelines, but there are certain factors that you need to know before making your final decision.
Development Platforms
The principal question that should enter your thoughts is – do you need your application to work on a native platform, or want it to be cross-platform. Directly before building up the application, one needs to discover the ideal mobile app platform on which the application needs to be built on. Starting at now, there are predominantly two platforms; iOS and Android. The choice of platform plays a crucial role in the estimation of the cost of app development.
Usage of Modern Technologies 
This is an age where technologies are advancing mobility from multiple aspects for offering better client experience. Technologies like Artificial Intelligence, Machine Learning, Blockchain, IoT, AR/VR/MR, and others have become increasingly accessible in the market.
Incorporating modern-age technologies is a good approach to enhance the client experience in mobile apps. There is no certainty that a mobile app with the implementation of these technologies can stand out the best among its competitors. Also, incorporating different technologies can create different impacts on app development costs.
Application Design 
One of the must-have features a mobile application ought to have is a staggering and appealing UI design. Application design has a significant role to play in marketing a mobile application and become a successful hit. 
It ought to be eye-catching yet straightforward and also it should hold the ability to engage more customers. More importantly, it plays a significant role in increasing the level of client commitment rate alongside impacting the cost of development. 
Third-Party Integrations
For an application to turn out to be competitive, it ought to host third-party integrations. An application ought to never neglect locally available incorporation as it assumes a significant job in deciding the accomplishment of the mobile application. Third-party integrations are intended for improving different features, and hence, offer a pleasing user experience. 
Application Security 
The application has to negate security and malware issues and then only you can expect users to download and stay on the app. As every app manages a great deal of individual information; therefore, any sort of security risk can possibly jeopardise the app branding. Notably, any glitch or information spillage from the application side would be an enormous hit on their business. 
Application Maintenance 
Mobile application helps companies in pulling in potential customers, as well as encourages them in improving the brand worth and appearance. Numerous businesses frequently overlook legitimate application maintenance and give less need for it. On the other hand, applications should guarantee its ease of use and user-friendliness, as it can influence the working of the application. 
What Reports and Figures Suggest
Here are some figures that show the rising significance and interest for mobile apps in Saudi Arabia region:
Revenue in the apps segment amounts to US$17m in 2020

The highest number of 81% of users downloading Arabic apps were from Saudi Arabia

Revenue is expected to show an annual growth rate (CAGR 2020-2024) of 4.9%, resulting in a market volume of US$21m by 2024

User penetration is 14.1% in 2020 and is expected to hit 15.6% by 2024

The average revenue per user (ARPU) currently amounts to US$3.46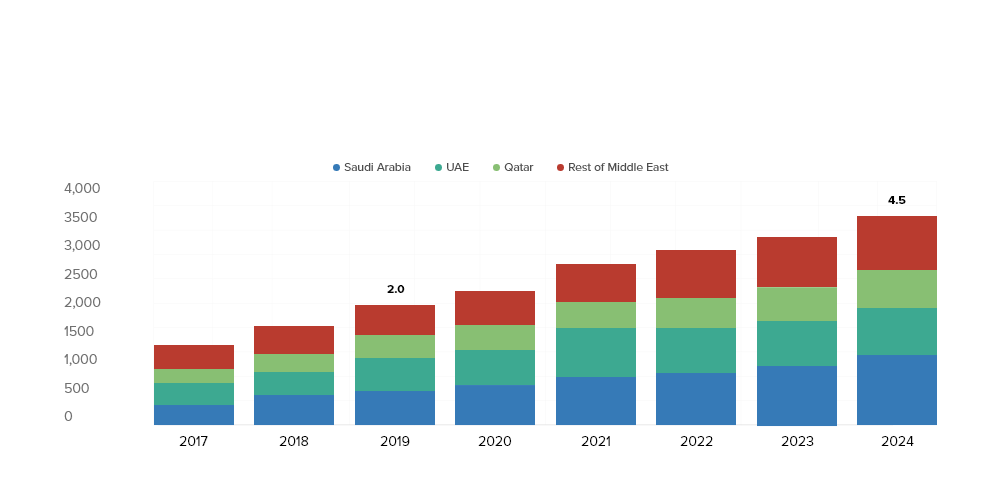 Hire The Best App Developer in Saudi Arabia
Mobile apps are playing a significant role in digitizing the entire economy in Saudi Arabia. The utilization of mobile apps in popular fields and applications may encourage companies in Saudi Arabia to make the most out of it.
Substantially, the mobile application development industry in Saudi Arabia has helped the local businesses in pulling in potential customers as well as encourages them in upgrading the brand's worth and appearance. If you are also planning to launch your own app in Saudia Arabia or the close-by region, do reach out to us for a remarkable experience.