Delicious food is the biggest weakness of human beings. Every day, millions of customers order food online. As a result, the demand for food delivery applications has become more popular. If you have a restaurant, it is good to build your own delivery app that will save you money and help you generate revenue. So it is good to build a clone like a hunger station.
We all know that people live in busy times, so they don't have time to cook food; they feel it is simple to order food online whenever they want. It allows the restaurant business to develop a food delivery app for growth. As a result, the growth in the food delivery business has created apps like Hunger Station.
In today's time, many budding entrepreneurs and startups are investing in hunger station app development. If you want to build a  functional and easy-to-use app, then you are at the right place. In this blog post, we will discuss a detailed guide to develop a clone like hunger station, features and many other details you need to know. So without wasting your time, take a look at this blog.
What is Hungerstation Clone?
Hungerstation clone was founded on March 5, 2012, in Dammam, Saudi Arabia. This is the first online food ordering and delivery app in the town. Hunderstation is a leading online food ordering platform in the region that helps users to connect thousands of restaurants and eCommerce businesses across Saudi Arabia and Bahrain.
In simple terms, this is the place for you to order food as you wish and what you wish and provide you with a seamless ordering experience. Users can order from their comfort zone using this app while enjoying online and cash-on-delivery options. This amazing app provides a delightful experience by offering local and international restaurant brands and is one of the prominent grocery delivery apps in Saudi Arabia.
How Does Hungerstation App Work?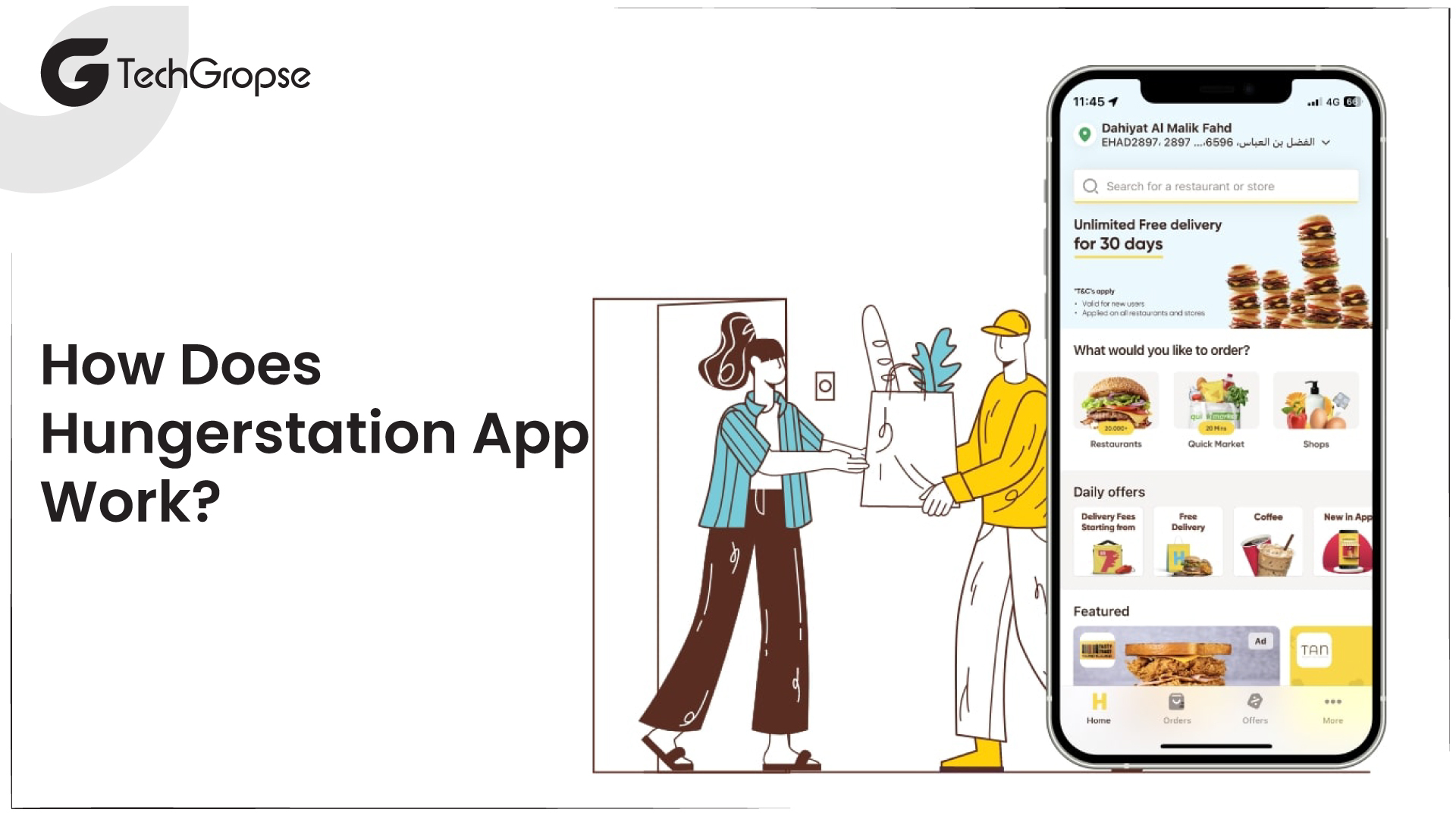 Undoubtedly, the Hungerstation application can be installed on both Android & iOS devices, and it has an instant registration procedure and smooth access for new users. This application has a neat and clean appearance. The colour choice offers it a calm feeling and makes it easy to use without any hassle.
In order to use this app, users need to log in with personal information such as phone number and email id. The hunger station registration information collects for easy and instant delivery. It allows users to search for restaurants and stores located nearby them. After that, users can search for their favourite restaurants and their favourite food and order them online through the Hungerstation app.
Once the food is ordered, they update their preferred delivery time and location. Next is the payment section, where users can pay online or select the cash-on-delivery option. Then the restaurant will prepare the meals according to the customer's order and deliver them out for delivery at the given time and location.
Why Should You Develop a Clone Like Hungerstation?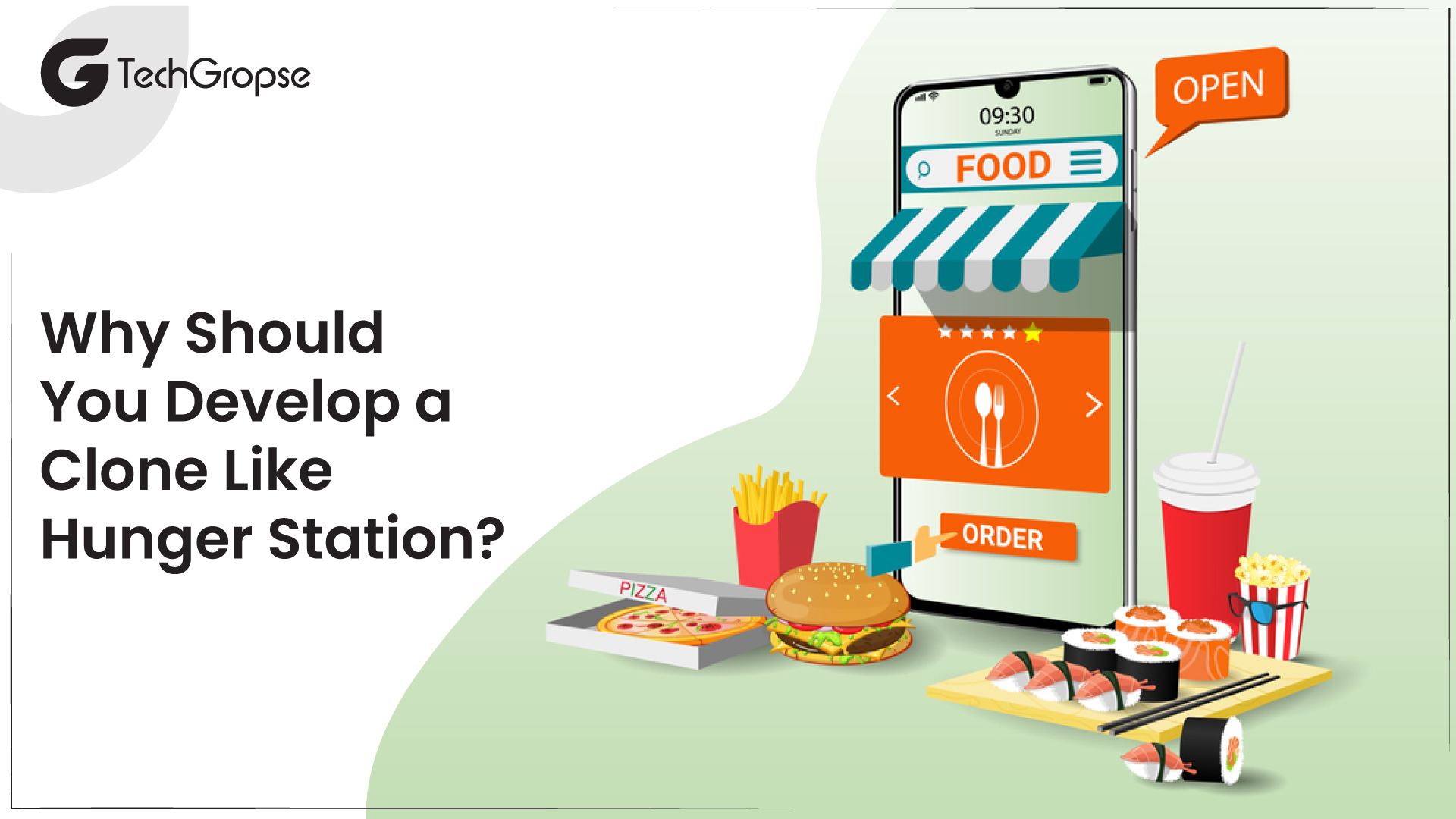 Developing a food delivery app like Hungerstation provides you with lots of advantages for various stakeholders involved in the food industry. Below we mentioned some of the key benefits of food delivery app development:
1. Increase Revenue
A food delivery app offers an additional revenue stream for food businesses and restaurants. It allows them to reach a wider customer base, including those who prefer the convenience of ordering food from their office or homes. By building a food delivery app, restaurant owners can boost their sales and revenue.
However, this job is not easy on your own because app development requires lots of aspects. Therefore, you have to contact a Food delivery app development company. It will give you ultimate solutions as per your requirements.
2. Expanded Customer Base
Through the help of a food delivery app, restaurants are able to reach a larger audience beyond their physical location. It will enable them to cater to customers who may not have been able to visit their establishment in person. It always facilitates targeting customers in different areas, expanding the customer base and increasing brand exposure.
Henceforth, it is beneficial to develop a clone like Hungerstation. However, this is a time-consuming and tough procedure, so you must contact a team of professionals with good years of experience and knowledge in this field.
3. Improved Customer Convenience
The food delivery applications provide customers the convenience of ordering food from a wide range of restaurants in a couple of clicks on their smartphones. They can browse menus, make customized orders, and deliver food directly to their doorstep. Its convenience factor increases customer satisfaction and also encourages repeat business.
But when building such kinds of applications, you have to determine the development cost of the food delivery app. This will assist you in deciding a budget to build a functional app.
4. Enhanced Customer Loyalty and Retention
The food delivery app undoubtedly includes features such as ratings, customer reviews, and loyalty programs. These amazing features help foster customer loyalty and encourage repeat orders. By offering an exceptional user experience, personalized offers and timely delivery, businesses can strengthen their relationship with customers, leading to increased customer retention.
This is why it is beneficial to develop a clone like Hunger Station. However, it is advisable to seek the help of a leading mobile app development company that will assist you in every possible way.
5. Efficient Order Management
Food delivery applications streamline the order management procedure for restaurants. They are able to receive and process orders digitally, reducing the chances of miscommunication or problems. This results in improved operational efficiency, as orders can be tracked, fulfilled more efficiently, and managed.
However, you must hire dedicated developers because they have years of experience building functional and easy-to-use applications.

6. Increased Visibility and Marketing Opportunities
Another advantage of developing a clone like Hunger Station is that it increases a restaurant's visibility and exposure to potential customers. Application users can discover new restaurants, explore menus and read reviews that can attract more customers to try out different eateries. On the other hand, the application can serve as an additional marketing channel that allows businesses to promote special offers, discounts, or new menu items.
7. Data-Driven Insights
The food delivery applications offer valuable data and analytics to restaurants. By analyzing customer preferences, feedback and order patterns, businesses can gain insights into customer behaviour, improve operational efficiency, refine their menu offerings and make data-driven decisions to optimize their services.
Features That You Must Know to Develop a Clone Like Hunger Station
To clone an app like HungerStation, a popular meal delivery service, there are a few key features to consider. Here are some of the key features:
User Registration and Authentication
Allows users to register and log into the app using their email address, social media address, or phone number. Implement secure authentication mechanisms to protect user data.
Provide users with a search bar to search for restaurants, specific cuisines, or cuisines. Enable search options such as filters, sorting, and categories to help users easily find different restaurants and eateries.
View a list of restaurants that offer food delivery, including names, ratings, reviews, menus, and other relevant information. Add high-quality images and detailed descriptions to introduce your restaurant and its menu.
Allows restaurant owners and managers to create and manage menus, including adding, updating, and removing dishes. Offer options to customize items, add special descriptions, set prices, and more.
Allows users to add items to their cart, change quantities, and place orders. Implement a secure checkout process, including payment integration, for smooth transactions.
Give users the ability to track orders in real-time, from the moment an order is placed until the product is delivered to your doorstep. Send you notifications and updates about your order status.
Allow users to rate and rate restaurants and the dishes they order. Implement feedback systems to help users make informed decisions and maintain service quality.
Integrate various payment gateways to provide flexible payments to your users. Supports options such as credit/debit cards, digital wallets, and cash on delivery. It means you have to include this feature in your application.
Deploy a delivery management system to assign couriers, track their location, and estimate delivery times. Optimize routing and delivery algorithms to ensure efficient and on-time delivery.
Send users to push notifications or SMS alerts about order confirmations, order status updates, estimated delivery times, restaurant special menus, and more. So, when deciding to build an app like hunger station, don't forget to include this feature in your application.
How to Make an App Like Hunger Station Clone App?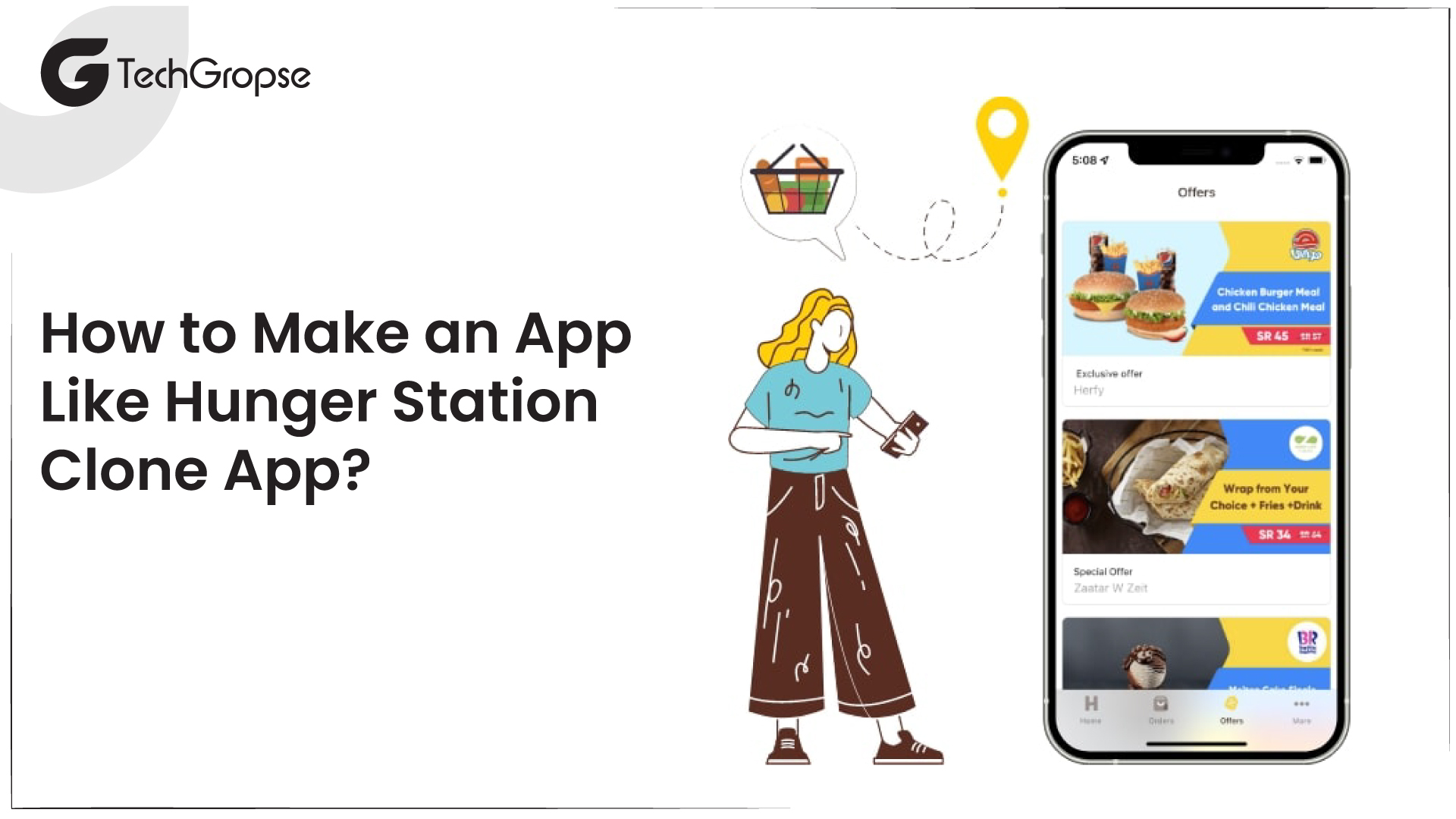 No doubt that food delivery applications gain more popularity in a few years. As a result, many companies have decided to invest in food delivery app development. Suppose you want to develop a clone like Hunger Station. In that case, it is necessary to have a deep understanding of the market, technical expertise, and user requirements to create innovative and robust solutions.
Joining hands with an on-demand app development company and having a team of experts and designers, it is easy to build a functional and easy-to-use application for your business. Below we mentioned all steps to develop a clone like Hunger Station:
Step 1: Idea Generation and Planning
The first step is to develop a clone like Hunger Station to brainstorm the idea, plan the app's features, and decide on the target audience. Consider market research to analyze your competition and understand your target audience's necessities and preferences. By performing this step, you can easily build a functional app.
Step 2: Design and User Interface Development
The second step is to create an attractive and user-friendly interface. To make this task easier, you can hire mobile app developers to help create appealing icons, graphics, and visual elements that make applications innovative and attractive.
Step 3: Backend Development and Integration
Another step to develop a clone like Hunger Station is to develop the app's backend features, such as database management, server-side scripting, and payment gateway integration. If you want to make the development process easier and more efficient, you can hire Android app developers who can build secure and scalable features.
Step 4: Testing and Quality Assurance
Once the application is built, you have to test the application's functionality and make sure quality assurance. You have to conduct user acceptance testing in order to recognize and address any issues or malware with the application's functionality.
Step 5: App Launch and Deployment
The last step is to launch and deploy the application. You have to develop a marketing plan to reach your target audience, attract creators, promote the app and subscribers.
You can easily develop a clone like Hunger Station by following all the steps. However, it is a time-consuming and tough process; then you have to seek the help of a leading food delivery app development company that is committed to providing ultimate solutions at a budget-friendly cost.
Food Delivery App Development Cost
The cost of developing a food delivery app depends on several factors, including the app's complexity, the features you want to include, the platform you target (iOS, Android, etc.), and the company/developer. A team of companies you want to work with.
Below we mentioned a rough estimate of the cost breakdown to develop a clone like Hunger Station:
| | |
| --- | --- |
| Development Stage | Food Delivery App Development Cost |
| UI/UX Design | 10,000-15,000 |
| Front-end Development | 30,000-50,000 |
| Back-end Development | 45,000-70,000 |
| Quality Assurance | 15,000- 40,000 |
| Deployment and Launch | 25,000-60,000 |
| Post Launch Maintenance | 20,000-50,000 |
The location of the developers also affects the food delivery app development. Therefore, we mentioned a list of hourly rates of app development on the basis of different regions of developers. So take a look at the listed table:
| | |
| --- | --- |
| Regions | Food Delivery App Development Hourly Cost |
| Australia | $20-$80 Per Hour |
| USA | $35-$90 Per Hour |
| Saudi Arabia | $25-$60 Per Hour |
| US | $30-$80 Per Hour |
| India | $15-$40 Per Hour |
Factors That Can Influence the Cost
Food delivery app development cost is affected by several factors. Some of the factors are included below:
1. App Design
An app's user interface (UI) and user experience (UX) design can significantly impact cost. A well-designed and visually appealing app may require more effort and resources.
2. Features and Functions
The more features you want to add to your food delivery app, the higher the cost. Features such as user registration, ordering and payment integration, real-time order tracking, push notifications, reviews and ratings, and customer support all increase overall development costs.
3. Platform
Developing apps for multiple platforms, such as iOS and Android, is usually more expensive than focusing on a single platform. Each platform requires a separate development and testing effort.
4. Backend Development
Backend development includes building server-side infrastructure such as databases, APIs, and integrations with third-party services. Backend complexity can impact development costs.
5. Tech Stack
The choice of technology stack can affect cost. Different programming languages, frameworks, and tools have different development costs and resource requirements.
6. Development Team Location
Pricing varies by country and region, so the location of your development team can affect costs. For example, hiring a development team from North America or Europe is usually more expensive than outsourcing to countries like India or Ukraine.
7. Additional Line
Your overall costs can increase if you require additional services such as app testing, maintenance, updates, and ongoing support.
Considering all these factors, the cost of developing a food delivery app can range from tens of thousands to hundreds of thousands of dollars. It's important to contact the app developer or freelancer for an accurate cost estimate based on your specific needs.
Conclusion
Over the years, the demand for food delivery app development has been increasing. As a result, startups, as well as large enterprises, decide to invest in such applications. If you want to get more profit and revenue, developing a clone like Hunger Station is a great idea. However, building a functional app is not easier because it requires several aspects.
In such a case, you must seek the help of a mobile app development company with a proven track record and expertise in crafting robust, innovative, and leading solutions.
FAQs
1. Can I Pay in Cash at Hungerstation?
Of course, cash on delivery will be accepted on Hungerstation. So you can pay cash on this platform.
2. How Much Does it Cost to Build a Clone Like Hungerstone?
There are several factors that may affect the food delivery app development cost, such as complexity, features, platforms, and many other things.
3. How to Find a Leading Mobile App Development Company?
In order to find a leading mobile app development company, you have to conduct market research, analyse the market and check the portfolio of the selected company. This will assist you in determining whether the selected company is suitable for you or not.