Discover the world of seamless online shopping with the Takealot e-commerce app!
As the one-stop retail destination, Takealot offers amazing products, from gadgets and fashion to home essentials and more. If you are aspiring to develop a clone like Takealot, this post will guide you through the essential steps and considerations involved in creating a successful e-commerce platform.
So, let's dive in and explore the path to building a thriving e-commerce platform that rivals Takealot's success.
Takealot, the leading e-commerce platform in South Africa, has revolutionized the way people shop online. With its huge range of products, seamless user experience, and efficient logistics, Takealot shopping app development has become a household name and a go-to destination for millions of customers.
Customers can enjoy the perks of easy returns and swift deliveries, with same-day or next-day options available in select areas. The app's personalized recommendations keep shoppers informed about the latest deals and products tailored to their interests.
Takealot's personalized recommendations and exclusive deals ensure an unparalleled shopping experience. Shop securely with various payment options and enjoy doorstep delivery with real-time tracking. Stay ahead of the game with notifications on the latest arrivals and unmissable promotions.
Elevate your shopping journey with Takealot, where convenience, variety, and excitement converge in a single, powerful app!
The Rise of Takealot in the E-commerce Industry
In the vast and ever-expanding world of custom shopping app development, Takealot has emerged as a prominent player. This South African-born e-commerce platform has experienced tremendous growth and success since its inception.
But how did Takealot find its place in the highly competitive e-commerce industry?
Takealot's rise can be attributed to its ability to tap into the growing consumer preference for convenient and hassle-free online shopping experiences. The company's success can be attributed to several essential factors:
Diverse Product Range: Takealot offers a vast and multiple product catalog, offering a huge range of consumer needs. From fashion to electronics and home essentials and books, their comprehensive selection attracts a broad customer base.
User-Friendly Platform: The user experience is at the heart of Takealot's strategy. Their reflexive and easy-to-navigate platform enhances customer satisfaction making shopping a breeze, and loyalty.
Efficient Logistics: Takealot's commitment to efficient logistics and reliable delivery services has set them apart. Customers can enjoy fast and hassle-free deliveries, like same-day or next-day options in select areas.
Secure Transactions: Ensuring customer trust is vital in e-commerce. Takealot has implemented robust security measures to safeguard transactions, contributing to a secure shopping environment.
Personalization and Recommendations: Leveraging data analytics, Takealot also offers personalized product recommendations to users, enhancing engagement and driving repeat purchases.
Competitive Pricing and Promotions: Takealot's competitive pricing and regular promotions attract bargain-hunting shoppers and foster customer loyalty.
Exceptional Customer Service: The company places great emphasis on customer satisfaction, offering customer support and easy return policies.
Marketing and Branding: Effective marketing campaigns and brand-building efforts have helped Takealot establish a strong presence in the e-commerce landscape.
Adaptation to Changing Trends: Takealot has shown agility in adapting to evolving consumer trends and technological advancements, ensuring they remain at the forefront of the industry.
Through these factors, Takealot has risen to become a household name, earning the trust and loyalty of millions of customers. As the ecommerce app development continues to grow, Takealot's creative approach and dedication to customer satisfaction position them for continued success in the future.
Understanding Takealot's Unique Selling Points
Takealot stands out from the various online shopping app development by offering its unique selling points.  Additionally, Takealot's commitment to customer satisfaction is evident in its reliable delivery services.
With multiple shipping options and efficient logistics, they have managed to build a loyal customer base. Though more, their user-friendly website and intuitive mobile app make browsing and purchasing a breeze.
| | |
| --- | --- |
| Unique Selling Points | Description |
| Huge Product Selection | Takealot offers a vast range of products such as fashion,  electronics, books, home appliances, and more. It serves as a one-stop shop for different consumer needs. |
| Fast Delivery | Takealot provides fast and reliable delivery services, ensuring customers receive their orders promptly, which improves the overall shopping experience. |
| Secure Payment Options | Customers can select from a variety of secure payment methods, such as EFT, credit/debit cards, and digital wallets, ensuring convenient and safe transactions. |
| Competitive Pricing | Takealot offers discounts and competitive prices, making it an ideal choice for cost-conscious consumers seeking value for their money. |
| Easy Returns Policy | The platform offers an easy and hassle-free returns process, allowing customers to return products if they are not satisfied or if they encounter issues. |
| Customer Reviews | Takealot features customer reviews and ratings for products, helping potential buyers make the right decisions based on others' experiences. |
| Loyalty Programs | Takealot conducts rewards systems or loyalty programs in place, motivating customer retention and repeat purchases through exclusive benefits. |
| Customer Support | Takealot offers customer support services, like live chat, phone support, or email, to help customers with inquiries, complaints, or issues. |
| Flash Sales and Deals | Takealot continually runs daily deals, flash sales, and special promotions, creating a sense of urgency for customers to take advantage of limited-time offers. |
Step By Step Process to Develop a Clone Like Takealot
If you want to build online shopping app you must require careful planning, a skilled development team, and attention to different aspects.
Here's a general outline of the entire process to build on demnad app:
1. Market Research and Analysis
Study the e-commerce market to understand current trends, customer preferences, and competition.
Analyze Takealot's strengths and weaknesses to identify areas where you can improve or differentiate.
2. Define Project Scope and Requirements
Clearly define the features and functionalities you want to include in your platform.
Decide on the product categories you want to offer and any unique selling points you plan to introduce.
3. Choose the Technology Stack
Decide on the programming languages, frameworks, and tools you will use to build the platform.
Consider aspects such as security, scalability, and future maintenance.
4. Design the User Interface (UI)
Create wireframes and mockups of the platform's user interface to visualize the layout and flow.
Design an intuitive and user-friendly interface to enhance the shopping experience.
5. Backend Development
Set up the server and database infrastructure to manage user data, product listings, and transactions securely.
Implement the backend logic for order processing, user authentication, and payment integration.
6. Frontend Development
Develop the frontend components using the chosen technology stack.
Ensure compatibility and responsiveness across various devices and browsers.
7. Product Catalog Management
Implement a system to manage product listings, such as categories, images, attributes, and pricing information.
8. User Accounts and Authentication
Develop user registration and login functionality with appropriate security measures.
Allow users to manage their profiles and track order histories.
9. Shopping Cart and Checkout
Build a shopping cart that allows users to add, remove, and modify items before proceeding to checkout.
Integrate with secure payment gateways to process transactions.
10. Order Processing and Fulfillment
Set up a system to manage order processing, shipping, and tracking information.
Notify customers about order status and delivery updates.
11. Security and Data Protection
Implement security measures to protect user data like encryption and secure communication protocols.
Comply with data protection regulations and industry standards.
12. Testing and Quality Assurance
Conduct rigorous testing to identify and fix bugs and errors.
Perform user acceptance testing to ensure the platform satisfies the specified needs.
13. Launch and Deployment
Deploy the platform on a reliable hosting environment.
Monitor the platform's performance and address any issues that arise during the initial launch phase.
14. Marketing and Promotion
Plan marketing strategies to attract users and promote the platform.
Utilize SEO, social media, and other digital marketing channels to drive traffic and sales.
15. Continuous Improvement
Collect user feedback and analytics data to determine areas for improvement.
Regularly update and enhance the platform based on user needs and market trends.
Building an e-commerce platform like Takealot is complex work that requires significant time, resources, and expertise. Consider to hire dedicated developers or on demand app development company to ensure a successful implementation.
Identifying Key Features and Functionality of Takealot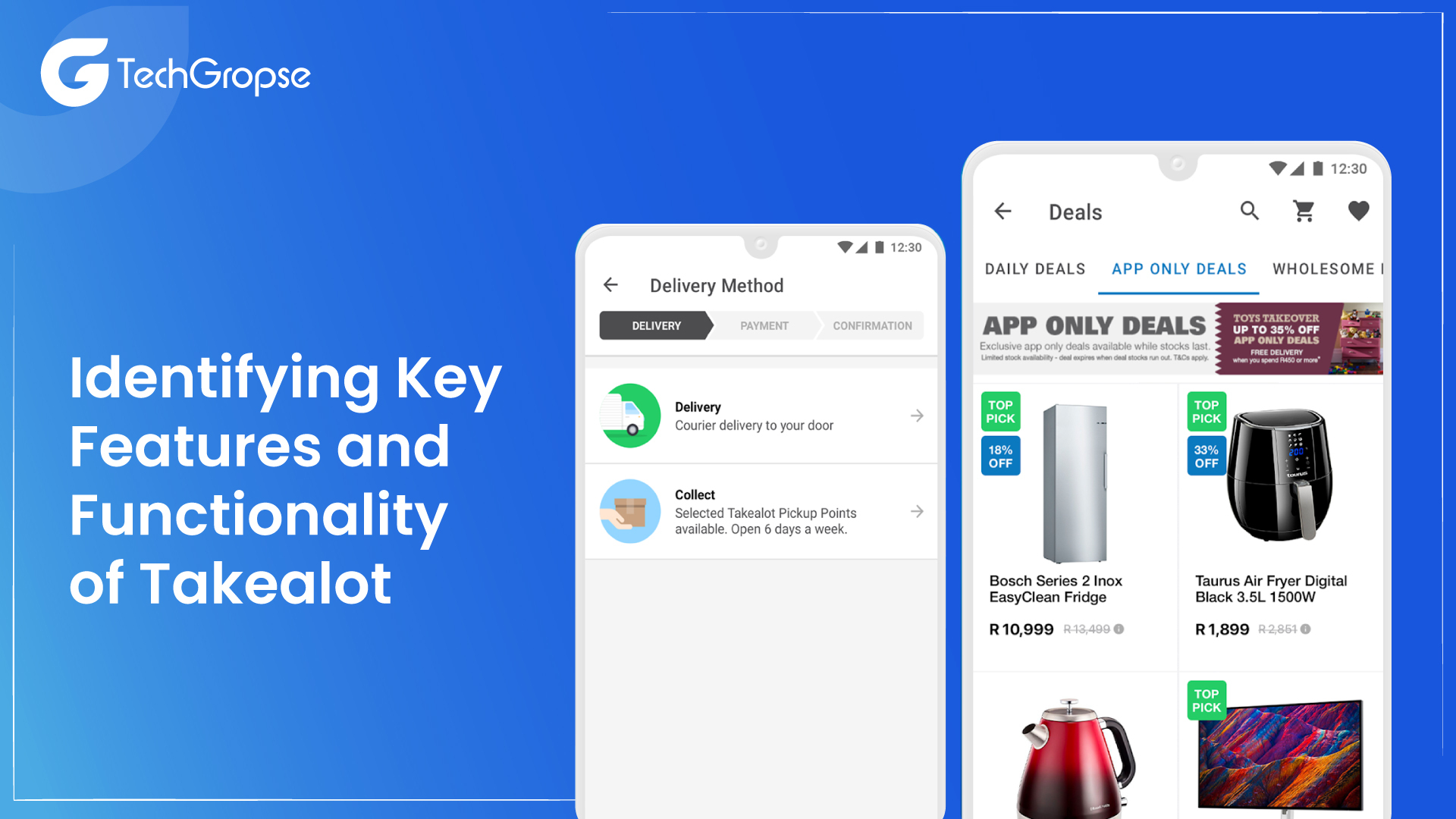 Online Shopping App Development company offers a wide range of features and functionalities to its users. Below are some key features and functionalities of Takealot:
Product Catalog: Takealot provides an extensive product catalog that includes different categories like books, fashion, electronics, home appliances, toys, beauty, and more.
Search and Filters: Users can search for products using keywords and apply filters to narrow down results by brand, price, category, and other attributes.
User Accounts: Customers can make accounts to manage their profiles, track orders, and save their preferences for a personalized shopping experience.
Product Pages: Each product has a dedicated page with specifications, detailed information, images, and customer reviews to help users make informed buying decisions.
Shopping Cart: Users can add products to their shopping cart, review their selections, and proceed to checkout.
Secure Checkout: Takealot offers a secure and user-friendly checkout process, allowing customers to choose payment options, enter shipping details, and complete the purchase.
Multiple Payment Options: Users can pay for their orders using different payment methods, such as credit/debit cards, EFT, and digital wallets.
Order Tracking: Customers can track the status of their orders and receive updates on shipment and delivery.
Wishlist and Favorites: Users can save products to their wishlist or mark items as favorites for future reference.
Customer Reviews and Ratings: Takealot features customer reviews and ratings for products, helping potential buyers measure the quality and suitability of items.
Deals and Promotions: The platform offers special promotions, daily deals, and discounts, encouraging users to take advantage of limited-time offers.
Customer Support: Takealot provides customer support through channels like live chat, email, or phone to assist with inquiries, returns, and complaints.
Easy Returns Policy: Users can initiate returns and exchanges for eligible products through a straightforward returns process.
Loyalty Programs: Takealot may have loyalty programs or rewards systems that offer exclusive benefits to repeat customers.
Mobile App: In addition to the website, Takealot likely offers a mobile app for both Android and iOS devices, providing a convenient shopping experience on smartphones and tablets.
Seller Marketplace: Takealot may allow third-party sellers to list their products on the platform, expanding the product selection available to customers.
Seller Ratings: The platform might have a system to rate and review third-party sellers to ensure transparency and build trust among users.
Warranty and Support: For certain products, Takealot may provide warranty coverage and after-sales support.
Social Media Integration: Takealot may integrate social media functionalities to allow users to share products or deals with their networks.
Understanding the Business Model to Develop a Clone Like Takealot
Takealot operates as an e-commerce platform and follows a multi-sided business model that connects buyers and sellers, making revenue from various sources.
Here is an overview of the key components of Takealot's business model:
1. E-Commerce Marketplace
Takealot functions as an online marketplace, providing a platform where sellers can list their products and buyers can browse and purchase them. The platform offers an expansive range of product categories, including electronics, books, fashion, home appliances, toys, and more.
2. Commissions and Fees
Takealot earns revenue by charging commissions and fees to sellers for using its platform to sell products. Sellers pay a percentage of each sale as a commission to Takealot.
3. Product Sales
The primary source of revenue for Takealot comes from the sales of products on its platform. When customers purchase items from sellers on Takealot, the platform earns a portion of the transaction value.
4. Logistics and Fulfillment Services
Takealot may offer logistics and fulfillment services to sellers. This can include warehousing, inventory management, and order fulfillment, for which sellers may pay additional fees.
5. Delivery Charges
Takealot may charge customers delivery fees based on their location, the size of the order, or the shipping method chosen. These fees contribute to the platform's revenue.
6. Advertising and Promotions
Takealot might offer advertising opportunities to sellers who wish to promote their products more prominently on the platform. This can include sponsored product listings or banner ads.
7. Partnerships and Collaborations
Takealot may form partnerships with other companies or brands, such as exclusive product launches or co-branded marketing campaigns. These collaborations can lead to additional revenue streams.
List of the Top Competitors of Takealot Shopping App Development
If you want to develop a clone like Takealot you should consider their competitors and market value. Here's a table listing some of the top competitors of Takealot:
| | | |
| --- | --- | --- |
| Competitor | Description | Country/Area Operation |
| Superbalist | Online fashion and lifestyle retailer offering trendy products. | South Africa |
| Zando | E-commerce platform specializing in fashion, shoes, and accessories. | South Africa |
| Loot | Offers a wide range of products such as appliances, books, electronics, and much more. | South Africa |
| Spree | Fashion-focused online retailer offering clothing, shoes, and accessories. | South Africa |
| Makro | Multinational retail chain with an online store selling various products. | South Africa |
| Yuppiechef | E-commerce platform for kitchen and homeware products. | South Africa |
| Amazon | Global e-commerce giant with a vast product selection. | International (Including South Africa) |
| eBay | Global online marketplace for buying and selling a wide variety of products. | International (Including South Africa) |
| Alibaba | Chinese e-commerce conglomerate offering B2B and B2C platforms. | International (Including South Africa) |
| Bidorbuy | South African online marketplace for auctions and fixed-price sales. | South Africa |
Final Thought
Developing a clone like Takealot requires detailed planning, strategic decision-making, and a deep understanding of the e-commerce landscape.
By following the steps outlined in this article, you can lay a solid foundation for your own successful e-commerce platform. Remember to focus on creating a user-friendly interface, implementing robust payment and logistics systems, and adopting effective marketing strategies.
With dedication, innovation, and a commitment to customer satisfaction, you can aspire to emulate the success of Takealot and carve your own path in the competitive world of online retail.
Good luck on your journey!
FAQ: How to Develop a Clone Like Takealot
1. Is it legal to build a clone of Takealot?
Develop a clone like Takealot or any other existing platform is a complex legal issue that can differ depending on the jurisdiction. It is important to consult with legal professionals who specialize in intellectual property and e-commerce laws to ensure compliance and avoid any potential copyright or trademark infringements.
2. Can I repeat all the features and functionalities of Takealot in my clone?
While it is technically possible to replicate many features and functionalities of Takealot in your clone, it is important to consider scalability, user experience, and potential copyright issues. It is recommended to analyze and adapt the features to meet the specific requirements and market demands of your target audience.
3. How can I differentiate my clone from Takealot and other competitors?
Creating a unique value proposition is important in distinguishing your clone from competitors. Consider offering specialized products, personalized recommendations, exceptional customer service, or innovative features that serve specific customer needs. Conduct thorough market research to identify gaps or unmet demands that you can address with your clone.
4. What are some common challenges in developing an e-commerce platform like Takealot?
Developing an e-commerce platform like Takealot can present challenges such as building a scalable infrastructure, ensuring secure payment systems, managing logistics and order fulfillment efficiently, and competing with established players in the market. It is important to have a comprehensive understanding of these challenges and devise strategies to overcome them through careful planning and execution.