Knowledge is not limited to just four walls of a school classroom. In today's world, mobile apps for schools have made education more powerful than ever.  The aware generation of today understands how important mobile applications are in our daily lives. There are several applications available for booking tickets, ordering food, and reserving saloons, among other things. Mobile apps for schools, like these apps, are accessible to students, who are the backbone of our country.
Education has undergone one of the most significant transformations. In addition to the fact that remote learning has been around for a long time, unplanned and forced change has proven to be a significant barrier. However, these obstacles turned out to be a boon for the educational app business. So considering how to design an educational app is a decision that can turn out to be very fruitful.
In this blog, we will discuss what are mobile apps for schools, their important features, market size, development cost, and much more. So without any further ado, let's learn everything about mobile apps for schools.
 Mobile Apps for Schools Defined 
"Good Education is the foundation for a better tomorrow". 
There is a reason why education is and will always be trending, it shapes today's tomorrow.
One approach to spreading knowledge is through mobile apps for schools. An educational app is a piece of mobile software meant to assist people with any type of remote learning. Applications that teach youngsters basic math to apps that serve as complex professional training platforms for adults are among the examples.
Who All Can Benefit Themselves With Mobile Apps for Schools?
Children of all ages, beginning with toddlers, can be taught basic knowledge and make the learning process easier.
Students, candidates, and students who want assistance with exam preparation such as entrances, and civil services.
Specialists who want to keep their current level of qualification or advance to the next one.
People who decide to attempt something new or further their education grasp the essential abilities and learn new information.
Educational institutions to address a variety of learning issues
Platforms for online courses to utilize such applications as a tool for market marketing.
Market Size of Mobile Apps for Schools
The onset of covid has resulted in a noticeable growth rate of mobile apps and mobile apps for schools are in a similar spotlight. Here are some statistics that will explain how you can benefit yourself and the world with mobile apps for schools.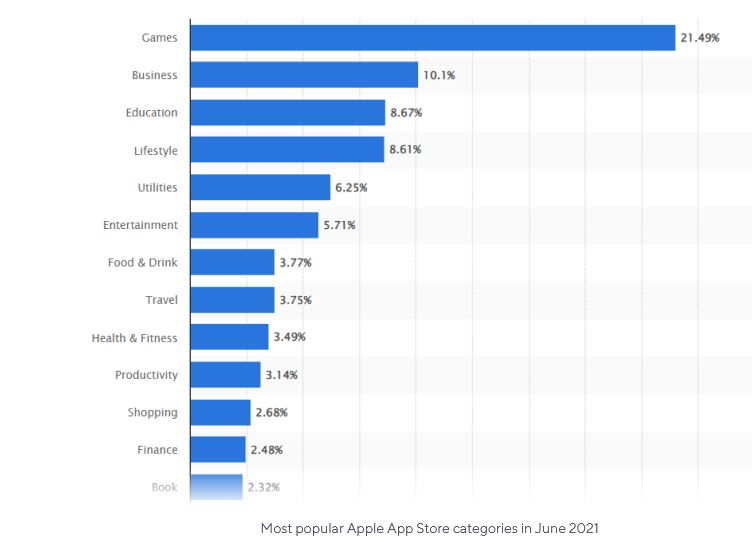 For both entrepreneurs and app developers, education is proving to be a successful economic segment. As per sources, there aren't as many educational apps for teachers as there are for students. These applications, on the other hand, make the teaching process more convenient. A variety of applications can be used to keep track of students' progress and share grades with parents. There are other educational apps available for teachers to use to arrange classes. reports, the educational app industry in the United States would increase at a CAGR of around 6% from 2016 to 2020.
Statista states that the worldwide mobile education industry will grow to $37.8 billion by 2020, up from $3.4 billion in 2011. As a result, the facts and data presented here speak for themselves.
The market statistics explain why E-learning mobile app development is a secure market to invest in with a promising future.
Types of Mobile Apps for Schools
There are innumerable ways to categorize learning applications, just as there are countless kinds of learning apps. Before you start building your app, you'll need to figure out what kind of training your customers will require.
Educational apps can be classified as follows, depending on their intended use-
Elearning Apps for Teachers
There aren't as many educational apps for teachers as there are for students. These apps, on the other hand, make the teaching process more convenient. A variety of applications can be used to keep track of students' progress and share grades with parents. There are other educational apps available for teachers to use to arrange classes.
Apps for Tracking Progress
Various apps allow parents to keep track of their children's growth and share their grades with them. Seesaw is a learning management system that includes a learner's portfolio. Parents may keep track of their children's progress and achievements. Students can also present their most important works.
Apps for Learning Material
Cloud-based platforms are ideal for distributing educational resources to pupils. Both learners and tutors will benefit from such solutions. Schoology, for example, allows you to make notes and underline important information in the text in addition to file sharing. Google has also developed a learning tool called Google Classroom. Working with Google Documents, making a copy for each learner, and creating folders on Google Drive are all possible with this software. As a result, all of the files are neatly sorted.
Elearning Apps for Students
When we think of educational app development, we usually think of learning apps for students who have a variety of needs. These kinds of solutions are popular among both children and adults since they make learning enjoyable. There are numerous instructional apps available for students. The most popular among users are given below.
Language Learning Apps
Students who are learning a foreign language must practice constantly. Many modern apps include games to help you learn new vocabulary or view instructive films. DuoLingo, for example, offers a test to determine a user's proficiency level in the language. Based on the information gathered, the app recommends a course. Memrise, on the other hand, allows you to view brief movies with native speakers. Users are intended to learn new words after watching videos.

Apps for Kids
When creating an educational app, you must think about solutions for children. Children nowadays spend a lot of time on their tablets playing games. Educational applications for kids, on the other hand, make games helpful. With the help of software, children may learn to read, write, and count. Poptropica English, for example, allows kids to solve mysteries while learning English. Fish School offers a variety of activities to help children learn their letters, numbers, shapes, and colors.
Online Classes Apps
Adults have the option of choosing a course based on their interests or career requirements. Many universities and colleagues are willing to work with educational platforms. Coursera is undoubtedly the most widely used online learning platform.
"Read More: On-Demand Tutor App Development – Cost and Key Features"
Must-have Features in Mobile Apps for School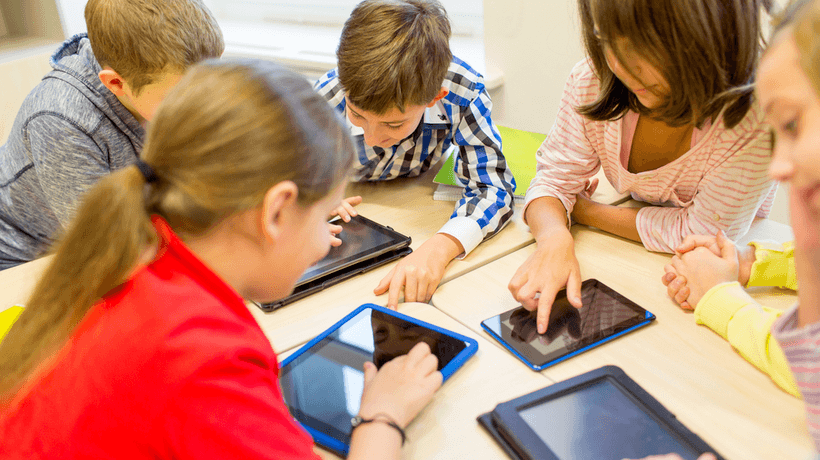 When a school considers hiring a mobile app development company, the first thought that comes to mind is to address any question that a parent would have and that a school would be willing to answer.
For example, if you operate a school, you must be familiar with the sense of receiving a flood of calls to your school administration on days when it is raining excessively or when children have not arrived home on time. With mobile apps for schools development, these snags may now be avoided without involving the cumbersome communication infrastructure. As a result, it is really beneficial.
Further, we will discuss the important features you must have in your mobile apps for schools. If you integrate the following features in your app it will be worth both for students, teachers, and parents.
Logging in
Registering is the first step in the process. The majority of mobile application development begins with a login or registration procedure. It is important for both teachers and students to log in to the app. You must need your email id or user id, as well as your password, to access your account. One may access your profile or dashboard after logging into their account.
The User Profile/ Dashboard
This feature is also extremely useful for both learning and teaching. It holds the user's profile information. This is a configurable feature, which implies that the developers may add aspects based on the target audience's needs. It will mostly contain information regarding the course content, assignments, and due dates, among other things.
The educational app should contain a section where students and teachers may come together on one platform and engage with one another in real-time. Live video lessons are proving to be more than worthwhile, and their popularity is growing.
As a result, you must make use of this functionality.
App Feedback and Ratings
This is a crucial feature in any app. You must take into account both the students and the teacher's essential input when utilizing the app. Their feedback or remarks will offer you an idea of how beneficial your program is. You may determine what needs to be improved based on the answer.
Option to Search
You should provide a search function that allows students and tutors to quickly find a certain course or topic with a single tap of the finger. This will save them a lot of time while also improving the user experience.
Access Library Offline
You may also get information while you're not connected to the internet. This is a feature that will help you get to the top. It will be a tremendous help if you can provide information to pupils in an offline manner. The documents can also be saved by the pupils.
Online Fee Payment
Parents will no longer have to worry about carrying cash since the world and schools alike are rapidly moving toward cashless systems. Thanks to the app developer for the school's event app. Yes, using the school's mobile applications, you may pay your fees online.
Additional Features in Mobile Apps for Schools
Real-Time Push Notification
Parents will be able to get real-time updates on their child's performance from the school. Notifications regarding the student's attendance record, as well as the grades they received on a particular exam, can be delivered.
Cost-Effective Solutions
Connecting with the school's stakeholders and community is simple and does not burn a hole in the pocket, thanks to Mobile Apps for Schools. Mobile applications help a school achieve its aim of being a paperless organization, which reduces paper usage and so saves money for the school.
Fee Collection
When school mobile applications are coupled with an online payment portal, schools can more successfully collect fees from parents, making the process easier and hassle-free for both parties. Parents will not need to go to school or to a bank to pay their child's fees, and the entire payment may be completed in only a few clicks.
Team Structure Required for Elearning app development
Developing mobile apps for schools is a difficult endeavor that needs precise knowledge and industry experience. It's critical to reach out to a top mobile app development company that has a team of experts of Elearning app developers. You can wave the green flag once you've assembled the correct team of professional managers, mobile app designers, developers, and testers since this is the first step toward creating a fantastic and profitable mobile app.
Here is a rough team structure that you will require for the development of mobile apps for schools-
Project Manager/ Delivery Manager
Developers
Designers
Testers
The Development Cost of Mobile Apps for Schools
The cost of app development is determined not only by the app's size and complexity but also by the developers' location and the number of hours they spent on it. The amount, kind, and complexity of essential features, as well as the integration of other costly elements like animations, can all impact the cost of developing an educational mobile app. The cost of designing a mobile app varies depending on a number of factors, majorly including the location of the developers.
However, to give you an idea, below is a churned out estimate-
If you're employing developers in the United States, expect to pay between $100 and $250 per hour.
If you contact Eastern European developers, expect to spend between $80 and $180 per hour.
Developers in India will charge between $70 and $180 per hour.
That's it!
Hopefully, this guide has provided you with all of the necessary information.
If you believe the pricing is out of line with your budget, you can contact any top app development company to discuss the details of your project. There will always be some wrangling, but with an optimistic attitude, you can get your Mobile Apps for Schools out there and change the world.