Want to know doctor on demand app development cost?
The world has seen a sudden surge in the popularity of doctor-on-demand mobile app development. The reason behind this popularity lies behind the value of such apps.
To understand it better imagine that you are sitting in the conference room and a life-changing meeting at work is just about to start. Now, unfortunately, you experience a severe headache and you find yourself choosing between life and work.
Driving down to the hospital and getting diagnosed will cost you your meeting following your promotion. Now think of this, wouldn't it be great if you could open your phone and check your health issue on an app to find out that you can ease your pain just by applying ice/heat or lavender oil to the affected area. 
Well, the good news is, you can actually do that. Within a matter of moments, you will be able to consult with a doctor and find treatments for your health problems without having to walk in the dull and pale corridors of hospitals.  
On demand app development has made it possible for patients to find an instant solution to their health problems. With these apps, patients have the facility to call a doctor right at their home and in less serious cases, consult with doctors on the app to find suitable treatments. 
Market-Size and Stats of Doctor On demand Apps
The rise of Doctor on-demand app development and its influence on today's healthcare system is best validated with numbers. According to a report presented in 2019, a total number of 800 health experts joined the flourishing online healthcare system. In regards to the same report, a total of 79% of patients submitted positive feedback for the apps. 
The doctor on-demand apps is facilitating the healthcare system at the comfort of the patient's home. This explains why the on-demand doctor app market was valued at around USD 4.50 billion in 2018. The same numbers are expected to rise to USD 32.71 billion by the year 2027. With that being stated, it is also noteworthy to state that during its forecast period the same market was booming with a CAGR of 24.7%. 
If the facts and data about clinic appointment apps presented above have intrigued you to a point where you wish to reform the healthcare system with the doctor on-demand app development, this blog is exactly where you should be. 
Let's know everything about doctor scheduling app development in brief. 
Know more with: Everything about e learning app development: Cost and Key Features
Why is Doctor On demand App Development Such a Popular Market? 
There are various reasons why patients are adapting the concept of online health apps very conveniently. Factors that contribute to making online health development such a success include- 
Convenient


When we talk about health issues, immediate actions are required. This requirement is hard to meet in cases where hospitals and healthcare units can not be immediately accessed because of physical distances. In other cases, there might not be a specialist available for the concerned illness.




When the disease is not treated on an immediate basis, the condition of the patient tends to worsen. Such scenarios can be avoided by using healthcare apps that deliver the right solutions within the shortest time span possible.



Enhances Patient Experience


A healthcare app allows users to cut their hospital visits at a considerable rate. With these apps, patients can communicate with doctors on the app about follow-ups, medication consultations, appointments, and inquiring about the prescription. Not only does this eliminate the need to visit the hospital a number of times but also allows doctors to provide better assistance to patients. 
Cheaper healthcare services 
Since we just explained how on-demand healthcare apps eliminate the need to visit hospitals multiple times, it further leads to the conclusion that the same factor allows patients to also save money by reducing ER trips and unnecessary hospital admissions.  
If you too wish to develop an on-demand doctor app, you must invest in a top doctor booking app development company. 
How Does a Doctor On demand App Work?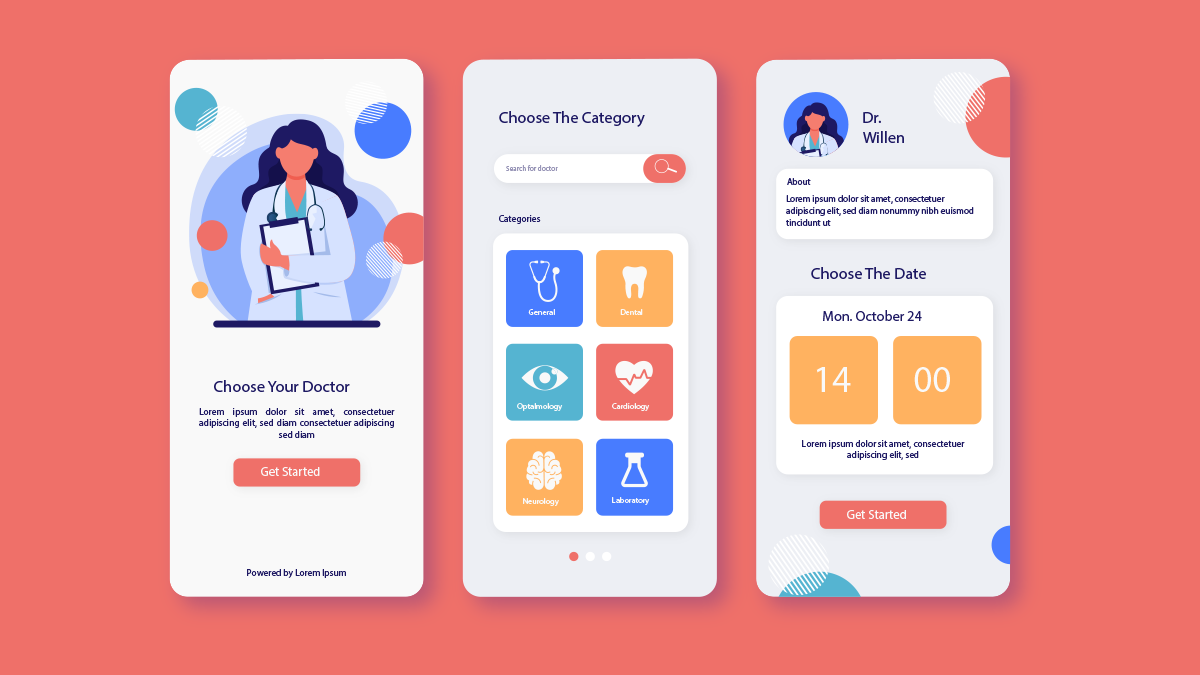 Although different kinds of on-demand doctor apps work differently since the functioning of an online healthcare development depends upon the work of a doctor on demand app development company, there is still an average flow with which these apps work. In most cases, an average doctor on demand app works in the following way- 
To be able to consult a doctor for treatment a user first has to login into the app, create a profile, and then list the symptoms they are experiencing.

After the patient lists down the symptoms, the app goes through it thoroughly and then assigns the most eligible medical experts in closest proximity.

The app, in most cases, has a feature

In-app Calendar

, which allows users to set up a video call appointment with the doctor that meets the patient's requirements.

During the video call appointment, the doctor then examines the reasons for the patient's uneasiness and prescribes required medicines, tests, and other appointments.

Once the appointment is over the user is directed to the payment portal to make payment for filling the concerned doctor's fee. After this, the user is sent a digital receipt of prescribed measures and a bill summary. 


Current Conquerors of the On-demand Doctor Apps Market 
With the previously mentioned stats and numbers, we have already established that the on-demand doctor app market is currently in full bloom, especially after the onset of COVID-19.
This market's leaders have played off a tough game to bridge the gap between the patient's couch and the doctor's clinic door. If you wish to develop an online clinic app, it is important that you are familiar with the current market leaders of the online healthcare world. This will help you to determine strategic measures you can implement in your own app. 
Following are the apps that have taken over the on-demand doctor marker- 
1. Practo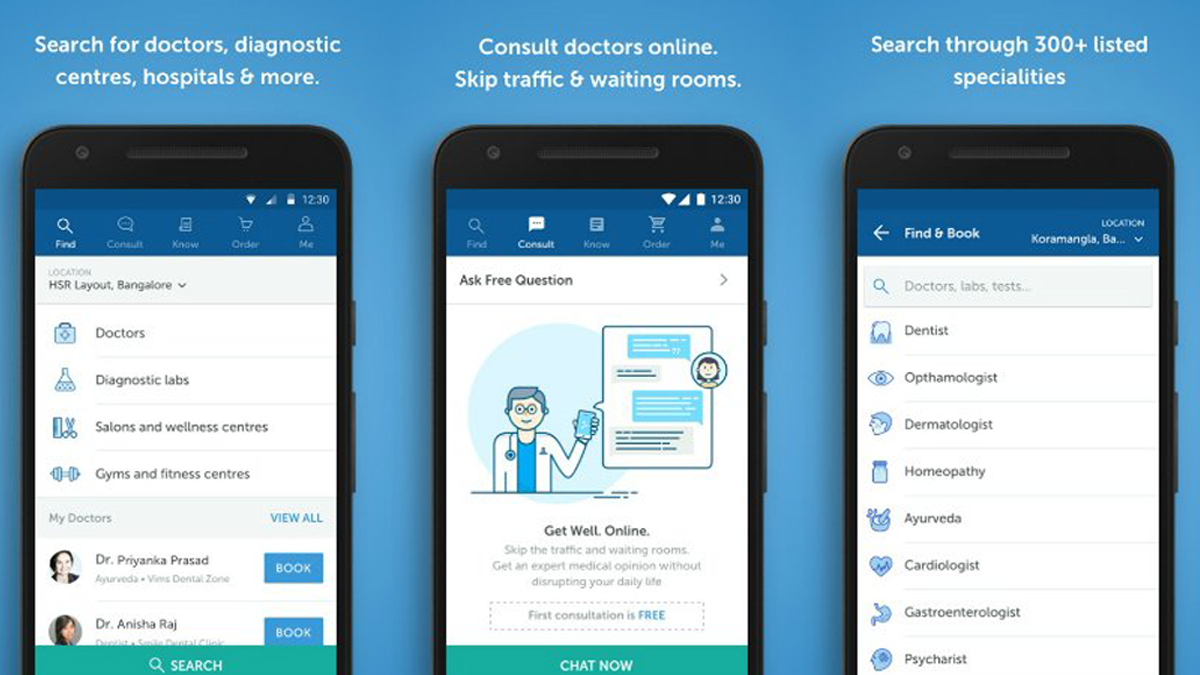 Anytime that you must have heard the term healthcare apps, the name Practo automatically transfers through our neurotransmitters. This is the effect with which Practo has won over heart and health with its services, especially in India.
This app has provided its services with the following features- nearby doctors to reserve an appointment, order medicine refills, find the medical record online, consult the live doctors, send push reminders to the user's profile, and almost everything else that will facilitate a patient's healthcare.
2. ZocDoc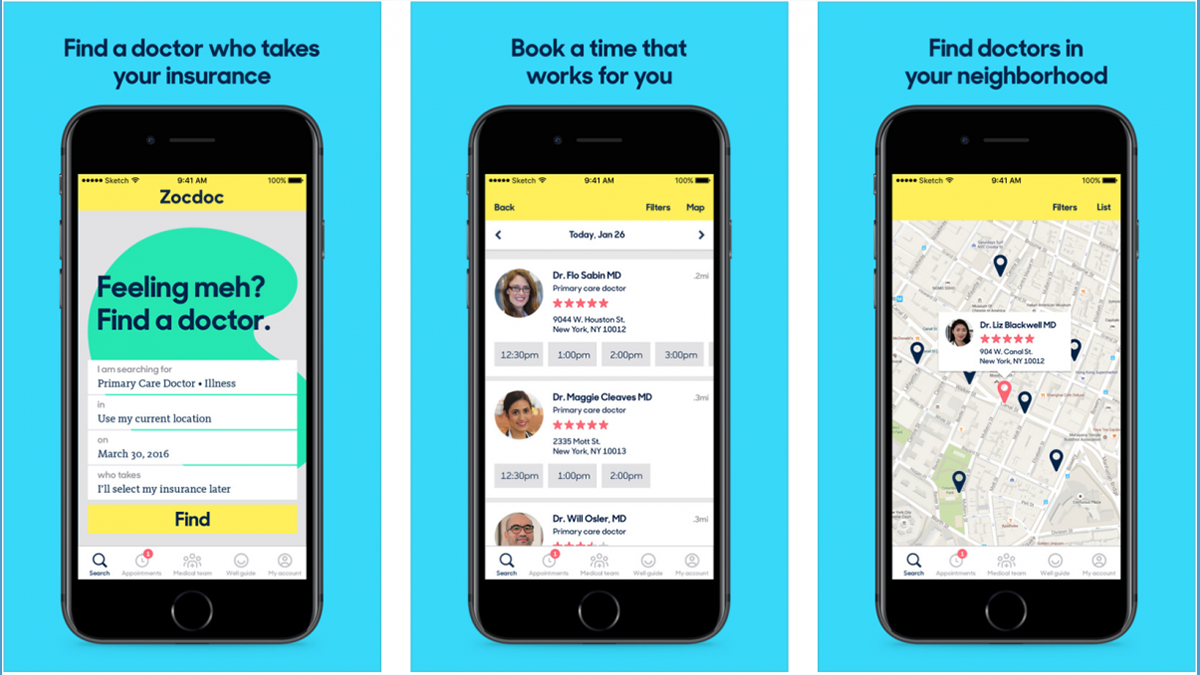 This app is one of the most popular apps in the US that operates on multi-platform including- Android, iOS, and even windows. Not only does this app provide regular health tips and not let you miss any appointment but also assists people to find a suitable doctor within a short time.

3. Pager App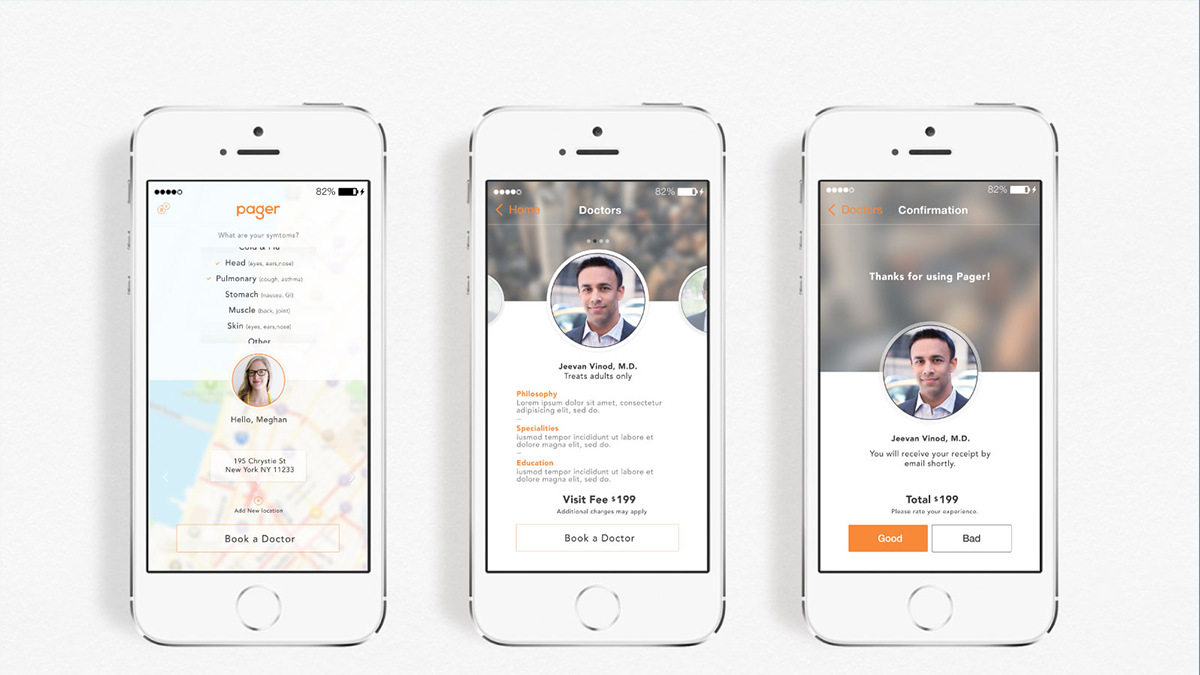 This app allows users to find extensive solutions to better their uneasiness. It offers its impeccable services with features such as connecting with doctors, ordering individual lab tests with their medical prescription, consulting with the doctors over chat and video calls, and much more. Furthermore, this app also has its own wallets by using which users can also redeem loyalty points. 
What are the Challenges Faced During Doctor On demand App Development?
While developing a doctor application, developers have experienced many challenges and sacrifices. Sometimes some features are very important for the application, integrating them would mean crossing budget limits. If you want to develop such on demand apps you can hire mobile app developers to build your app.
When such situations happen, the final action call lies in the hands of the doctor on demand app development team hand. A great clinic appointment app development will be able to overcome all the challenges and will develop a robust functioning online healthcare app. 
Following are the challanges faced while working on doctor on demand app development- 
Information Security




Developing an on-demand app is easier said than done. It involves a lot of gruesome tasks that mainly depend upon a patient's data. In such a case it is obvious to understand that while developing an online healthcare app, the developers should be primarily concerned with data security and integrate features on apps that are accessible to users but eliminate information prying threats.

User Experience




When you develop an app, you do not just integrate some features together and publish them on the app stores. In fact, you deliver your users an experience that they feel with every single tap that has been made on the device's screen. Keeping this in mind, you should offer your users features that are pitch-perfect solutions for their needs.
Doctor On demand App Development Cost:
| | |
| --- | --- |
| Country | Total Cost |
| USA | $80,000 – $90,000 |
| UK | $75,000 – $90,000 |
| Canada | $80,000 – $90,000 |
| France | $90,000 – $95,000 |
| UAE | $60,000 – $70,000 |
| India | $30,000 – $40,000 |
| Australia | $70,000 – $80,000 |
Features /panels for
Patients/Users:
Sign in/Sign Up – This is the landing screen of a doctor on-demand app for users. Doctor scheduling app development must make sure that the login procedure is kept as simple as possible. Developers can also integrate the option of adding social media login with Facebook, Gmail login. Furthermore, the login procedure can be made secure by OTPs.

User Profile – Once a user logs into your app, s/he then has to fill up some mandatory basic details that include name, address, sex, age, blood group, weight, height, etc. in this section. With doctor-on-demand apps, users also get to save their preferred doctors under one tab for easy access.
Appointment Booking – This feature is the technological incarnation of the purpose of developing a doctor app. Medical experts that offer their services on this app are classified under this section on the home screen. The users may choose any doctor and know more about his qualifications and charges with a simple tap.
Tracking Doctors' Location – This option allows users to locate doctors that are in close proximity. 
In-App Chat Option – This feature allows users to be able to communicate with doctors, thereby eliminating the pain of having to visit the doctor's clinic. Such a feature has proven to boost user experience evidently and motivate the users to be more frequent on the app. 
Doctors:
Sign up/ Sign in – This section is pretty much similar to what you see on the patient's app. When a doctor signs up on the app, he needs to list down details such as their degree, university names, a certificate of authenticity, working experience, area of expertise. The doctors must also mention their time of availability. 
Appointments Status – With this feature, users can view the list of booked, canceled, and appointments that have been completed with their date and time mentioned as well. 
In-App Calling – Utilizing this component, specialists can speak with the clients and pay attention to their concerns to give them critical cures. The medicines in general and different reports can be talked about by the specialists. Patients use them to battle their medical issues at home. 
Marketing Tools –  Under this segment, all specialists are liberated for advancing their administrations. They utilize these advertising apparatuses for pertinent offers and limits to connect with and inspire the clients to utilize their administrations. 
CMS for Publishing – All the specialists enlisted inside the application can distribute theirs investigations on the different issues of wellbeing. They can advance their works for making the social orders mindful of the well-being overseeing elements and bits of knowledge.
Admin: Patient Management and Doctors Management
Add/Block Features – The administrator ought to have the authorization to hinder any specialist or patient from exploiting the application or likewise can confine from utilizing a few components. 
Report management – All the reports identified with the patients and specialists are overseen under this class. Wellbeing based reports and different solutions are followed and put away for keeping a complex reinforcement.
Advanced Features
Payment Modes – To provide the best user experience the doctor on demand app development team must make sure that all the major payment options are integrated into the app. The users should be able to pay for their services with various options such as Credit/Debit Card, Internet Banking, Paypal. 
Push Notification – Push notifications are a vital feature for any app. It lets users do not miss out on any important information and keeps the users updated with their appointment status, prescription charts, and much more.
Social Sharing – Social sharing helps in gaining recognition in public so it is always better to keep the options to share specific results or outcomes to have the extra advantage.
Real-time Analytics – This is perhaps the main aspect that should be considered upon. Clients adjusted with the application can utilize the Real-time Analytics can see the graphical reports and diagrams as seeing such reports is extremely simple with regards to acknowledging important statistics and numbers. 
 GPS Tracking – In case you want to stay ahead of the competition by building an advanced doctor on-demand app, integrating GPS tracking would be an excellent choice. This allows users to be able to view the doctor's location in real-time.