Dwolla is a payment processing service that has become famous in recent years due to its innovative payment system that offers an easy and secure way to transfer funds.
The Dwolla app offers a huge number of features that make it one of the best payment processing services available in the market.
In this post, we will explore the Dwolla app business model, including how it works, its revenue model, key features, security and privacy measures, user feedback, comparison with competitors, and future developments.
If you are looking for a secure payment processing service for your business or just looking for an easy way to transfer money, the Dwolla app business model is the best choice for you.
What is Dwolla App?
Dwolla app is a well known payment platform that allows businesses and individuals to send and receive money. It provides low-cost, secure, and reliable payment methods like credit card transactions and wire transfers.
Dwolla App is the complete payment solution for all your payment problems. This innovative app offers the ability to send and receive money. With its amazing user interface, it allows you to transfer funds easily, quickly, and securely.
Its merge with bank accounts makes easy transactions and effortless. You can even use Dwolla to pay rent, bills or tuition fees. Unlike other payment apps that charge huge transaction fees, Dwolla gives low cost transfers with no hidden charges.
Their advanced technology ensures high security measures to protect your sensitive details at all times. In addition, Dwolla App simplifies everything making financial management a breeze.
So, say goodbye to cash, checks and high transaction costs; say hello to efficiency with Dwolla app business model.
History and Background of Dwolla
Ben Milne and Shane Neuerburg were introduced to Dwolla in 2008 in Iowa. Initially, it focused on facilitating bank-to-bank transfers without charging any fees. But, in 2014, the company introduced transaction fees for some of its services.
Today, it offers payment solutions to businesses of all sizes in many industries, with a primary focus on technology, finance, and e-commerce.
How Does Dwolla App Work?
Dwolla app business model follows the concept of the digital payment that makes sending and receiving money simpler and more secure. Learn all essential details one by one and we will provide you secure payment app development.
1. Registration and Verification Process
To use Dwolla, you have to create a free account by providing some details including your email address, phone number, and other basic information. You also need to link your bank account to your Dwolla account for your transactions. Dwolla verifies your identity and bank account details to ensure that your transfers are secure and compliant with regulations.
2. How to Send and Receive Money with Dwolla App
Sending and receiving money with Dwolla is easy. To send money, you have to enter the recipient's email address or Dwolla ID and the amount you want to send. The recipient will get an email notification and instructions on how to claim the money. To get money, you need to offer the sender your email address or Dwolla ID.
3. Integration with Other Platforms and APIs
Dwolla also integrates with other platforms and APIs, making it easier for businesses to add payment capabilities to their websites and applications. It provides developer tools and complete documentation that make it easy for businesses to customize their payment solutions and automate their workflows.
Key Features of Dwolla App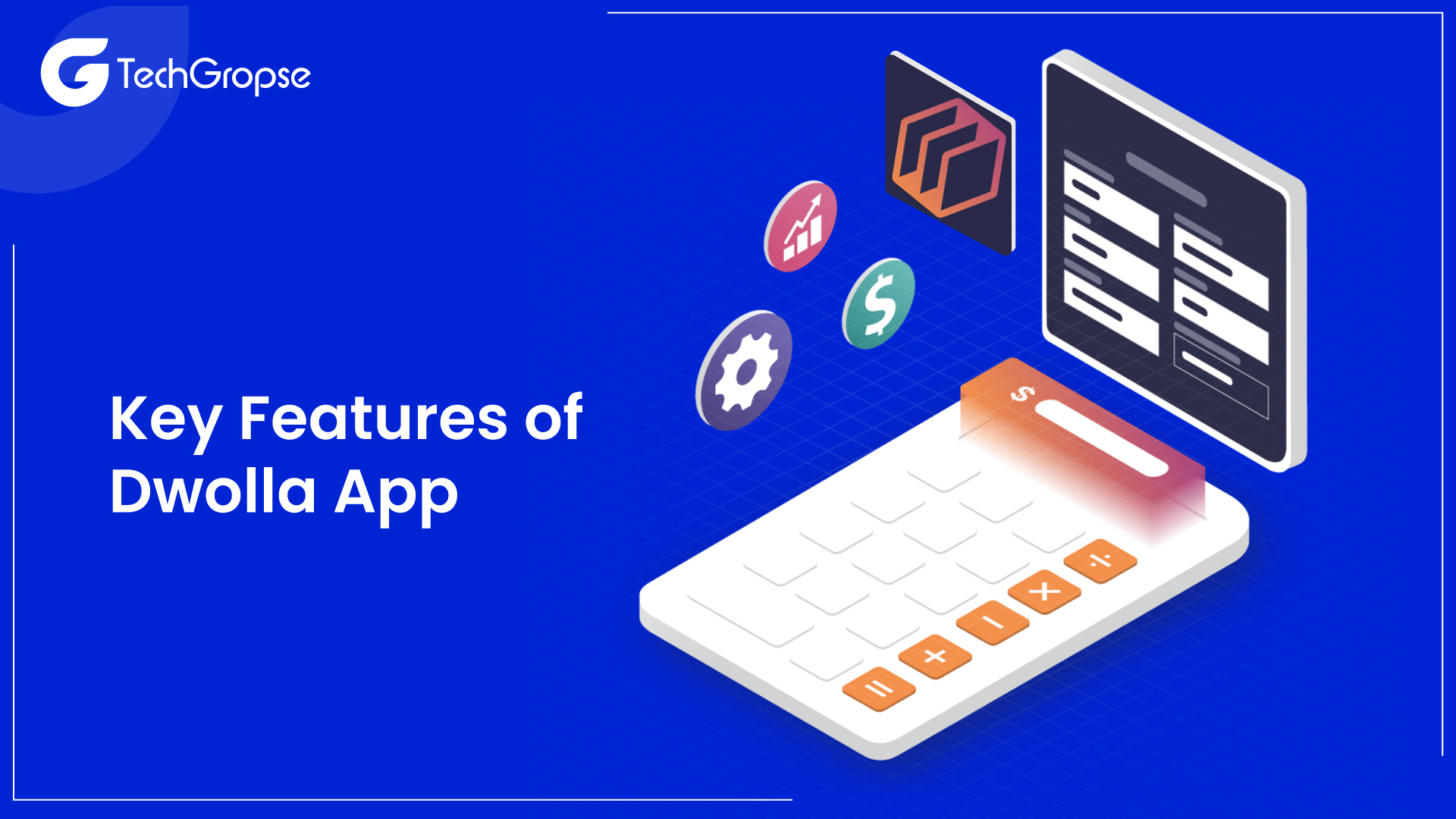 With features like instant bank verification and automatic recurring payments, managing your finances has never been so easy. But Dwolla app business model doesn't charge any transaction fees for ACH transfers.
If you also build an amazing business model you should research a great payment app development company.
1. Instant Bank Transfers
Dwolla provides instant bank transfers, which allow users to transfer funds from their bank accounts to their Dwolla accounts in just one click. This feature is useful for businesses that need to make quick payments or transfer big amounts.
2. Request Money Feature
Dwolla's request money feature allows users to request payments from other users by sending them a payment request. This feature is useful for businesses that require to collect payments from their customers or clients.
3. Customizable Payment Requests
Dwolla allows users to make customized payment requests by adding their branding and messaging. This feature helps businesses to personalize their payment requests and enhance their brand awareness.
4. Dwolla Direct and White Label Programs
Dwolla Direct and white label programs allow businesses to integrate Dwolla's payment capabilities into their websites and applications. This feature gives a customizable and secure payment solution that businesses can use to handle their payments without any hassle.
Security and Privacy Measures of Dwolla App
We all know that security plays an important role in this digital era. Dwolla offers security and privacy to its users. It employs several measures to protect user details and transactions. The best wallet app development company offers secure and easy applications.
1. Encryption and Authentication Protocols
All communication between the Dwolla app and its servers is encrypted. Additionally, the app uses multi-step authentication and tokenization to ensure that user data is secure.
2. Fraud and Chargeback Prevention
Dwolla measures several factors to prevent fraud and chargebacks. It uses unique machine learning algorithms to detect suspicious activities and prevent unauthorized access to accounts. It also provides high level protection to businesses to protect them from fraudulent activities.

3. Compliance with Regulations and Standards
Dwolla is a licensed money transmitter and is compliant with all regulations such as the Bank Secrecy Act and Anti Money Laundering Laws. It also follows ACH standards for fund transfers, ensuring the security of transactions.
More About Dwolla App Business Model
Dwolla has partnerships with banks and credit unions that offer it to facilitate transactions between users on its app. This allows the company to process same-day transactions using the ACH network.
The ACH network is a secure network that allows for electronic transfers of funds between banks. Let's get ready to learn some pros and cons of the Dwolla app business model.
Pros
White Label Payments
Various customer service options
Development tools available
Secure payment
Low transaction charge
Cons
Potentially expensive
No credit card accepted
Limited functionality
Dwolla App capabilities
Dwolla's payment system hire dedicated developers to offer a developer API that allows businesses to easily integrate Dwolla's payment processing into their own apps.
1. Digital wallet
When you create an account with Dwolla app and get verification, you can carry amounts in your account received from payments like a digital wallet. You can also use the amount to make other payments or transfer them to a business bank account.
2. Verified accounts
For customers and merchants, Dwolla gives two verification processes such as instant account verification and micro-deposits. Instant verification means customers log into their bank account from the Dwolla platform, on the other hand micro-deposits share a sum to the customer's bank account to verify their banking details.
Remember that you can send and get money with Dwolla app without reviewing your account. If your accounts are not verified yet, you can offer your full name and email address, but you are limited to $5,000 in transfers per week. You can only hold a balance and can only send and get amounts from a verified user.
3. Scheduled and recurring payments
You can manage payments to be transferred from customers' accounts on a particular date that link in to your Dwolla account. Additionally, you can manage for these scheduled payments to be returned.
4. Integrations and add-ons
Dwolla provides four integrations with third-party products including:
Slack: Automatically sends payment reports to notify team members of essential account updates, like failed transfers, successful verifications, negative balances and more.
Plaid: Allows users to link and review their bank accounts within the Dwolla application. The company also saves essential data, meaning the merchant doesn't have to store financial information within their own platform so you are not responsible for PCI compliance.
Sift Science: Fraud tracking system that uses machine learning and data on past transactions to evaluate the likelihood of new transactions being fraudulent.
QuickBooks: Exports ACH payment and transfer reports in real time, enhancing accounting accuracy and minimizing the requirement for manual data entry.
5. Security
Dwolla app business model verifies customer bank accounts and sensitive details can't pass through your servers. It helps to decrease the risks and fraud. The company also encrypts all details that are sent through its network, securing you and your customers from having your details from unauthorised access.
6. Customer service
Dwolla promises annually contracted customers a dedicated custom ewallet app development like direct communication with developers and account managers. It also has additional chatbot service and customer helpline and email address.
Dwolla App Cost
Plan
Features
Contract
Pay-as-you-go

0.5% per transfer.

No setup fees.
No monthly minimums.
Transaction-based pricing.
Payment automation.
No dedicated support.

None.
Launch

Starting at $250 per month.

Flexible pricing.
Select features.
Payment automation.
Support available for additional $500 per month.

Month-to-month.
Scale

Starting at $1,000 per month.

Flat monthly pricing.
Dedicated support.
Premium features.

Annual commitment.
Custom

Starting at $2,000 per month.

Volume-based pricing.
Dedicated support.
Premium features.

Annual commitment.
The Dwolla app business model offers Launch, Scale and Custom features. This business covers three plans that can differ based on your monthly transaction volume and desired features.
Have a quick look all plans offer the following features:
Tools and features that can be customized to hold your business's branding.
Configurable API.
Scalable payment technology.
Integrations with platforms like QuickBooks and Plaid.
Tokenization.
Automated notifications.
Drop-in elements, which offer users to add fields to customer accounts with a few coding.
Offer Webhooks notifications.
The Launch plan offers:
Next-day and same-day transfers.
Additional use for $250 every month.
Higher transfer volume limits at additional cost.
Team support for an additional $500 per month.
The Scale plan offers:
Team support included.
Next-day and same-day transfers.
Bundled transfer fees for 20,000 to 50,000 every year.
Additional transfers like push-to-debit, real-time payments and wire transfers.
Additional use cases for $250 every month.
Higher transfer rate limits for $500 every month.
Some feature pricing including higher transfer volume limits is quote-based, that means you have to speak with a sales representative who can make a suggestion based on your customer base, growth projection and sales volume.
Future of Dwolla App and Industry Trends
Dwolla is progressing to meet the requirements of its customers and stay competitive in the payment processing industry.
1. Upcoming Features and Developments
Dwolla is working on integrating cryptocurrency payments and blockchain technology into its platform. Additionally, it is developing the latest features to improve the user experience and boost payment processing for businesses.
2. Market and Industry Trends
The payment processing industry is changing, with new technologies and regulations being introduced. Dwolla is keeping up with these changes and is positioned to stay at the forefront of the industry.
3. Possible Challenges and Opportunities
As the payment processing industry becomes more crowded, Dwolla will need to continue providing high-quality services to differentiate itself from competitors. The demand for convenient and secure payment processing presents an opportunity for Dwolla to continue growing its user base.
User Feedback and Success Stories
Dwolla has received positive feedback from its users, highlighting its ease of use, reliability, and security.
1. Customer Reviews and Ratings
Dwolla has got positive ratings on different platforms, including the App Store and Google Play. Users appreciate how easy and convenient it is to use the app.
2. Case Studies and Testimonials from Businesses
Several businesses have used Dwolla for payment processing and have mentioned success in using the app. Case studies highlight how the app has helped businesses save time and money while enhancing their payment processing.
Final Words
Dwolla is a reliable payment processing service that is designed to make transactions easier, faster, and more secure.
Its unique features and innovative business model have made it an attractive option for businesses and individuals.
With its customer-centric way and commitment to giving an easy payment experience, Dwolla is sure to continue to revolutionize the payment processing industry in the years to come.