Managing an event is not an easier task as it requires proper time management, things and lots of information. As a result, event management agencies rely on applications. Therefore, many agencies decide to build event booking app. If you are an event organizer you have information about Eventbrite.
This is a popular platform that helps to discover events, create or sell tickets online. You have to visit the platform and look out for popular events. The best thing about the website is that there you will find multiple event categories available from Mustang to charity. Today, we will take a deep look at what Eventbrite is, how it makes a good profit, the Eventbrite business model and many more things.
What is Eventbrite?
Eventbrite is an amazing ticketing platform and event technology destination launched in 2006. Until now, this platform hosted more than 4.7 million events across the world. The best part of this platform is that it helps small and large businesses organize and sell their tickets online.
Plus, it helps customers to search for the latest and most popular events within a couple of clicks. The event will range from workshops to conferences and concerts to music festivals. On the other hand, Eventbrite can be accessed through mobile applications and websites. Of course, users are able to register and buy tickets through an event website.
Additionally, event organisers will get several advantages such as email invitation creation, planning tools, ticket selling and RSVP tracking. Moreover, it is easier to manage tickets via integration on FB. You know that the real-time sales information will assist event organizers to determine revenue and attendance.
As a result, the demand for event & tickets app development services is high in today's time. With the help of such applications, it is easiest for event organizers to manage everything easily as well as users also feel convenient to book tickets.
How Eventbrite Works?
As we all are aware that Eventbrite is an online event management and ticketing platform that allows users to create, explore and promote physical or online events. Through the help of the application, users can attend events in categories such as charity, music, education, food, sports and drinks.
Here you will also get a room for non-commercial gatherings such as high school reunions or family gatherings. Furthermore, on the organizer's side, an array of tools are made available to simplify the creation and management of events. It includes features such as reporting dashboards, creating events or a dedicated support team.
On the other hand, this platform helps agencies to check in event attendees, even sell merchandise on-site or track live attendance. The best thing about Eventbrite is that it takes care of the financial processing and advertisement of its event. Users are eligible to access the platform through their phone or website.
If you also want to build an app like Eventbrite, it is time to search for an event booking app development company that is well-versed in building a functional and robust app including rich features and modern technology.
History of Eventbrite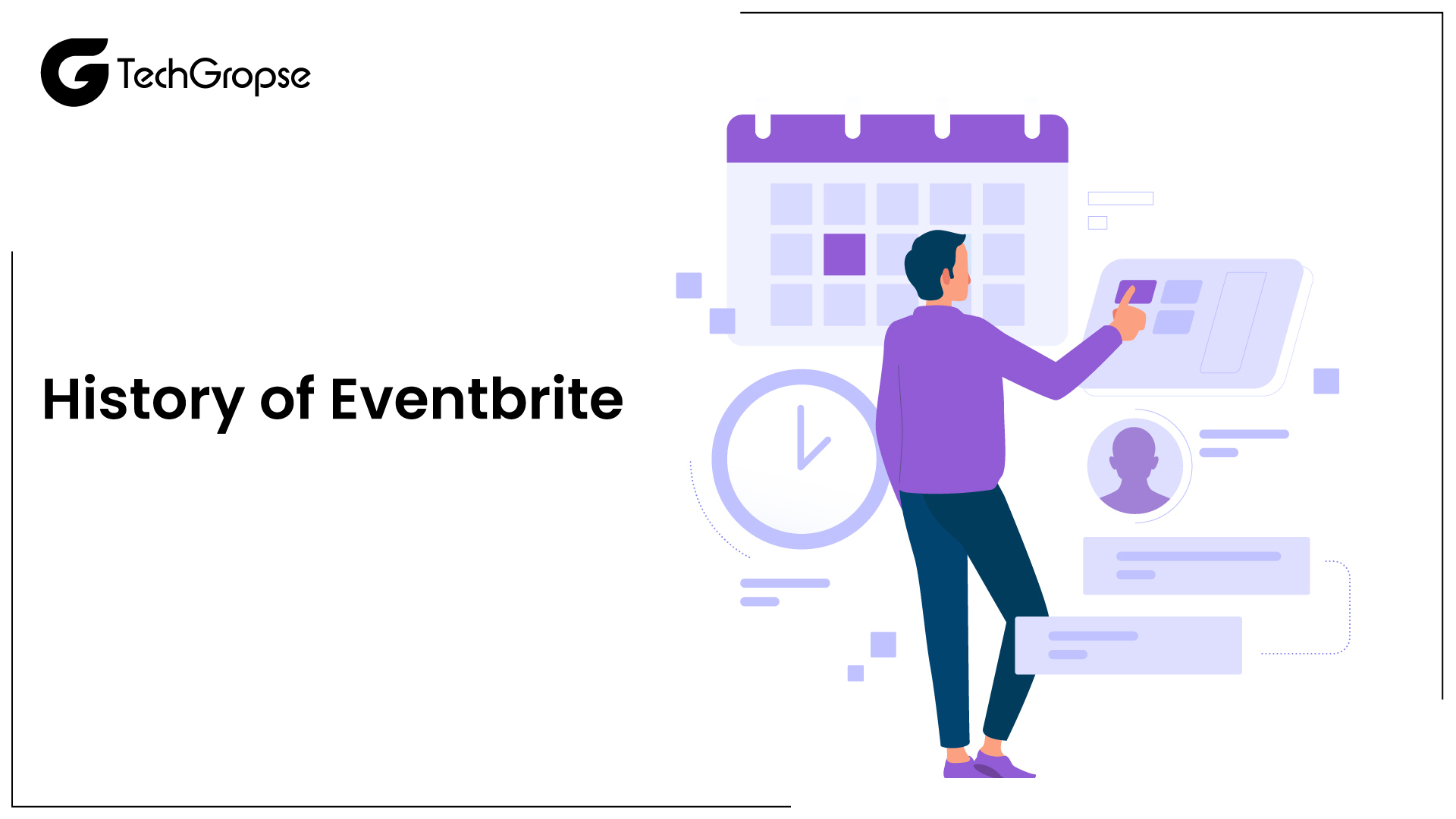 Well, Eventbrite was founded in 2006 by Julia Hartz, Renaud Visage and  Kevin Hartz. Its headquarter is in San Francisco. Julia and Kevin met in 2003 in their mutual friend's wedding when the pair were seated next to each other. In 2006 they started Eventbrite. However, things got a little more complicated, they welcomed their first baby while bootstrapping their company and trying to make payroll.
Before starting Eventbrite, both Julia and Kevin gained key experiences that helped them to balance and navigate the foundation of both their family and business. Kevin completed his graduation from Stanford and Oxford University. Then he decided to spend his few years creating products in the dotcom era and investing in other startups as a VC.
In 2001, Kevin founded Xoom, a digital money transfer service, and led angel investments in agencies such as Pinterest, PayPal and Airbnb. Julia was working in television development for FX Networks in Los Angeles.
In 2005, Julia decided to move to the Bay area where she met Kevin and grew up as a child. A local cable network in San Francisco offered her a job as an executive but she ultimately turned it down. Julia asked Kevin for their opinion. He simply said that she could work on somebody else's dream or they could start something together.  A week later, the newly engaged couple got to work on what would end up becoming Eventbrite.
If you also decide to build an app like Eventbrite it is necessary to check Eventbrite app development cost which helps in determining how much you have to pay. On the basis of this information, you can easily build an app that not only helps to make the management task easier but also helps to generate more revenue.
Apart from knowing the cost, you have to get some information about the Eventbrite business model that helps to easily build an app including new technology and features.
Key Benefits of Eventbrite 
No doubt that Eventbrite is the best platform for selling tickets and managing events. But you know that there are lots of advantages of Eventbrite that make it a favourite among users. Take a look at the following advantages.
The first and foremost advantage of Eventbrite is that it does not charge for events that are free whether they are large or small. It takes fees only when users collect payment. It means users can save lots of money.
This is why the demand for such applications has become high. But building a platform is not an easier task on your own. In such a case, it is advisable to hire mobile app developers who are well-versed in building robust, cutting-edge and leading solutions for your company's requirements.
Another great advantage of Eventbrite is its robust feature set. All the features of this platform are easy to use. It means if users don't have technical knowledge and expertise they also use this platform to make their tasks easier and more convenient.
In order to build an app like Eventbrite, you have to get complete knowledge of the Eventbrite business model that will help you in determining what you have to include in your app. Moreover, you will get the necessary information to build a functional and robust platform.
Comprehensive Set of Tools and Features
Another advantage of the Eventbrite platform is that it includes a comprehensive set of tools and features that make it convenient for any person familiar with basic computer concepts to promote, manage, and create their own events. It means users can easily do their tasks and get a good user experience.
If you are also interested in building a platform like it, it is good to contact an on-demand app development company that will provide the best solutions as per their client requirements. Moreover, they never compromise on quality at any cost and also make sure that their customer feels happy after getting their services.
The widget can be integrated into an existing website with ease. Sales and tickets can be tracked through your site and Facebook page. Moreover, the event location can be identified because Eventbrite is integrated with Google Maps. Users' social media accounts can always be linked to make sure their event gets more exposure.
Users are able to manage their events via their organizer app which is available for Android and iOS. Mobile cameras can be used to verify barcodes. In simple terms, they can sell and manage their events while they are on the go. On the other hand, monitoring the status of their event is made seamless with the application. Moreover, they can be updated with their attendance figures and sales.
This is the great advantage of Eventbrite. In order to build such an application you need to hire dedicated developers who have years of experience, knowledge and practice to build functional and innovative solutions including rich features.
Pull Information of Events
With Eventbrite's open AI, users are able to pull information on events, attendance from other systems and apps and other data. Moreover, this platform assists users to organize their profiles that are visible to their partner network, social notifications, search engines and event newsletters.
Manage Finance Surrounding 
Eventbrite allows users to manage their finances surrounding the event more effectively. It means users are able to receive both online and offline payments from Android Pay and Apple for select events.
Overall, Eventbrite makes planning and executing events much easier. These are some amazing advantages of Eventbrite. If you also want to build an app like Eventbrite, it is necessary to have information about Eventbrite's business model.
Business Model of Eventbrite
As we all are aware that it is also important to know the business model of Eventbrite to build an app. So prior to starting the development process, it is necessary to look out for the business model of Eventbrite.
1. Customer Segments
It is obvious that Eventbrite serves two customer segments, consisting of event organizers searching to increase the visibility of their event as well as individuals who want to attend advertised events of interest.
2. Value Propositions
From the outset, Eventbrite's strongest asset has been the ongoing dialogue and interaction with customers and users and the active implementation of their feedback on the evolution of the agency's platform and services.
As the brand is built on user feedback, it is highly functional, reactive and easy to use, which increases its popularity with clients who have actively participated in its design. Moreover, Eventbrite provides a great opportunity for people of all social backgrounds to build and promote events of any type.
This is why it is a great source of income. In this way, the platform stimulates customers to use it not only for recreational purposes but for work and self-promotion as well.
3. Channels 
There is no doubt that Eventbrite depends on extensive word-of-mouth campaigns and social network presence to grow its customer base. As its product integrates customer reviews with the service they provide. As a result, users get unparalleled visibility on search engines such as Google, Yahoo and many more because of the large volume of indexed user reviews of events marketed on the platform.
The best thing about Eventbrite has always been boosted by its move to open its API to programmers for the introduction of new features, which makes its product increasingly tailored to the requirements and specifics of targeted consumer groups. This is why it is the best Eventbrite business model.
4. Customer Relationship 
The best thing about Eventbrite is that it is a self-service-reliant platform. It allows the users to promote, create, manage and host a number of live events. You know that the whole interface of the website is created to be as functional and user-friendly as possible and there are a lot of options to choose from.

5. Key Activities 
The main focus of Eventbrite is on the provision and design of its functional web platform and mobile app that give permission to users to build, find, share and advertise a wide range of live events.  This amazing platform focuses on self-servicing the 'people' part of the ticketing industry.
6. Key Partners 
Eventbrite has successful partnerships with Batchbook. Being a dynamic platform, it enables agencies to manage their existing customer relationship battery. This platform is usually integrated with Eventbrite's creative approach in order to focus on the 'human' element in its business procedure. As a result, it is the best Eventbrite business model.
7. Revenue Streams
The best part of the Eventbrite is that it has two revenue streams. You know that to use the free version of this platform for hosted events you don't have to pay any charges that translate into increased visibility. It will save money on marketing and sales.
Conclusion
Eventbrite is gaining more popularity in upcoming years as it helps the task of event managers. With the help of this platform, it is easier to manage the event as well as buy and sell tickets for different events with ease.
As a result, the demand for such applications is becoming high. But when it comes to building an app like this, it is necessary to understand its advantages, Eventbrite business model and many more things. In order to get all the information, you can read the entire blog where you will get the essential information that you want to know.
FAQs
1. Can I use Eventbrite for free events?
Yes, you can use Eventbrite to host free events with no fees. Eventbrite offers a "Free Ticket" option that allows you to create and manage events at no cost to you or your attendees.
2. How do I sell tickets on Eventbrite?
To sell tickets on Eventbrite, you can follow these steps:
Create an Event
Set up Tickets
Customize your event page
Promote your event
Manage your attendees
Receive payments
Close your event
3. How do I get money from Eventbrite?
If you're an event organizer and you've sold tickets to your event through Eventbrite, you can withdraw money from Eventbrite after your event is over and you've been paid for your ticket sales.
 Here are the instructions for withdrawing money from Eventbrite:
 Log in to your Eventbrite account.
Go to your event's "Manage" page.
Click "Payments" on the left sidebar.
Click the "Request Payment" button.
 Select the bank account where you want to receive the money.
Enter the amount you want to withdraw.
Click  "Request Payment" to complete the process.
Does Eventbrite allow me to scan tickets?
Yes, Eventbrite allows you to scan tickets through their Eventbrite Organizer app. The app is available for both iOS and Android devices and allows you to quickly and easily scan ticket barcodes or QR codes and check attendees at your event.