Flashscore is one of the most famous sports score-tracking platforms, delivering real-time updates and details on a vast range of sports and events. But what is the Flashscore business model that has made it so successful in the crowded sports data market? 
However, few people understand how this website operates, what its business model is, and how it makes money. 
Flashscore is a well-known live score app development platform that offers real-time scores, stats, and results for over 30 sports and 5000+ competitions worldwide.
The platform has become a go-to destination for sports fans, journalists, and sports betting lovers who depend on Flashscore's reliable and valid data. 
In this article, we will take a closer look at the Flashscore business model, its revenue streams, target audience, competition, and future growth prospects. 
We will also explore the various ways Flashscore monetizes its platform, the principles that drive its success, and the key takeaways that can be learned from its business model.
What is Flashscore App?
Flashscore is a popular website and mobile app that provides live sports scores, statistics, and fixtures for about 30 various sports from around the world. The platform allows users to stay up-to-date on their favorite sports events such as football,  tennis, basketball, and hockey, among others.
The FlashScore app allows users to stay updated with real-time scores, fixtures, and results for an expansive range of sports such as football, cricket, basketball, tennis, hockey, and many others. 
Users can customize their choices to follow individual teams, leagues, or tournaments and receive notifications for live events, goals, and other significant moments.
In addition, to live scores, the app also provides detailed match statistics, lineups, player profiles, head-to-head records, league tables, and other relevant information. 
It aims to provide comprehensive coverage of various sports to keep users informed about their favorite teams and competitions.
Flashscore was established in 2006 by a group of sports enthusiasts in the Czech Republic. The platform started as a simple website providing live scores for football matches in Europe, but it quickly expanded to cover other sports. 
Today, Flashscore works in approx 200 countries and has become one of the most trusted sources of sports information for fans around the world.
Have a quick look at the summarized table it helps to understand the flashscore business model:
| | |
| --- | --- |
| Company | FlashScore.com |
| Year Founded | 2006 |
| Employees | 11-50 |
| HQ | Malta, San Gwann |
| Annual Revenue | $1.0M – $2.0M |
| Industry | Sports > Soccer |
| Global Rank | 477 |
| Country Rank | 9 |
| Category Rank | 1 |
Exciting Feature of the Flashscore App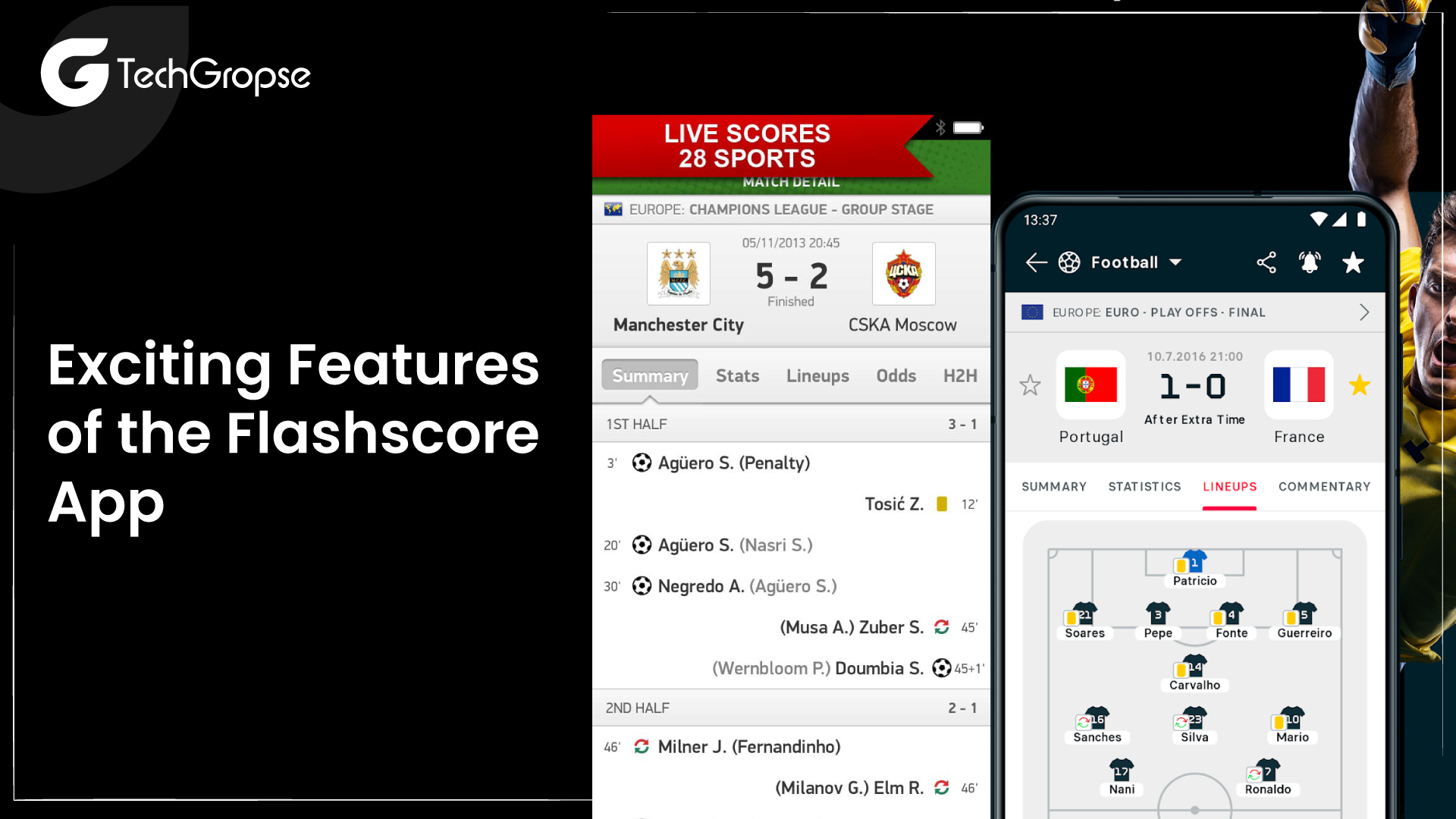 On-demand app development company builds various sports applications with amazing features. The FlashScore app offers a range of features that make it famous among sports lovers. 
Here are some of the amazing features that users typically find valuable:
Live Scores:

The app offers real-time updates and live scores for different sports events, allowing users to track the progress of multiple matches simultaneously.
Customization:

Users can personalize their experience by selecting their favorite teams, leagues, and tournaments to follow. This feature allows them to get notifications and updates specifically related to their chosen teams and competitions.
Comprehensive Sports Coverage:

FlashScore covers an expansive range of sports, including popular ones like basketball, tennis, football, cricket, hockey, and many more. It offers scores, fixtures, results, and other relevant information for these sports.
Match Details and Statistics:

Users can access detailed match information such as player statistics, lineups, head-to-head records, and other relevant stats. This allows them to delve deeper into the performance and analysis of teams and players.
Live Commentary:

The app also includes live text commentary for prominent sports events, providing minute-by-minute updates and analysis for those unable to watch the matches live.
Push Notifications:

Users can allow pushing notifications to receive instant alerts for red cards, match outcomes, goals, and other significant events during games.
Standings and Tables:

FlashScore offers league tables, standings, and rankings for different sports, allowing users to keep monitor of the overall performance of teams and players.
Historical Data:

You can get historical data and archives, allowing users to explore records, past results, and statistics for in-depth analysis.
User-Friendly Interface:

The app is designed to be instinctive and user-friendly, with easy access, a clear presentation of details, and a visually appealing interface.
These features collectively make FlashScore a valuable tool for sports fans who want to stay updated and informed about live fixtures, results, scores, and other aspects of numerous sports.
Flashscore Business Model: How to Make Money
If you want to build app like Flashscore, you must know about the flashscore business model. It works on a freemium business model, which combines free access to basic features with optional premium services for users.
Strengths
– Real-time data and coverage of different sports
– User-friendly interface and mobile app
– Massive global user base
– Strong brand recognition and reputation
Weaknesses
– Dependence on third-party sources for data and statistics
– High competition from other sports websites and apps
– Limited revenue streams
Opportunities
– Diversification into new sports markets and geographies
– Expansion into new revenue streams like sports betting partnerships
– Integration with emerging technologies like AI and machine learning, to improve user experience
Threats
– Data protection regulation changes affecting the collection and use of user data
– Technological disruptions affecting the global sports industry
– Economic slowdowns and changing consumer behavior impacting user engagement and advertising revenue.
Here is an overview of FlashScore's business model:
Free Access: The FlashScore app and website are available for free to users. They can access live scores, basic statistics, match fixtures, and other essential features without any cost.
Premium Subscription: FlashScore business model offers a premium subscription service, often known as FlashScore Plus or FlashScore VIP. This subscription unlocks additional features and benefits for users who opt for the paid service.
Premium Features: The premium subscription offers enhanced features like ad-free browsing, additional statistics, access to historical data, more in-depth match insights, and personalized content based on user preferences.
Revenue Generation: FlashScore generates revenue through premium subscriptions. Users who choose to upgrade to the premium service pay a recurring fee, usually on a monthly or annual basis, to access the exclusive features.
Advertisements: FlashScore also includes advertisements within the free version of the app and website to generate earnings. These ads can include sponsored content, banners, or display ads from various advertisers.
Partnerships and Sponsorships: FlashScore may move on partnerships and sponsorships with various clubs, sports organizations, or leagues to promote their content or acquire exclusive rights to offer specific data or features. These partnerships can contribute to the overall revenue generation of the platform.
Data Licensing: FlashScore may license its sports data to other companies like betting platforms, media outlets, or sports analytics firms. By providing accurate and reliable data, FlashScore can generate additional revenue through these licensing agreements.
In-App Purchases: In addition to the premium subscription, the FlashScore business model may offer in-app purchases for outstanding features or content. This could include access to certain competitions, advanced analytics, or additional customization options.
By offering a combination of free access to essential features and a premium subscription for enhanced services, along with advertising and potential data licensing, FlashScore diversifies its revenue streams while catering to a broad user base of sports enthusiasts.
Who are FlashScore's Competitors?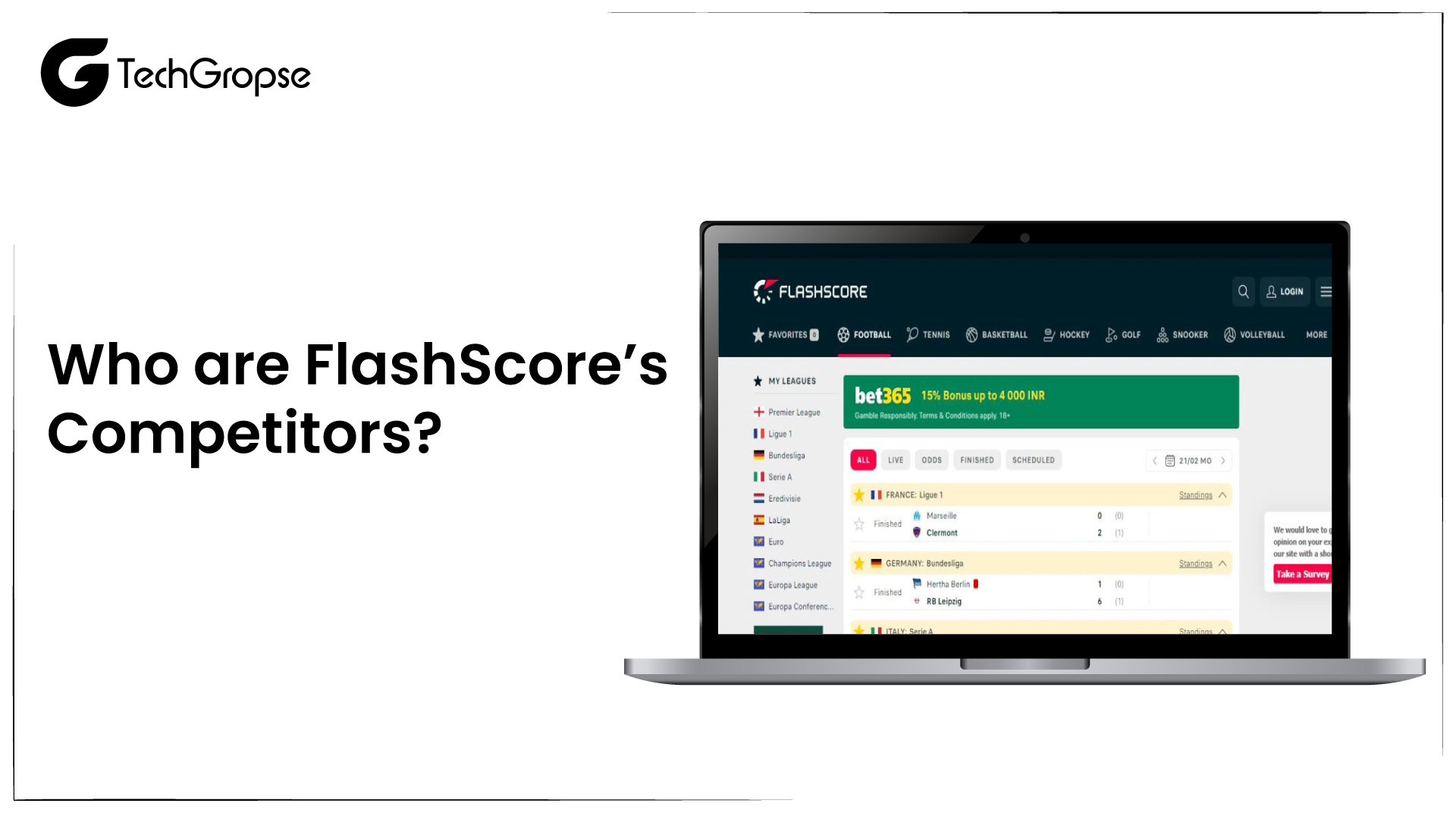 As we discuss various mobile application development focus to build like flashscore applications. FlashScore business model operates in a competitive market with several other platforms that provide similar services to sports enthusiasts. 
Some of the top competitors of FlashScore include:
1. ESPN
ESPN is a well-known sports media company that offers a range of services, including a mobile app and website delivering news, analysis, live scores, and other sports-related content.
2. Livescore
Livescore is a famous platform that specializes in providing match updates live scores, and statistics for different sports events. It shows a mobile app and website similar to FlashScore.
3. BBC Sport
It is the sports division of the British Broadcasting Corporation (BBC) and offers comprehensive sports coverage, like news, live scores, and analysis through its website and app.
4. SofaScore
SofaScore is a sports app that provides results, statistics, live scores, and other sports-related information. It covers a wide range of sports and offers features similar to FlashScore.
5. Yahoo Sports
Yahoo Sports offers a mobile app and website that provide live scores, news, and analysis for various sports. It covers a broad range of sports events and delivers personalized content based on user preferences.
6. theScore
theScore is a sports media company that offers a mobile app and website providing live scores, news, and personalized content for sports fans. It covers a variety of sports and offers real-time updates.
7. Onefootball
Onefootball is a football-focused app that provides live scores, news, match highlights, and other football-related content. Their mobile app developers offer a personalized experience for football fans.
These platforms compete with FlashScore by offering similar features, including live scores, match updates, statistics, news, and analysis. 
The competition in this space drives innovation and ensures that users have a variety of options to choose from when it comes to staying updated on sports events.
What is the Flashscore App Development Cost
The cost of developing a FlashScore-like app can differ depending on various factors such as platform compatibility, the app's features, complexity, development team rates, and location. 
However, it is important to note that live football score app development provides a general estimate, and the actual cost may differ.
Here's a breakdown of the key factors that can impact the cost of app development:
Platform
The cost will depend on whether you want to develop the app for a single platform (e.g., iOS or Android) or both platforms. Developing numerous platforms typically increases the overall cost.
Design
The complexity and quality of the app's design play a role in the development cost. Customized, visually appealing designs can need more time and resources, thus increasing the cost.
Features and Functionality
FlashScore-like apps need amazing features like notifications, live score updates, match statistics, user preferences, and more. The complexity and number of features desired will influence the development cost.
Development & Data Integration
Implementing a robust backend infrastructure to collect and process live sports data needs development efforts and can impact the overall cost.
Depending on the availability of sports data sources, you may need to integrate with third-party APIs or establish data partnerships. This can incur additional costs.
Team Size and Location
The development cost can vary based on the size and location of the development team and dedicated developers. Rates vary across regions, and larger teams can manage development quickly but may also raise the overall cost.
Maintenance and Support
After the initial development, ongoing maintenance and support costs should be considered. This includes feature updates, bug fixes, server maintenance, and ensuring the app remains compatible with new operating system versions.
Considering these factors, the development cost for a FlashScore-like app can range from tens of thousands to hundreds of thousands of dollars. 
It is important to discuss your exact needs with a development team or software development agency to get a more accurate estimate based on your unique requirements.
Analysis of Flashscore's Success and Market Position
Flashscore's success can be attributed to its speed and accuracy in offering real-time sports data, its user-friendly interface, and its massive global user base. In the flashscore business model, the platform's ability to serve various audiences, from casual to hardcore sports fans, has also contributed to its success.
It is one of the leading sports websites in the world, with millions of daily users across the globe. The platform has a strong market position because of its ability to provide real-time data on a huge range of sports, which sets it apart from its competitors.
Growth Prospects and Future Strategies of Flashscore
Flashscore business model include expanding its coverage of existing sports like soccer and basketball and diversifying into new markets such as eSports. The platform also aims to improve its user experience through the integration of the latest technologies like machine learning and AI.
Flashscore's market expansion strategies include expanding its reach into new sports markets and increasing its presence in arising markets like Africa and Asia. 
It also aims to form strategic partnerships with sports organizations and leagues to expand its user base and improve its brand.
Flashscore plans to invest in emerging technologies like AI and machine learning to improve its user experience and deliver more personalized content and recommendations to its users. 
The platform also prepares to leverage these technologies to enhance its data collection and analysis, which will benefit its users and stakeholders.
Conclusion
Flashscore's business model is based on providing real-time sports data and news to a massive global audience through a user-friendly platform and mobile app. The platform's key strengths lie in its speed and accuracy in delivering real-time data on multiple sports, as well as its massive global user base.
Flashscore business model is an effective and successful approach to sports score tracking. Its revenue streams, customer segmentation, and incredible features make it a famous choice for sports lovers worldwide. 
As we have seen, their success is driven by a range of factors, including their modern strategies, market position, and forward-thinking approach to technology. 
FAQs
1. Is Flashscore a free platform?
Yes, Flashscore is free to use and access for all users. However, the platform earns revenue through sponsorships, advertisements, and partnerships with betting companies.
2. How does Flashscore earn money?
Flashscore earns revenue through various channels, including ads, partnerships, and sponsorships. They also have an affiliate program with selected betting companies.
3. What sets Flashscore apart from other sports score-tracking platforms?
Flashscore's platform is unique due to its wide range of sports coverage, real-time updates, and the diversity of features available. They offer a range of live updates, statistics, and analytics that exceed what is typically found on other sports tracking platforms.
4. How does Flashscore plan to expand its business in the future?
Flashscore's future growth plan includes market research, investment in technology, expansion to new markets, and diversification of its product offerings. They aim to remain innovative and at the forefront of their industry, delivering value to their users while maintaining a competitive edge.