Once upon a time, people only dreamed of airplanes. But now, they are real and you can see them flying in the sky. Lots of airlines are flying all over the world, and more and more people are traveling on them. Nowadays Flight tickets booking app development popular choice among us.
Before, you had to go on a website to book a ticket if you wanted to fly somewhere. But now, you can just use an app on your phone to book your ticket super fast.
Did you know that there are around 6 billion people who use smartphones all across the world? That's a lot of people. And because so many people use smartphones, there are a ton of mobile apps out there.
These apps are important for businesses because they make a lot of money. So, if you want to be successful in today's digital world, you have to pay attention to mobile apps.
If you are a business person who wants to make an app for booking flights, this blog can help you figure out how to do it.
You will learn about everything you need to know, like how much it costs and what features you should include, and how approach to flight tickets booking app development company.
Flight Booking App Development – Essential Statistics You Need To Know In 2023
Let's check out some amazing facts about custom flight ticket booking apps. Lots of people are starting to use them more and more, which means they are getting really popular. If you are thinking about making one for your flight booking app development, it could be a really smart move.
The travel industry revenue is expected to reach about US$0.36 billion, on the other hand, the flight booking app is more than it and is expected to reach nearly US$0.28 trillion in 2022.
By the year 2026, the flight booking revenue is predicted to show an annual growth rate of 26.67%, with a projected market volume of $0.72 trillion.
As per the market survey and research, by 2026 the number of users is expected to reach 1146.2 million, which is big in itself.
Apart from this, out of the total revenue, 87% of revenue will be generated through online flight booking by 2026.
However, the USA is on the first list in 2022 for making high revenue in the online flight booking segment.
According to the research report by Google and Kantar, there is a 17% growth in the average booking window.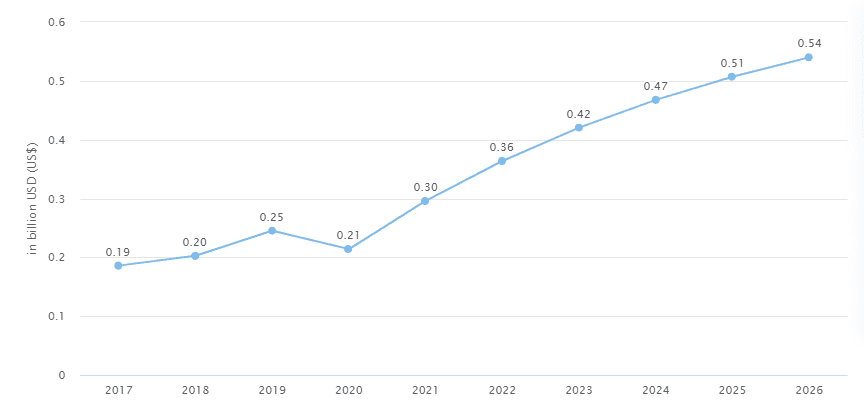 What is the Concept of a Flight Booking App?
A flight ticket booking app is a mobile application that allows users to search, compare, book, and manage their flight tickets in an effective way.
With such apps, travelers can easily browse and book flights, track their flight status, check flight schedules, and receive notifications about flight changes.
American Airlines introduced the first flight ticket booking system in 1946, which was a manual system that involved phone calls and paper tickets.
However, with the beginning of the Internet and smartphones, the booking process has become much more streamlined and efficient.
Today, there are various ticket booking app development build flight ticket booking apps that allow users to book tickets on the go, with just a few clicks on their mobile device.
Highlights Facts of Flight Booking App Development
Here are some flight booking app development market statistics for your reference:
1. Mobile Bookings
Percentage of flight bookings made through mobile devices: Increasing trend, expected to be over 60% in 2023.
2. User Engagement
Average session duration: 4-6 minutes.
User retention rate: 30-40%.
Daily active users (DAU): Varies depending on the app, typically in the thousands to millions.
3. Conversion Rates
The average conversion rate for flight bookings: 1-3%.
Abandonment rate during the booking process: Varies, typically around 50%.
4. Customer Reviews and Ratings
Average rating of flight booking apps:0-4.5 out of 5.
Positive review percentage: Varies, typically around 70-80%.
5. Competitor Analysis
Top flight booking apps: Examples include Expedia, Booking.com, Skyscanner, Kayak, and Hopper.
Market share distribution: Varies by region, with no single dominant player.
6. Personalization and AI
Percentage of users expecting personalized recommendations: Over 70%.
Integration of AI-driven features: Increasingly common, with features like fare predictions, smart filters, and personalized offers gaining popularity.
7. Payment Security
Emphasis on secure payment options: Increasing due to rising cybersecurity concerns.
Adoption of secure payment protocols: Examples include PCI DSS compliance, tokenization, and encryption.
8. International Travel Trends
Popular international destinations: Varies by location and season, with primary hubs such as Paris, New York, London, and Dubai being perennial favorites.
Emerging markets for international travel: Examples include Eastern Europe, Southeast Asia, and South America.
Impact of travel restrictions: Varies depending on government policies and global events.
Types of Business Models for Flight Tickets Booking App Development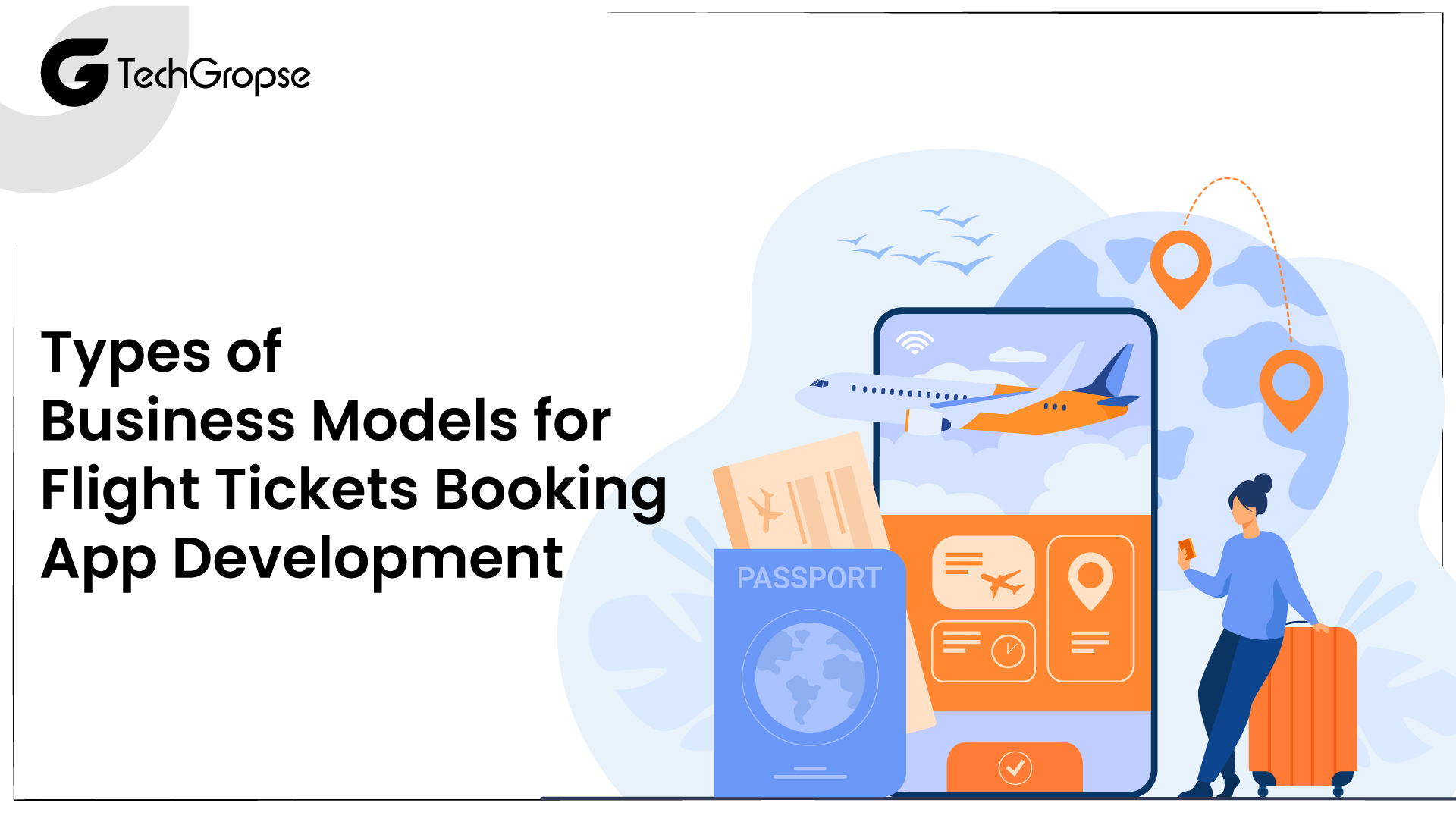 When it comes to the business model for a flight ticket booking app, several options are available.
Here are some common business models that can be applied to flight ticket booking app development:
1. Commission-based Model
In this model, the app earns revenue by charging a commission or transaction fee for each flight booking made through the platform.
The commission can be a percentage of the ticket price or a fixed amount per booking.
The app acts as an intermediary between the airline or travel agency and the customer, facilitating the booking process and earning a commission on each successful transaction.
2. Advertising Model
With this model, the app generates revenue by displaying advertisements from airlines, hotels, car rental companies, and other travel-related businesses.
The app may offer targeted advertising options based on user preferences and travel history.
Advertisers pay for ad placements, clicks, or impressions, providing a revenue stream for the app.
Subscription Model
In this model, the app charges users a subscription fee for premium features, exclusive offers, or enhanced services.
Users who subscribe to the premium tier gain access to additional benefits such as discounted fares, priority booking, personalized recommendations, or dedicated customer support.
The subscription fee can be billed on a monthly, yearly, or per-booking basis, depending on the app's offerings.
Affiliate Model
With the affiliate model, the app partners with airlines, hotels, and other travel service providers as affiliates.
When a user makes a booking through the app, the app earns a commission or referral fee from the affiliate for driving the customer to their service.
The app acts as a referral platform, providing users with access to various travel services and earning revenue through affiliate partnerships.
White Labeling or B2B Model
In this model, the app offers its technology and booking platform as a white-labeled solution to other businesses, such as travel agencies, tour operators, or airlines.
The app provides a customized version of the platform to the partner, who can then use it under their own brand name to offer flight booking services to their customers.
The app earns revenue through licensing fees or revenue-sharing agreements with partner businesses.
Hybrid Model
A hybrid model combines multiple revenue streams, such as commissions, advertisements, subscriptions, or affiliate partnerships, to generate revenue from various sources.
This model allows for the diversification of revenue streams and can be tailored based on the specific app's offerings and market dynamics.

Cost Analysis of Flight Ticket Booking App Development
The cost of developing a flight ticket booking app can vary significantly based on various aspects, such as the complexity of the app, the features, and functionality required, the platform(s) targeted (iOS, Android, web), the on demand app development company, the development team's location and experience, and the time required for the development.
| | | |
| --- | --- | --- |
| Flight Booking App Type | The approx average cost of development | Time Structure |
| Simple | $40,000 to $60,000 | 3 to 6 months |
| Moderately Complex | $60,000 to $100,000 | 6 to 8 months |
| Highly Complex | $100,000 to $200,000 | 9+ months |
Additionally, ongoing maintenance and updates should be considered. It is important to note that the following cost estimates are approximate and can vary widely depending on the specific needs of the project.
1. Development Team
Project Manager: Oversees the development process and coordinates team members.
UI/UX Designers: Responsible for creating a reflexive and visually appealing user interface.
Front-end Developers: Design the user-facing components of the app.
Back-end Developers: Build the server-side components and combine APIs for bookings, flight data, and payments.
Quality Assurance (QA) Engineers: Test the app for usability, functionality, and performance.
The cost will depend on the team's location and experience level.
2. Design and User Experience (UI/UX)
Designing a visually appealing and user-friendly interface can involve prototyping, wireframing, and creating UI assets.
Costs will depend on the complexity of the design and the number of screens and interactions involved.
3. Features and Functionality
Flight search and booking functionality like integration with flight APIs.
User registration, login, and profile management.
Payment gateway integration for secure transactions.
Push notifications, reminders, and alerts.
Reporting and Analytics.
Integration with ancillary services like car rentals, and hotels if needed.
The more features and integrations, the higher the development cost.
4. Platform
Developing for Android, iOS, or both platforms will affect the overall cost.
Native app development for each platform tends to be costlier than cross-platform development frameworks like Flutter or React Native.
5. Development Time
The time required for development depends on the app's complexity and features.
More complex apps with extensive integrations may take longer to develop, impacting the cost.
6. Maintenance and Updates
Ongoing maintenance, bug fixes, and updates should be considered.
Costs for maintenance can differ based on the level of support needed and the frequency of updates.
7. Additional Costs
Infrastructure costs and Hosting for server-side components.
Costs associated with obtaining essential licenses or certifications.
Marketing and promotion expenses to improve app visibility.
Overall, a rough estimate for flight tickets booking app development can range from 10000$ to 100,000$, depending on the factors mentioned above.
| | |
| --- | --- |
| Region | Hourly Rate of Development |
| UAE | $60-$65 |
| US | $95-$100 |
| Western Europe | $80-$90 |
| Eastern Europe | $50-$55 |
| Australia | $70-$90 |
| Asia | $25-$40 |
It is recommended to consult with experienced flight tickets booking app development company or hire dedicated developers to get accurate cost estimates based on your specific needs.
Features to be Combined into a Flight Booking App Development
The best mobile app development company includes key features that can be integrated into a flight booking app development
#Customer Panel
| | |
| --- | --- |
| Feature | Description |
| User Registration | Allow users to create accounts using email, mobile numbers, or social media to access personalized features. |
| Flight Search | Enables users to search and filter flights based on standards such as dates, destinations, passengers, and more. |
| Price Comparison | Display flight options from different airlines and travel agencies, allowing users to compare prices easily. |
| Flight Details | Provide detailed information about every flight, such as departure/arrival times, duration, and layovers. |
| Seat Selection | Allows users to choose their preferred seats or offer seat suggestions based on their preferences. |
| Booking and Payment | Enable users to book flights securely within the app and provide different payment options for convenience. |
| Booking Management | Allow users to view, modify, or cancel their flight bookings, and provide access to booking history. |
| Boarding Pass | Generate digital boarding passes that users can access within the app or save to their mobile devices. |
| Notifications and Alerts | flight status updates, send notifications regarding booking confirmation, check-in reminders, and more. |
| Customer Support | Offers support channels like live chat, email, or phone support to assist users with their queries or issues. |
#Admin Panel 
| | |
| --- | --- |
| Feature | Description |
| Dashboard | Provide an overview of key statistics, bookings, revenue, and other relevant data for easy monitoring. |
| User Management | Manage user accounts, including registration, verification, access control, and user profile management. |
| Flight Management | Add, edit, and manage flight details, including schedules, availability, prices, and seat configurations. |
| Booking Management | View and manage flight bookings, including search, modification, cancellation, and refund processing. |
| Payment Management | Monitor payment transactions, handle refunds, manage payment gateways, and ensure secure payment processing. |
| Content Management | Manage app content such as static pages, FAQs, terms and conditions, and other informational content. |
| Analytics and Reporting | Generate reports on key performance indicators (KPIs), bookings, revenue, user behavior, and other metrics. |
| Customer Support | Handles customer support requests, assigns and tracks issues, and communicates with users for query resolution. |
| Inventory and Availability | Monitor and manage flight inventory, and seat availability, and ensure real-time synchronization with airlines. |
| Integration with APIs | Integrates with third-party APIs for flight data, payment gateways, and other services like hotels or car rentals. |
| Security and Access Control | Implement robust security measures, including role-based access control, data encryption, and user authentication. |
# Advanced Features
| | |
| --- | --- |
| Feature | Description |
| Smart Search Suggestions | Provide intelligent search suggestions based on user behavior and popular destinations. |
| Multi-City and Round-Trip | Allow users to search and book multi-city itineraries or round-trip flights with ease. |
| Fare Alerts | Enable users to set fare alerts for clear routes or dates and receive notifications when prices change. |
| Multi-Language Support | Offer support for multiple languages to cater to various user bases and improve accessibility. |
| Social Media Integration | Enable users to share their travel plans, flight bookings, and experiences on social media platforms. |
| Augmented Reality (AR) | Implement AR technology to provide users with virtual experiences, like exploring aircraft interiors. |
| Virtual Reality (VR) | Offers immersive VR experiences for users to virtually visit destinations or explore travel options. |
| Personalized Recommendations | Utilize machine learning algorithms to provide personalized flight recommendations based on user preferences. |
| Voice Search and Commands | Integrate voice recognition technology for users to search and book flights using voice commands. |
| In-App Chat or Virtual Assistant | Provide an in-app chatbot or virtual assistant to assist users with queries, bookings, and support. |
| Reviews and Ratings | Allow users to submit reviews and ratings for airlines, airports, and overall travel experiences. |
| Gamification | Implement gamified elements, like badges, rewards, or loyalty points, to improve user engagement. |
| Offline Mode | Enables users to access limited features or view previously accessed data while offline or in poor connectivity areas. |
| Weather and Travel Advisories | Provide real-time weather updates and travel advisories to keep users informed during their journeys. |
How Can You Make Money with Your Flight Booking App?
1. In-App Purchases
Provide additional services or add-ons within the app that users can purchase.
This could include services like seat upgrades, travel insurance, lounge access, or other ancillary offerings.
Offer convenience and added value to users, who can choose to make these purchases to improve their travel experience.
2. Data Monetization
Analyze and leverage the user data collected within the app to generate insights and valuable market trends.
Aggregate and anonymize data to provide market research reports analytics, or trends to airlines, travel agencies, or other businesses in the travel industry.
Ensure compliance with privacy regulations and obtain appropriate consent from users for data usage.
3. Partnerships and White Labeling
Offer your app's technology and booking platform as a white-labeled solution to other businesses, such as travel agencies, tour operators, or airlines.
Earn revenue through licensing fees or revenue-sharing agreements with partner businesses who use your app under their own brand name.
Final Thought
Flight ticket booking app development is a complex process that needs in-depth planning, expertise, and research.
By focusing on the key features, cost considerations, security and privacy measures, and future trends in the industry, developers can build apps that satisfy the requirements of modern travelers while generating revenue and growth.
With the right approach and a commitment to quality, flight ticket booking app development offers a promising opportunity for businesses looking to tap into the travel industry's growing demand for mobile solutions.
FAQ: Flight Tickets Booking App Development
1. How much does it cost to develop a flight ticket booking app?
The cost of developing a flight ticket booking app varies depending on various aspects like the app's features, development platform, team size, and location. However, some estimates suggest that a basic app can cost between $50,000 to $100,000, while a more complex app can cost up to $500,000.
2. What are the essential features of a flight ticket booking app?
The essential features of a flight ticket booking app include user registration and login, flight search and comparison, booking and payment processing, real-time flight tracking and updates, and personalization and customization.
3. How can I ensure the security and privacy of my users' data?
To ensure the security and privacy of your users' data, it is essential to implement robust security measures like two-factor authentication, SSL encryption, and regular security audits. Adhering to data privacy regulations like GDPR and CCPA is also crucial.