The mobile game industry has transformed consistently over the years with increasing user engagement through game apps. The world of mobility has expanded its arms to the field of entertainment beyond merely being used for sending messages or getting news updates, and has even become immensely popular and widely preferred among the millennials in particular.
A constant advent of inventions in the form of introducing new mobile game development engines and user-friendly game development tools has simplified the process of mobile game development for modern-age game app developers.
Since there is an immensely large base of users playing mobile games on smartphones-like devices, organizations are considering mobile game development a significant field of business nowadays and even in years to come. It is the best practice to use game development tools or engines to develop mobile games.
You can do your research to determine the best game development tools or engines for you for which you can analyze your requirements with the features of any particular game development tool or engine that would offer you.
Best Game Development Engines in 2020
Mobile game development companies are using many game development engines to develop world-class mobile games with the help of extensive documentation, guides. They are using tutorials and other such resources from a wide range of sources available.
Let's discuss some of the most sought game development engines here:
Unity
Unity is among the most popular game engines. It is a cross-platform game engine aiming for use in a range of device environments such as desktops, consoles, and smartphones based on different operating systems such as Android & iOS. Unlike most of the other game engines, game developers can develop both 2D or 3D games using Unity. Temple Run and Assassin's Creed Identity are among the games developed using the Unity game engine. Pigs in Peril is one of the recently developed games on Unity.
As per a report, about 34% of the top 1000 mobile games developed using this game engine. Artists, designers, and developers work together collaboratively to create astounding mobile gaming experiences for gamers all across the world.
Unity vs Other Game Development Platforms

Godot
Godot is another popular game engine packaged with advanced multi-platform game development features. It is an open-source game engine used by game app developers to develop 2D and 3D games. It features an extensive set of tools like a visual editor, scene system, interactive content creation interfaces for artists, designers, and animators with advanced supporting, instancing, and inheritance tools.
Like Unity, Godot also supports game development environments for both 2D and 3D games. The game engine has an interactive drag-and-drop interface that can manage scene elements effectively. It is said to be the only game engine that is available in the form of a free version registered with MIT License.
Amazon Lumberyard
It is a free cross-platform game engine designed and released by Amazon. The game engine has a range of features integrated with Amazon Web Services (AWS). The game engine is well-recognized for its Twitch Integration feature that allows an interactive engagement of users with visually rich content.
Since this is a game engine developed by an organization like Amazon, it allows the game developers to integrate to AWS Cloud and Twitch features that enrich the gaming experience and expand the outreach of the games to a large number of gamers.
Buildbox
Buildbox is among the most popular game engines available as a no-code development platform where game developers with both good programming knowledge and no significant experience in programming can develop games using graphical user interfaces and configuration. This game engine comprises features like the image asset bar, drop the wheel, collision editor, options bar, scene editor, monetization options, and sliders. These features help to indulge in unique architecture and interface to mobile games.
With Buildbox, game developers get access to more than 20,000 game assets. The most recent version of Buildbox allows the developers to develop a completely original 3D mobile game with no code required. The game engine supports multiple development platforms such as Android Studio, Eclipse, XCode, Visual Studio, and others used to export a mobile game.
Best Game Development Tools in 2020
Game development tools are applications used to accomplish a significant part in developing a robust game. Developers can get these tools in a game development kit where it exists for performing a specified task or activity in game development.
Here we will discuss some of the popular game development tools of these days:
Corona SDK
Corona SDK is a freely available game development tool that is well-recognized for its precise and clear documentation and community features. This tool has a real-time simulation feature that allows the game developers to see a review of the changes they make to the application.
Users can get access to plugins that empower their approach to developing robust game applications more efficiently. Another significant advantage of this game development tool is that the developers can publish the games developed using this tool to all popular platforms with no specific amendments.
SpriteKit
SpireKit is a game development tool developed and launched by Apple Inc in the form of a general-purpose framework used for drawing shapes, particles, text, images, and video in two dimensions. Because of many general-purpose features composed in this single framework, game developers are using it to develop 2D games for years now. It features a wide range of significant animation and graphics rendering tools used by iOS app and game developers all across the world.
The tool is known for its user-friendly tools that engage a fast and effective development of mobile games. SpriteKit is unarguably the best game development tool for developing games for Apple devices.
Stencyl
Stencyl is among the most popular game development tools and provides its users with an interface like Photoshop that makes it simpler to utilize to generalize the interface of games faster. There are several basic features like selection tool, grid-snapping, zooming, and flood fill included in this game development tool.
One of the most highlighted features of this game development tool is that the developers can export the games developed using Stencyl to the web via Adobe Flash Player, also to the personal computers in the form of executable games, and iOS and Android-based devices.
GameMaker Studio
GameMaker Studio is said to be the world's most popular game development tool used to develop 2D and 3D game applications along with advanced software applications and virtual reality applications. The tool provides its users with functionality for developing mobile games with the help of the advanced drag and drop interface included in this user-friendly game development tool.
Users can leverage the built-in editors of this tool for animations, images, and shades. Although GameMaker Studio has an immensely large base of customers, it is not considered a convenient game development tool to develop 3D game applications.
Understanding Game Development Engines & Tools
There are a few differences in the fundamental concept of a typical game engine and game development tools. We shall discuss some of the best game development engines and tools being used by the game development companies these days.
A game development engine is a software development environment designed to develop mobile games more efficiently. Mobile game developers use a game engine to create console games for smartphones and other devices. These engines provide tools for usage in asset creation and placement for 2D or 3D games.
Mobile game development tools demonstrate the tools that feature a particular approach to develop game applications with no significant efforts as writing long lines of code. The best game development tools are based on drag and drop game development frameworks and allow game developers to develop mobile games more efficiently.
Global Game Engine Market Share 2020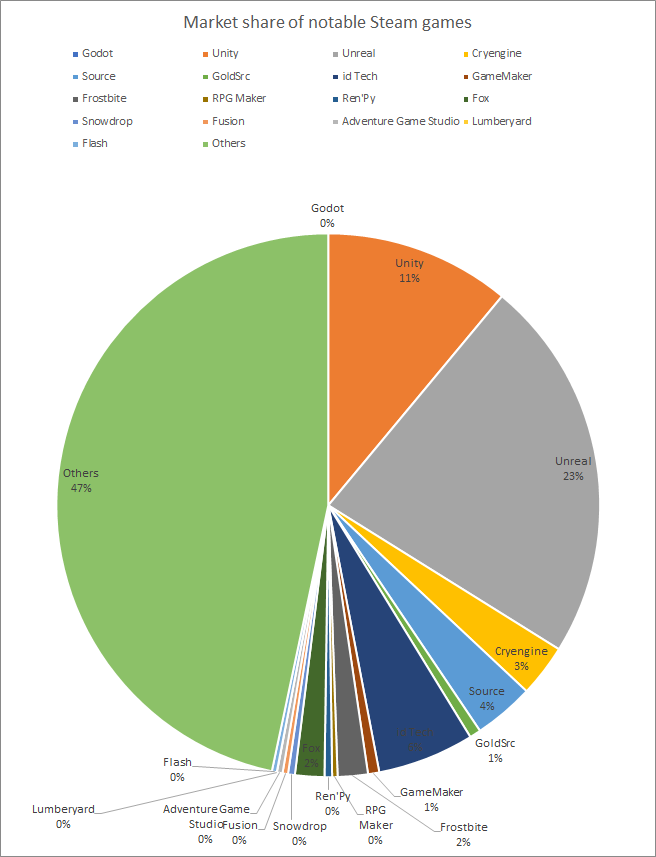 Conclusion
We discussed a range of the best mobile game development engines & tools that can be used by mobile game developers in 2020. Usability, customer-base, user-friendliness, and popularity were some of the main parameters while listing the best game development tools and engines for you.
Alongside going through this blog, we recommend you to understand your budget, plans, and requirements and then choose the most suitable game development tool or engine for you, so you do not feel suppressed by the opinions of others over your comforts and requirements.