Technological advancements have transformed the face of healthcare. While most of the world's business leaders are talking of technologies like Blockchain, Artificial Intelligence, or the Internet of Things (IoT), on the other hand, a few organizations are emphasizing advancing healthcare, a prominent field directly affecting the lives of millions of people all across the world.
To understand the behaviour of customers, organizations utilize smart technologies to transform healthcare to become user-oriented. This strategy may empower the world of artificial intelligence and can indulge in many transformative ideas to simplify the efforts in their daily lives. However, some people might fear having virtual health services existed, which is, of course, considered a threat to the advancing healthcare industry's capability to transform markets technologically.
Contributing Healthcare Trends 2022
In this blog, we will discuss the most popular trends in healthcare these days that can redefine the healthcare industry structure in 2021.
1. Data Security
Industry leaders are focusing on utilizing strategies to indulge in better integrity and simplification in the delivery of healthcare services. Customers have gone a little far from putting their trust in many big tech companies because of some widely publicized scandals related to data privacy and cybersecurity. Such incidents have created negative impacts on some of the best healthcare applications of this age.
Being one of the healthcare trends in the United States, technology with credibility has been a centralized topic of discussion for healthcare organizations and consider the plans implemented to demonstrate integrity and engage more consumers' participation in the process.
As per the data available on reportlinker.com, the global smart Healthcare market may grow by $ 224.86 billion from 2020 to 2024 at the CAGR rate of 24%.
Respective Growth of Healthcare Analytics Market in 2019 and 2024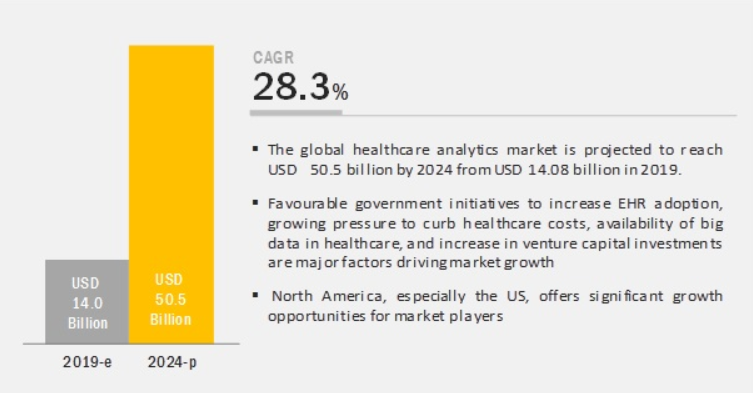 Healthcare app development companies are adopting policies to regain the trust of customers in their applications and fill up the gaps between them and the technology. Customers are being informed about the regulations to protect their information. Organizations are focusing on and utilizing personal, technological, and institutional factors to reverse the technology gap and regain trust.
2. Transforming Ecosystem
Artificial intelligence and digital technology have immensely scaled up the healthcare industry in a positive way. Big technology companies are engaged in the trillion-dollar battle to grab the share in the public cloud and regain customer mindshare and their engagement with their applications.
Companies are investing a large number of funds on platforms designed to develop easily usable solutions for a large volume of customers and applications. Moreover, organizational investors are pumping more than 80 billion USD into the healthcare sector for the last five years. With many digital advancements, organizations are developing customer-centric, personalized, and intuitive healthcare solutions that empower the integrated health and social care ecosystem.
The phenomenon of advancing healthcare includes four healthcare streams in particular. All of them have been in the foundation of the modern-age healthcare industry. These streams are;
Telemedicine
mHealth
EHR
Smart pills
By comprehending a stable customer relationship, the organizations are adding and deriving values to have the potential to move forward. Market leaders understand their role in developing a futuristic healthcare ecosystem by having authorized partnerships, collaborations, and acquisitions, where they can experience organized programmatic capabilities and innovation.
3. Smart Organization of Healthcare Information Systems
Modern-age healthcare service providers indulge in more precise and predictable business outcomes to store real-time healthcare data. People being more comfortable sharing their healthcare data can allow leading data organizations to collaborate with prominent healthcare companies and help them develop more secure and data-compatible applications.
Global Healthcare Information System Market Revenue Through Years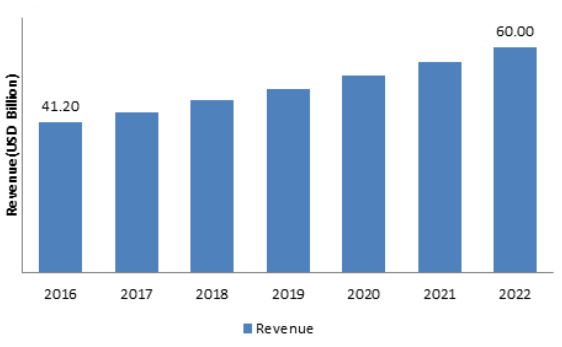 This collaboration between the two types of organizations and predict illnesses, diseases, or health situations. In the UK, many organizations are utilizing the grocery bill of customers to predict the possibilities of people with high cholesterol, sugar level, and high blood pressure.
As per the data by Stony Brook University and Penn Medicine, organizations are also utilizing the data of people's Facebook posts to predict different mental & physical diseases like hypertension, depression, diabetes, and anxiety.
4. 5G and Real-Time Communication
Real-time digital interaction has become a popular and future-oriented trend. People can soon experience online visits through video calls by doctors with 5G technology with no unreliable obstructions like these days.
5G-enabled web connection can be helpful in the faster treatment of patients even remotely with the help of computers and other smart devices. Patients can share their health data through online platforms and can also have an online appointment with the doctors in real-time.
The 5G technology facilitates the patients with more compatible human interaction services where they can have a more personal medication experience with the caregivers.
Some of the most particular benefits of this technology can feature the followings:
Simplifying the processes for patients and their guardians

Advancing the general health and social care solutions by online appointment and consultation

More advantageous remote healthcare facilities

No intervention of third parties or any other media between the patient and the doctors
5. Empowerment of Supply Chain & Logistics System
Healthcare institutions have an immense dependency on patients on credible supply chains. They can take advantage of getting themselves entered into supply chain processes on their own rather than asking any third party to do so. This approach helps the healthcare staff members like nurses to invest less of their time in fulfilling their medication-related requirements on time and saving more lives with great potential. 
Fortunately, many resources provide their services to the public domains in the healthcare industry as hospitals have now started paying more to indulge themselves in the supply chain and logistics processes.
To survive and become successful in the given situation, hospitals and other healthcare parties take care of resolving supply chain and logistics-related problems that used to create minor but significant issues in the processes before.
6. AI Computing
Consumer credibility with quality data is what AI computing has to contribute to the empowerment of the healthcare industry. There are high possibilities that the world of AI is going to expand in years to come that can also increase the prophecy of experiencing more robustness in the field of healthcare.
Many physicians might be reluctant to indulge in computer-based diagnosis tools and applications because they fear to have these tools replacing their job in many cases. However, it cannot affect the ongoing transformation in the industry where healthcare organizations are committed to creating solutions where there will be no participation of any third party in the process.
Experts in the healthcare industry have already started the utilization of AI-based applications and their highly productive solutions. AI computing is helping them efficiently attain, accumulate, and manage precise sets of data in the form of images of patients' medical histories along with scans.
There are lots of other significant advantages of AI in the process of optimizing monetary transactions or predicting the most productive and fastest route to gain positive results. The application of AI in healthcare is clear ahead of legitimated and conventional standards related to the accumulation and best utilization of data.
It's Time to Follow the Top Healthcare Trends
The outline of this blog focused on demonstrating the healthcare trending strategies, events, and revolutionary steps to accelerate healthcare in 2021 and in the years to come. Researchers and healthcare experts are putting all the efforts to create next-generation healthcare solutions for customers worldwide. Leading healthcare organizations are indulging in high-class innovations to implement the best practices for accomplishing future healthcare objectives.
The transformation of conventional processes will help the healthcare industry to serve its customers uniquely and more effectively. Those who will accept and implement those trends can leverage a competitive advantage for their products and services. There are anticipations that the reader would leverage thought-provoking innovations to have fruitful dialogues about the real-time scenarios and responses.