There is no doubt that medical practice needs lots of procedures and paperwork. In simple terms, it is challenging to manage everything for a hospital owner. However, the hospital owner makes this task easier and more convenient by using hospital management software. It will take care of billing, patient history, general administration, data collection, insurance checks, and analysis to improve the medical facility.
As a result, the demand for hospitality management software is high in the market. However, most hospital management software solutions are cloud-based, so you can access them easily on the go in real-time. Moreover, this software has an ONC certification. This is why it is an excellent choice to select it to manage all the things under one roof.
There are several hospital inventory management software, so finding software for your hospital is really challenging. If you want to manage all the things easily and search for an HMS, you are at the right place. In this blog post, we will discuss the top hospital management software. Let's take a look at this post.
What is Hospital Management System Software?
Hospital management software is a digital solution that is designed to streamline and manage various administrative and clinical tasks within the healthcare sector. It is a comprehensive software platform that integrates and automates different aspects of healthcare operations.
Usually, this software facilitates efficient management of financial information, patient data, billing, scheduling, and other essential features. Hospital management system software's primary goal is to improve operational efficiency, reduce errors, enhance patient care, increase revenue, and comply with regulatory needs. It enables the healthcare service provider to streamline workflow, deliver better health-related services and collaborate.
Benefits of Using Hospital Management Software
As mentioned above, it is tough to manage everything for a healthcare service provider. In such a case, you can use hospital management software that will provide you with ultimate advantages. Some of the benefits are listed below:
1. Improve Data Longevity
The first and foremost advantage of using hospital management software is to guarantee the longevity of the data. Electronic systems are undoubtedly better at keeping data secure than paper records. Wondering why? Well, fire or rain can easily destroy the key data, and it would have no backup.
Therefore, hospital management software is a perfect choice to ensure the stable storage of data. You can also build your own software. However, you must seek the help of professionals with years of experience in hospital management software development.
2. Updating Hospital Workflows
A paper-based system creates long-term issues with finding some key data. Record keeping is difficult for such frameworks. In this light, the HMS is of interest because it fixes this issue once and for all. With these frameworks, searching for key information about the patient is an easier task. In simple terms, all one has to do is input the data about the individuals into the system, and the framework will assist in tracking the key information.
This is the great advantage of HMS. If you want to build your own software, you must seek the help of a leading software development company with a proven track record and portfolio.
3. Upgrading Collaboration Between Hospital Departments
A big issue stemming from the traditional hospital records is their 'mobility,' it's difficult to carry information between multiple departments. We always see that many departments may need more information about a patient and make an incorrect decision concerning their treatment. By using hospital management software, this problem can be solved.
This amazing software provides access to singular programs that do not need any physical storage. In simple terms, the physician can easily review all the data from different locations in a hospital. This approach is perfect for patient cases that require multiple treatment interventions.
4. Improving Patient Care
The software gives healthcare providers fast and accurate access to patient information. Provides a centralized database of patient records, including medical history, lab results, medications, allergies, and more. This enables physicians to make informed decisions, provide personalized care, and improve patient outcomes. This is an amazing benefit of hospital facility management software.
You can also build your own software. However, you have to hire software developers because they have good knowledge and experience.
5. Financial Management
This software offers robust billing and billing functionality. Automate your billing process, create accurate invoices, and track payments and expenses. This streamlines revenue management, reduces billing errors, and improves financial performance.
Inventory Control
Hospital management software includes an inventory module for efficient management of medical supplies, equipment and medications. Track inventory levels, issue stock shortage alerts, and enable effective procurement and distribution. This helps you avoid out-of-stocks, optimize inventory levels, and reduce waste.
6. Data Security and Data Protection
Patient data is sensitive and must be protected. Hospital management software ensures data security and privacy by providing role-based access control and encryption mechanisms. It helps you comply with legal requirements and protect the confidentiality of patient information.
Types of Hospital Management Software
No doubt that HMS software helps healthcare service providers to manage all things. Therefore, the demand for such kinds of software has become more popular. However, there are several kinds of hospital management software. Some of the key types of such frameworks are listed below:
Electronic Healthcare Record Software
This software generally helps the healthcare sector maintain digital patient records, medical history, medication diagnoses, and test results. It always improves patient care coordination, reduces paperwork, and enables easy access to medical information for healthcare service providers.
If you want to build your own software, then it is a good idea to hire dedicated developers. Dedicated developers have years of experience and knowledge, so they will provide you with the best solutions per your requirements.
Hospital Information System Software
Hospital information systems software can manage multiple hospital operations like appointments, patient registration, scheduling, billing, and inventory management. It will increase administrative efficiency, ensure accurate financial management and facilitate smooth workflow within the hospital. In simple terms, this will boost the ability to make decisions regarding a facility.
You can choose this type once you decide to build hospital management software. However, it is suggested to seek the help of a software development company committed to providing you with ultimate solutions per client requirements.
Laboratory Information System Software
Laboratory information system software is usually used in the healthcare sector in order to manage and track laboratory procedures. It helps handle test orders, result analysis, sample tracking, and generating reports. This software improves lab efficiency, enhances communication between the lab and healthcare providers, and reduces errors.
It means you can choose this type of hospital management software to improve the facility of your hospital. In order to make the development procedure more convenient and easier, you have to contact professionals who are well-experienced and knowledgeable.
Picture Archiving and Communication System Software
This amazing software is used to manage medical images, MRIs, X-rays, and CT scans. Picture archiving and communication system software enable the storage, and sharing of images among healthcare professionals, ensuring instant access to diagnostic information for accurate treatment decisions. This amazing software enhances collaboration and speeds up the diagnostic procedure.
List of Best Hospital Management Software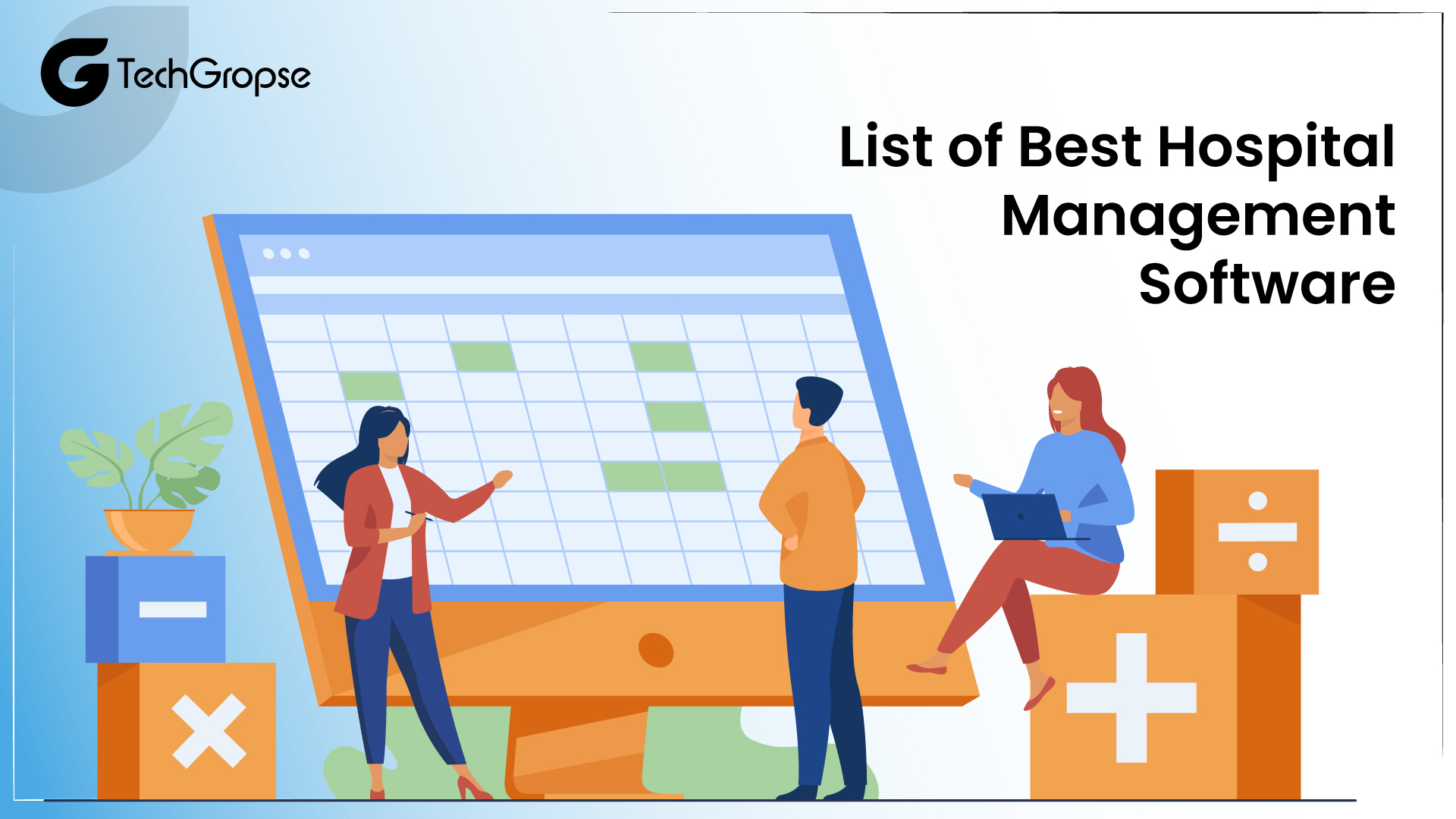 Hospitals may need help keeping important patient documents and other details regarding the hospital. However, using hospital management software, it is easy to handle functioning. But there are several HMS, so it is difficult to choose one suitable for a healthcare service provider.
If you are looking for the best solutions, below we mentioned a list of top hospital management software:
1. PostGrid
PostGrid is the best hospital management software and API for direct mailing that serves all healthcare service providers and related organizations to level up their documentation and patient correspondence. This software's automated solutions help the direct hospital mailing into their existing CRMs for instant data import.
The best thing about the software is that its integration allows you to build and autofill essential documents such as bills, patient statements, and many more, making this amazing software for a hospital. Apart from this, it automatically updates and enhances your database to remove duplicate and old entries and replace them with correct information. Henceforth, it is an ideal choice for those who are searching for leading solutions for their hospital.
2. eHospital Systems
eHospital system is the best hospital management software that is helpful for hospitals and clinics. It gives permission to users to select from cloud-based, SaaS, and web-based deployment systems as per their requirements and preferences. This amazing software is in-built with a business intelligence system and uses an HL7 interface.
The best thing about this HMS is that it provides many modules as upgrades or add-ons like blood bank management, staff training, etc. Using this software, doctors and staff members can access patient records by logging into their accounts from anywhere. Moreover, hospitals can keep their credentials private and provide access to limited users to avoid data theft. It means you can also choose this software to manage all the things in your hospital.
3. SoftClinic
SoftClinic healthcare management software's primary goal is to help physicians, clinics, hospitals, etc. Generally, this software helps digitize the storage and access of all patient records, from prescriptions to invoices. You know that it can be customized as per the hospital's requirements. If you are searching for the best solutions, you can count on it because it provides unique solutions to fit the requirements of all healthcare providers and help them streamline their day-to-day tasks.
The best part of the software is that its automation platform has several healthcare modules such as inventory management, accounting, pharmacy, HR, Laboratory, OPD, etc. It means the users can avail themselves of one or all these modules depending on the healthcare sector's requirements. If you are looking for the best hospital management software, you can choose this software.
4. HIMS HospiLogix
This software helps hospitals automate their task and accomplish economic growth. It provides a vast array of healthcare-related features at different costs. The hospitals and clinics are able to choose modules according to their requirements and pay accordingly. The best part of this software is that it offers different feature sets, such as mobile app access, inventory management, accounting, etc.
HIMS is known to manage finances, change permission settings, store patient data under HIPAA regulations, etc. With so many features, hospitals can do their job speedily and accurately, making it the best hospital management software to consider.
5. MMI Mediface HMS
MMI Mediface HMS is cloud-based hospital management software that allows healthcare service providers to store patient details and operate automatedly. This amazing software has nine healthcare modules along with basic features such as billing, and appointment scheduling, and more advanced ones like business intelligence.
This software lets you view your performance insights and make the required changes in your system. Using this software, hospitals can pull out weekly, monthly or yearly reports with the click of a button and view the completed and pending tasks in a timely order. The best thing about the software is that it provides several features to assist your staff to speed up operations.
It allows members to manage OPD and IPD in order to increase efficiency and facilitate communication between physicians and patients. It always redirects all patients to the correct specialty and handles their consultations, helping the healthcare sector to provide instant and quality services.
6. Medstar HIS
If you are searching for healthcare management software, you can count on Medstar HIS. At low cost, it provides comprehensive products for all hospitals, clinics, etc.
Like HospiLogix, Medstar HIS is the best hospital management software—and the credit goes to its 50+ premium modules covering almost everything. It has all essential features, including payment automation, data management, invoicing, etc. But Medstar HIS also has many advanced features that are rare to find.
Hospitals can use this healthcare management software via many installation systems, like web-based apps, Saas, and the cloud. It is compatible with Android, iPad, iPhone, Mac, and Windows desktops, letting you avail yourself of the features on several devices simultaneously. If you ever think about whether you can log into your account via phone to view patient data or change a prescription, it is possible!
Medstar HIS's support system is one of its best features, making it the best hospital software for a healthcare provider. There are webinars and detailed docs to help you understand the program's working in-depth. Furthermore, users get in-person and online training where they can clear their doubts one-to-one and hop on board.
7. Aarogya
This hospital management software provides healthcare IT services. The main focus of this software is EHR, billing, patient care, clinical applications, etc. There are multiple products to select from, including PIS, patient portals, lab solutions, and many more. When you use this software, you can log into your account from anywhere worldwide and manage your hospital remotely.
Therefore, it is a great hospital management software for those needing more time to take care of everything because of a busy schedule.

8. Medixcel EMR
This software is browser-based, so users can log into the web browser using any device and can access all the details they want. However, the clients can decide whether to deploy this software on the cloud, a local area network, or both. With the help of this amazing software, it is easier to manage all things carefully.
It provides several helpful features to assist hospitals and clinics in improving productivity and saving time. The best part is that its single-click medicine selection functionality makes writing prescriptions faster and easier.
9. eVisit
This hospital management software focuses on eradicating the requirement to visit a physician for consultation in person. This software aims to promote telemedicine and assist patients in easily accessing a hospital's services. Through the help of this software, patients are able to chat with specialists over the platform or schedule a video call for better consultation.
On the other hand, this software allows doctors to prescribe digitally and send e-prescriptions directly to the patient's screens. Moreover, patients can upload digital prescriptions to order their medicine online.
10. MyNapier
This cloud-based hospital management software has various advanced features to automate everyday tasks and marketing activities. It is known for customizability because it makes the app flexible enough to suit the requirements of all healthcare firms. It enables specialists to track their patients' responses and treatments from the beginning.
Being a leading software, it allows them to check if someone referred the patient to the hospital or whether it was a marketing-generated lead. On the other hand, it lets doctors view the patient's medical background on their screens in seconds to diagnose their condition better and offer quality services.
The Bottom Line
Over the years, the demand for healthcare management software as it helps hospital service providers to manage all things carefully. However, it isn't easy to choose software for your healthcare organization as there are several options.
If you want to manage everything carefully, you have to choose software per your requirements. Above, we mentioned a list of top healthcare management software so you can choose the best as per your interest.
FAQs
1. What do hospital management systems do?
Hospital management software helps hospital service providers to streamline daily operations. The software assists with tasks such as billing, scheduling, and inventory management.
2. What are the benefits of using a hospital management system?
Hospital management system facility management, simplify insurance claims processing, staff communication, and emergency imperatives. In simple terms, this software saves time and money, increases patient safety, and improves efficiency.
3. What is the best hospital management software?
Some popular hospital management systems include:
PostGrid
MMI Mediface HMS
SoftClinic
Medstar HIS
4. How much does hospital management software cost?
Hospital management software pricing varies widely depending on requirements. The entry-level options range from $5-20 months/user. However, when you get higher-level plans, you have to pay more.