When we are at home, we have little jobs that we need help with. Like fixing a leaky tap, washing the car, cleaning the house well, and taking care of our appliances. That's a lot of people getting help with on-demand handyman mobile app development in their homes.
The on-demand handyman service industry has seen substantial growth in recent years, thanks to the increasing demand for skilled and reliable professionals who can provide quick and efficient home maintenance solutions at affordable prices.
With the increase in mobile technology, customers now expect and demand quick and smooth access to such services on their smartphones.
This has given advancement to the development of on-demand handyman mobile apps that connect customers with service providers in real-time.
Building a successful on-demand handyman mobile app development needs careful planning, execution, and marketing.
Nowadays, our lives are getting more busier, so it is harder to do everything ourselves. And if we are new to a city, it can be even more difficult to figure out how to take care of our home.
That is where a Handyman App can help!
With a handyman app development, we can find skilled people to come to our homes and help us out. It is a really convenient way to get things done without having to do a lot of work ourselves.
In this post, we will discuss how to develop an on-demand handyman mobile app that caters to the needs of both customers and service providers, while ensuring a secure and seamless user experience.
What is a Handyman Application?
The on-demand handyman services industry is growing rapidly in recent years due to the convenience it provides to customers.
This industry offers services like carpentry, painting,  plumbing, electrical, cleaning, and more. With busy schedules and a lack of time, people are choosing on-demand services that can be accessed through mobile apps.
A handyman mobile app, also known as a handyman services app, is a mobile application that connects customers in need of home maintenance and repair services with professional handymen or handyman service providers. It serves as a platform where customers can find, book, and communicate with handymen for an expansive range of services.
Market Trends and Growth Potential
Did you aware that everyone loves their smartphones? There are about 2 million apps you can download on the App Store and nearly 3 million on the Play Store.
Businesses know how important it is to have app development software, and people use about 10 apps every day and 30 apps every month.
According to a report by Market Research, the on-demand handyman services market size is expected to achieve about $1,511.1 million by 2027, growing at a CAGR of 22.6% from 2020 to 2027.
Now, let's talk about handyman services. They are the people who can fix things around your house, like leaky taps or broken doors. The market for handyman services is expected to increase a lot in the next few years, from $339 million in 2022 to $1.65 billion in 2032.
In North America, handyman services are expected to be really popular, with 36.5% of the market share.
The increasing demand for quick and efficient services, the growing trend of online bookings and payments, and the rise in the number of smartphone users are some of the factors contributing to the growth of this industry.
Types of On-demand Handyman Apps
The choice of an on-demand handyman mobile app development depends on the specific needs and preferences of customers and service providers.
On-demand handyman apps are designed to connect customers with available handymen in real-time, offering direct service for home maintenance and repair tasks.
Here are two common types of on-demand handyman apps:
Single Service Aggregator Mobile App
A single-service aggregator mobile app focuses on delivering on-demand handyman services for a specific type of work or trade.
For example, there are apps dedicated exclusively to electrical services or plumbing services. These apps connect customers with a network of specialized handymen in that individual field.
Customers can request helpers for that specific service, browse through available professionals, and schedule appointments accordingly.
Multiple Service Aggregator Mobile App
A multiple-service aggregator mobile app delivers a huge range of handyman services, containing different trades and tasks.
These apps act as a one-stop destination for customers to access a wide array of services, like electrical work, plumbing, carpentry, painting, home repairs, and more.
Customers can choose the specific service they need and find professionals who specialize in that area. These apps give a convenient solution for customers seeking various types of handyman services without requiring them to download multiple dedicated apps for each work.
Top Services of On-demand Handyman Mobile App Development 
There are several popular services that customers frequently request. Here are some of the top services that are commonly offered by the Handyman mobile app:
Plumbing Services: Plumbing services are in high demand such as tasks like unclogging drains, fixing leaks, installing or repairing fixtures, and repairing or replacing pipes.
Electrical Services: Electrical services are another popular category, covering tasks like installing outlets, switches, and circuit breakers, repairing light fixtures, and addressing electrical wiring issues.
Carpentry and Woodwork: Many customers seek help with carpentry and woodwork tasks, like cabinetry installation, door repairs, furniture assembly, window frame repairs, and custom shelving.

Painting and Decorating: Painting services, both interior and exterior, are often requested. It includes ceilings, doors, painting walls, and trim, and wallpaper installation and removal.
Home Repairs and Maintenance: Basic home repairs and maintenance tasks are commonly sought-after, including fixing broken appliances, repairing damaged walls or floors, replacing broken tiles, and addressing general wear and tear issues.
Furniture Assembly: Making furniture items, including tables, chairs, beds, and shelves, is a famous service that customers often request through handyman apps.
TV Mounting and Installation: With the increasing prevalence of flat-screen TVs, customers often seek assistance with mounting and installing their TVs securely on walls.
HVAC Services: Heating, ventilation, and air conditioning services like AC installation, HVAC system maintenance, air duct cleaning, and thermostat installation.
Appliance Installation and Repair: Customers frequently request assistance with installing or repairing appliances like dryers, refrigerators, dishwashers, washing machines, and ovens.
Home Security Services: Home security-related services like installing or repairing locks, doorbells, security cameras, and alarm systems, are also commonly requested through handyman apps.
It is important to note that the popularity of specific services may vary based on geographical location and seasonal factors.
Handyman apps provide a convenient platform for customers to access these services and connect with skilled professionals who can efficiently address their needs.
The Process to Develop On-Demand Handyman Mobile App
Creating an on-demand handyman mobile app development involves several steps and considerations.
If you want to build a handyman app like Uber you must follow the essential development process:
1. Identifying Target Users and Their Needs:
The target users for on-demand handyman mobile app development are homeowners, renters, and small business owners who require quick and trustworthy handyman services. They need the best platform that can offer them access to professional handymen with the required skillset and experience. They also need the convenience of booking services online, tracking the service provider's arrival, and securing payment options.
2. Conduct Market Research & Design 
Research the market to understand customer needs, competitor apps, and industry trends. Specify unique selling points and opportunities for differentiation in your app. You must hire handyman app developer to design a wireframe or prototype to visualize the app's layout, user flow, and interactions.
Simple and intuitive design
Clear labeling and navigation
Easy access to booking, tracking, and payment features
Ability to rate and review service providers
3. Front & Back-end Development
Set up the backend infrastructure for the Handyman mobile app, including database management,  server setup, and API integration. This will involve various programming languages like Python, JavaScript, or Ruby, and frameworks such as Node.js or Django.
Develop the front end of the app, which includes coding the app's interface and user interactions. Use programming languages such as
Java and Kotlin for Android app development
Swift and Objective-C for iOS app development
React Native for hybrid app development
Node.js and Ruby on Rails for backend development
4. Implement App Features
Implement the exciting features of your app like user registration and sign-in, service provider profiles, communication tools, payment integration, service listings, booking and scheduling functionality, ratings and reviews, and notifications.
5. Test and Debug
Perform complete testing to ensure the app functions smoothly and without errors. Test various user scenarios, verify compatibility across devices and operating systems, and fix any bugs or issues that arise.
6. Deployment and Launch
Prepare your app for deployment by optimizing its performance and security. Publish your app to relevant app stores like the Google Play Store, and Apple App, and ensure compliance with their guidelines and needs.
7. Continuous Improvement and Updates
Gather user feedback and monitor app performance to identify areas for improvement. Regularly release updates to address bugs, add new features, and enhance user experience based on user feedback and market demands.
8. Marketing and Promotion 
Develop a marketing strategy to promote your app, increase user adoption, and attract both customers and service providers. Utilize digital marketing techniques, social media, and partnerships to raise awareness and drive app downloads.
Key Features and Functionality of a Handyman Mobile App
There are many amazing features of on-demand handyman mobile app development to offer various services to the valuable customer
Features and functionality for customers
Customers want a user-friendly app that can allow them to book services, track their service provider's arrival, and make payments securely. Some essential features for customers include:
Search and browse for services
Booking and scheduling appointments
In-app messaging and call functionality
Secure and convenient payment options
Real-time tracking of the service provider's location
Rating and review system for service providers
Features and functionality for service providers
Service providers need an app that can offer them with a platform to access new job opportunities and manage their schedules. Some excellent features for service providers include:
View and accept new job requests
View customer details and job requirements
Real-time tracking of customer location
In-app messaging and call functionality
Rating and review system for customers
Payment and earnings management
Admin panel features and functionality
Admins need an app that can help them manage and monitor customer and service provider activity. Some important features include:
Ability to manage service providers and their related information
Dashboard with an overview of customer and service provider activity
Ability to manage payments and disputes
Ability to send notifications and alerts to users
Benefits of the On-Demand Handyman App Development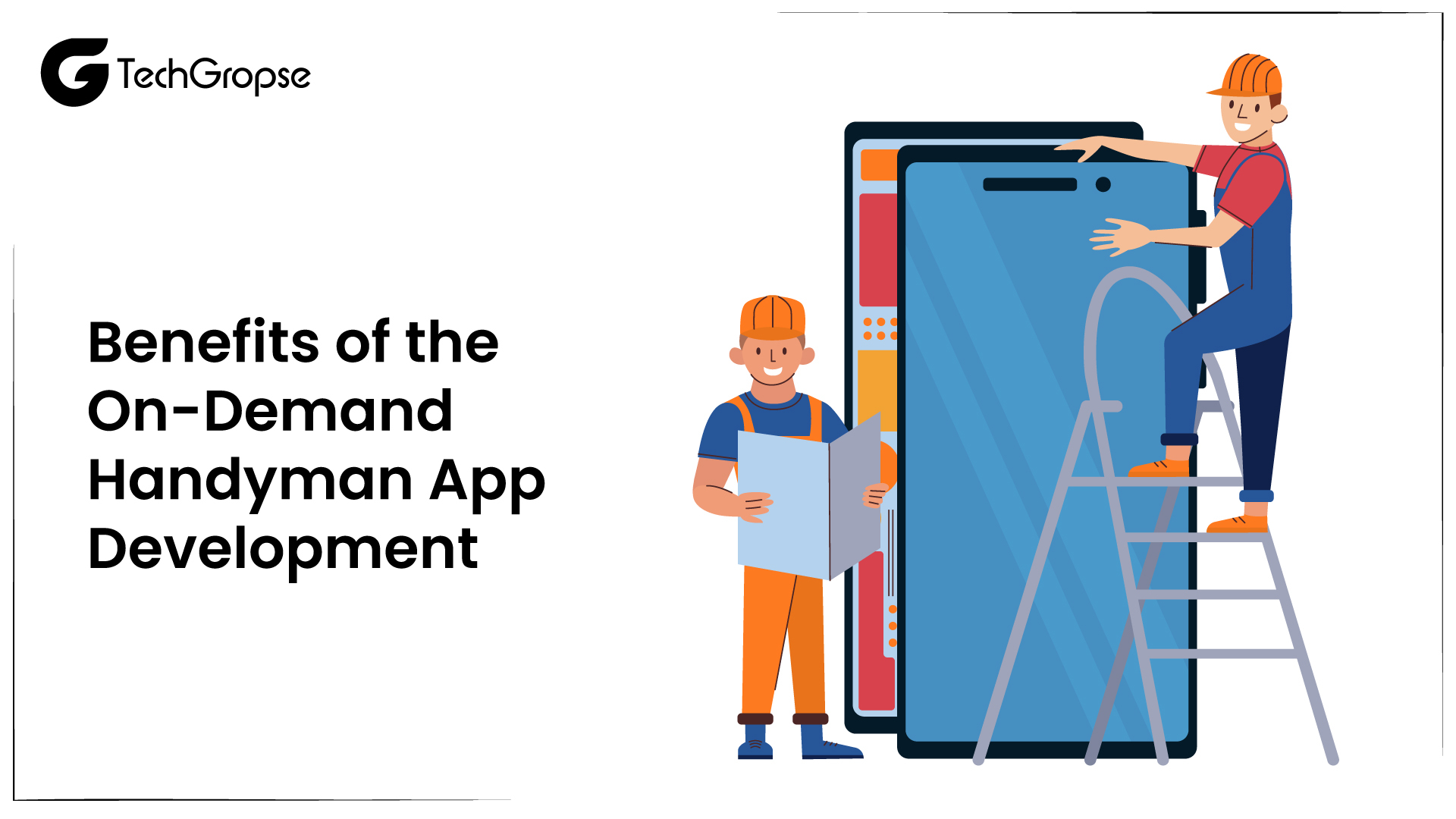 The on-demand handyman app offers several benefits for both customers and service providers. Here are some key benefits:
1. Benefits for Customers
Convenience: Customers can easily access handyman services on their mobile devices with just a few clicks. They can request assistance anywhere, anytime, eliminating the need to search for local handymen or make numerous phone calls.
Quick Response: The on-demand nature of the app ensures prompt responses from service providers. Customers can easily connect with available handymen and obtain timely assistance for their home maintenance or repair needs.
Wide Range of Services: The app offers a huge range of services, allowing customers to find professionals skilled in different trades. Whether they require electrical work, plumbing, carpentry, or other handyman services, they can easily see the right service provider within the app.
Transparent Pricing: The app offers transparent pricing details, allowing customers to compare rates and make informed decisions. They can see the cost of services upfront, avoiding any surprises or hidden charges.
Reliable and Skilled Professionals: On-demand handyman apps verify service providers before onboarding them onto the platform. This ensures that customers have access to reliable and skilled professionals who can deliver quality services.
Ratings and Reviews: Customers can read ratings and reviews of service providers left by previous customers. This helps customers consider the reputation and quality of work of each handyman, allowing them to choose the most suitable service provider for their specific needs.
2. Benefits for Service Providers
Increased Visibility: The app provides service providers with a platform to show their skills and services to a bigger customer base. It increases their visibility and attracts more potential customers, leading to enhanced business opportunities.
Efficient Job Management: The app streamlines job management for service providers. They can easily accept and manage customer requests, schedule appointments, and organize their tasks in an effective way. It enhances overall operational efficiency and reduces administrative overhead.
Expanded Customer Reach: By being part of an on-demand handyman app, service providers can reach customers outside their local area. They can expand their services to a wider geographic region and tap into new markets, growing their customer base and business potential.
Better Customer Engagement: The app allows direct communication between service providers and customers. It permits them to discuss job requirements and give regular updates, ensuring effective and efficient customer engagement.
Increased Business Opportunities: Joining an on-demand handyman app opens up additional business opportunities for service providers. They can access a pool of potential customers who want handyman services through the app, increasing their chances of securing more jobs and generating higher revenue.
Streamlined Payments: The app simplifies the payment process for service providers by handling transactions electronically. They can accept secure and timely payments directly through the app, avoiding the need for cash transactions or invoicing.
In short, the on-demand handyman app benefits both customers and service providers by providing convenience,  expanded customer reach, efficient job management, improved customer engagement, and increased business opportunities.
It revolutionizes the way handyman services are accessed, delivered, and managed, resulting in a win-win situation for all parties involved.
Final Thought
Developing an on-demand handyman mobile app development can be a challenging but rewarding experience.
Defining interesting features, designing the UI/UX, conducting market research, backend, and frontend development, implementing core features, testing, deployment, and continuous improvement.
The app brings convenience to customers, offering them to access amazing services in an effective way. Service providers benefit from increased visibility, expanded customer reach, and efficient job management.
Transparent pricing and ratings/reviews enhance trust. The app streamlines communication, simplifies payments, and boosts business opportunities.
FAQ: How To Develop On-Demand Handyman Mobile App 
1. What is a handyman application?
A handyman application is a mobile app that connects customers with experienced professionals or service providers who offer different home maintenance and repair services. The app allows users to browse available services, book appointments, view service provider profiles, communicate with providers, and make payments. It streamlines the process of finding and hiring handymen for tasks and facilitates a convenient and efficient service experience.
2. How do I create an on-demand service app solution?
To build an on-demand service app, you should follow these steps:
Describe your app's purpose and target audience.
Conduct deep market research to understand user requirements and competitor apps.
Design the app's UI/UX and create wireframes.
Develop the backend infrastructure and APIs.
Code the front end using appropriate frameworks.
Implement key features such as service listings, user registration, booking, payment, and notifications.
Test thoroughly, launch, and gather user feedback for continuous improvement.
3. How much does it cost to develop a handyman app?
The cost of creating a handyman app can change depending on aspects like complexity, features, platforms, design, and development location.
A basic handyman app can cost about $20,000 to $50,000, while a more advanced app with additional features can range from $50,000 to $100,000 or more. Consulting with app development professionals can offer a more exact cost estimate based on your specific requirements.